For more than 150 years, many of herstory's boldest and bravest women have called the City of Angels home. Maybe it's the city's openness to wild creativity. Maybe it's the leadership role Los Angeles plays in the world economy, civil rights, and eco-consciousness. Maybe it's the natural beauty and (generally) excellent weather.
Whatever the reason, feminist legacies are maintained while new women come to the front in all arenas of business and pleasure. While you're here, meet the community of women advancing the powers of equality and diversity in Los Angeles.
The Main Museum
Located in the historic 1906 Hellman Building in downtown Los Angeles, The Main Museum is one of the city's newest art centers. With three women in directorial and curatorial positions, The Main Museum is focusing on its residency program which offers local artists with compelling points of view space from which to create. Exhibitions show the diversity and inclusivity commitment; works by marginalized artists are at the fore. Accessibility is also a commitment: the museum is free, ADA compliant, bilingual, and offers quiet exploration times for visitors with autism of special needs.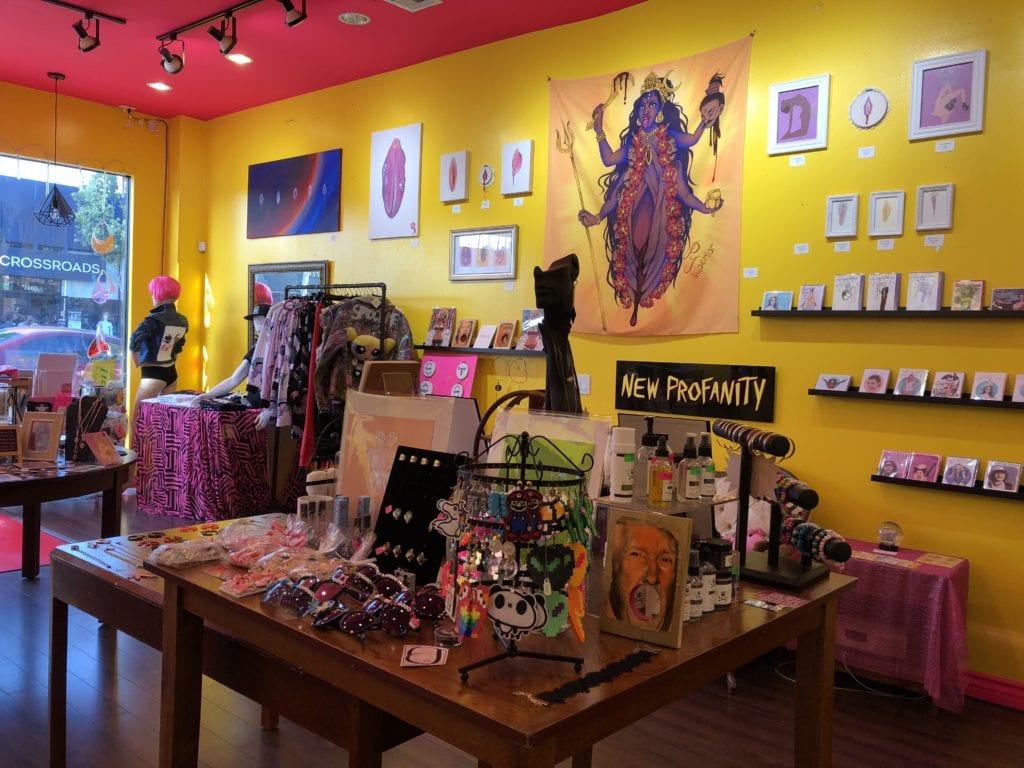 New Profanity, a Gift Shop for Unapologetic Feminists
Melrose Avenue is internationally known for being THE punk lifestyle destination on the west coast. Carrying the torch is the insanely progressive gift shop, New Profanity. Owned and operated by Natasha Polhamus, the unmissable store (painted in vibrant '80s bee yellow) carries lovingly curated items from indie artists who benefit from both fair retail and the shop's enthusiastic promotion of everything it sells. The shop sells everything from sassy statement pins and baseball caps to handcrafted jewelry and vagina art. Additionally, New Profanity hosts no-where-else art shows, crazy parties, and fundraising events.
The Ripped Bodice, the Country's Only All-Romance Bookstore
Leah and Bea Koch are two sisters from Chicago who know a good pulse-elevating romance novel when they read it. To share the good words, they opened the country's only all-romance, all the time bookstore in Culver City. The Ripped Bodice has it all: historical fiction, LGTBQA+ themed, erotica, the paranormal, cowboys, bikers, and even dragons! The shop also hosts readings, book clubs, romantic comedy nights, and writing workshops. The sisters also publish The State of Racial Diversity in Romance Publishing Report yearly. And, there is Fitzwilliam Waffles, the most adorable shop dog.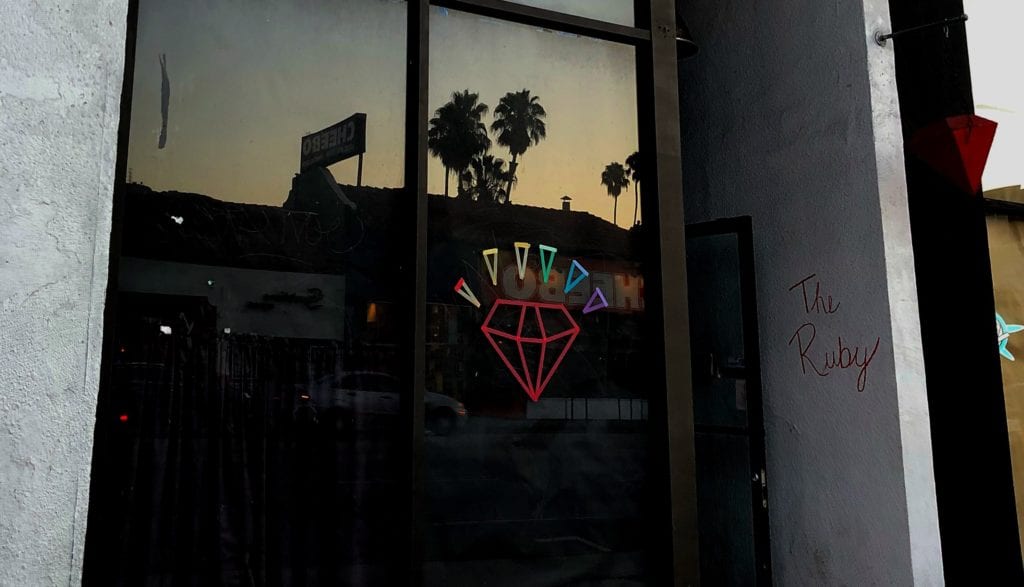 The Ruby LA, a Feminist Comedy School
Comedy has always been a potent force in social dialogue and now, more than ever, fresh passionate voices are driving conversations from the stage. In support of underrepresented people wanting to get in on that conversation is The Ruby LA, a feminist and inclusive theatre, and school. Co-founded by long-time performers and teachers Jen Curran, Lindsey Barrow, and Randy Thompson, The Ruby has improv, sketch, and acting classes as well as business workshops. From Friday through Sunday, the stage is open for great stand-up, sketch, improv, open mics, and podcast tapings featuring diverse local talent.
The Women's Center for Creative Work
There's a special spot in Frogtown, a welcoming big house, right on the L.A. River. Its vibrancy comes from enmeshing creativity with the progression of feminism. Co-founded by Sarah William and Kate Johnston, the Women's Center for Creative Work has it all: cooking classes, reading groups, music, movement, lectures, support groups, and even a print shop. WCCW also houses the main branch of the Feminist Library on Wheels, the mobile lending library that brings feminist reads directly into communities. Need to get a little work done? The co-working space is beautifully located near the native plant garden.
Good Girl Dinette
The owner of Highland Park's Good Girl Dinette, Diep Tran, does not hide her dedication to social justice and equality issues. In fact, she worked in the social justice arena before following in the family footsteps of restaurant entrepreneurship. Dedicated to fair pricing for fair wages, Good Girl is not cheap eats but it is creative, high-quality, locally-sourced food that reflects the neighborhood relationship. The menu is reverent but fresh and changes frequently. There's a vegetarian option for every meat dish: charred pork belly or tofu rice noodle salads, galangal chicken or roasted mushroom bahn mi, and pot pies. Oh, and dessert pies which are, for sure, a necessity.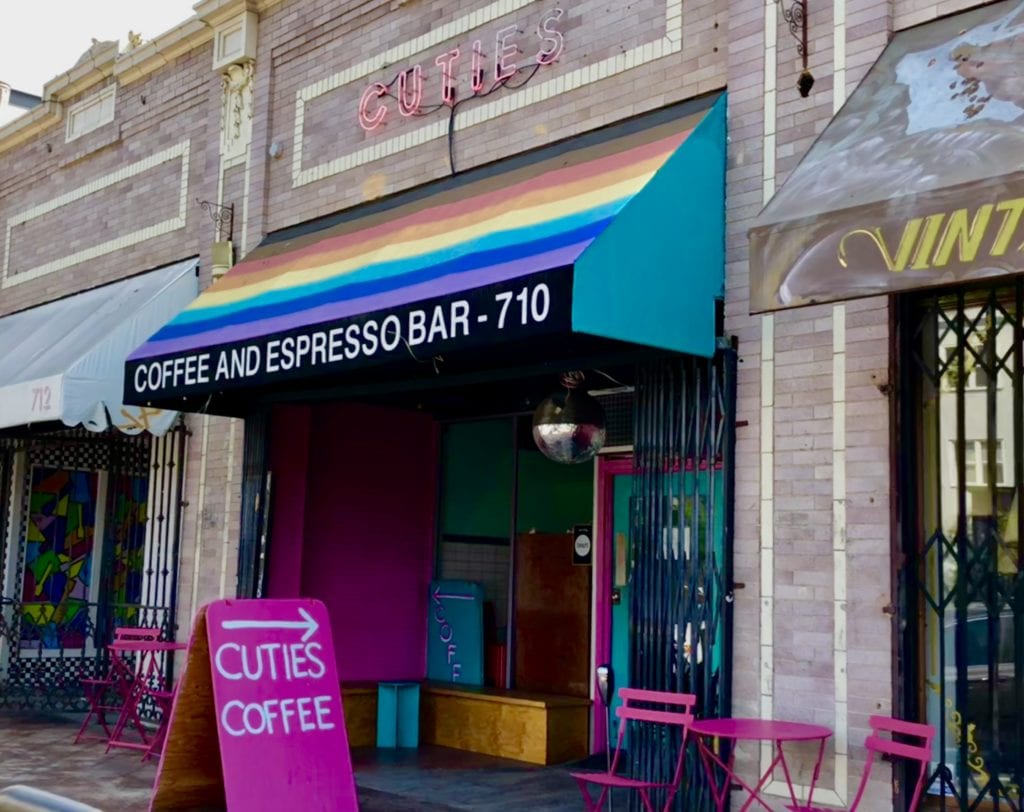 Cutie's Coffee
Cutie's Coffee co-founders, Iris and Virginia, are tenaciously and joyfully building a safe and encouraging space to eat, drink, and create. Located on bus and train lines, ample parking, and in a colorful east Hollywood neighborhood, Cutie's isn't just convenient, it's contributive (not just to the caffeine fiends). Yes, the housemade donuts—including gluten-free and vegan—are yummy and delicious. Yes, the drinks will satisfy even the most particular customer, but the best feel-good comes from knowing your bucks go to gay community development, via events at the shop and outreach to like-minded organizations.
Grub
After meeting on the job as waitresses, Denise DeCarlo and Betty Fraser decided to realize their shared vision. So they bought a house in a charming area of Hollywood and opened one of the hands down, forks up best comfort food restaurants in the city. The menu at Grub is a delight to read, as it reflects the graciousness of the owners as well as gets the mouth watering. Some offerings: Mexican stew, awesome scramble combos, salads so big and good they may need another word for salad, and the famous "CRACK" bacon (rubbed with something magical then baked). A lot of ladies in front and back of house keep this a place to chow down and chill.

Budget: Cinema Suites Bed and Breakfast
As most L.A. visitors know (or quickly find out), the city is spread out. With so much to see and do, finding a central location to be home base is both a convenience and a relief. Cinema Suites Bed and Breakfast offers both and so much more. The beautiful home is smack dab in the middle of the city so getting to downtown, Hollywood, Beverly Hills shopping, museums, or the beach is easy. Parking is free, the rooms are gorgeous, all the mod cons are available. There's Hollywood history attached to the house, so ask your mover-shaker host Dianne Bennett for its story, and hers.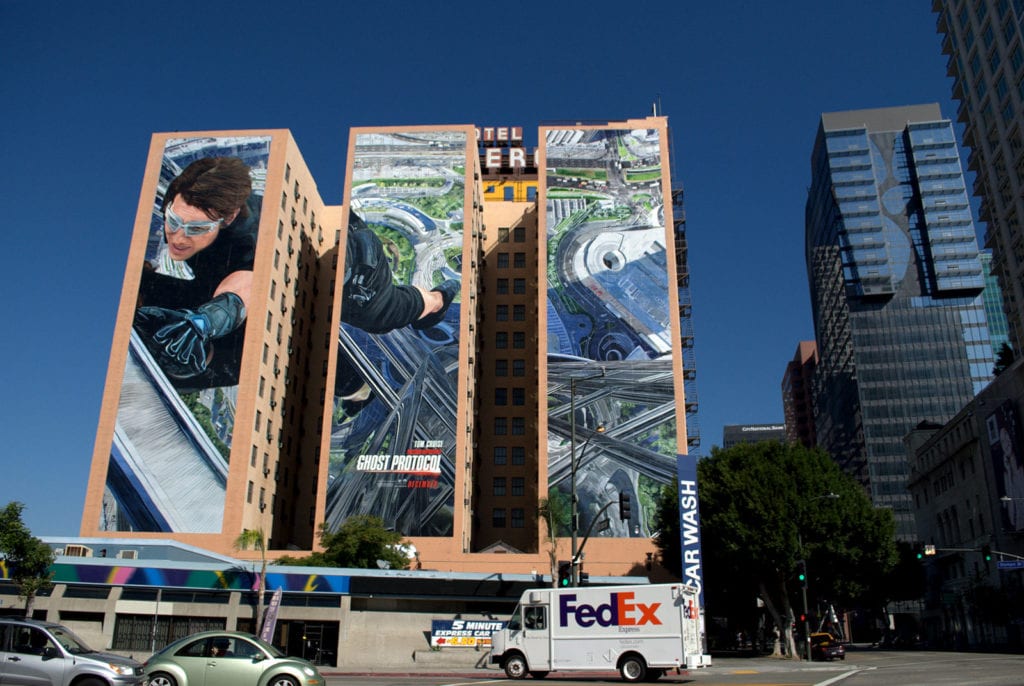 Splurge: The Hotel Figueroa
The 2-year transformation is complete, and The Hotel Figueroa has re-embraced its original status as a landmark hotel with a rich lady legacy. Built in 1926, the hotel was financed, built, owned, and operated by women, and was exclusive lodging for female travelers. Restored to its original Spanish Colonial beauty, it honors that legacy with art and design elements by women. Local artist Alison Van Pelt shows the hotel's first director, aviatrix Maude Bouldin, in a huge painting in the lobby. The Hotel Figueroa's 14 stories offer 268 rooms and suites, a coffin-shaped pool in a lush botanical hideaway, and two world-class restaurants and three bars.