A year ago I visited a friend in Austin, Texas, who was hosting an Israeli couple through Airbnb. After a quick introduction, I embarked on an hour-long conversation with the couple about weight, gender, race, and politics. Lee, a proud drag king from Israel, spoke candidly throughout our transformative, taboo-inclusive conversation about labels, growing up in Jerusalem, and traveling. 
On the topic of travel, Lee revealed the challenges of traveling as a non-binary person. From facing discrimination abroad to details that other travelers wouldn't think twice about—such as using the bathroom or pronouns on passports—Lee, who is a teacher in Tel Aviv, has been denied boarding a plane and faced discrimination for being trans. 
When it came time to guest editing the 4th issue of Unearth Women, I wanted to interview Lee for the magazine about traveling as a trans person. Too often, we assume that the experience of travel is the same for all wayfarers, but when you're a person of color, a minority, or a member of the LGBTQ+ community, you can be confronted with a unique set of challenges. In this candid interview, Lee speaks to transgender travel and how the travel industry can strive for more inclusivity.
First and foremost, how would you like to be addressed?
My major identity is butch and non-binary. In Israel, the trans community is comprised of trans-binary and non-binary people. I indentify as trans because most people don't understand non-binary—right now, trans generally means a male who became a female, or a female who became a male. So people either address me as Lee, my 'Muggle' name, or as Fluid Snow, my drag name.
I was born female, and grew up to be neither a woman nor a man. Sometimes I'm both, sometimes I'm neither, sometimes I'm half and half. A lot of my friends were coming out as trans men, and when I talked to them, I didn't feel the same as they did. I felt a lot of empathy and I could relate to their journey, but my experience was different—and I didn't initially understand how or why.
I thought of myself as a very masculine, or "butch" woman. Then I read Stone Butch Blues, an important book in the gay community, and this was the experience I related to most. Ten years later, we started to use different terms describing the non-binary experience. That was my experience. Non-binary people are all different from one another, but our experiences are related.
What the trans community understands—and what society is learning—is that gender is taught to us from the moment we're born; from the day we're dressed in pink or blue or enrolled in dance over soccer. Gender is a social construct, not a biological default, and people are finally realizing that they don't have to identify with the gender they were taught to embody. They're something else, and that something else makes them trans.
In Hebrew, all words are gendered. This places gender at the forefront of every conversation. When I go to a restaurant, they not only ask me what I want to eat, they ask me what I want to be called, because they don't know if I'm male or female. I can see the wheels turning in their heads before they even ask. But asking how I'd like to be addressed is the more respectful route. Sometimes people will ask, What are you? What do you have there? Are you a he, she, or it? And it can be anyone; a bus driver, a waitress, anyone on the street can ask me what I have between my legs because of language.
What was it like growing up and coming out in Jerusalem?
I was born in Jerusalem to a single mother. She was single by choice, and had no other children. She's an amazing woman—very strong and powerful. She made a lot of difficult decisions that she wasn't supposed to make at that time, like choosing not to get married and having me on her own. She was independent, and worked in management.
I came out as a lesbian when I was 15. My mom knew and was okay with it. My friends accepted me. But I was bullied in school, where I didn't have a lot of friends. I became depressed. I created the character Lord Snow, who was strong, sexy, and confident—everything I wasn't. That's when I started living a double life. My straight friends started to distance themselves from me. They thought I was weird and different.
At 16 or 17, I started going to the community youth group for LGBTQ+, where I met a lot of people from the community and made new friends. I started going to drag shows every Monday before I began doing drag myself. It was amazing. So I began to make friends with more LGBTQ+ people. These new friends gave me power and confidence.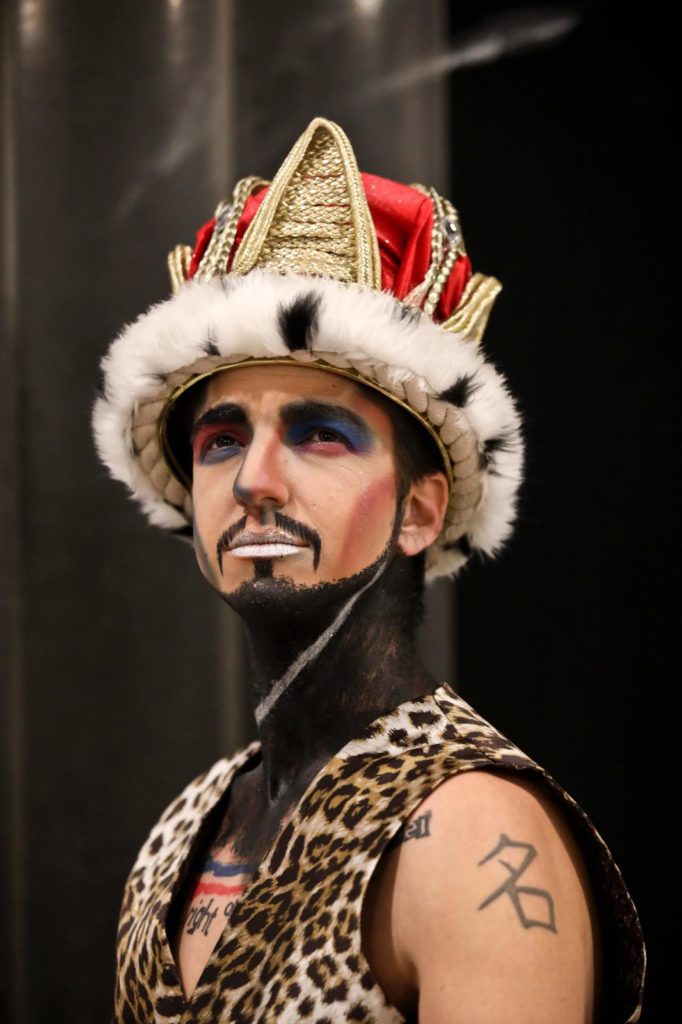 When I was 18, I joined the Israeli army because it's mandatory. Through drag, I began to realize that the issues I had with by body were related to gender. So I would bind my chest and wear men's clothing. In the military, you don't have the privilege of thinking about yourself. You have to think about the mission and your fellow soldiers. I stayed for seven years, even though two is the minimum for women.
I learned that I was strong, a good leader, and charismatic. I was a commander in the army and, after that, an officer, then an officer of officers. I'm against a lot of things that my government does, but I had amazing commanders who saw me as a human being. That's what lifted me out of my depression and guided me toward teaching, which is my life's passion. It's also where I met my wife.
After I left the army I had time to start thinking about my identity again. I think it held me back from other promotions I could have received. I had the talent and the experience—the only thing different about me was that I was open about my sexual identity. Unlike in the U.S. army, there are a lot of openly gay and trans soliders in the Israeli military because it's mandatory. It's actually more progressive than Israeli society, because the army has to adjust where society won't. There are restrooms for trans people and the uniforms they need. A lot of my peers knew I was LGBTQ+ and I didn't have to come out. That said, a lot of them were homophophic.
What are some of the challenges you face daily?
Because I'm not "passing" [a trans person who is readily identifiable as a man or woman] and I don't blend in, people notice me and I experience a lot of violence. It can be physical, verbal, or emotional. I was walking home from work in Tel Aviv, a relatively liberal city, when some teenagers asked if I was a boy or a girl. When I didn't answer them, they pulled my pants off in the street to check.
In a recent job interview, I was asked to explain trans people instead of answering questions about the teaching position they were hiring for. One of my professors told me that no matter what I do, I'm still a woman to him. Another professor confessed that it made him sad that I planned to have top surgery. People ask me invasive questions everyday. When I leave the house I feel like I have a big sign that says, "I am trans. You should ask me about it."
During the day, I don't drink anything because then I'll have to use the restroom, and there are only two options. Each is worse than the other. In the women's restroom they stare at me or yell that it's a space reserved for women. I just say, "Yeah, I know, I'm on my period!" The men's bathroom is violent. I have trans friends who have been harassed and raped in the men's restroom. So I've just taught myself not to drink during the day.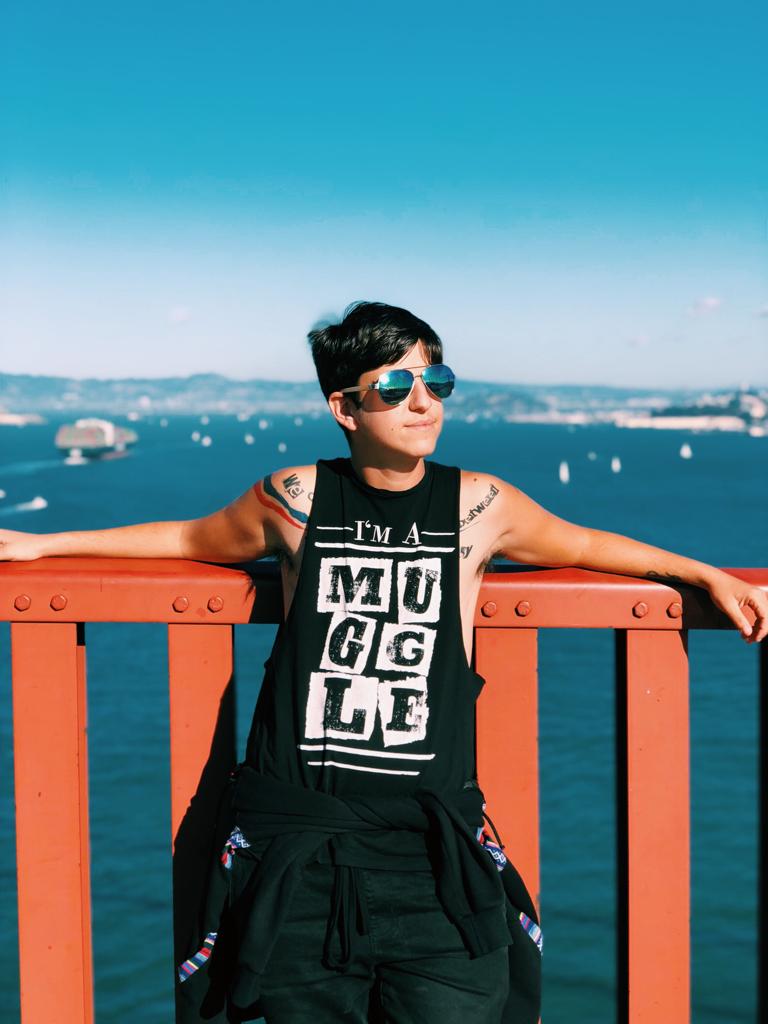 What are some of the issues you face while traveling?
It depends on where I travel. I was in a small car accident in Costa Rica, for example, and I was terrified that the male police officer would look at my passport and see that I was female. I don't know what the laws are there or whether it's illegal. Another example is I was in a cave in Guatemala with my wife. It was hot and I took my shirt off since I don't have breasts. The locals asked if I was in an accident because of the scars on my chest, and the tourists referred to me with "she" pronouns without asking how I identify.
When my wife and I were traveling from Georgia (the country), the immigration officers looked at my passport, looked at me, and didn't let me on the plane. That was a terrifying 30 minutes. They were confused by how I look versus how my passport labeled me. Whenever I show my passport or ID, I don't know how people will react.
Traveling in the American South, I understood that I had to use the men's toilet. My wife and I had been driving for nine hours and there was no way I could hold it. I had to act overly masculine, kick the door open, and walk into the bathroom like a man. But inside, I was like, "Please, please no one ask me anything. Just let me use the restroom!"
Would you be open to changing your pronoun on your passport?
Well, what you have on your passport is not gender, it's sex. Gender doesn't really matter. Being born female, I was taught to be sensitive, and I'm not afraid to be feminine. Society teaches us that femininity is a weakness. I think that being emotional and open is very important, and those things makes me a better person. So I don't want to change my sex on my passport. If I did, and someone wanted to verify whether I was a man, it could turn into a bad situation. At least I can prove that I'm female.
In Canada, there's an option to list yourself as non-binary on your ID, which is very cool. But it's also dangerous because when you change the information on your ID, those changes are recorded. If someone decides that they want to kill trans or non-binary people, then they have a list. This isn't even a stretch—it's happened before. In Israel, gender is not on our licenses, so I don't feel like I need to change that. I feel like it's when I'm traveling that it becomes an issue.
How can travel be more inclusive?
A lot of people can't afford to travel because it's very expensive. They're too busy trying to survive, and travel is a privilege. I'm thinking about my trans women friends who work as prostitutes in Israel. They don't have another option because no one will hire them. I would like travel to not only be for the rich. I would like travel companies to represent people of all kinds in their marketing campaigns and expand the kinds of travel that they sell.
The LGBTQ+ community is almost always represented by masculine gay men. They avoid featuring gay women or trans bodies, which is something that can so easily be changed. Other issues will take time to reform. When I visited Central America, for example, I knew I wouldn't see openly gay people in the street or gender-neutral bathrooms because it's such a religious culture. They haven't gotten there yet. It's starting to happen in North America. Society is changing and slowly becoming more inclusive.
What travel tips do you have for non-binary people?
Travel with forgiveness—a lot of it. Understand that you are going to a different place. Sometimes it's going to be a positive difference, and other times it won't be. In Berlin, you can be openly queer, and you feel like everyone is queer with you. You can go anywhere and everywhere because the culture is so inclusive. But I have to be extra forgiving when I travel throughout the United States. I field a lot of strange questions. I have to be careful about who I come out to. Sometimes I'll just tell people that I'm a man.
I would advise non-binary travelers to understand the culture that they're visiting ahead of time so that you're not taken by surprise. Choose who you talk to and who you come out to. Pick your battles. You can't battle the whole world, so just try to enjoy yourself. Removing my shirt in Central America took a lot of courage, but it felt amazingly liberating. When people called me "she," I didn't care. I won't see them again.
And remember, if a place doesn't feel right to you, you can always leave. The most important thing to remember is that travel is temporary and you'll be coming back home to your friends and family and people who love you. They'll support you even if the whole world is against you. You can choose your family.
What are some of the misconceptions about the non-binary experience that you'd like to clarify?
There's a misconception that non-binary people simply haven't decided who they are yet. But they have decided—they've decided that they aren't a woman or a man. Non-binary people don't look like one thing. Sam Smith, for example, is non-binary and looks like a man. My advice is to talk to non-binary people and ask them questions for a better understanding of their experience.
If I'm walking down the street and I see that the woman in front of me keeps looking back, I understand that perhaps she's afraid of me because she thinks I'm a man, and one out of every five women have been sexually assaulted. A man might not consider this. It's important that we talk to and listen to each other. The more we listen, the more we learn.
How can society become more inclusive for non-binary people?
Don't think of gender as exclusively male or female. Think about it and talk about it as an experience. The non-binary experience should be included in gender education. Ask people how they would like to be referred. Make gender-neutral restrooms the norm, even if only one stall is open to anyone. I think society has a difficult time talking about non-binary people because gender is such a huge part of our lives.
Only when we can talk about gender as an experience, rather than boys versus girls, can we really evolve as a society. Men in particular suffer from depression due to gendered notions that it's not masculine to talk about our feelings. Why should it bother us to see men cry? Why should it bother us to see men wearing nail polish? Do these things actually make a man less of a man? If we can just begin to address these questions, we can get to work on breaking down our biases.
*This story originally appeared in the 4th issue of Unearth Women, now available for purchase in our online store.