Considered a leader in the technology space with the world's fastest-growing economy, India is frequently shamed for its rampant violence against women. The country's duality as a progressive nation fettered by patriarchal traditions is exacerbated by its outdated caste system, a rigid and time-worn social hierarchy that has loosened its grip on major cities like Mumbai and Delhi, but continues to flourish in rural villages. 
It is in these oft-overlooked pockets of society that low-caste women are most severely and freely abused. In the dust bowl of Bundelkhand—sited in the heartland of traditional India—women's rights are virtually non-existent, and it is here that a poor woman by the name of Sampat Pal Devi would cultivate a female empowerment movement called the Gulabi Gang. 
Bundelkhand is known for its barren hills, ancient temples, and dacoits (bandits). In the summer, the heat soars to blistering temperatures, while droughts make for a harsh living. The caste system has a stronghold in Bundelkhand, and women are virtually powerless. Girls are married by age 12, domestic violence is frequent, dowry demands are commonplace, and sexual abuse is pervasive.  
Gulabi Gang founder Sampat Pal Devi was born in the small, dusty town of Banda in Uttar Pradesh. Married at the age of 12 with five children to support soon after, Sampat Pal was eking out a living as a vegetable seller. One day in 2006, she overheard a neighbor beating his wife and she decided to intervene. She was unable to stop him herself, so she gathered a few local women, and together they thrashed the abuser for his misdeeds.
News of Sampat Pal's small-scale gesture of activism spread like wildfire. "In this region, news spreads faster than WhatsApp," explains Aamit Khanna, an independent consultant who worked in Delhi's healthcare industry, and who came to know Sampat Pal personally in 2013. Another resident of Banda recalls, "A woman in a pink sari is making a lot of noise." 
In a society that so often silences women, Sampat Pal and her cohorts had effectively upended traditional Indian mores. Women are regularly beaten in the Bundelkhand region because it's common knowledge that abusers won't suffer consequence, Khanna explains to me. Describing it as a "hostile environment," Khanna makes it clear that women are not valued here. 
Sampat Pal's successful intervention inspired her to mobilize a group of female vigilantes known as the Gulabi Gang, a name which references the pink saris that they wear ("gulabi" translating to "pink" in Hindi).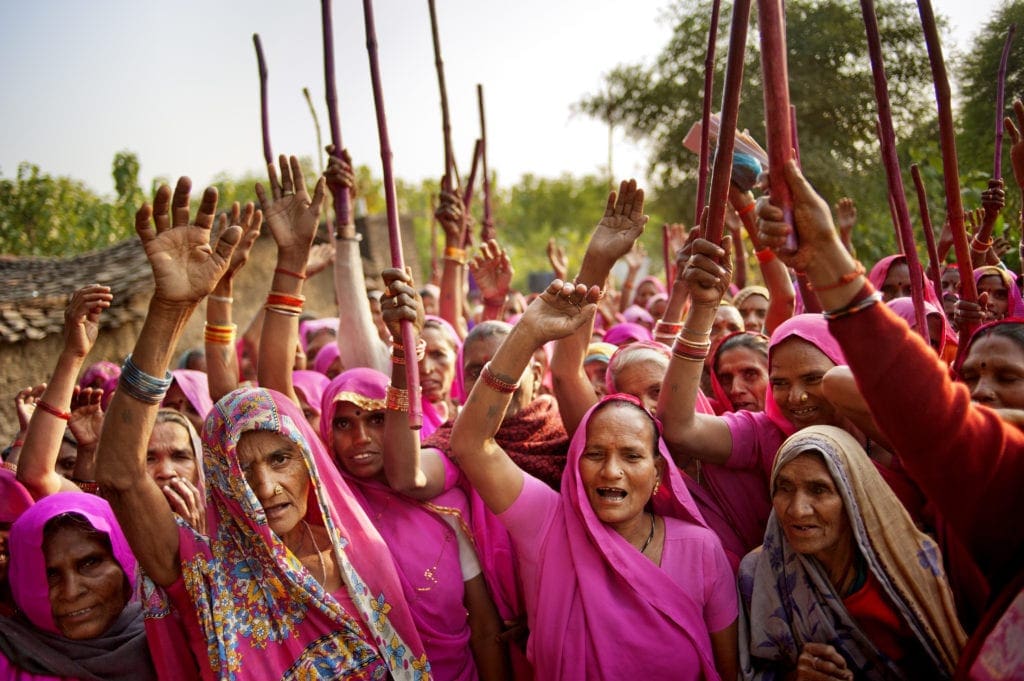 The Gulabi Gang has now grown to over 400,000 members across 155 miles. Today, women age 16 to 60 belong to the group, and each receives a pink sari upon their initiation. When word of abuse reaches the Gulabi Gang, their first line of defense is to confront the abuser. If he is unwilling to relent, the Gulabi Gang wield lathis (sticks) and thrash the abuser in question. Responding to violence with violence is a controversial tactic, but a lesson learned from the Gulabi Gang could just mark the difference between a woman living or dying. 
Since its founding, the group has snagged international headlines, inspiring a feature-length film and the 2012 award-winning documentary titled Gulabi Gang. Through translator Vineet Singh, International Director and Adviser to the Gulabi Gang, I interviewed the group's founder. The first thing I wanted to know is how Sampat Pal found the courage to fight the system and overcome the fear of reprisals. 
"We don't fear anyone because we are trained in fighting with a stick," Sampat Pal explains defiantly. "We feel empowered to fight any crime against women. We don't fear the police, or any authority, because we fight for the truth. We have hired a legal adviser for fighting within the law in any court of India."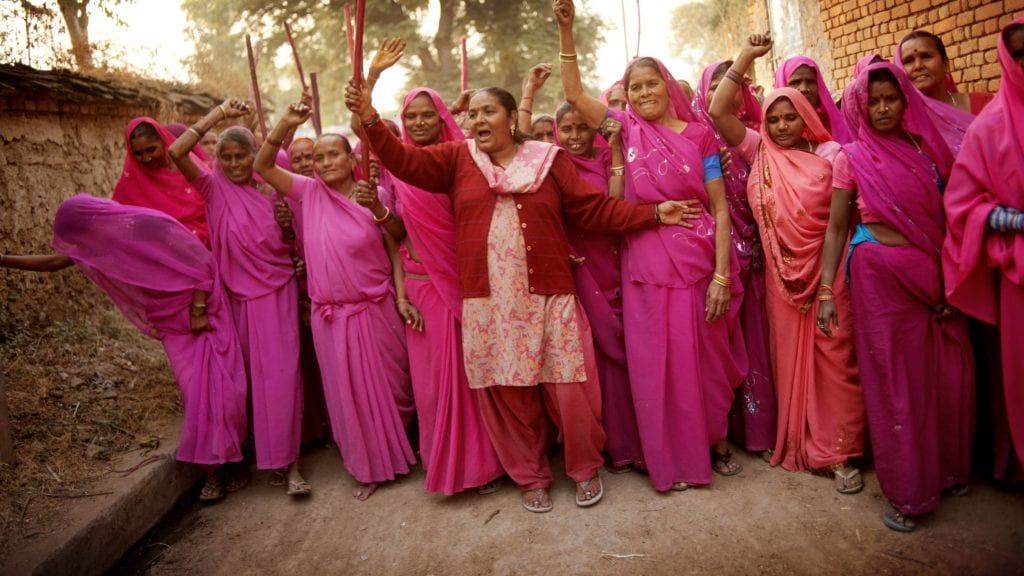 Khanna tells me that with a pink-clad army behind her, Sampat Pal is fearless. "She's very talkative, blunt, and intimidates people. She can talk very abusively, like a man," Khanna explains. "If there's a crime against women in this district, people go directly to her house. Sampat Pal calls the police and tells them what to do. It's instant, I've seen it. If she calls them, everything is done right away."
Sampat Pal demands respect from men. She even intimidates them. "She understands all the issues accurately, and how to resolve them," adds Khanna. "She knows who to contact, and when, and what that person can do in the process. For an illiterate person with very little education, she knows a lot. Plus, she is very observant and has excellent recall. She's a phenomenon."
I ask if Sampat Pal sees any reform in her hometown. I'm curious to know whether the Gulabi Gang's notoriety has subdued violence against women. "I have seen many changes in our area," Sampat Pal says. "Awareness is growing, and we are seeing more justice. Now people are more systematic in their work, and they also support our organization. It is always challenging to fight victim cases, but we persevere. Women are not being tortured here anymore."
With the meteoric rise of the Gulabi Gang, Sampat Pal set her sights on political aspirations. In 2014, Sampat Pal contested an election in her district and lost. She was accused of not taking the groups' needs into consideration, and of putting her personal ambitions above the Gulabi Gang's. Sampat Pal subsequently appeared as a guest on the reality TV show Bigg Boss without consulting her group members—a move which proved to be her downfall. At age 53, Sampat Pal was ousted as leader of the Gulabi Gang. Despite her break with the organization, she remains a driving force behind the guerilla promotion of women's rights in India, while the Gulabi Gang continues to attract attention for their noble mission.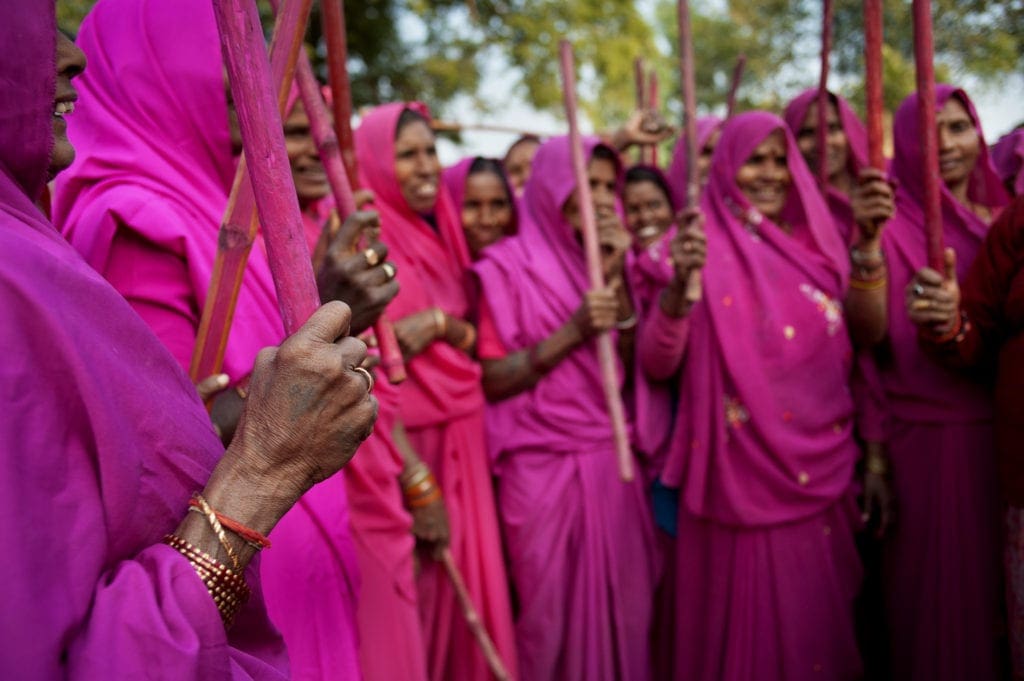 It's easy to see how Sampat Pal could lose her footing amid the media attention, but that's not the story here. She forged an everlasting legacy of female empowerment in a region where women's rights had been extinguished. Her pink-hued movement continues to evolve in her absence, and Sampat Pal leaves us with a simple lesson: not just anyone can become a hero, but a hero can come from anywhere.
This story originally appeared in the third issue of Unearth Women magazine, available for sale now in our online store.