Wine wasn't always a passion for sommelier and Vinovore owner, Coly Den Haan. In fact, "I didn't think wine was for me," she tell me one Saturday morning at her all-female wine shop in Los Angeles. "It seemed too quiet for me. It didn't seem 'rock star-y' enough. But boy, was I wrong."
About 14 years ago, Den Haan was 20-something, working at an Italian restaurant and dreaming of opening her own cocktail bar. When her boss recommended she attend sommelier school through the Italian Association of Sommeliers, she agreed to it only because he offered to sponsor her. "Then, when I started learning about it, I was like, 'Wine is totally for me. Wine is for everybody!' It's edgy, it's fun, it's different, it's traditional, it's not pretentious. It's not just for these rich guys twiddling their whatever and looking at their scores."
Fast forward to May 2017, and Den Haan and her business partner Dean Harada were opening the doors at Vinovore — think "carnivore," but for wine lovers — their wine shop in the Silver Lake neighborhood of Los Angeles carrying only bottles by female winemakers.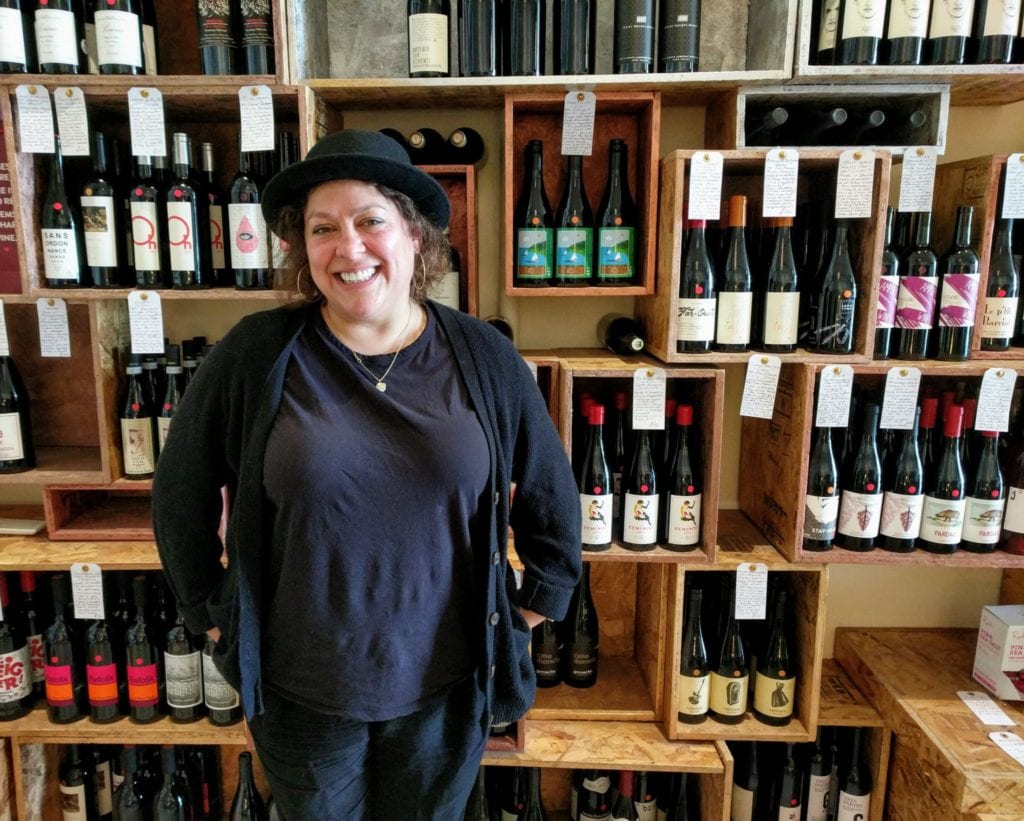 "It was during the election, and I was like, 'Oh, I think we're going to have our first female president,'" Den Haan recalls. "Everyone was so pumped and jazzed, and I was like, 'Oh my gosh, what if I did all female winemakers.'"
Things didn't turn out exactly as expected on the political front, but the shop has established itself as a neighborhood staple, and there's only growth on the horizon. "I'm glad that [supporting] women is at the forefront of people's minds right now" says Den Haan.
Being a woman in wine hasn't been a total breeze— Den Haan has faced her fair share of sexism. She recalls going to wine tastings for industry insiders in the early 2000s, after opening her successful downtown L.A. wine bar The Must, and facing demeaning comments from men in the business. "Men would either talk down to me, mansplain, or completely ignore me," she says. Luckily, Vinovore has been well-received by the community and industry, though Den Haan says she's heard of one big-name sommelier who trashed the all-female concept. To that, she shrugs. "Sometimes men get threatened," she says. "But I'm pretty thick-skinned."
Den Haan developed that thick skin and sense of purpose in childhood. Growing up in Santa Barbara, California, she was "extremely driven" and ambitious. "I always tell everybody that if I were to have a concert tour, it would be called Blind Ambition," she says. She also loved reading—mostly her older brother's thrillers and sci-fi books by authors like Dean R. Koontz and Orson Scott Card—and she watched her family run bars and restaurants. "My great aunt owned a speakeasy downtown, my dad had a bar in Santa Barbara, [and] my grandfather had an Italian restaurant in Las Vegas during the mob times," she says.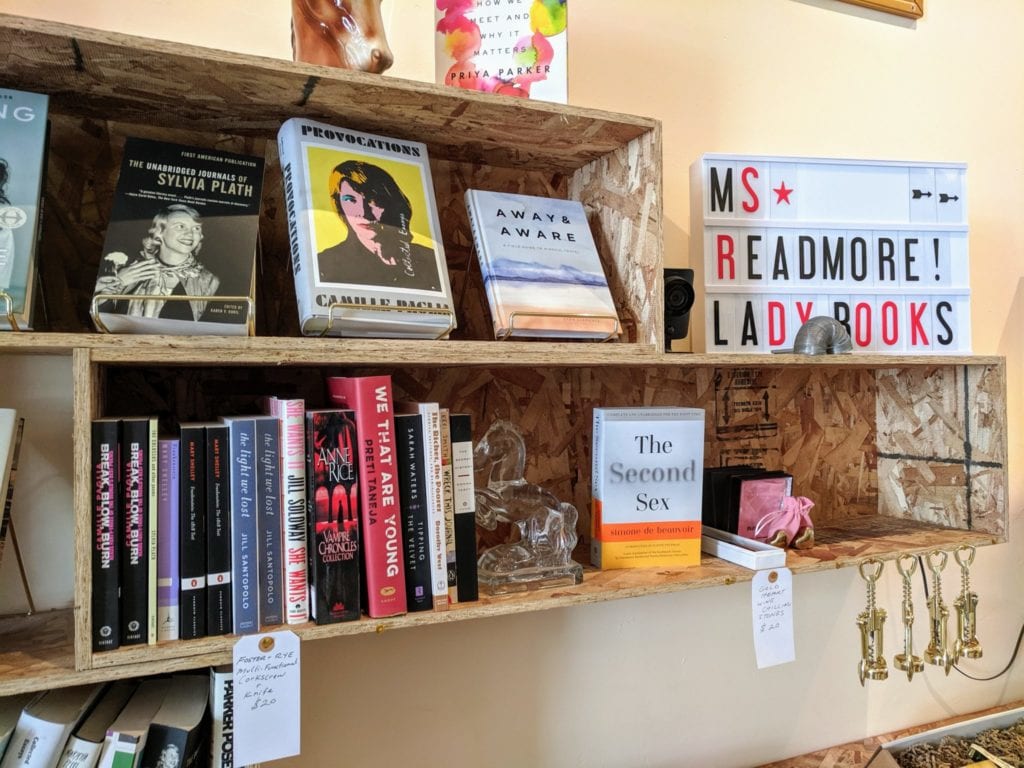 That ambition has propelled some huge projects, including The Must and Perch, a downtown Los Angeles institution. Though Vinovore is her first foray into retail, she was determined to do things differently. In addition to the all-women winemaker lineup, the shop features a selection of books by women authors and helps customers decide which bottle to buy with the help of a whimsical, animal-centric tasting chart.
"After I really learned about wine, I really felt strongly about bringing out the message of keeping wine very approachable," she explains. So she built a chart to help shoppers decide which bottle to buy based on their mood; it includes options like the red lion, if you're in a "ferocious, rustic, debonair" mood, and the purple ape, for when you're feeling saucy, unadorned and kinky. Bottles in the store are labeled with corresponding colored dots to make the shopping process easy.
"It's like a Chinese [zodiac] or astrology, where there is no 'bad' sign," explains Den Haan. "Even if one wine might be a little less complicated, like a yellow rabbit or a purple ape, it's still very positive because if that's what you like, that's what you like. And that's the most important part."
You can also scoop up a "Beast Box" for yourself or a frien —a perfectly paired book and bottle, along with some fun extra gifts. "I think books and wine go really well together," muses Den Haan. "It's an evening—a book and a bottle of wine. It's an experience." If you're not up for a full box, Den Haan will happily pair a book and a bottle for you. With The Handmaid's Tale, for example, she suggests something "strong" (no surprise there). "I would probably pick something a little dark, maybe a dark rosé actually, which is almost like a chillable red," she says.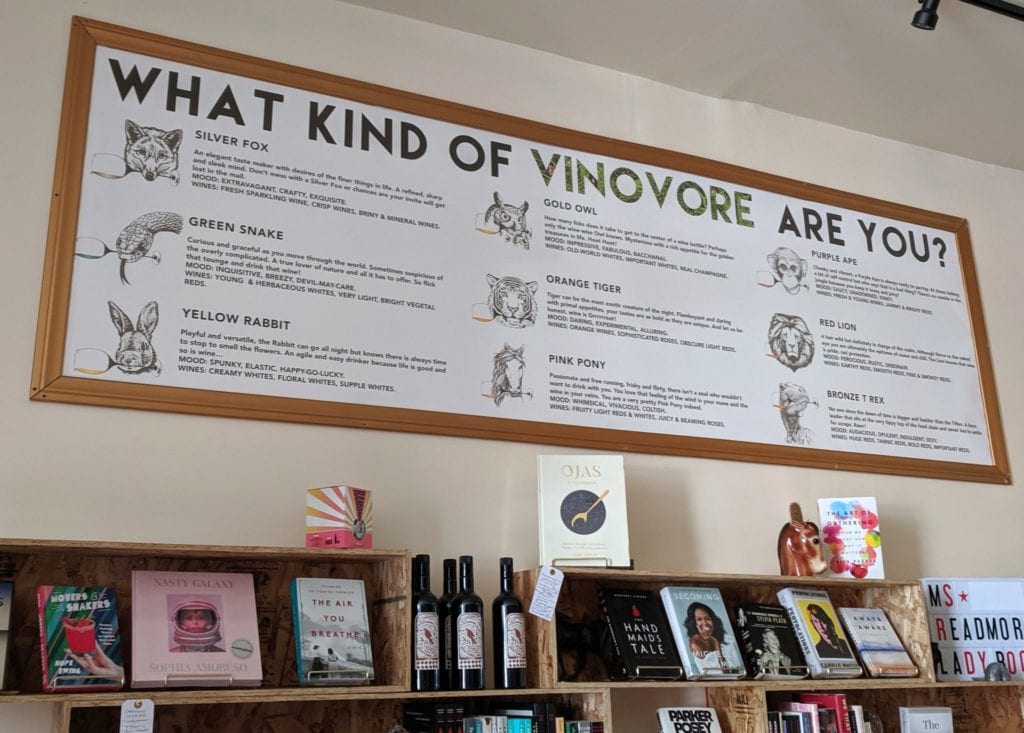 Now that Vinovore is about two years old, Den Haan is looking towards the future. "I originally thought the best idea would be to open another [shop] and another one and another one, kind of invade every neighborhood one Vinovore at a time, spreading the love of female-made wine," she says. But now, in addition to spreading Vinovore to different neighborhoods by way of mobile wine trucks, she's focused on working with women winemakers around the world to produce Vinvore's own collection. "We make one of our own wines now," she says, and "we have a red and a pét-nat white coming later this summer, so hopefully we can get them in restaurants, by the glass,." Lady winemaker world domination? Sounds like the plan.
Clearly, Den Haan's passion for women winemakers runs deep. And for good reason: she's noticed that women-made wines tend to be more elegant and refined, and to celebrate the grape and terroir—the environment where the grape is grown—in a special way.
"I've noticed that women tend to pick early, they're looking for high acidity, not high alcohol. Fresh wines—pure. Pure expressions," she says. "Overall, I feel like it's given the shop a tight focus, where there's not a lot of filler, there's not a lot of fluff. Because every bottle here seems to be made with purpose."