If you ever find yourself on the Hawaiian island of Oahu, may we suggest that you become acquainted with Pussy Grabs Back. It's a local brew from Honolulu BeerWorks, one of the few craft breweries in the capital. Pussy Grabs Back has made quite a name for itself since its release on International Women's Day, and not just because of the edgy title. Beyond its complex flavor profile, Pussy Grabs Back is a charitable beer brewed by women, for women. Sharon Heitzenroder, Sales Director at Honolulu BeerWorks, tells Unearth Women all about this special brew and how knocking one back helps support women across the industry via The Pink Boots Society.
UNEARTH WOMEN (UW): TELL US ABOUT PUSSY GRABS BACK! WHAT'S THE COMPOSITION OF THIS PARTICULAR BEER?
Sharon Heitzenroder (SH): Pussy Grabs Back (PGB) is an Extra Pale Ale, which is a modern take on the Pale Ale category. It allows for more of a focus on the hops flavor profile and a little bit more expansion on the palate. There are four main ingredients that go into the ale: water, hops, yeast, and malt. Water is obviously the liquid, malt is the grain that you use to give color and a little bit of sweetness to the beer, and then the hops are like a flavoring agent to create either bitterness or aromatics. We've taken a little bit more liberty in experimenting with the hops and malt profiles.
Pussy Grabs Back has a really unique blend of five hops, all of which have their own flavor characteristics; apricot, peach, some of them are a little bit grassy, others are pine-y. We wanted to put a lot of hops in there, but we didn't want it to be bitter. If you add hops to the water while it's hot, it'll release acid, which gives beer its bitterness. But by waiting until the liquid is cooler, you release more of those aromatics and oils to make the beer a little sweeter.
For Pussy Grabs Back, we decided that we wanted a beer in the Extra Pale Ale category with a strong flavor profile, but we didn't want to impart too much bitterness. So you get those apricot, peach, passionfruit, grassy tones, and by adding a little bit of honey malt, we also gave it a juicy quality. It's six percent ABV (alcohol by volume) and 13 percent IBU (International Bittering Units) which is pretty low, but you get a lot of boldness.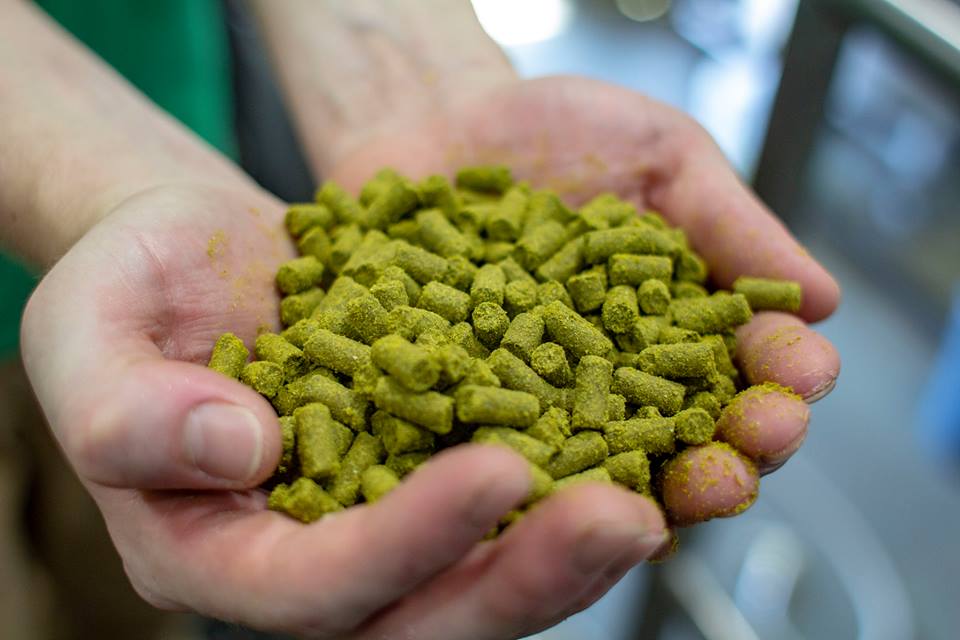 UW: WHAT'S THE STORY BEHIND THIS SPECIAL BREW?
SH: Most of the women who work here—including myself—are members of the Pink Boots Society. Every year, the Pink Boots Society releases a special hops blend that you can purchase, and the proceeds from that sale go back to the Pink Boots Society. So you're donating to the cause, but you can also make a beer with the hops that you've purchased, and donate a percentage of the proceeds from the beer.
The time was coming for us to buy hops for a Pink Boots blend, and the founder of Honolulu BeerWorks gave us free rein to make a batch for sale in-house. I already had a vision for PGB in my mind, so I convinced him to make a canned beer. A lot of us had never used this hops blend before, so we looked at each flavor profile and what happens when you add them in at certain temperatures, collaborated on the recipe, and I worked with a local graphic designer on the label. On brew day, all the women at Honolulu BeerWorks were given the day to come in and brew. We invited all of Hawaii's Pink Boots members to come over, so we had a lot of women from other local breweries come in and work with us. We released PGB on International Women's Day.
Originally, we made 100 cases and 10 kegs of PGB to sell in-house. We were just going to make it once, sell it for a couple of months, and donate the proceeds to the Pink Boots Society; but we sold out of everything within two weeks. We brewed it one more time and it sold out even faster, so we decided that we would brew it here and release it wholesale. It's now one of our best-sellers, and we sell it year-round. We have it in almost every local outlet, and we cut a pretty sizable check to the Pink Boots Society!
UW: WHAT EXACTLY IS THE PINK BOOTS SOCIETY?
SH: The Pink Boots Society [is a nonprofit organization that] promotes gender equity in the beer industry. Like most other industries, this is a male-dominated field. Pink Boots has local chapters and an international umbrella chapter. There are numerous scholarship funds for women—whether you want to get into sales and marketing, start your own brewery, or become a brewer, there are all of these educational channels to give women a leg up in the industry and ensure they're supported. If you're going to try to do them on your own, these programs are really costly. And if you're a woman working a 40-plus hour work week and/or you have a family, it's really hard to find the time and money.
We have local networks so you can reach out to any other member in the organization and ask for advice, career counseling, or general questions. There's a training program to become Cicerone-certified—you can make your way through different levels all the way up to Master Cicerone. The tests are really hard, so even within your local chapters you can find study groups to work toward these next-level certifications or talk to women who have gone through training for advice and recommendations.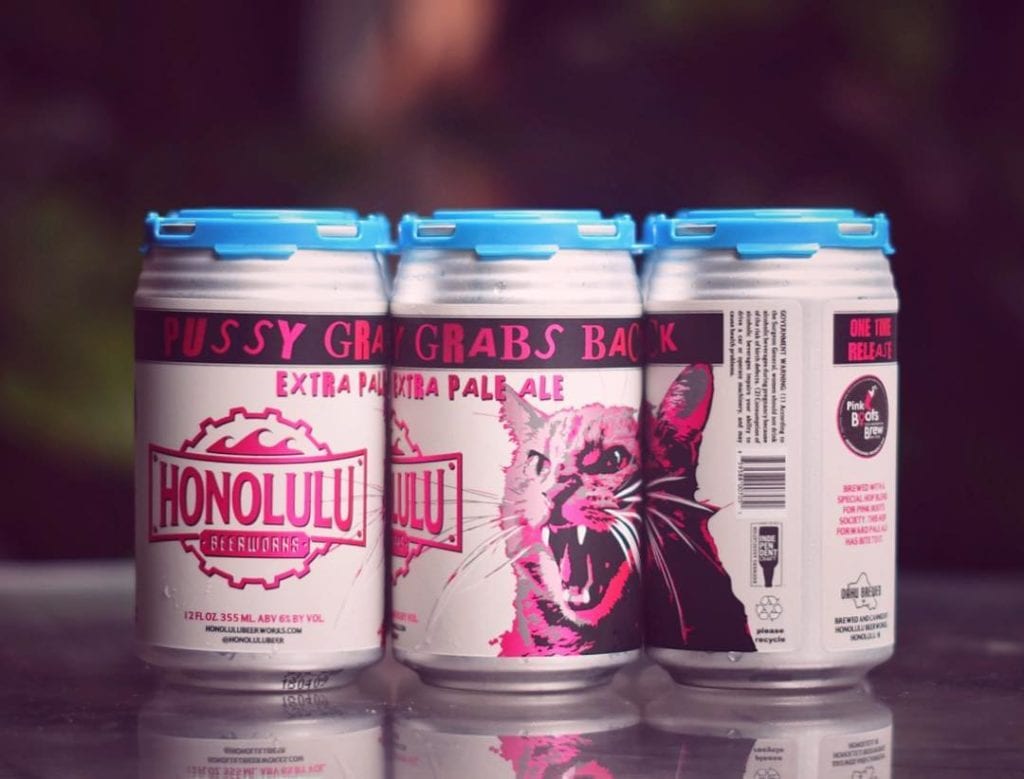 UW: WHAT ADVICE DO YOU HAVE FOR WOMEN WHO ARE INTERESTED IN THE BEER INDUSTRY?
SH: Just go for it. Be assertive. It's a challenging industry that's becoming more and more popular, but I found my way into this industry almost by accident. My education and background is not in beer or in sales, but I kept thinking it'd be fun to be in the beer industry, kept my eye out, and I eventually found a job. You have to try! There are so many great websites out there that work specifically with recruiting for the beer/beverage industry. If you're a woman, reach out to your local Pink Boots chapter. You don't have to brew beer or go into sales and marketing—you could be a bartender or a server, they're also eligible for Pink Boots enrollment. That's how a lot of women get into the industry. I don't think there's a single woman I've met in the Pink Boots Society who isn't happy to help other women.
UW: TALK TO US ABOUT HONOLULU BEERWORKS.
SH: Honolulu BeerWorks was founded about five years ago. The idea was to have a small bar and restaurant where our founder could brew and serve beers. I believe there were only six beers on tap back then as opposed to the 22 we have now. The brewery itself was also less than half its current size, and the brewers doubled as bartenders. But it came from this idea of creating a neighborhood bar and restaurant that you could hang out in, bring your family and friends to, and try locally-made beers.
Besides Pussy Grabs Back, we've also created a number of beers for charity: One is our Liquid Art line, which benefits a local art non-profit here on Oahu. We work with local artists to design the labels for it. We also have our Rising Hope IPA, which benefits the National Pediatric Cancer Foundation, and did a Resilience IPA last year to benefit the victims of the fire in California. So we have a number of charitable-giving products. We like to focus on giving back and make sure we're good members of the community.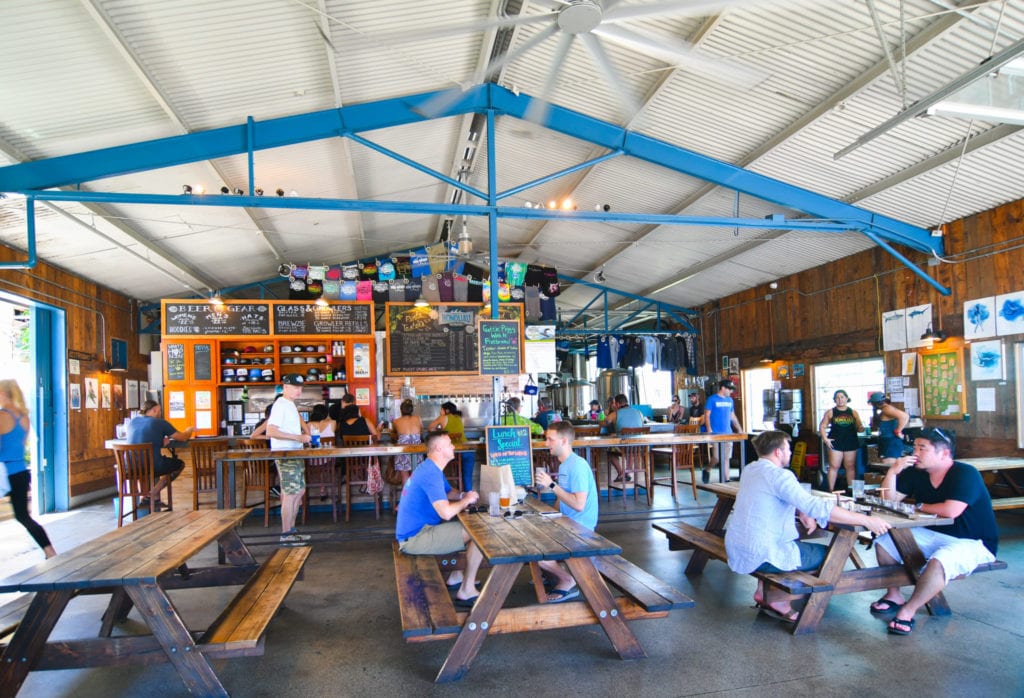 UW: PUSSY GRABS BACK HAS BECOME ONE OF YOUR MOST POPULAR BEERS. WHAT ELSE SHOULD VISITORS LOOK OUT FOR?
SH: I would tell anybody that you should not leave Oahu without trying Cocoweizen, our coconut Hefeweizen. We actually take 100 pounds of coconut, roast it by hand for about six hours, and then soak all that coconut in the beer for a really mellow, mild beer with a hint of sweetness and coconut aromatics. It's like Hawaii in a glass, and to the best of my knowledge, it's the only coconut Hefeweizen on the market, so it's really unique.
We source local ingredients as often as possible, so we also have a honey citrus Saison called Pia Mahi 'ai, and that uses locally-sourced lemons, limes, oranges, tangerines, lemongrass, and big island honey from Hawaii. We have a really unique portfolio of beers and something for every palate.
UW: HOW WOULD YOU DESCRIBE HONOLULU'S BEER SCENE? WHAT MAKES IT UNIQUE?
SH: I would say that Honolulu and Hawaii, in general, are in the infancy stages of their craft beer scenes. On our island, we have maybe five to seven breweries. There's less than 15 in the state. That's a really small number. The percentage of beer that's made locally is about one percent. If you look at other areas like Portland or San Francisco, that number is much higher—most of the beer people drink is made there because there's such a large number of breweries. So we're still in our early stages, and I think a lot of that has to do with the fact that we're 2,000 miles away from everything in every direction. We joke and say that it takes a long time for things to get to Hawaii!
UW: WOMEN HOLD THE MAJORITY OF LEADERSHIP POSITIONS AT HONOLULU BEERWORKS. IS BRIDGING THE GENDER GAP PART OF THE BREWERY'S MISSION?
SH: You rarely see women in leadership positions in the beer industry, so we're really unique in that way. I think that our founder has made really good decisions by hiring women who know what they're doing. Now that we have so many women in leadership, it has become more of a focus. Most of us are used to being in positions where that's not the case. It's isolating and makes you feel unrecognized. But a lot of decisions that we make, like distributing Pussy Grabs Back, is because six of our seven leadership positions are occupied by women.