The Azores— a group of islands off the coast of Portugal—are so small that they do not exist on most commercial maps and globes. It is only within the last decade that they have started to become known worldwide with travel agencies highlighting low-budget flight and hotel combos. In an increasingly competitive tourism industry, 26-year-old Valérie Bich is making a name for herself by becoming the first female pilot for SATA Air Azores.
Men have dominated the aviation world for decades, particularly in the Azores where navigation is challenging due to strong winds and low visibility. If that wasn't taxing enough, Valérie confronts an archaic culture rooted in patriarchal gender roles every day when her passengers greet her as first officer. In this interview with Unearth Women, Valérie talks about what it's like to be a woman fighting for her seat in the metaphorical (and literal) cockpit.
Unearth Women (UW): When did you first become interested in flying?
Valérie Bich (VB): When I was in high school, I started wondering what I was going to do with my future. As the daughter of Italian and Mexican parents, I used to travel a lot to visit family that was spread across different countries. Growing up in such a multicultural family allowed me the opportunity to take in everything I learned from each country I visited. I became more aware and open-minded as a result. I believe we are a mirror of what we experience. Perhaps it was then, at such a young age, that I first took an interest in airplanes—how they could transport people from one world to the next. With every flight I took, I became more engaged. When I turned eighteen, I knew I was ready to start my aviation journey.
UW: Why was it important to you to come back to Portugal to fly?
VB: I did my pilot training in Portugal because my aviation school had an agreement with my home country, Italy. After my training, I did another course in the same Portuguese aviation school to become an instructor pilot. I worked as an instructor for two years, which gave me the confidence and the experience to achieve my next goal—piloting an airline. Unfortunately, Portugal's pilot opportunities were scarce, so I piloted in France and various countries in Africa. But luck was on my side that year. A few months later, there was a job opening in the Azores. I jumped at the chance and haven't looked back since.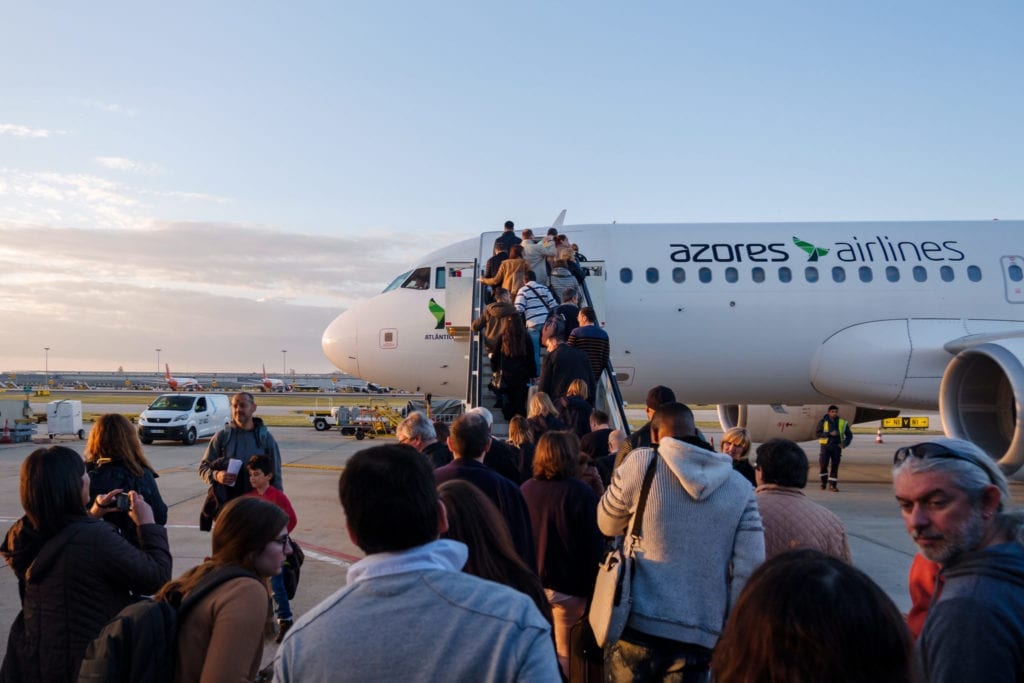 UW: What does an average work day look like for you?
VB: In the morning, I'm always rushing to get to the airport, just like passengers! Before the first flight of the day, the crew and I get to the briefing room where we coordinate our schedules. After that, we board the aircraft and work as a team to get everything ready for takeoff. Some people may think pilots do all the work, but everyone on the aircraft pulls their own weight. Without the crew, a pilot would be lost.
Each day is new, which is one of the reasons I love my job so much. The crew will rotate, as will the passengers. The weather is always a factor, too, specifically in the Azores. I was trained by SATA, of course, when I started the job, but I believe my previous experience working with turboprop airplanes has really improved my abilities as a pilot seeing as almost all of SATA Air Azores' inter-island flights are done on turboprops rather than turbojets. With a maximum of eight flights a day, the crew and I are anxious to get home to relax after a long day of flying.
UW: What has been your greatest success, and greatest obstacle, as a pilot?
VB: It's hard for me to pinpoint one specific moment as my ultimate success. I see every little step I did as a stepping stone towards pursuing a larger goal, because without the first one, you cannot get to the second one and so on. Overall, I'm proud of what I have achieved until now, but I'm always looking towards the future for what I can accomplish next.
It may come as a bit of a surprise, but I'd say missing my family is my biggest obstacle as a pilot. It comes with the territory, but it's difficult to not be around the ones you love, particularly in trying times. In the end, though, I have always been a woman to focus on my career and I think that's what's allowed me to accomplish what I have in such a short time period.
UW: As the first female pilot of SATA Air Azores, what would you say to little girls who dream of becoming pilots?
VB: When I first began thinking of becoming a pilot, I looked for female role models to follow. Unfortunately, there were little to none to make me feel comfortable with my choice in pursuing this career. But that didn't stop me from dreaming and ultimately becoming the first female pilot. It's been a long road, but now that I'm secure in my position, I'm confident in telling my story and encouraging more women to get out there and push their boundaries.
Anything is possible for women, now more than ever. To all women, I say: shut down the stereotypes and give your souls and hearts to your dreams. For me, that will always be the key to success. As long as you take your career into your own hands, and not in the hands of those around you, you will always be proud of the work that you do.