When science fiction author Elsa Sjunneson-Henry travels, she packs two carry-ons: one for her personal items and another full of food and toys for Pax, her guide dog. Sjunneson-Henry, who is deaf and blind, frequently flies for conventions where she speaks about topics such as fiction and disability. I met Sjunneson-Henry on Twitter, where I'm part of a loosely connected network of activists and scholars who have experience traveling with a disability.
For many disabled people, the idea of travel can seem overwhelming. How do you manage your luggage and your wheelchair? How do you get through security if you can't stand for the scanners? What if the hotel that promised you an accessible room gave it to someone else? Travel can be stressful for everybody, but it's extra difficult for someone with a disability. For this story, I interviewed five diverse disabled people from that network to learn their travel tips. Planning ahead and implementing some of these tips can help ensure your travel is fun and uneventful—in a good way.
1. A Backpack and a Wheelchair
Sam De Leve—who prefers the pronouns they/them—is a wheelchair-using performer and athlete. They travel to conferences frequently to network and meet with fans and community members, meaning they know a thing or two about traveling with a disability. De Leve can travel for up to a month with just a backpack on their chair and a duffel in their lap.
"This combo gives me lots of room for stuff, but still leaves both of my hands free to push my wheelchair. Sometimes I also throw in a little extra bag—the equivalent of a purse—on the back of my wheelchair," says De Leve, who prefers not to check bags, as they can be difficult to grab from the carousel in a wheelchair.
"It's one of the unexpected nice things about being a wheelchair user," adds De Leve. "Two big heavy bags would be totally unmanageable for me as a non-disabled person, but as a wheeler, it's no big deal, and I barely feel the weight." 
2. Pack the Essentials 
Rebecca Cokley is a D.C.-based little person who travels often for her job at a think tank that helps the progressive movement be more inclusive of the disability community. She was previously a recruiter for the Obama administration. Essential items she packs include a hand mirror, a collapsible step stool in case the bed is too high or she can't reach the sink, a power strip because her arms are short and it's difficult to reach behind furniture, and a collapsible cane, which serves multiple purposes.
"My cane is essential and fulfills medical needs in that walking long distances can be hard. I also use it to 'move' folks out of my way who don't see me or aren't watching for me," explains Cokley. "It keeps 'well-meaning' people from assuming I am a small child who has wandered away from her mommy, which happens frequently in public."
Finally, Cokley uses her cane to adjust showerheads in hotel bathrooms that are set for average-size people. Two other essential items she packs are "really large, brightly-colored headphones to keep random [people] from talking to me, which happens a lot," and pedal extensions and tools for when she rents a car.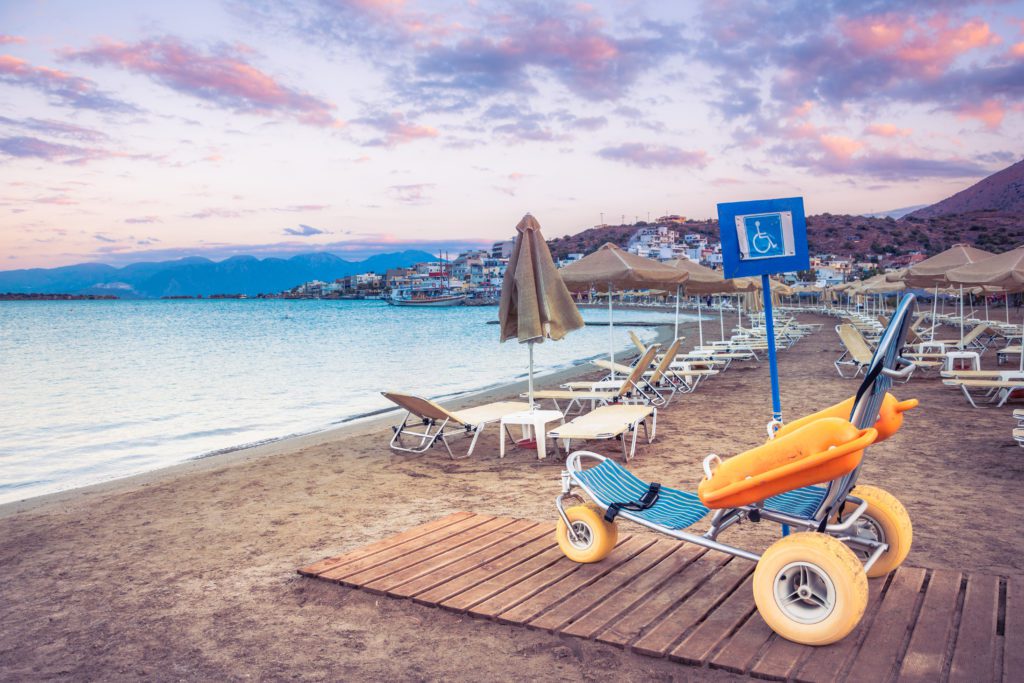 3. Consider Skipping the Checked Bags
Maysoon Zayid considers herself a road warrior. She's been a touring stand-up comedian for nearly two decades, and she travels all over the globe. She is working on her memoir, the upcoming fifth season of her web series Advice You Don't Want to Hear, and has been working on a TV series for TNT called Sanctuary, which would be the first TV show in American history with a visibly disabled woman in the lead.
Zayid never checks bags and recommends no one does so unless it's absolutely necessary. "My carry-on looks like Tetris—perfectly paced because I've been doing it for so long. I carry makeup, a yoga mat, business cards, and as many outfits as I need for the trip. In my backpack, I put my computer, a pillow, and my medications, as well as a toothbrush, toothpaste, and deodorant. I am a very light traveler because moving myself is enough energy," says Zayid. She needs straws to drink, which airlines don't supply, so she always has a stash. She also carries a backpack for her cat, Beyoncé, who fits under airplane seats during domestic flights.
4. The Benefits of Traveling By Car
Traveling with a disability doesn't always have to include flying, either. Sarah Blahovec likes road trips because they mean she can get out, stretch her legs and use the restroom. She's a disability advocate who runs Elevate, the first-ever campaign training program for people with disabilities. Blahovec has Crohn's disease and likes shorter trips because they allow her to pick a few fun things to do but don't wear her out physically. She has specific dietary needs and prefers access to a kitchen. Blahovec's carry-on bag contains anti-nausea and pain medication, heating pads, a TENS unit, a knee brace, compression gloves, headphones, an eye mask, and—if she'll have to do any walking—a cane.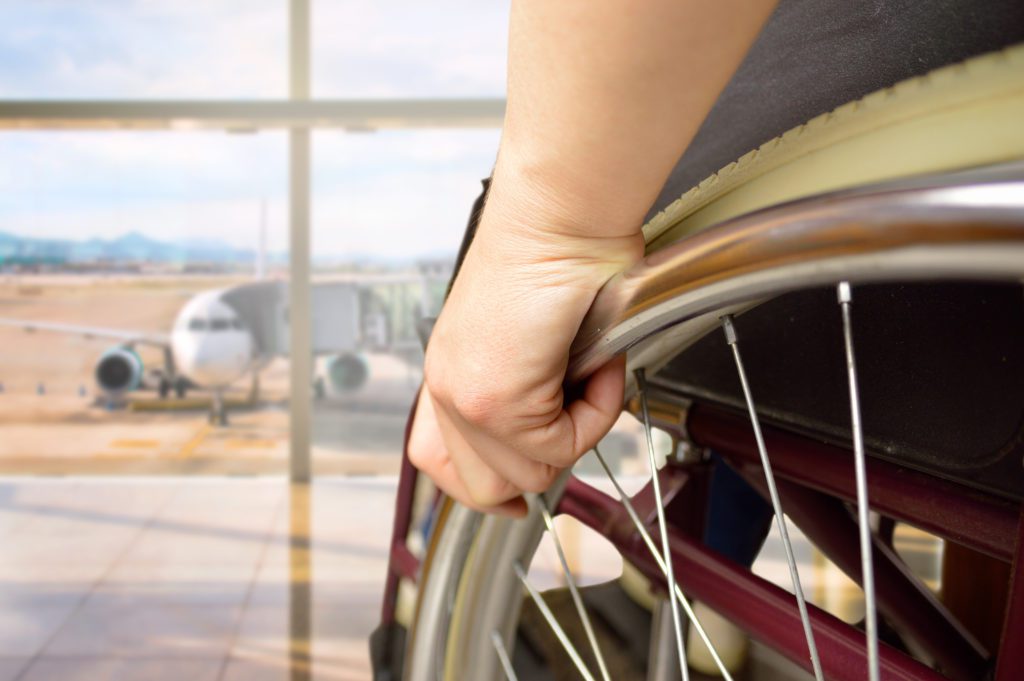 5. Getting through Airport Security
Security is usually a nightmare for air travelers, especially people traveling with a disability, who are subject to greater inspection due to the medications and equipment they have to bring, in addition to greater difficulty walking and an inability to stroll through the scanner. Sjunneson-Henry not only has to get herself through security, but she also must keep her guide dog calm while he's being patted down by TSA agents. "
Zayid, who uses a wheelchair in the airport explains: "People think the wheelchair makes it faster, but it actually takes longer to get through security. I am also Arab and Muslim, so I'm always checked 'randomly,' and the TSA takes a while with that too." De Leve and Cokley concur. As De Leve can't stand to go through the TSA scanner, they receive a pat-down every time. "I hate it…they're touching my body with coerced consent," says De Leve. Cokley frequently experiences push-back from the TSA about the tools she must bring to install her pedal extensions for rental cars. 
Fliers may carry select medical devices, medication, mobility equipment, service animals and their necessary items, and some other items on board. The TSA website lists what is and what is not allowed on board. If you're still unsure whether your item is okay, call them to double-check. It's also a good idea to get a doctor's note in case there's an issue at the gate or security.
6. The Importance of Planning Ahead
Don't be afraid to be assertive. Learn your rights under the ACAA (Air Carrier Access Act of 1986) for air travel and the ADA (Americans with Disabilities Act) for land travel in the United States before you go, and consider printing a copy to stick in your carry-on. Other countries have similar, sometimes more stringent regulations.
Whether you're renting a car or traveling by train or air, everyone I interviewed stressed the importance of planning ahead. When you're booking an accessible hotel room, don't just trust the online booking system. Call and speak to someone to ensure that they are aware of your needs, and take notes. These records can be invaluable if you show up to a hotel exhausted from your flight and they don't have the wheelchair-accessible room you reserved, or when you pick up your rental car and the hand controls you requested were never installed.
If you have dietary restrictions and your trip by train or air includes food, call and speak with disability services. Most airlines, cruise companies, rental car companies, and major hotel chains have a dedicated hotline, and their job is to ensure that you receive the accommodations you need (if they are covered under relevant laws). It's always a good idea to call them if you're traveling by wheelchair or bringing other large mobility equipment, such as a walker. This way, if something comes up when you get there, the customer service rep can look up your account and resolve your issue with greater ease.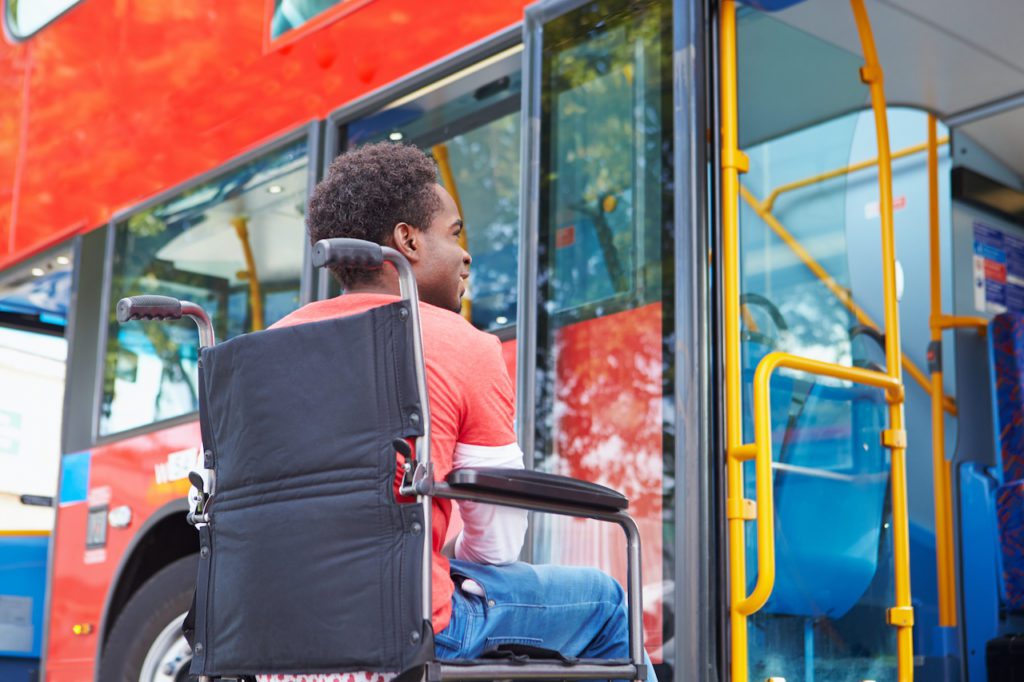 7. Always Arrive Early
Finally, arriving early is a must for anyone traveling with a disability. Whether it's showing up extra early to the Amtrak station to get a seat in the quiet car as Blahovec does, or being the first one up to the gate like De Leve to ensure their wheelchair is stored in the onboard closet, disabled travel can just take longer.
As Sjunneson-Henry puts it, "Sometimes a taxi won't take your guide dog. Sometimes the subway's elevators are out of service. Sometimes the restaurant you want to go to is unwelcoming to disabled guests. Be aware that the world isn't always going to give you the time you need, so build in extra."
This article originally appeared in the 4th issue of Unearth Women magazine, now available in our online store.