O'ahu may not be the largest Hawaiian island, but it certainly packs a punch. Home to the state capital of Honolulu, O'ahu's urban center is a dynamic cultural destination with all the culinary delights, shopping, and nightlife you could ask for from a remote Polynesian isle. But it's also the site of tremendous history, from Pearl Harbor to ancient volcanoes, where a pantheon of deities still resound. Women figure heavily in O'ahu's makeup, be they formidable goddesses, influential queens and princesses, or pioneering philanthropists. In fact, it would seem that behind many of O'ahu's most compelling sites is a great woman.
Honolulu Museum of Art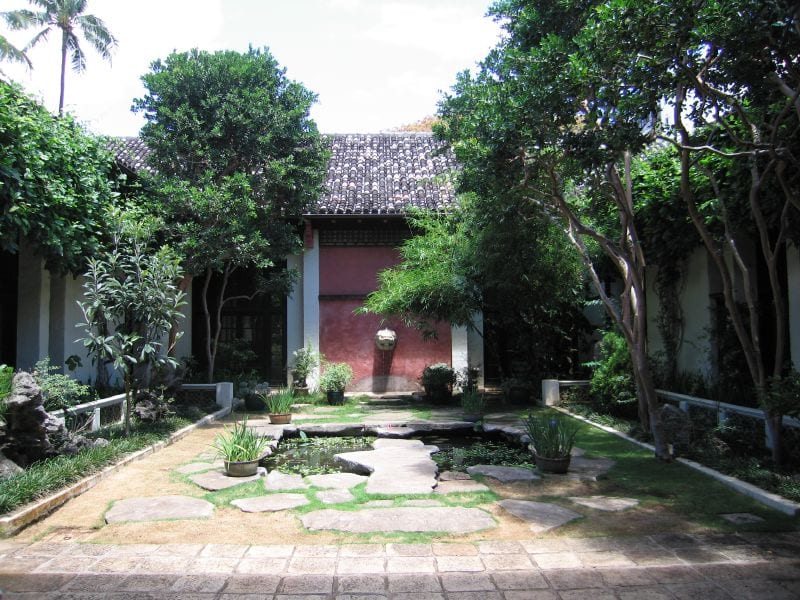 While spending precious island time indoors may not be your first inclination, a visit to the Honolulu Museum of Art won't go amiss. The museum (which encompasses plenty of tranquil outdoor space across multiple courtyards) is the materialized vision of O'ahu-born missionary Anna Rice Cook, who made it her mission to establish Hawaii's first fine art museum for the benefit of future generations. Anna and her well-to-do husband, Charles Cooke, amassed an expansive art collection to reflect the diversity of the Hawaiian islands; but it was a quartet of women—Anna, together with her daughter, daughter-in-law, and a local art teacher—who laboriously researched and catalogued the collection, and secured a sizable endowment so that a suitable public space could be built to exhibit it. Today, the Honolulu Museum of Art boasts a fair few masterpieces from the greats, including but not limited to Francis Bacon, Alex Katz, Helen Frankenthaler, Vincent van Gogh, and Alice Neel, alongside 50,000 works of art from across six continents and five millennia.
'Opae'ula Valley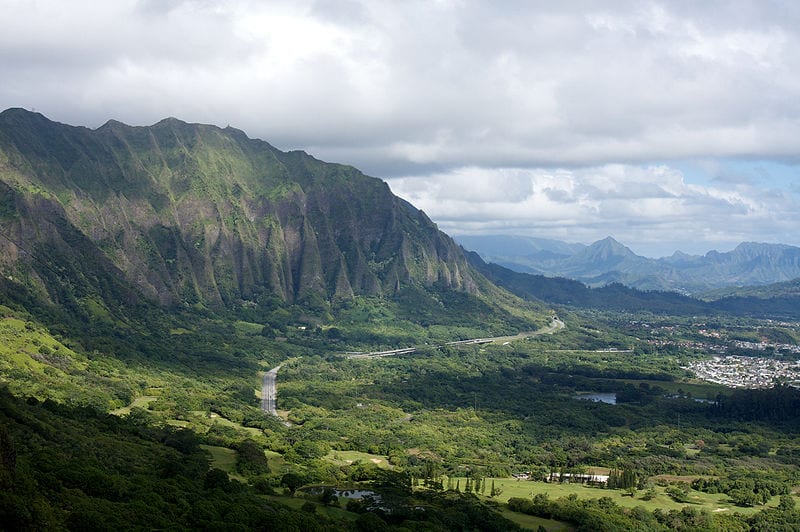 'Opae'ula (named after a kind of red shrimp once found nearby) is a lush valley that cuts through the Ko'olau Mountain Range, an arresting shield volcano situated on the North Shore of O'ahu. A guided hike with North Shore Eco Tours will take you from the charming town of Hale'iwa to the 'Opae'ula Valley, with plenty of scenic vistas, tropical plants, and refreshing mountain pools along the way. The land is owned by the Kamehameha Schools, a Hawaiian school system worth an astounding $11 billion, and established in 1887 by Princess Bernice Pauahi Bishop. Pauahi would never rule; rather, she abdicated the throne upon her brother's death. When she died in 1884, it was her will that two schools—one for boys and another for girls—would be built on her sprawling land. The Kamehameha Schools, as they would become known, are named after the first Hawai'ian king, Kamehameha I, and were founded to educate children of native Hawai'ian descent. Pauahi's estate, 360,000 acres of which is dedicated to land conservation, remains Hawaii's largest private landowner.
Kapiolani Park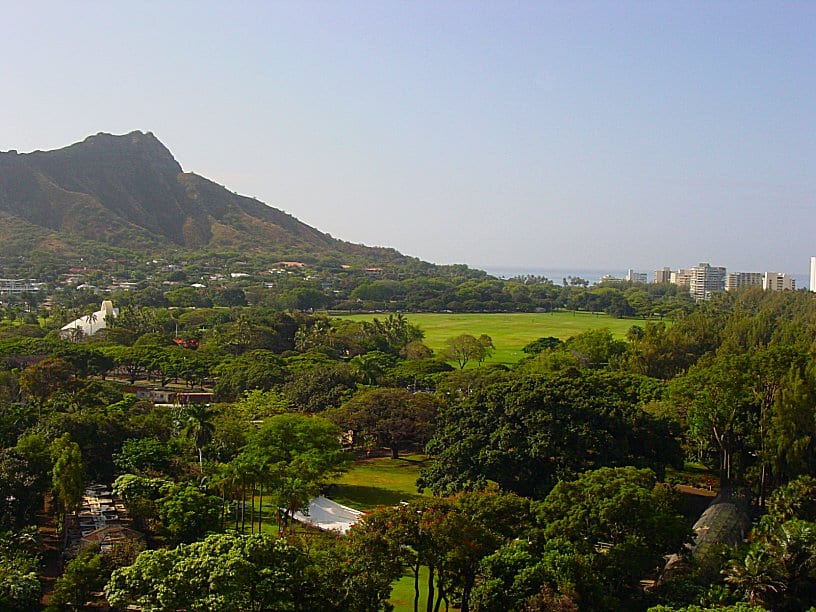 Located in the eastern end of bustling O'ahu neighborhood Waikiki, Kapiolani Park is the largest of its kind in Hawaii. The verdant public space, which comprises 130 acres, is a popular recreational site with magnificent views of Diamond Head, Honolulu's resident volcano. The park was established in 1887 by King Kalakaua, and named after his wife, Queen Kapi'olani. During her reign as Queen Regent from 1874-1891, Kapi'olani championed women's rights to education and proper healthcare. In particular, her philanthropy extended resources to native Hawai'ians afflicted with leprosy; the Queen routinely visited the Kaka'ako Branch Hospital, which tended to leprosy patients from all over Hawaii. Following her visit to a leper colony on the island of Moloka'i, Queen Kapi'olani funded the construction of more hygienic spaces, as well as the Kapiolani Home for Girls, a school for the daughters of lepers, and the Kapiolani Maternity Home, where new mothers and their children could receive proper medical care.
'Iolani Palace
Rewind to the Hawai'ian Kingdom's sunset years at 'Iolani Palace, former home to King Kalakaua and Queen Kapi'olani, and Hawai'i's only reigning Queen and last monarch, Lili'uokani. Construction of this unusual American Florentine palace was completed in 1882, and the vast interior was outfitted with luxe materials and cutting-edge amenities, including electricity and a telephone. This lavish residence served as the official royal quarters in Honolulu until the monarchy was overthrown in 1893, after which many of the palace's furnishings were sold at auction and the building was repurposed as the State Capitol. When the government relocated in 1969, a long-term quest to restore the palace was inaugurated by Queen Kapi'olani's grandniece. A number of the original furnishings were tracked down in homes and thrift shops from the Midwest to Australia, and the search continues for many of the palace's original accouterments.
Pele's Chair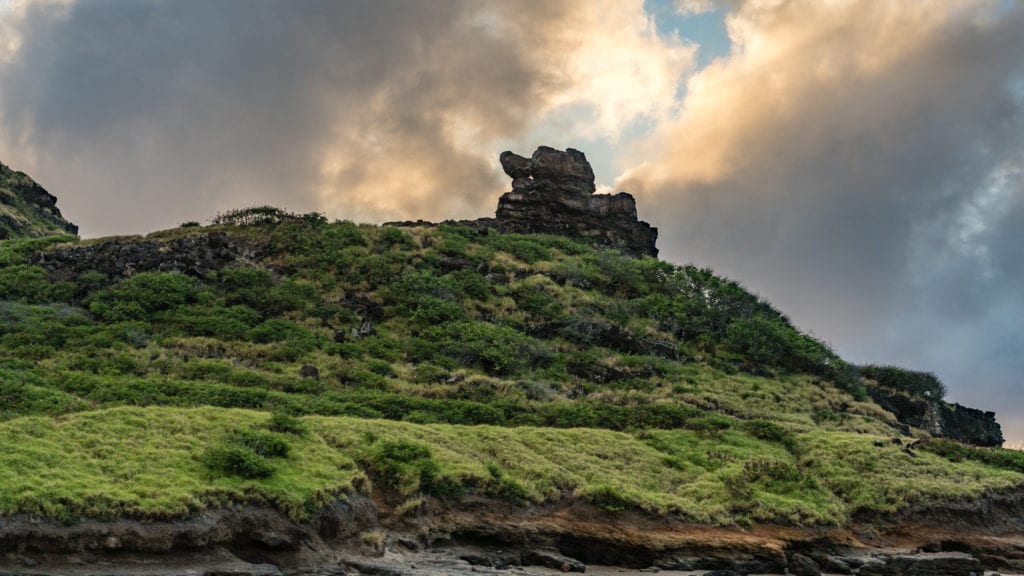 An imposing rock formation akin to an igneous throne towers over the Ka'iwi coastline on O'ahu's South Shore. The landmark's divine connotations are perfectly fitting for its namesake, the goddess of volcanoes and fire. Pele is a revered Hawai'ian deity, both feared and worshipped for her power to conjure flames from deep within the earth. According to Hawai'ian folklore, Pele once resided in O'ahu, where she rested upon this very volcanic throne. She eventually settled on the 'Big Island' of Hawai'i, but Pele's Chair remains a sacred relic of her presence on O'ahu. An easy trail from the Makapu'u Lighthouse will direct you toward the ocean, where you can ascend the rocks for a closer look at Pele's Chair, traverse the sandy beach at its foot, and examine surrounding tide pools for sea critters.
Kualoa Ranch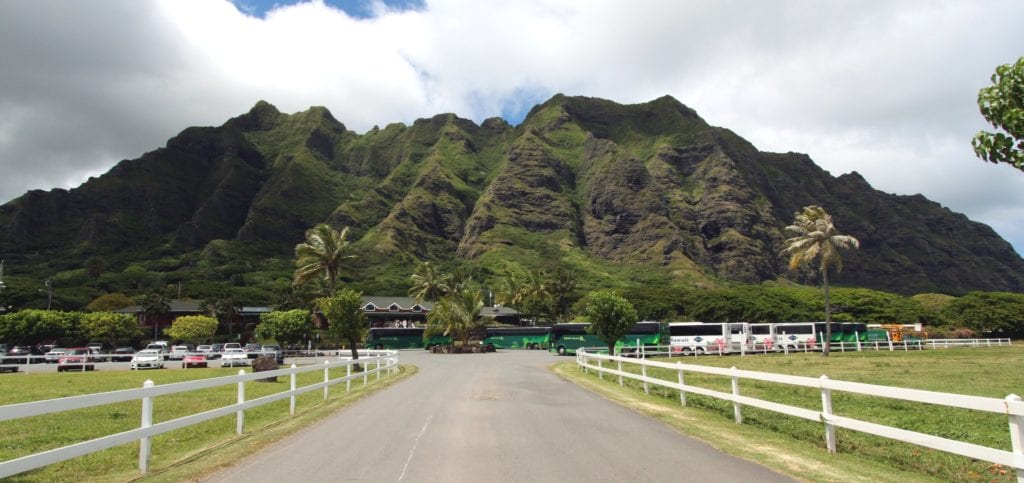 If this 4,000-acre nature reserve looks oddly familiar, it's probably because you've seen it in innumerable films and TV shows, from Jurassic Park to LOST. The sublime mountains of Kualoa are indeed worthy of the Silver Screen, which is why Kualoa Ranch, established in 1850, holds two listings on the National Register of Historic Places. The eighth-generation owners of the ranch continue founder Gerritt P. Judd's mission to protect and conserve this spectacular swath of land, while providing tourists with their pick of on-site recreational activities; including horseback riding, ATV and UTV tours through the valley, farm-to-table dining, and an escorted kayaking adventure for a close-up glimpse at the mysterious Mokoli'i island, colloquially known as Chinaman's Hat. Hawai'ian legend preserves the tale of Hi'aka, Pele's sister, who was pursued by a colossal dragon through Kualoa. She created Mokoli'i when she slayed the dragon and threw his tail in the middle of the ocean. Kualoa, which means "Long Back," is what remains of the dragon's spine.
Shangri La Museum
This magnificent former residence with ocean views houses an impressive collection of art from Syria, India, Morocco, and Iran. Comprising a 14,000 square-foot home, courtyards, gardens, and more, Shangri La was built in the 1930s at the behest of American tobacco heiress Doris Duke. It was 1935 when Duke first arrived in Honolulu, which she reached by way of the Middle East. She was completely taken with the journey and the destination, and promptly decided to build a mansion that would house her growing collection of Islamic art. She worked extensively with Islamic artisans, who custom created the art objects and design elements that still outfit the house; from the carved Moroccan ceilings to the hand-painted Iranian tiles. Complemented by sleek modernist accents that characterized then-contemporary Western architecture, Shangri La is one of the most treasured architectural masterpieces on O'ahu. Duke continued to collect Islamic art for over 60 years, and amassed some 2,500 pieces in the process. Today, the museum supports artists and scholars who work within the scope of Islamic art.