The first time I see Audrey Gelman, her hair is swept back in french braids and she dons a long red dress for the role of Lizzie Borden. Reading an old court transcript from Borden's 1893 trial, Gelman seamlessly transitions from her role as CEO of The Wing into the character of a 19th century murder suspect.
It's a balmy summer night at Camp No Man's Land, The Wing's answer to summer camp for adults, and Gelman is surrounded by candlelight and enraptured women. As she captures the stoicism of Borden on trial, one can't help but admire the many roles that Gelman plays.
Audrey Gelman is CEO and Co-Founder of The Wing. Together with her business partner, Lauren Kassan, she founded what is now the fast-growing women-focused co-working space. The Wing, having opened its first location in New York City's Flatiron District in 2015, is a millennial pink-hued haven that caters to the needs of professional self-identifying women.
"We are in a pivotal moment in this country," explains Gelman. "It is important to protect and foster the work of The Wing and spaces that give women and other folks who experience gender-oppression—like our trans sisters and gender non-conforming friends—a positive and safe space to thrive."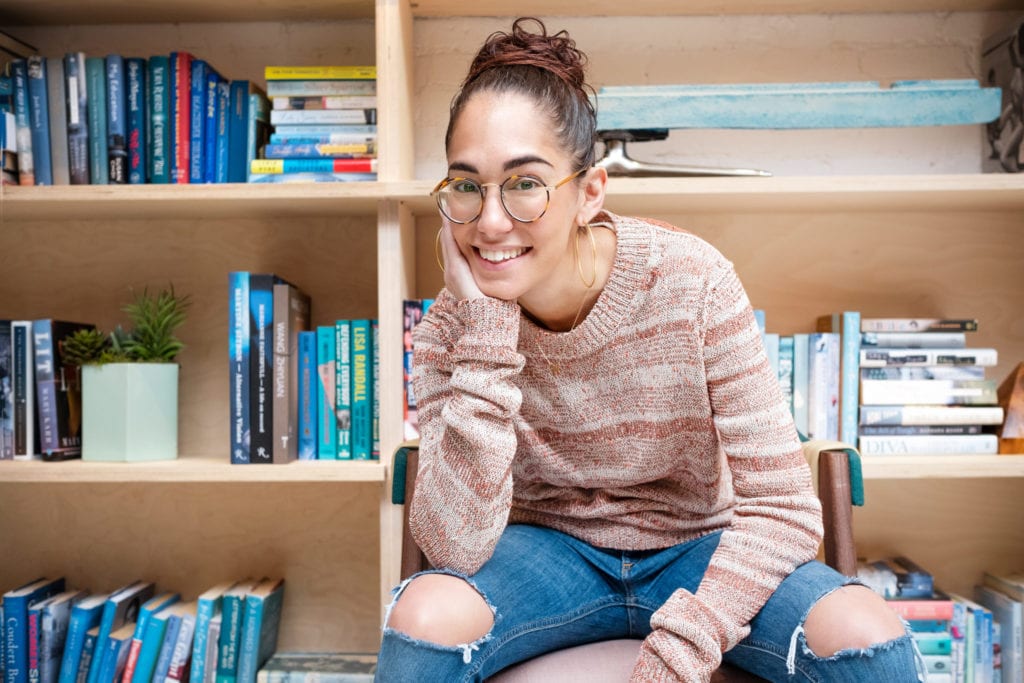 Each time I spot Gelman at The Wing, she smiles like a proud mother watching her child walk for the first time. She hosts Wing panel discussions and dances alongside members at The Wing's very own prom. She is remarkably approachable and accessible for a CEO, so it comes as no surprise that when I finally do meet Gelman, I hug her like an old friend.
Before launching The Wing, Gelman worked as a press aid for Hillary Clinton's 2008 presidential campaign, a Deputy Communications Director for Scott Stringer's campaign to win New York City Comptroller in 2013, and later at the political consulting firm, SKDKnickerbocker. The seed for The Wing was planted when Gelman realized women needed a place to refresh between home and work, work and home. From there, the concept bloomed into a co-working space that would not only offer a retreat for women on-the-go, but that would resurface the women's club.
"The Wing was inspired by history," says Gelman. "There were over 5,000 physical women's clubs active in the United States between the years of 1890 and 1930, and they had a huge influence on the suffrage movement and the overall advancement of women in this country. With The Wing, we were seeking to resurrect this concept for contemporary women, and make it a space where women could see projects take flight and find community together. "
Offering so much more than a co-working space, The Wing has become a diverse and welcoming enclave for self-identifying women as well as gender non-conforming and non-binary individuals. Members of The Wing can mingle, grab lunch, freshen up, and attend events, which have included speakers like Hillary Clinton, Jennifer Lawrence, and America Ferrera.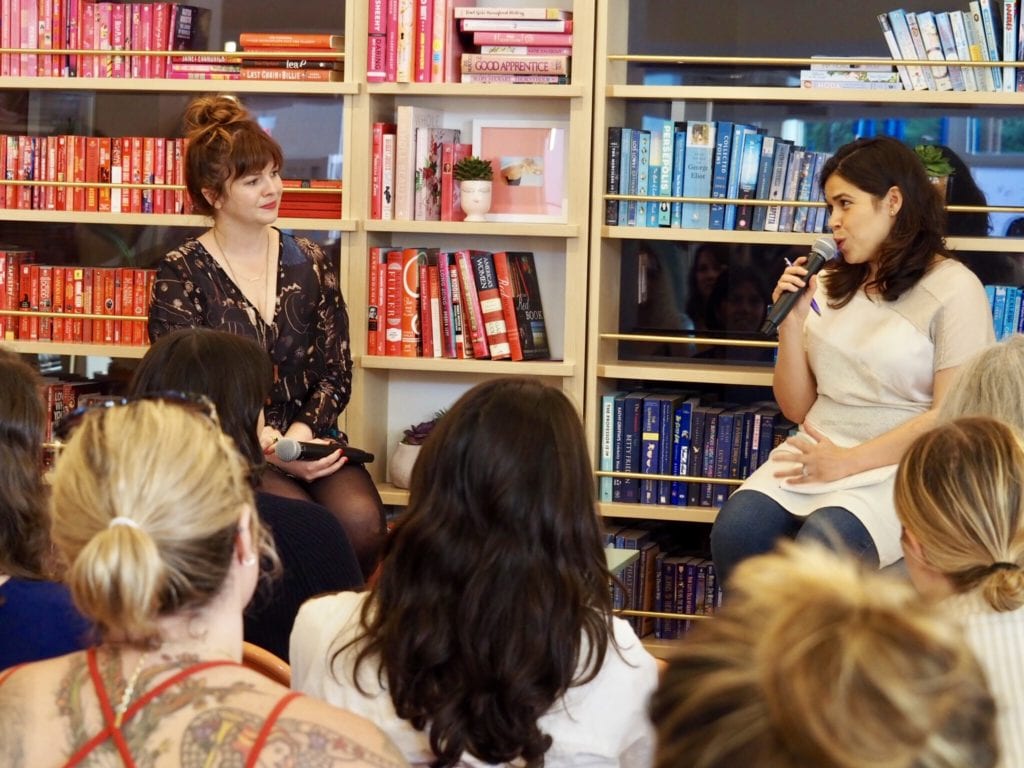 The Wing is set for global expansion, having opened locations in New York, DC, West Hollywood, and San Francisco. This year, The Wing has taken flight across new cities, including Chicago, Boston, and its first international outpost in London.
"As we grow, it is imperative that we maintain the integrity of the spaces, and this takes intention and thought. Much of what we do is informed by our members and the honest, thoughtful feedback they give us," adds Gelman. "We know that our members are multi-faceted and each space has to cater to the needs of the city we're occupying. We make sure to partner with local organizations, food partners, create programming that speaks to the desires of each different membership cohort, and hire folks who really understand both The Wing and the needs of its members."
Having raised $8 million USD in their Series A, $32 million USD in their Series B, and recently $75 million in their Series C from Sequoia Capital, Airbnb, Upfront Ventures and other investors, The Wing is not only breaking new ground, but breaking barriers. The Wing has raised the largest amount by female founders in recent history at a time when, according to Fortune, women snagged a measly two percent of venture capital dollars in 2017. While The Wing and its team are blazing the trail for female entrepreneurs, getting the necessary funding did not come without its challenges.
"Raising capital is deeply intimidating," recalls Gelman. "We knew two things: we were passionate about and believed in what we were creating, and [we] weren't willing to compromise our vision for investment from the wrong people."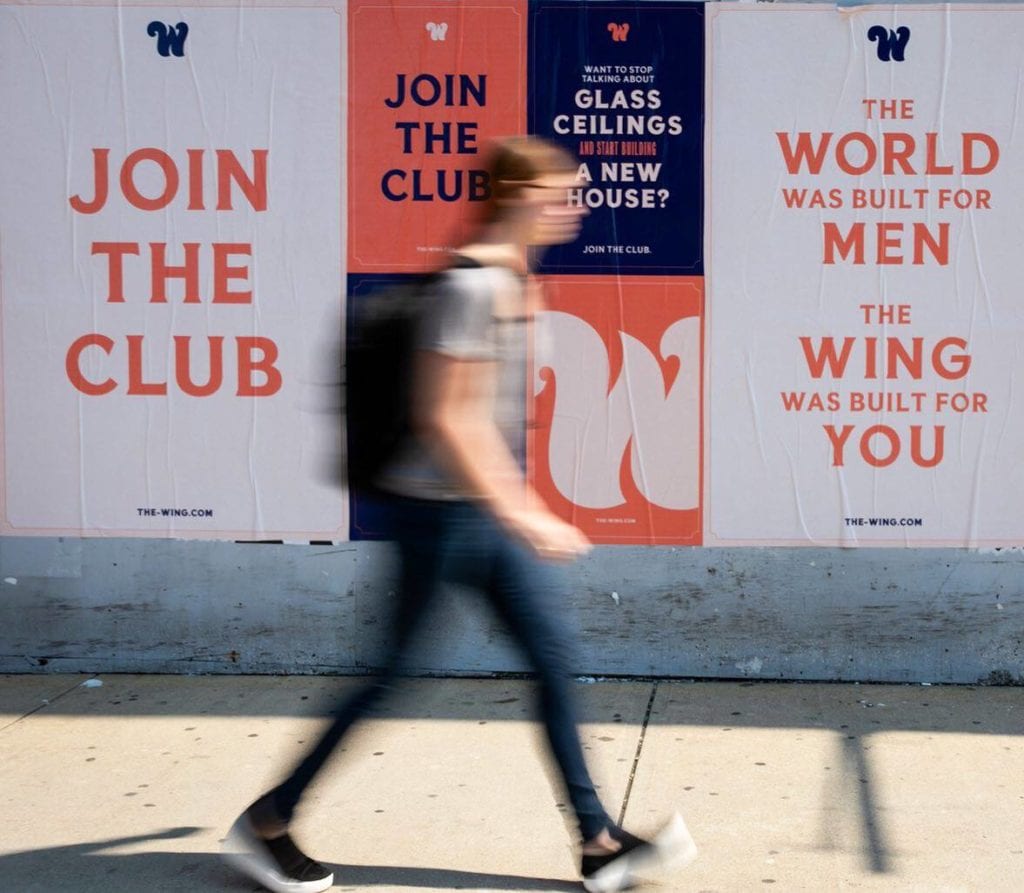 While co-working spaces such as WeWork and Soho House exist, The Wing's chic design and inclusive event offerings have managed to set it apart. The Wing caters to its diverse community by offering wellness workshops for women of color, support circles for survivors of sexual assault, candid conversations about disability, and happy hours for Latinx women.
"Diversity is one of the most important parts of who we are and we work at it every day," explains Gelman. "Inclusion is not something that happens when it's just left to chance. We have a full-time team that works to ensure the diversity of our membership base, our internal teams at headquarters, the programming and events at The Wing, and the products and the partners we choose. At The Wing, we are also very conscious of the fact that cisgender women are not the only people who suffer from gender oppression."
I meet Gelman at the The Wing's Soho location in New York City. Natural light pours into the space where pink furniture is offset by jewel toned accents. A lending library—curated by the iconic New York Strand Bookstore—features an array of titles by women and about women, organized by color.
Delicate flower bouquets adorn the tables while luxe amenities like a beauty room stocked with high-end products, a nap room, and showers go far beyond the facilities of a standard co-working space. At about 10,000 square-feet, The Wing's Soho location is expanding to the floor below to make space for The Little Wing, where working parents can leave kids with certified babysitters while they go off to conquer the world.
As this very publication was conceived of at The Wing, Audrey Gelman tells me how proud she is of Unearth Women and its launch. For a woman who is running a rapidly expanding company, who spoke at the 2018 Glamour Women of the Year Summit, who has been featured in international media, it's incredibly humbling that she makes time to celebrate the successes of her Wing members. Ultimately, it's this sense of support and consideration that enriches The Wing community.
"The great thing about creating an environment like The Wing is that we're all going through similar challenges and are familiar with the extra pressures that women face," says Gelman. "[We] can help each other withstand them together."
This story originally appears in the Spring Issue of Unearth Women, available now in our online store and in bookstores.