Ethiopian-Italian Greta Francesca Iori's love of the outdoors and travel led her to a career as a wildlife crime expert. As a consultant, Iori works with various organizations to protect lions and endangered elephants in some of the most remote parts of Ethiopia. Unearth Women spoke to Iori a few days after the public closure of the Lion Zoo in Addis Ababa, which she had been campaigning for with the Born Free Foundation. In this interview, Iori talks about coming face to face with poachers, her role in saving Ethiopia's last wilderness and promoting tourism.

UNEARTH WOMEN (UW): HOW DID TRAVELING ACROSS ETHIOPIA WITH YOUR FAMILY LEAD YOU TO A CAREER IN WILDLIFE CONSERVATION?

Greta Iori (GI): I feel like my profound love for nature and the conservation of the wilderness in its most pristine state most certainly stems from the countless days I spent exploring Ethiopia with my family. The lazy mornings by a volcanic lake called Langano we grew up on, the thrill of river rafting down crocodile infested rapids, the adventures of racing against the sunset to reach a village when our car's battery was burnt in the great rift valley and other adventures dictated that I would pursue a career in wildlife conservation.

UW: PART OF YOUR WORK AS A WILDLIFE CRIME CONSULTANT HAS BROUGHT YOU FACE TO FACE WITH POACHERS. HOW DID SPEAKING TO THEM CHANGE YOU?

GI: Spending time with some of the perpetrators of the crimes I work so hard to resolve was an experience I'll never forget, but it taught me more than ever the complexities of serious organized crime and criminal networks. I fundamentally believe that we need to adopt a human heart to the conservation issues we are facing, and acknowledge the myriad of injustices and exclusions that have resulted due to the historically divisive approaches conservation implemented across the African continent during the colonial period.

Listening to ALL sides of the story unbiasedly as possible is vital when trying to find solutions, and therefore discussing the realities of the illegal wildlife trade with criminals themselves revealed aspects of the trade that I had never even thought about and has definitely helped me adapt my strategies in getting closer to ending the atrocities of these crimes.

UW: YOU HAVE BEEN WORKING TIRELESSLY TO PROTECT ELEPHANTS LOCATED IN SOME OF THE MOST REMOTE PARTS OF ETHIOPIA. WHY DID YOU DECIDE TO FOCUS ON ELEPHANTS?

GI: Elephants are no doubt icons of the African continent and are on the "big five list" for people who visit the continent on safari. They are one of the most important species of our planet and are what we call keystone species playing a vital role in maintaining the biodiversity of the ecosystems in which they live and upon which all our livelihoods depend.

Focusing on the conservation of elephants and their habitats means focusing on the conservation and sustainable development of endless species, habitats, ecosystems, nation's incomes, tourism potential, local communities, and universal heritage. I am no doubt an obsessive lover of elephants, as they are some of the most incredible animals to interact with, learn from and be in the presence of, but above all, I believe that we need to save elephants in order to save the vast African systems that depend on the land where elephants are found. In Ethiopia for instance, since the 1980s, we have lost about 90 percent of our elephant population, so it's vital that we work to protect them.
UW: ONE OF YOUR PROJECTS WAS WORKING WITH THE BORN FREE FOUNDATION TO CLOSE THE LION PARK IN ADDIS ABABA. WHAT ARE THE NEXT STEPS?

GI: The lion zoo in Addis Ababa, a famous yet rather grim facility is now (thankfully) closed to the public after years of protests regarding the state of the facilities of these majestic lions. Nevertheless, the challenges are not over as the management of the Lion Park is not yet willing to hand over the lions to the Born Free Foundation for reasons beyond our understanding. I passionately believe and advocate that all wildlife deserves to remain in its appropriate habitat, and if it can be avoided, I ask all readers and followers of my work to avoid visiting animals in captivity but rather invest a little more and experience the magic of seeing them where they belong, in the wild!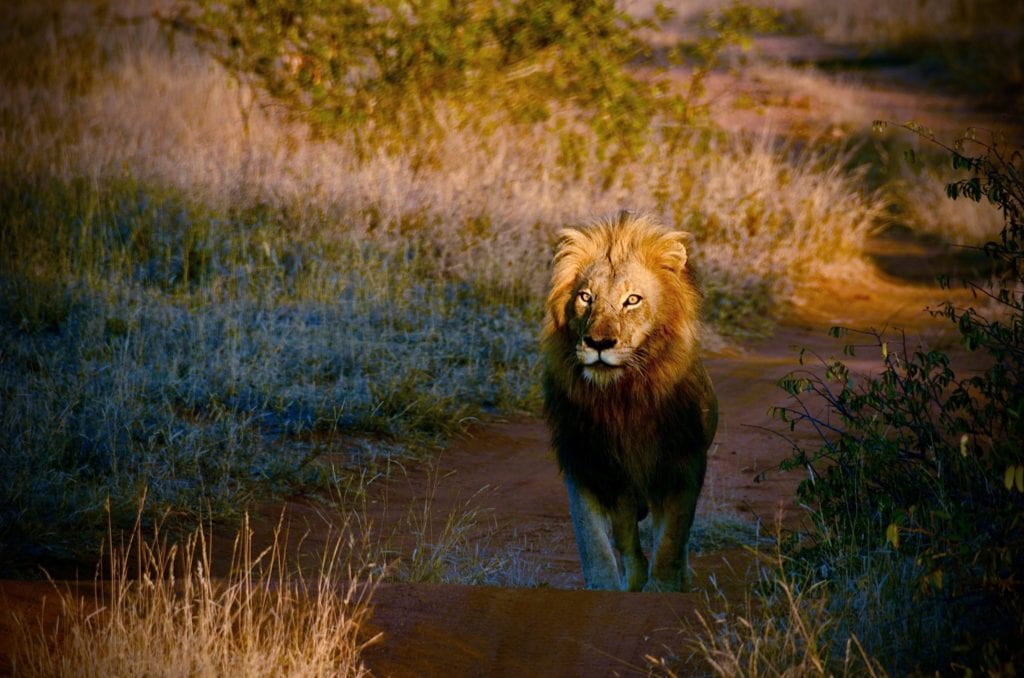 UW: ETHIOPIA'S TOURISM ORGANIZATION RECENTLY NAMED YOU AS ONE OF ITS ADVISORS. CAN YOU PLEASE TELL US MORE ABOUT YOUR ROLE?

GI: Ethiopia is home to some of the last great wilderness on the continent, as well as hosting some of the most majestic endemic species on the planet (the Ethiopian Wolf, Gelada Baboon, Mountain Nyala, Walia Ibex, and Wattled Ibis, etc.) and part of the strategizing team, I hope to help shape policies that contribute towards the long-term protection of the habitat of these species. The overall sustainable development of eco-tourism in the country will benefit Ethiopia and those visiting for centuries to come.

UW: HOW CAN UNEARTH WOMEN READERS SUPPORT YOUR WORK?

GI: By SPEAKING UP! Advocacy, raising awareness, and holding our leaders, families, friends, and neighbors accountable for the actions that go against the conservation of wildlife and wild spaces are vital if we are going to make a real change in the way natural resources are managed. We need to all contribute towards the shift of mentality and actions required to end the atrocities of the illegal wildlife trade and destruction of the environment. Small actions added up create mass changes. Therefore don't be afraid to educate your circles on the importance of creating wildlife and nature economies that benefit local communities, speak up against those who encourage poaching, captive wildlife centers, exotic pets or purchasing of wildlife products such as wildlife skins, ivory, rhino horn, pangolin scales, live birds, shark fin, etc. It costs us nothing to do the right thing and ask the right questions, our environment depends on it!

UW: WHERE CAN UNEARTH WOMEN READERS FOLLOW YOUR EFFORTS?
GI: Follow my journey on Instagram (@theItaliopian) and share my posts, information, and help me raise awareness about the issues we are facing regarding wildlife conservation, the lack of sustainable development and the illegal wildlife trade. Later this year, I will also be re-launching my website to focus on detailed accounts of my work coupled with specific ways that those passionate about the subject can contribute and get involved.