It's a crisp March morning when I arrive at the newly opened Greenery Unlimited in Brooklyn, New York. The city has been teetering on the edge of winter and spring, but this charming plant shop contains the very essence of summer within its exposed brick walls. Sunlight pours through floor-to-ceiling windows, lighting up the terracotta archways like a desert sunrise. From velvety succulents to lush ferns, plants fill Greenery Unlimited's every nook. With the push of a door, I am instantly transported from the streets of Brooklyn to a verdant jungle.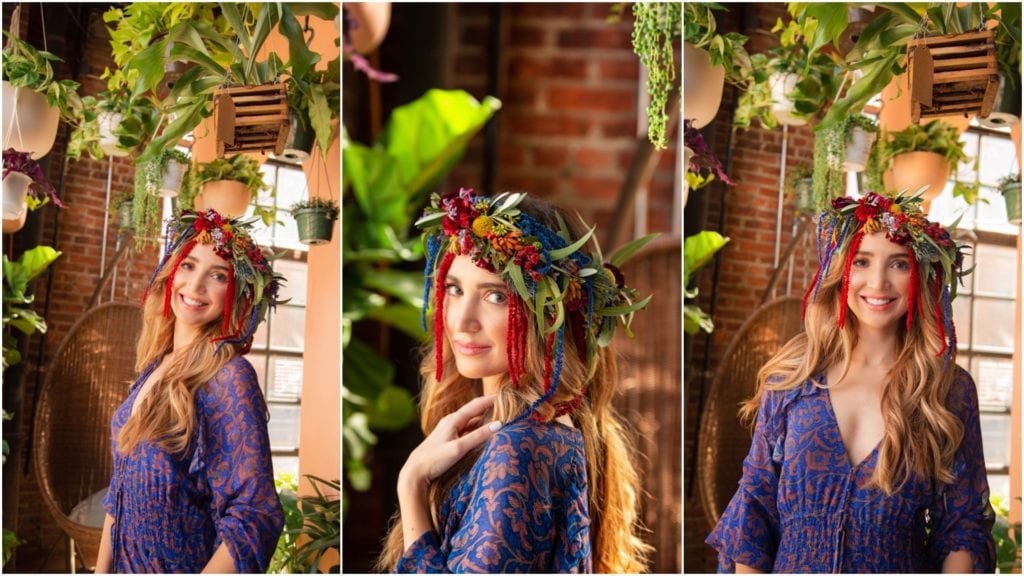 In the middle of this botanical wonderland is international model, actress, and activist, Megan Pormer. Donning a hand-crafted flower crown and a flowing blue dress, Pormer is ethereal. She has appeared on the covers of Cosmopolitan Middle East, Women's Health Middle East, and Elle Arab World, in addition to her appearance in short films including For the Birds (2014), a harrowing Iranian production directed by Tara Atashgah. Pormer's activism began early in life when she became the youngest-ever representative of Children's Rights at the United Nations.
"I was lucky enough to travel as a kid and witness, first hand, the disparity between how children in Western countries grow up versus children of the Middle East," recalls Pormer, whose family originates from Iran and Turkey.
She would go on to become an acclaimed model while studying medical engineering in London, and when she eventually settled on the shores of Los Angeles, she made it her mission to take Hollywood by storm while spreading awareness of genetic testing.
Too often women are labeled 'beautiful' versus 'intelligent,' yet Pormer has successfully managed to build a bridge between her Hollywood persona and medical education. She derives a quiet power from her unique duality: the glamour girl and the academic.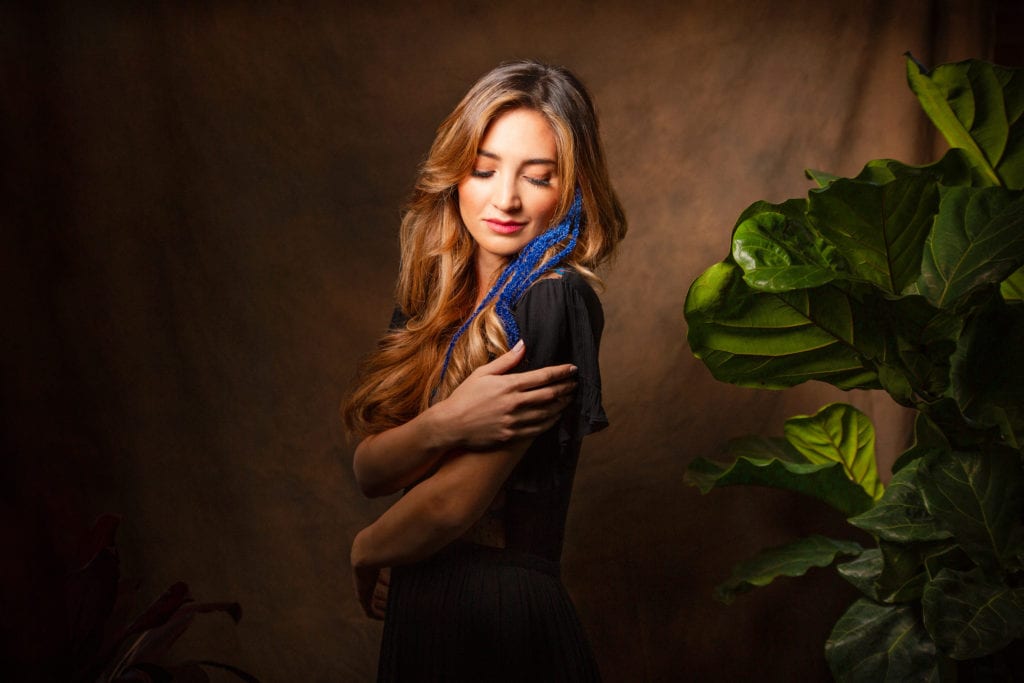 She is both the internationally-recognized model who has appeared in Vogue Arabia and on the catwalks of New York Fashion Week, and Negin Bagheri Pormehr—Pormer's legal name—who wrote her PhD thesis at the esteemed Imperial College in London on "the influence of atherosclerotic plaque on the stress distribution of layer-specific coronary arteries."
Of her medical school work, Pormer explains, "I was passionate about health care issues, studying medical engineering, and seeing amazing scientists working on life-saving treatments for cancer, Alzheimer's, and other major health issues. Nobody knows or recognizes these scientists and their important work, and yet anyone in Hollywood with a microphone is widely known and listened to. I asked myself then, 'How can I create a bridge between the world of medicine and entertainment so that I can help create awareness of the work these scientists are doing?'"
The answer to Pormer's question came in 2013 when actress and UN Goodwill Ambassador Angelina Jolie shocked the world with news of her preventative double mastectomy. Jolie, who had tested positive for the BRCA1 gene mutation, was told by doctors that she had an 87 percent risk of developing breast cancer and a 50 percent risk of developing ovarian cancer.
Jolie, who penned an op-ed for The New York Times, wrote, "I wanted to write this to tell other women that the decision to have a mastectomy was not easy. But it is one I am very happy that I made. My chances of developing breast cancer have dropped from 87 percent to under five percent."
For Pormer, Jolie's message drew unprecedented and worldwide attention to the benefits of genetic testing. "I was studying in the genetic field [at the time] and aware of how tests exist that can alert you to whether you're predisposed to cancer. Not many people were aware of these tests at the time, but when Angelina Jolie had her preventative double mastectomy, I realized the power of the media to raise awareness for medical treatments and testing," Pormer explains. "Genetic testing existed for a long time, but it didn't become common knowledge until Angelina spoke about it."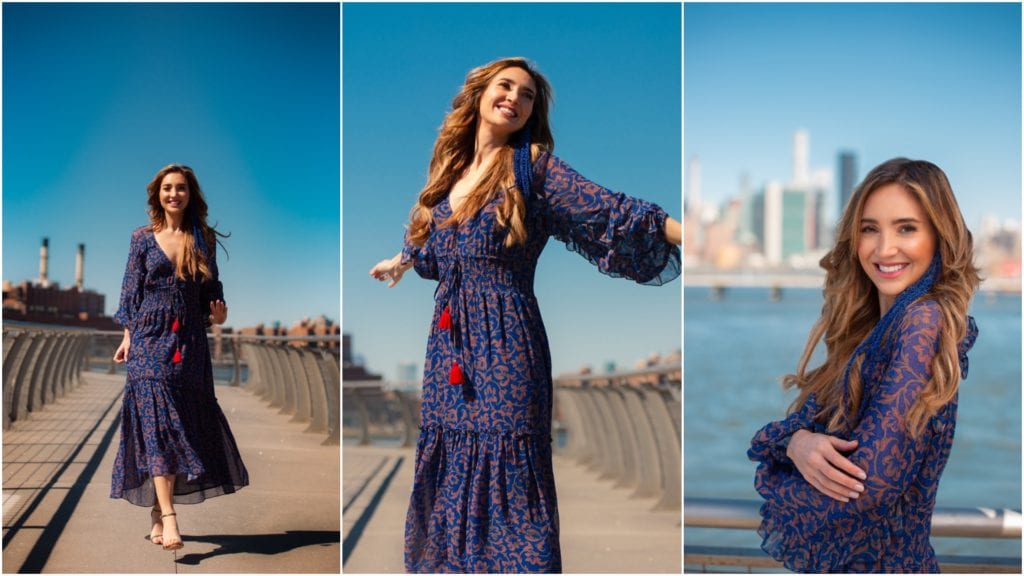 This was the moment when Pormer realized the power of merging her passions for modeling and medicine. Armed with beauty and brains, Pormer sought to leverage her flourishing platform as a model to build international awareness of genetic testing and preventative medical treatments.
"When I first started working in the medical world I was told that I would have to give up on modeling if I wanted to be taken seriously," recalls Pormer. "For a few months, I tried, but then realized I wouldn't be able to deliver in the medical world if I gave up on [my passion]."
After she graduated from Imperial College London, Pormer worked as a business consultant for a genomics corporation that operates in over 40 countries to provide physicians and their patients with precise healthcare information. Pormer commercialized their work by publicizing the ways in which genetic testing can inform a personalized wellness plan—a practice she applies to her own lifestyle.
Pormer's work landed her a feature in Women's Health Middle East, following a breakthrough into the US entertainment industry with guest appearances on Botched and Keeping up with the Kardashians. She used both opportunities to openly discuss the benefits of genetic testing.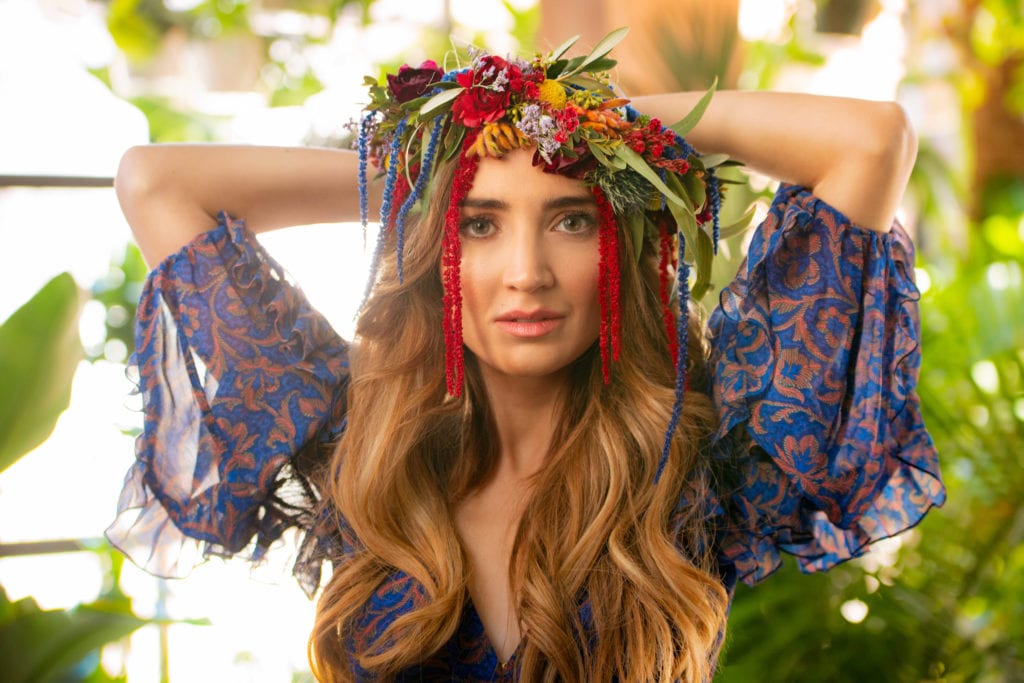 "To me, being powerful means feeling in control of whatever life throws at you," Pormer says. "[Genetic testing] gives you the tools to not have a dream die with you."
Upbeat music wafts through Greenery Unlimited as Pormer swings languidly from a hanging wicker chair. Chin in hand, a ray of sunlight illuminates Pormer's serene, smiling face. Even in this day and age in which women sustain movements such as #MeToo and #TimesUp—Pormer fights to prove that women can be both beautiful and accomplished, fashionable and serious, models and scientists. It's a war that all women wage as we continue to obliterate antiquated gender roles in an ever-evolving society.
This story originally appeared in the third issue of Unearth Women magazine, available for sale now in our online store.