It's cold, grey, and damp in Istanbul during December. Birds sing around the spires of the Blue Mosque while tourists grab fish sandwiches from beneath the Galata Bridge. At rush hour, the city's locals bundle up in thick scarves and shuffle into the metro system or onto the boats that cross the border between Asia and Europe.
The covered Grand Bazaar provides a retreat from the constant drizzle that falls from the skies, while the shop owners rest from their carpet haggling to enjoy cups of tea and crispy Simit bread. Only a few stops away on the tram, which snakes through the narrow alleyways and Mosques of Istanbul's European side, the Fatih neighborhood offers a different vision of Istanbul to what tourists often see.
The Fatih neighborhood has become home to many refugee communities over the last decade, earning it the nickname of "Little Syria," although the district is also home to people from Iraq, Afghanistan, and other war-torn countries. In early 2015, a restriction was placed on refugees entering Istanbul for longer than three months and instead, the Turkish government re-homed refugees to smaller cities and towns around the country. Most of the refugees living in Istanbul have been here for many years, slowly establishing the city as their new home.
Small Projects Istanbul moved to the city in 2012 after its initial beginnings in 2008. Originally the project was set up by Australian ex-pat, Karyn Thomas, to work with Palestinians living in Syria's capital of Damascus. Only a few years later, Karyn was forced to leave Syria—alongside many of her Syrian friends—and arrived in Istanbul where she found that she could apply her work to assist the confused, displaced Syrian population she was now living amongst in Turkey. Small Projects began in the city by using English classes, art, and storytelling to help children and young refugees feel more at home in Istanbul.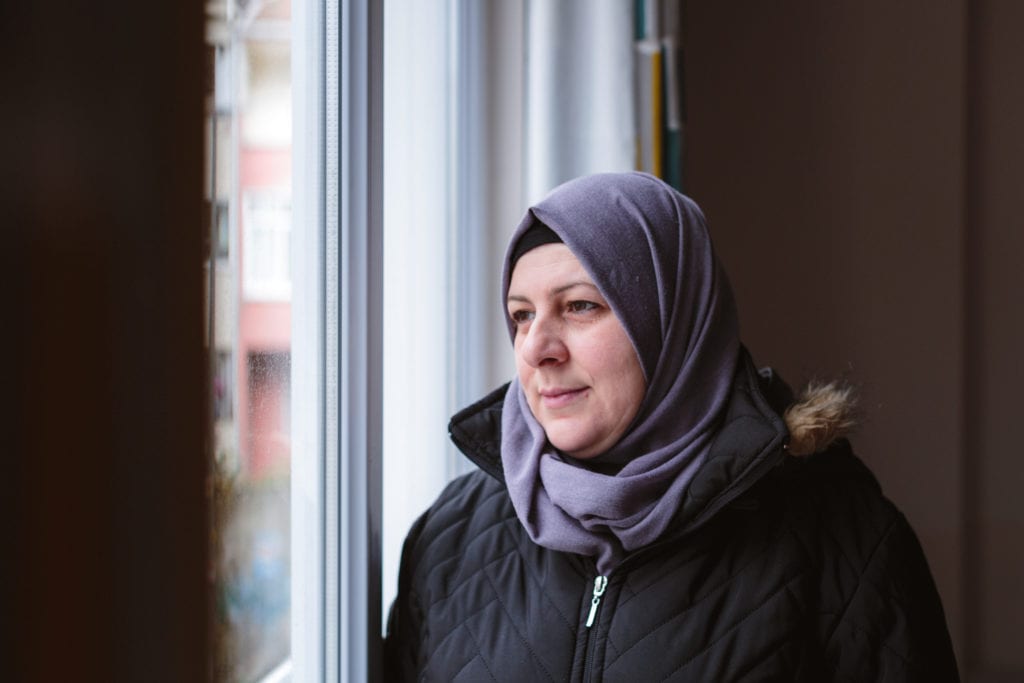 It was in 2015 that Small Projects Istanbul turned its focus onto women. Women make up almost half of all Syrians living under protection in Turkey, yet few have access to employment opportunities. This can not only lead to a lower household income and quality of life, but also loneliness and isolation as the women struggle to find community in a country where they don't' speak the language.
A year later, a volunteer for Small Projects Istanbul came up with the concept of 'Drop Earrings, Not Bombs,' an initiative that would provide refugee women with financial stability through creative work. The concept was simple: women would make a drop shaped earring to symbolize peace, community, and represent tradition. The women were taught the skills to create the earrings, and quickly the project took off, enabling more women to join the organization as makers.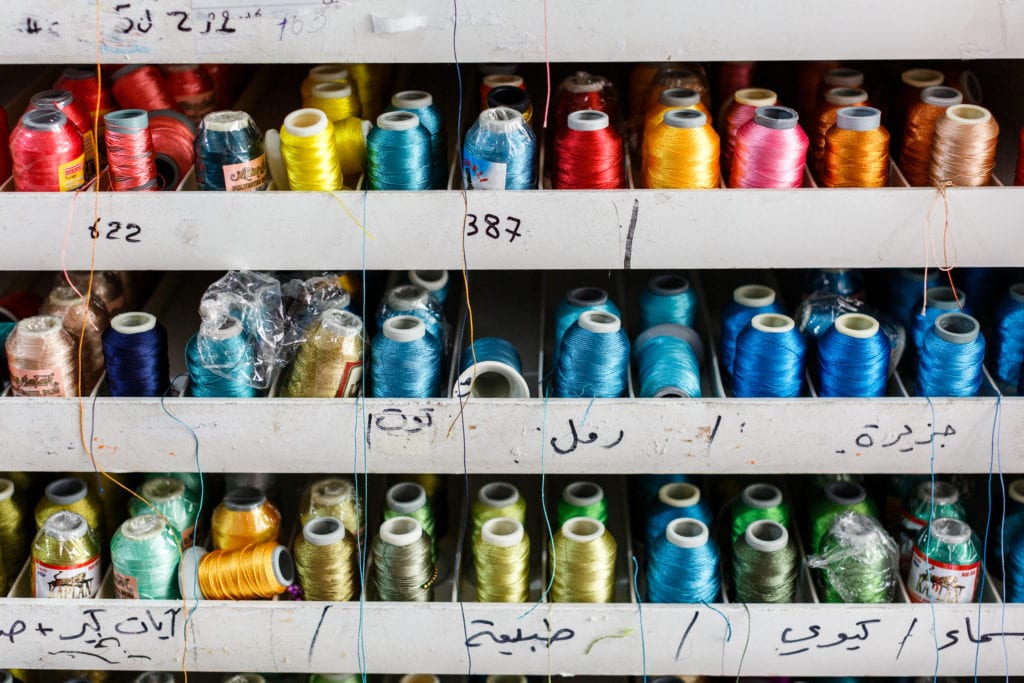 In their small office in Fatih, the rainbow threads and beading of the drop earrings brighten up the grey, dreary Istanbul winter. The women sit in groups making earrings, packing product, and preparing orders while chatting and erupting into laughter. While the success of 'Drop Earrings, Not Bombs' has provided these woman with an income, it's the power of community that they seem to value most.
"Before I came to the center, I felt I was living in exile and didn't know anyone," explains one of the women, Shaaymaa. "After I came to the center, I made many friends and expanded my network. I feel like they are my family."
The women often compare their lives in Turkey to the ones they left behind in Syria. Abeer, another maker in the project, used to be a manager of a travel agency. She is well educated and in many ways, the project does not reflect the skills she could offer, but life as a refugee is restrictive and the language barrier means it can be hard for adults to get well-paid jobs that match their education levels. "I felt really bad and isolated when I first arrived in Turkey," Abeer reflects. "The center has helped me to have hope for the future."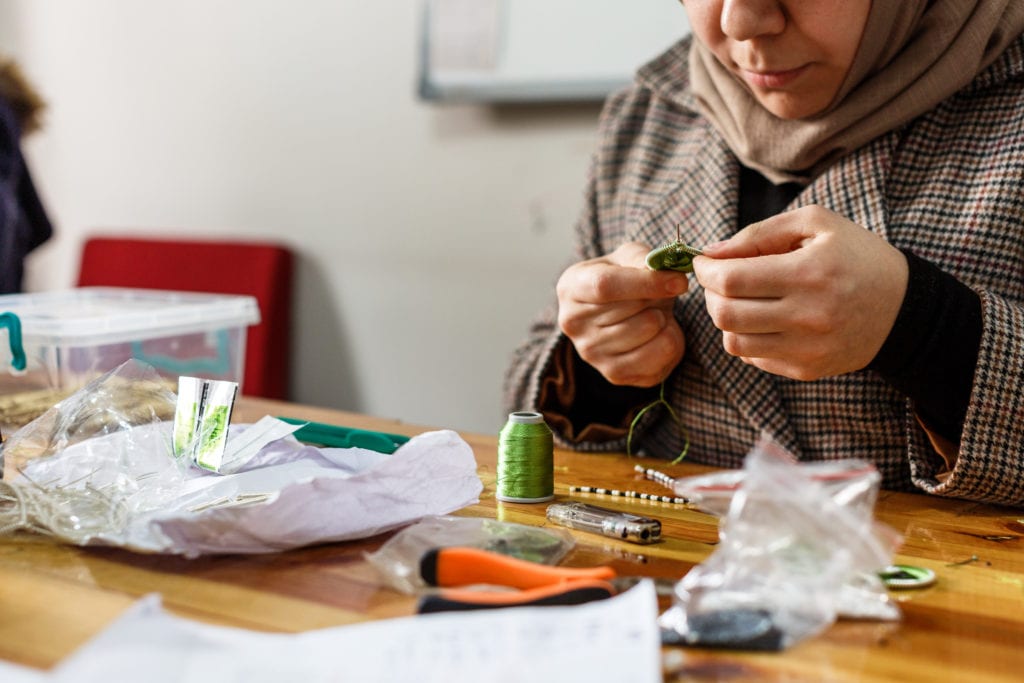 Alongside projects like the Women's Social Enterprise, Small Projects Istanbul also offers Turkish classes run by local volunteers, as well as homework practice, and math and computer classes for both children and adults. Recently, the women have begun working with Intrepid Travel to host traditional Syrian home cooked meals for travelers in an effort to teach them about the position of refugees in the city.
Earrings crafted by the women of Small Project Istanbul are sold via their online store, Muhra, which translates to female foal in Arabic. Today, Muhra sells handcrafted scarves, purses, tote bags, and t-shirts via their online store. As the women place a final stamp on their orders for the day, thread a final bead onto their latest designs, they head out into the city of Istanbul, a place which is slowly starting to feel more like home for them. While the beauty of Istanbul shines for every visitor to the city, it's these quiet projects unfolding behind closed doors that represent the true beauty and diversity of the city.
This story originally appeared in the third issue of Unearth Women, now available for purchase in our online store.