"My beauty is my smile."

This is the motto of the women at Sheroes Hangout, a café run and managed by acid attack survivors in India. They are strong, they are fearless, and they're challenging the perception of beauty while raising awareness of violence against women.
Nestled amongst a row of busy shopfronts in the famous city of Agra—home to the Taj Mahal—stands a brightly colored two-story café called Sheroes Hangout. This pay-what-you-choose café employs women who have survived harrowing acid attacks, often at the hands of their own family members or romantic partners. According to a 2017 report by USA Today, acid attacks have been on the rise in India, averaging an estimated 250 to 300 victims per year. In India, an estimated 70 percent of acid attack victims are women. Often the acid, which is easily procured and extremely corrosive, leaves its victims deformed, blind, and forever scarred.
At Sheroes Hangout, the survivor's stories are varied. One woman was attacked by a step-parent, jealous of her partner's child. Another woman was left permanently scarred by her husband who, in his anger over not having been given a son, threw acid on his wife and two sleeping daughters. One young woman was attacked by a group of young men at random, who tossed the deadly liquid at her as she walked down the street.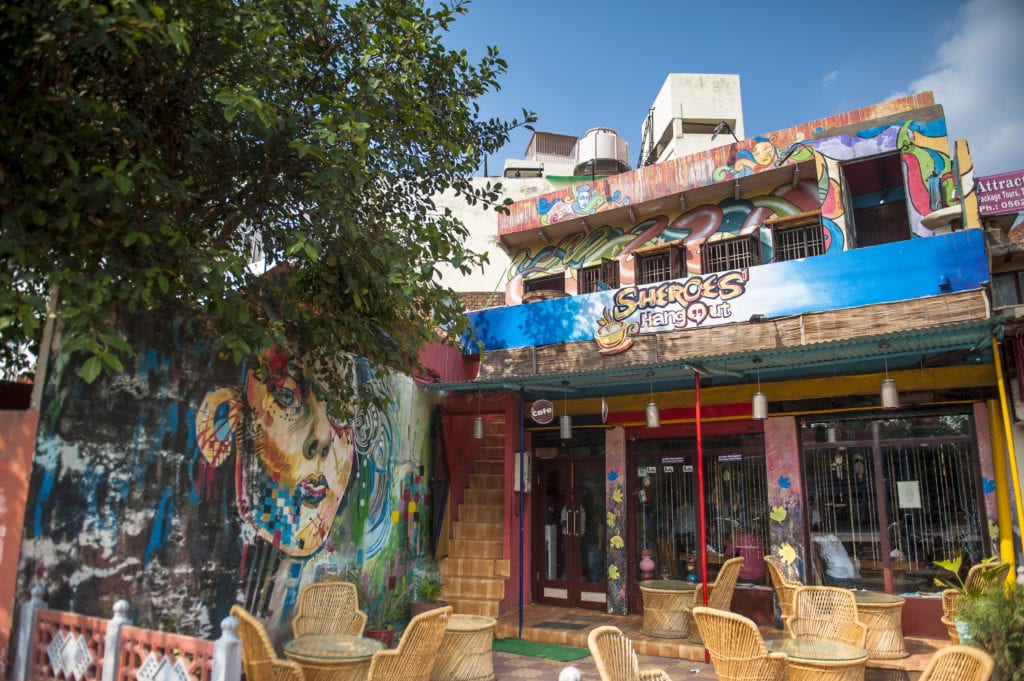 In an effort to address the growing national issue, two young men—Ashish Shukla and Abhay Singh—began the #StopAcidAttacks campaign in Delhi in March 2013. The founders were appalled by the staggering figures of acid attacks in India compounded with the lack of awareness about the violence against the predominantly female victims.
"Someone had to take the initiative," explains Singh. "Acid attacks could be against males or females, but the majority of acid attacks are gender-biased towards women. We knew we couldn't reach out to all of those survivors, so we decided to form an organization to represent them."
The men quickly realized that the campaign's goal would be to address the challenges that women would face after their attacks. They saw the need for a place where survivors could not only earn an income but also come together and uphold their dignity in society, proudly showing their faces in the safety of an organization that supports them. In December 2014, Sheroes Hangout was opened in Agra followed by a second café established in Lucknow.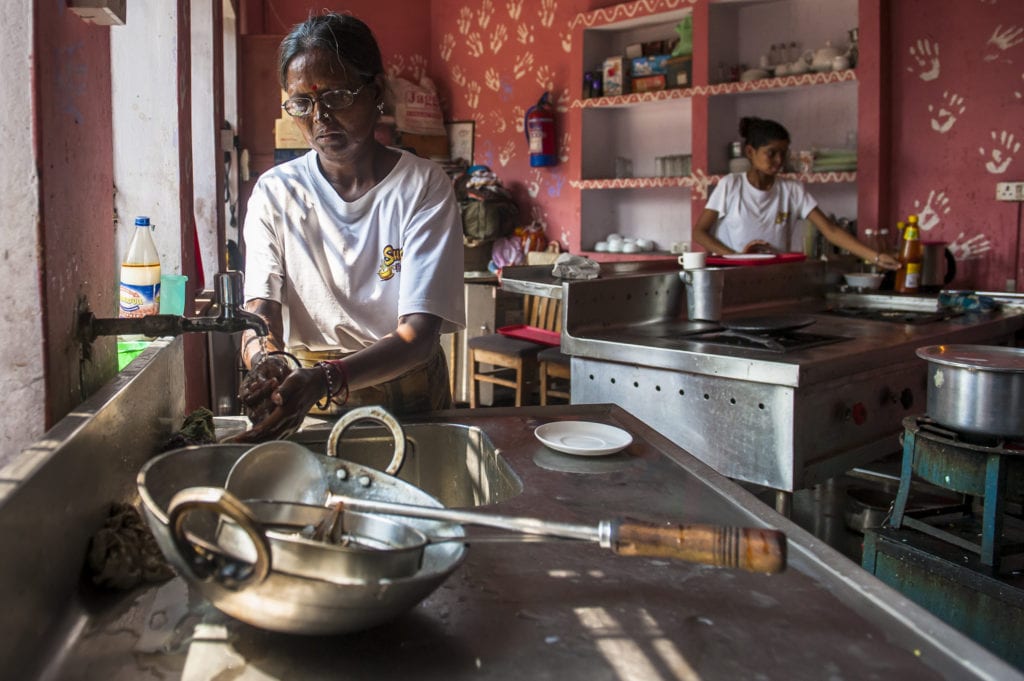 As a tourist in India, I first came across Sheroes Hangout in January 2017 while on a visit to the famous city of Agra. With its brightly colored décor and a menu of tasty snacks, the café seemed similar to any other but for one stark difference: all of the staff don scars from their life-changing acid attacks.
There is no need to ask the women what happened to them. Their stories are posted on the walls, played on a video screen, and printed on written materials. Guests are invited to visit the café to enjoy a meal or a drink, all while learning about acid attacks and meeting the strong, resilient women who survived them.
"After the attack, I couldn't find work. No one would employ me. I had no way to make money" says Maddhu Kashyap, a wife and a mother from an underprivileged area of Agra who works at Sheroes Hangout.
It was only after a group from Sheroes Hangout came to visit Maddhu during one of her hospital stays that she learned about the café as a workplace. Her family was struggling to cover the costs of her injuries and medical expenses, but it was the lack of future income that caused her the greatest anxiety.
"It's hard to get a job If you've been attacked by acid. Companies only want to hire beautiful faces. The government doesn't give any help to victims," adds Maddhu. "Now that I'm working at Sheroes Hangout, my children are back at school. It was the foreign people who buy drinks and eat food that helped me. Not the government."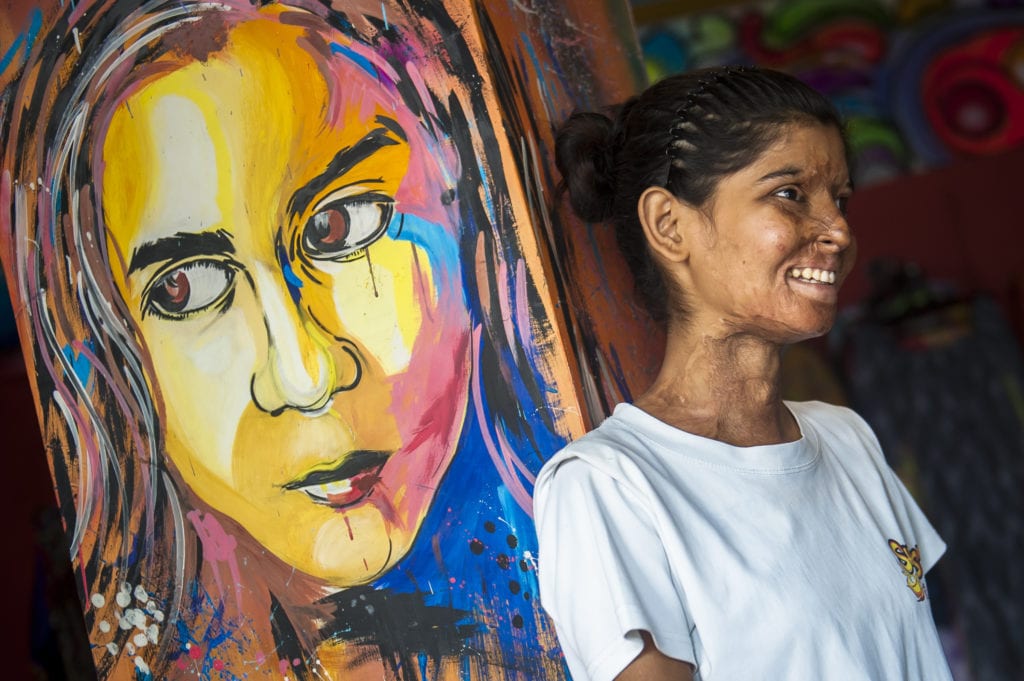 I speak with Roopa Kashyap, a woman I first met back in 2017. The change I see in this woman in just two years is remarkable. In our first meeting, Roopa proved quiet and shy. On this visit, Roopa sits before me in a black fitted blazer while wearing an expression of self-assurance and confidence.
"I never used to leave the house. I only left for medical appointments and hospital visits and when I did, I covered my face," recalls Roopa. "Since joining Sheroes, I no longer cover my face. I make regular appearances and I speak about the Stop Acid Attack campaign. Now, I don't care what people say."
Roopa explains to me that when the Sheroes employees hear of a woman who was attacked, they go to meet her, give comfort, and provide support in those early days.
"It's important for us to be together and show that Sheroes understands," says Roopa with a smile. "We can support each other and continue living our lives."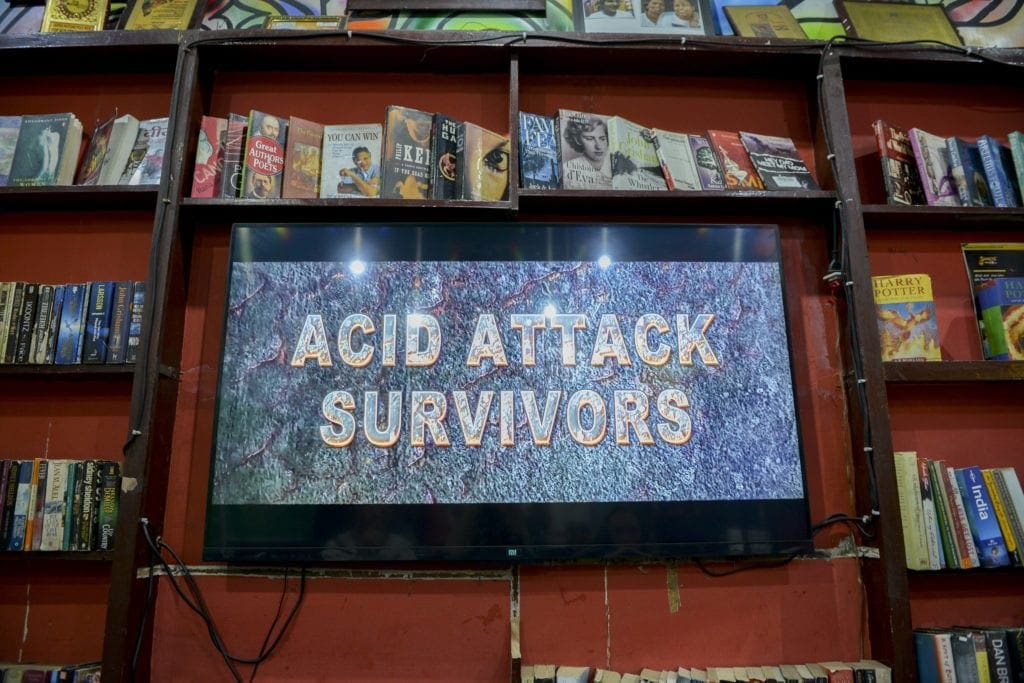 Unfortunately, due to changes in Agra and a road widening plan, Sheroes Hangout has been forced to move (their Lucknow location remains open). The café is currently closed and the #RebuildingSheroes campaign has been launched to raise funds for the new location.
"The café was becoming too small as we have become so popular," explains Roopa. "The move is a good thing but the new premises and re-launch will cost money, so that's why we need help."
The goal is to raise 5,700,000 Indian Rupees—the equivalent to $82,365 USD—for the new café. An online fundraising campaign has already been established to help meet the target, while the Sheroes women are rallying together and calling on the support of their community.
As my visit to Sheroes draws to a close, I turn to Roopa to ask for a selfie. Nodding, Roopa lets loose her luscious, long locks in preparation for the photo. Comfortable and confident, Roopa—like all the women behind Sheroes Hangout—reminds each of us that true beauty is found within.
*This story originally appeared in the third issue of Unearth Women magazine, now available for purchase in our online store.