A mere 30-minute drive outside of Antigua, the pedestrian-filled streets of Guatemala's main tourist destination gives way to a small, somewhat unknown community by the name of San Antonio Aguas Calientes. It is here, nestled in an unmarked home, that the Manos de Fe—or Hands of Faith—women's group works to protect Mayan weaving.
Manos de Fe was founded in 2014 with a dual mission to both preserve traditional Mayan weaving and combat the wave of machine-made textiles flooding the market. Indigenous textiles are being mass-produced, sold on the streets and in souvenir shops for a fraction of the cost. To the untrained eye, a hand-stitched huipil, or traditional Mayan shirt, is seemingly identical to their handmade counterparts with the distinct difference of how it is made.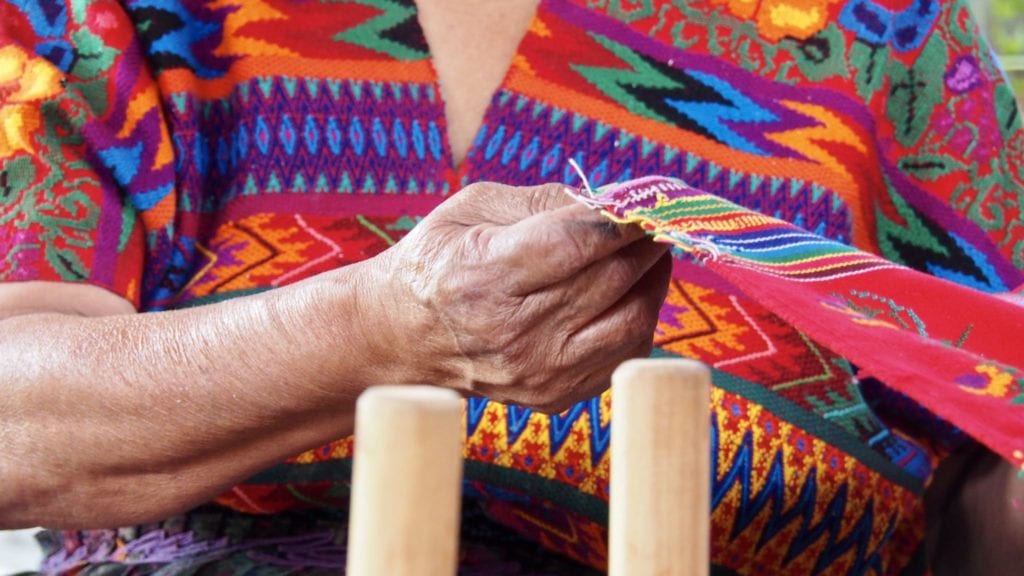 Traditional huipiles, such as those made by Manos de Fe, are a labor-intensive process requiring a backstrap loom and hours spent painstakingly hand weaving over the course of a month. Huipiles are typically made of light fabric with hand-stitched embroideries adorning the collar and short sleeves. At Manos de Fe, the brocade technique is used on the loom to create vibrant patterns that appear both on the outside and inside of the huipil. Designs and colors are unique to the village in which the huipil is crafted, traditionally reflecting Mayan symbols depicting nature.
Because of the time and work that goes into crafting a handmade huipil, the cost can hover closer to $300 USD, which translates to less than $10 USD per day for the female weavers. In contrast, machine-made huipiles are sold for $20 USD to unwitting tourists convinced they are supporting local artisans and taking home an authentic Mayan garment. Unable to compete with such low prices, local Mayan communities are now losing their centuries-old weaving tradition. This is where groups like Manos de Fe step in, with a hope to educate foreigners on the value of Mayan weaving, while encouraging locals to carry on the practice.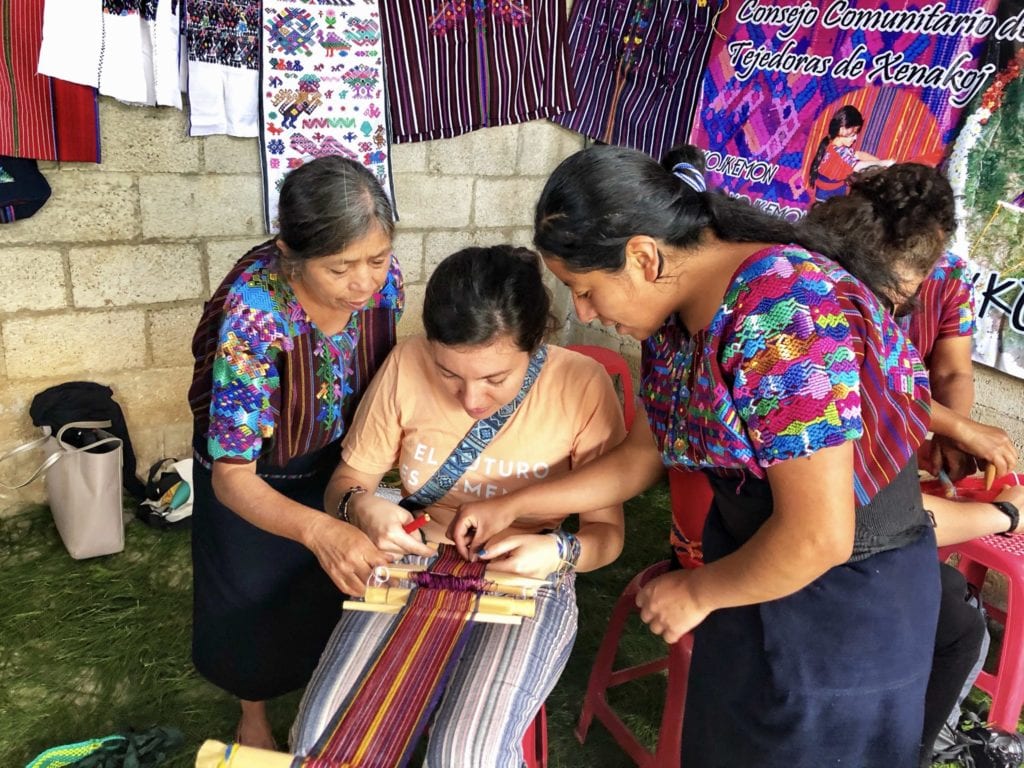 Manos de Fe consists of 23 women, the youngest of whom is Karen. Karen is eight years old, her silky black hair pulled back into a french braid resting in between her shoulder blades. She, like all the other women standing before me, is dressed in a rainbow palette of handwoven fabrics. Karen is shy, clinging closely to her mother as she introduces herself to us. She recently joined Manos de Fe and is currently balancing early education with the art of Mayan weaving. Already, Karen is eager to learn to carry on the tradition of her ancestors, knowing how weaving plays an integral role in her society and her future wedding.
In another nearby community—an hour's drive from Antigua—a local council of women are also working to uphold the tradition of Mayan weaving. The Consejo de Tejedoras de Santo Domingo Xenacoj consists of 10 women who are keen to both preserve their tradition as well as pass along the art of weaving to younger Mayan generations. The council in the community of Santo Domingo Xenacoj offers a school called Ixkojajkem, which provides a year's worth of weaving lessons to young girls at no cost.
Mayan weaving spans centuries worth of traditions in Guatemala with women at the center of it. Textiles play an integral role in daily life as well as a traditional Mayan wedding ceremony. Up until two years ago, the average age for a young girl in Guatemala to get married was 14. Today, the age of matrimony has been officially pushed up to the more appropriate age of 18. From the moment a Mayan woman is engaged, she will embark on a year-long project to create a tzute—a shawl, of sorts—to gift her future mother-in-law. On the day of her marriage, her mother-in-law will judge her daughter-in-law on both the quality of her weaving and tortilla making skills. It is this cultural tradition that groups like Manos de Fe and the Consejo de Tejedoras de Santo Domingo Xenacoj hope to preserve and protect.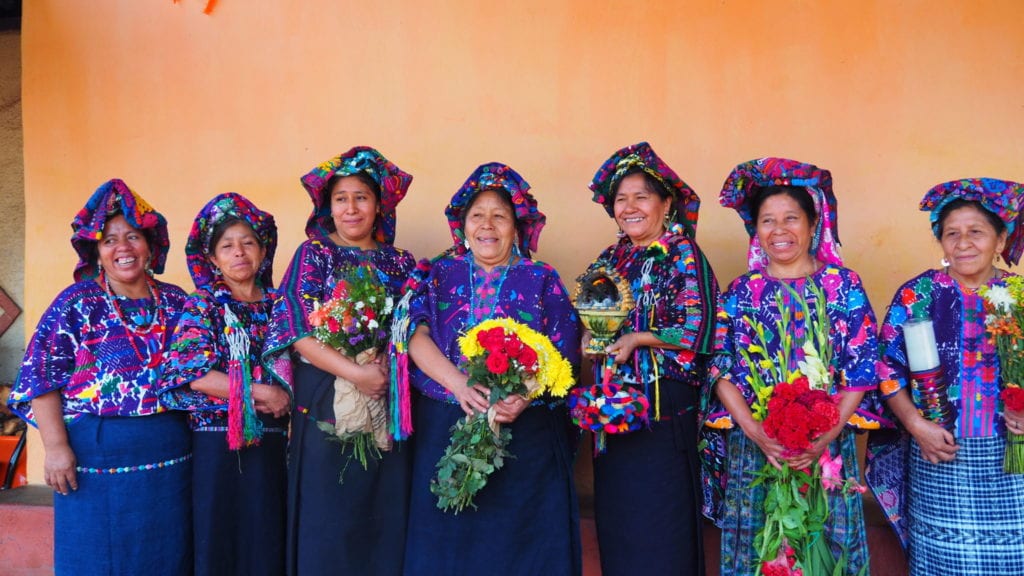 The women of Manos de Fe explain how they believe what they weave absorbs their very emotions at that time. There is a palpable magic to the textiles created here and, it is a magic that is slowly being lost. While Mayans make up an estimated 50 percent of Guatemala's population, the other 50 percent is a mix of what is called Mestizos (a Latinx person of mixed race and of European descent) and ladinos (non-indigenous Guatemalans).
I watch entranced as Doña Gladys, one of the women of Manos de Fe, hunches over a bright yellow fabric adorned with intricate designs. Wearing her backstrap loom, her fingers move sprightly through the treads with the expert precision of a surgeon. As I converse with the local Mayan women here in Guatemala, it becomes evident just how important it is to educate travelers on the value of handmade textiles. With the commercialization and machine production of indigenous textiles being sold to tourists, a major element of Mayan culture is now being devalued. It ultimately comes down to you, the consumer, to make the choice between supporting female artisans or the companies that are robbing them blind.
* Unearth Women visited Manos de Fe and the Consejo de Tejedoras de Santo Domingo Xenacoj as part of the Purposeful Nomad Guatemala tour in partnership with Guate 4 You. Purposeful Nomad is a female-founded tour company with a focus on responsible tourism. Book and save on Purposeful Nomad's upcoming Tanzania tour in 2020!