Wispy clouds hang heavily over the surrounding volcanoes at Lake Atitlán like delicate lace veils. It's morning in Guatemala and our boat is cutting through the mirror-like waters of this historic crater lake, making its way to the small community of San Juan La Laguna to visit a women's cooperative named Casa Flor Ixcaco. It is here, in this lakeside town that women are valued more than in other neighboring pueblos.
I step off the boat onto a rickety wooden dock. Ahead of me, the town's main street sharply inclines, reminding me vaguely of San Francisco's hill-like streets. The road is lined by shops and art galleries seemingly bursting with color. Women in handwoven huipiles—a traditional Mayan shirt— smile from open store windows where handcrafted ceramics glisten in the morning light. As I walk, gentle-eyed stray dogs trot shyly across the street peering at me cautiously. Just then, something catches my eye: a hand-painted sign proudly reading Asociación de Mujeres with succinct Spanish introducing this female-only artisan group.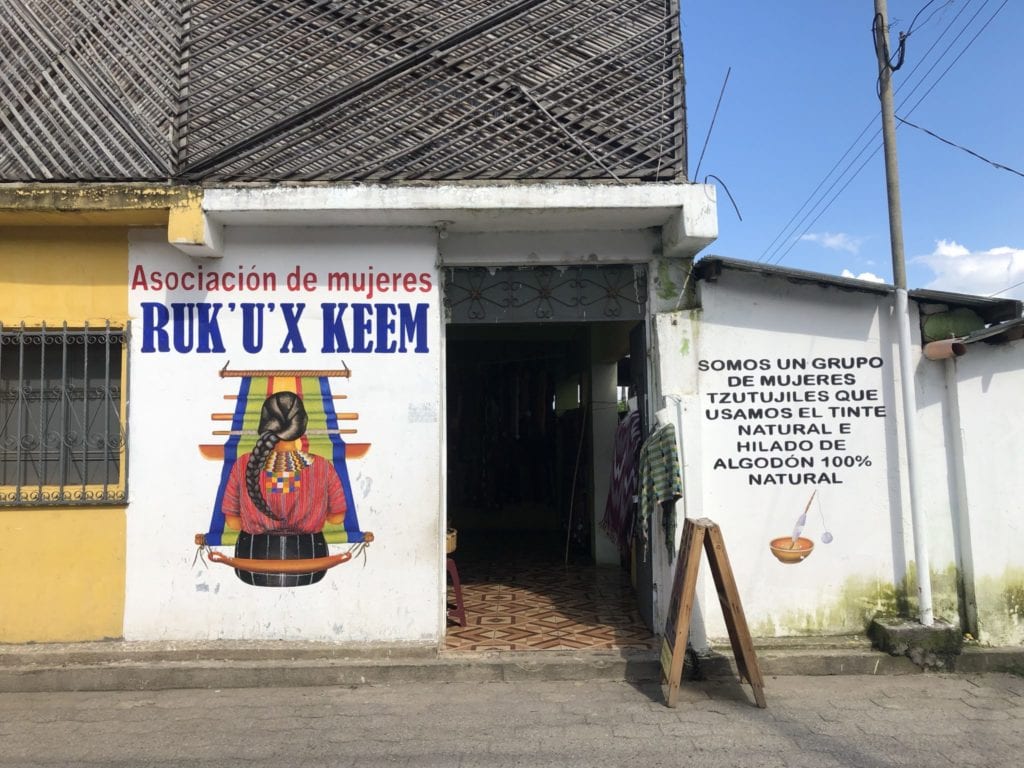 Having traveled from Guatemala City to Antigua to Lake Atitlán, I assume this female-empowered sign is an anomaly in a country plagued by machismo. Suddenly, I see a slew of signs ahead proudly advertising women-only cooperatives and organizations in town. From female weavers to female healers, it seems San Juan La Laguna is an enclave for feminism where women are leading the charge.
Traveling with female-owned tour company, Purposeful Nomad, and local travel agency, Guate4You, I am visiting Guatemala with the intention to support community tourism and connect with female weavers. This mission is what brings me to the shores of San Juan La Laguna and the door of Casa Flor Ixcaco, a women's weaving group using 100 percent natural dyes and handpicked cotton.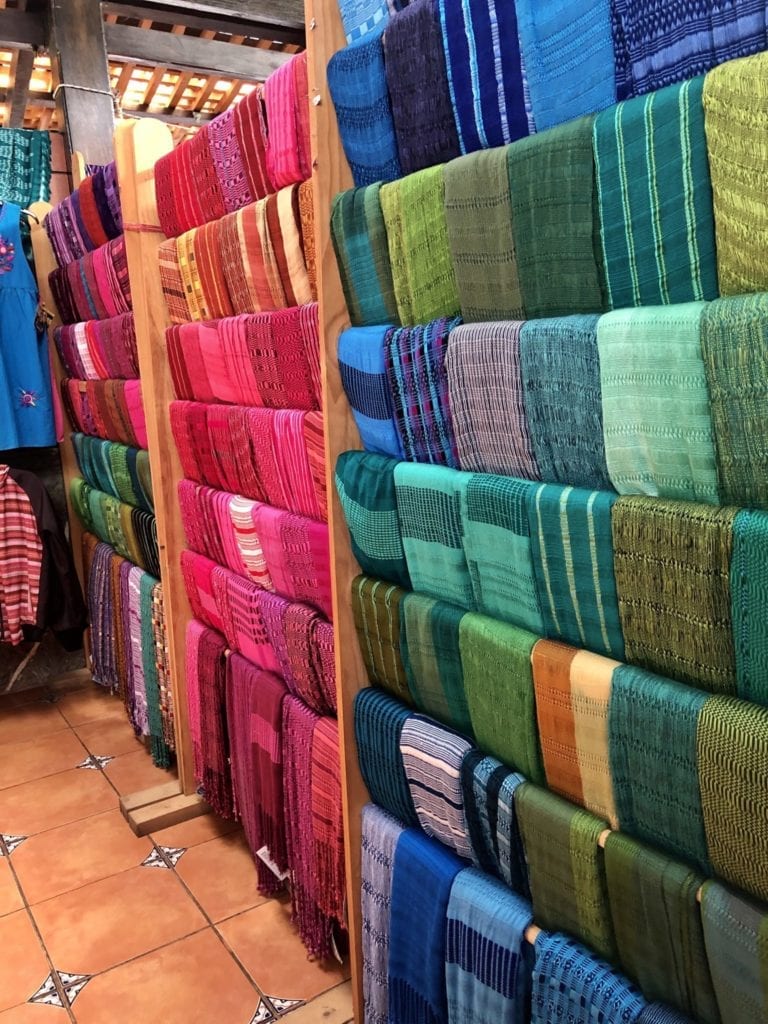 Upon entering Casa Flor Ixcaco, a large shop displays a dazzling selection of handwoven scarves, bags, and huipiles. From magnolia pinks to indigo blues, I am soon to learn that every single item—and I mean every item in front of me—is both handmade and crafted from nature. Hailing from New York City where most of my material possessions seem to arrive in Amazon boxes, the promise of something made lovingly and naturally is enticing.
The vision for Casa Flor Ixcaco began in the 1950s when founder Teresa Ujpan Perez began learning the traditional Mayan art of back strap weaving. From there, Perez would work in cotton fields and gain extensive knowledge in how to work with cotton plants and hand spin cotton into threads. Here, it must be noted that I witnessed, first hand, the process of hand-spinning cotton and it is truly a thing of beauty. Somehow a puff of cotton, separated by hand from the seed, is lightly twisted and spun into delicate, individual strands.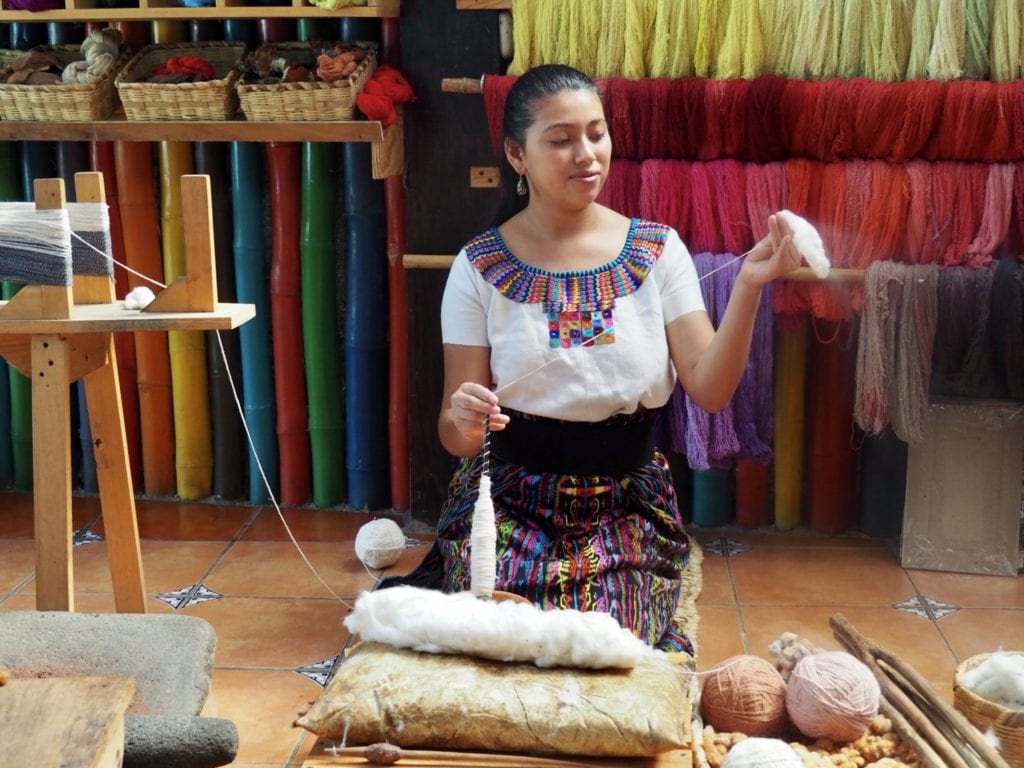 In 1996, Perez formed a group of women weavers with the savvy goal of commercializing their handmade products and offering sustainable income to local families. In 2009, Perez and her weaving ladies decided to use only natural dyes and organic cotton in their work, growing cotton plants in their very own community. Today, Casa Flor Ixcaco both respects the natural process of Mayan weaving while also supporting women in the community with 80 percent of all items sold going to the artist's family and the remaining 20 percent going towards supporting the cooperative.
Sitting in Casa Flor Ixcaco, I meet a beautiful young woman by the name of Johana. Speaking near-perfect English, Johana takes hand-spun cotton and showcases how local plants, flowers, and fruits are used to create the rich colors. Some colors are expected—Guava turns the cotton a light baby pink while indigo turns the cotton a deep oceanic blue—and other colors are more surprising, such as the deep purple derived from walnuts or the sunny yellow coloring resulting from carrots.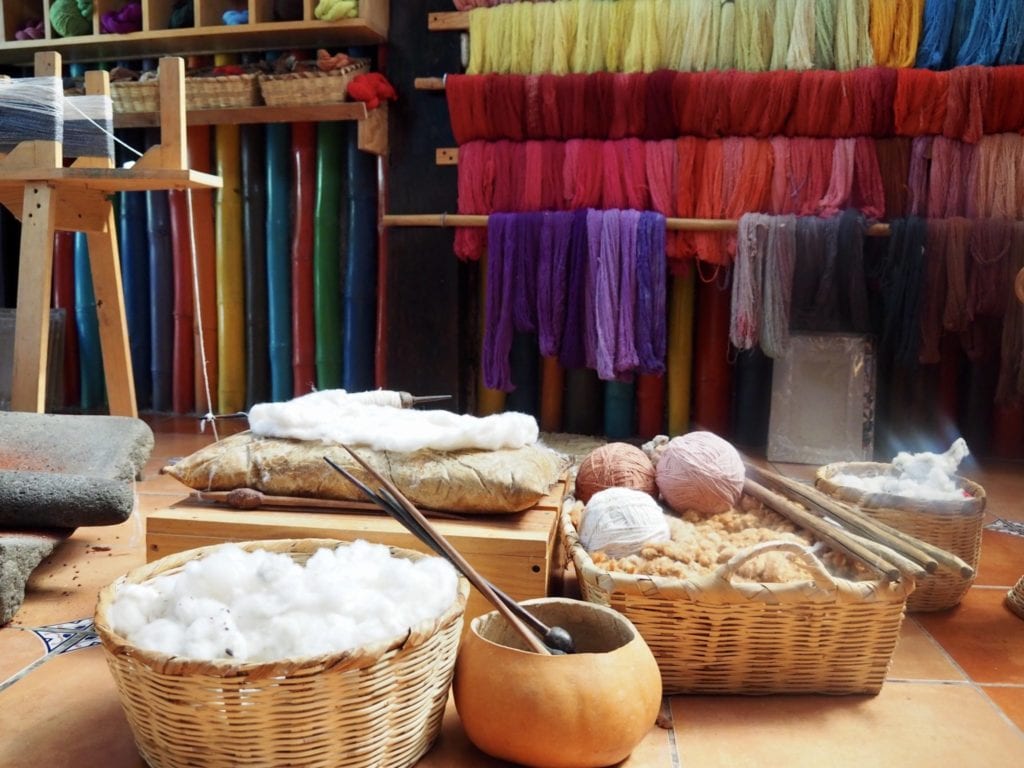 As I take a bundle of organic cotton and dip it into a natural indigo dye, I am falling in love with Ixcaco and their dual mission to support women and stay natural. "Ix" meaning "woman" and "Caco" giving a nod to cocoa and the color of Mayan's skin, Ixcaco honors the ancient traditions of Guatemala's past while pointing to a more progressive future. That very future is one supported by community tourism and companies like Purposeful Nomad and Guate4You, who help funnel tourism dollars towards local organizations fostering real change.
Upon leaving Ixcaco, I walk through the shop and settle on a stunning handwoven bag (made from indigo, charcoal, and cotton) and a colorful scarf (using threads dyed with guava, beets and cherries). Both items are beautiful but perhaps the most beautiful aspect of them both is a simple tag showcasing an image of the woman who designed them. Smiling back at me, I see the names of both weavers, the time it took for them to make these items, and the natural ingredients used to dye them.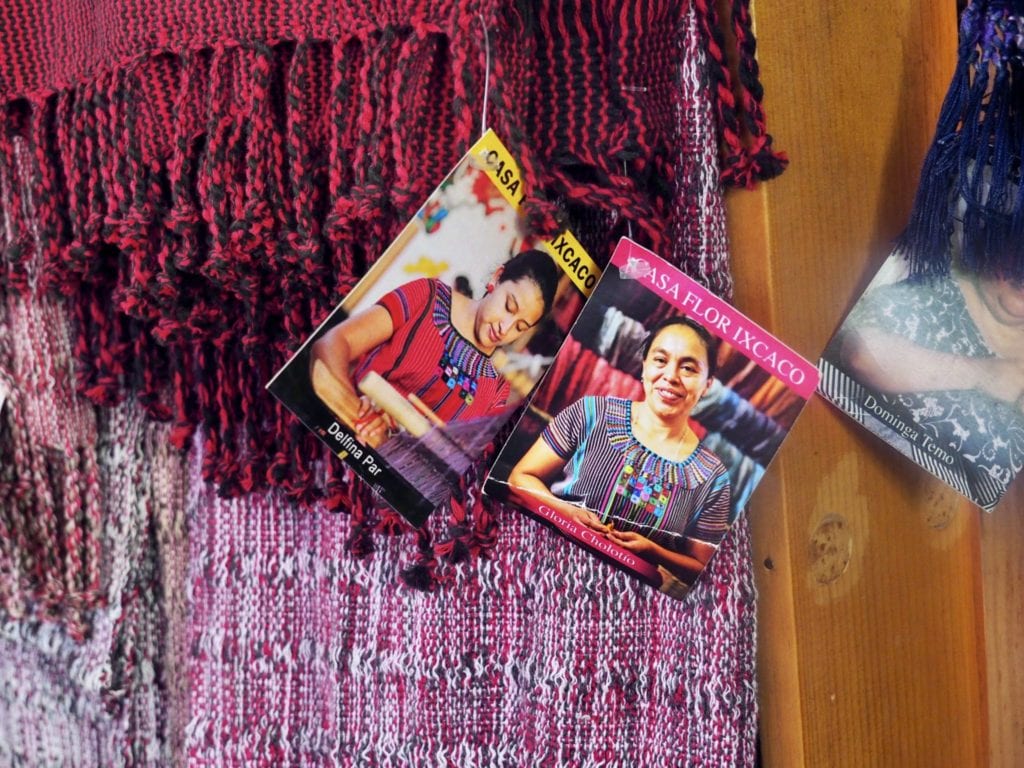 It is at this moment that I realize the true magic of a place like Casa Flor Ixcaco and a town like San Juan La Laguna. In a country where tourists tend to sweep in, load up on textiles, and fly home; Guatemala's Mayan culture can often be distilled down into a forgotten souvenir from a forgotten shop. Casa Flor Ixcaco reminds each of us to remember the women who painstakingly spent days hunched over a back loom, crafting that item we now carry effortlessly.
Ixcaco encourages us to learn about the tradition spun into the very fabric of these items, and how the colors carry the very essence of Guatemala in its threads. Above all, Ixcaco reminds us how far our tourism dollars can go to change a community, to support women, and to usher in a progressive future even in a small lakeside town such as San Juan La Laguna.
* Unearth Women visited Guatemala as part of the Purposeful Nomad Guatemala tour in partnership with Guate 4 You. Purposeful Nomad is a female-founded tour company with a focus on responsible tourism. Book and save on Purposeful Nomad's upcoming Tanzania tour in 2020!