Rue Mapp was trying to figure out her next move when her mentor asked her what she would be doing if money were no object. Without hesitation Mapp blurted out, "I would create a website to reconnect more African Americans to the outdoors." Hence, the foundation for Outdoor Afro was set.
It was as if her purpose had always been hiding in plain sight. Those simple words and her love of nature propelled her to start a blog in 2009 dedicated to getting more African Americans to get outdoors and commune with nature. As she shared her experiences about feeling like the only Black person in many recreational activities, the feedback that she received made her realize that she wasn't alone.
"When I started telling my story about loving the outdoors and often being the only African American on the trail, kindred spirits—of which there turned out to be many—contacted me," says Mapp, for who it was clear the problem was a lack of visual representation. "African Americans have always been connected to the outdoors, but that wasn't being shown."
Now a decade after its launch Outdoor Afro, has been able to change that perception and inspire others. Through the brand's social media channels, they reach over 50,000 people per day, have a volunteer team of 80 men and women, and through planned recreational activities they connect with 30,000 individuals yearly. While Mapp has been getting the non-profit up and running, she works with trusted people to help change stereotypes. Her role isn't to choose the adventures but rather to support, inspire and help raise funds. "The volunteer leaders have always chosen and driven the expedition, like the first to Mount Whitney and most recent Mount Kilimanjaro," explains Mapp.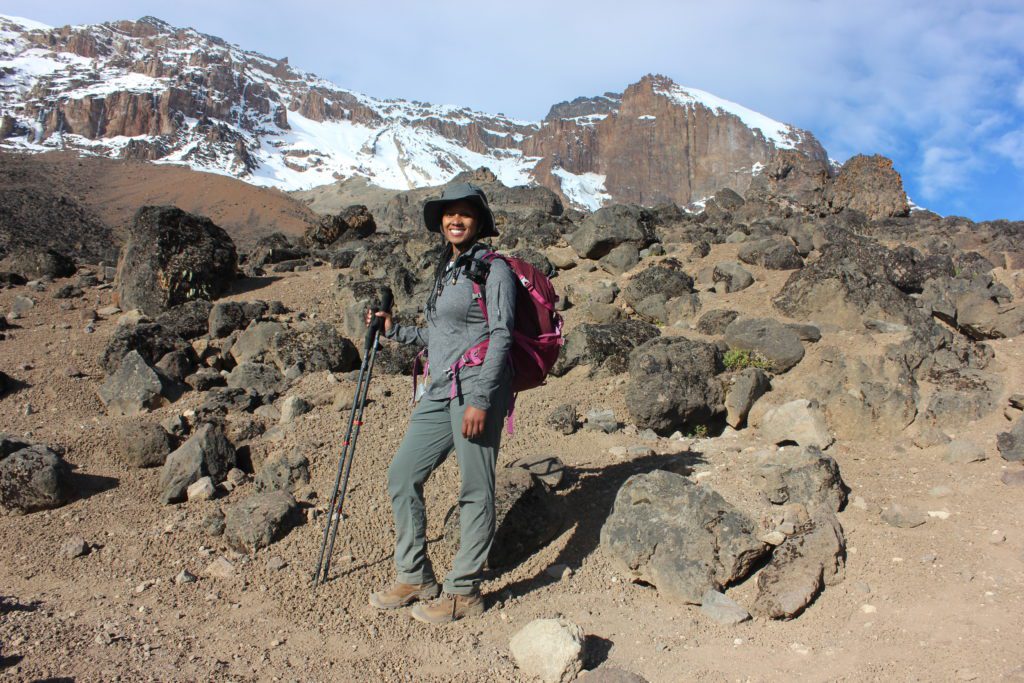 The idea of having the first Black expedition team hike the highest free-standing mountain in the world started a few years ago. It took a lot of back-end planning, partnerships, communication, ground, and technical support to get 11 participants up those 19,340 feet. The journey from the gate to the peak is equivalent to traveling from Antarctica to the equator in a matter of days. In order to be a part of this one-of-a-kind event, the climbers—who came from all over America—trained together and learned Swahili. The group included seven women and four men, with the youngest being 25 and the oldest being 60 years old. Among them were co-expedition leaders, Chaya Harris, and Katina Grays.
Harris (34) who works in the Boston Public School system went because of her love of adventure. "When I watched the video from our expert lead climber, Phil Henderson, I just knew that I had to be part of the team," she says.
Being with this group resonated with her because in the past when she had undertaken other treks she had felt like an outsider. "To be able to do a seven-day, 40-mile climb with other Afros who I cherish was something I had to do," she adds.
Harris also felt that it was important for her to show her students what they can accomplish by having goals and taking chances. "They thought that I was brave but didn't get why I would want to go without a shower for seven days," she laughs. And when the conditions became rough with team support, she learned that she was far more capable than she had ever imagined. Her determination kept her going because the further they ascended, it became obvious that some of the team members were being stretched to their physical limits by the biting cold temperatures and 50 mph winds.
"It was scary when health and safety concerns became apparent," recalls Harris. "You have to be very cautious because your body changes rapidly, and you might not even realize you're in danger."
Grays (45) who leads a pretty typical life of commuting, work, meetings, errands, and spending time with her daughter Seraphina echoed much of the same sentiments. Plus, as a single mom, she wanted her daughter to see her as a whole person living a full, holistic life with her own goals and dreams. "Climbing Kili had always been on my "bucket list and the opportunity to do it with Outdoor Afro was like the universe making it possible," she says.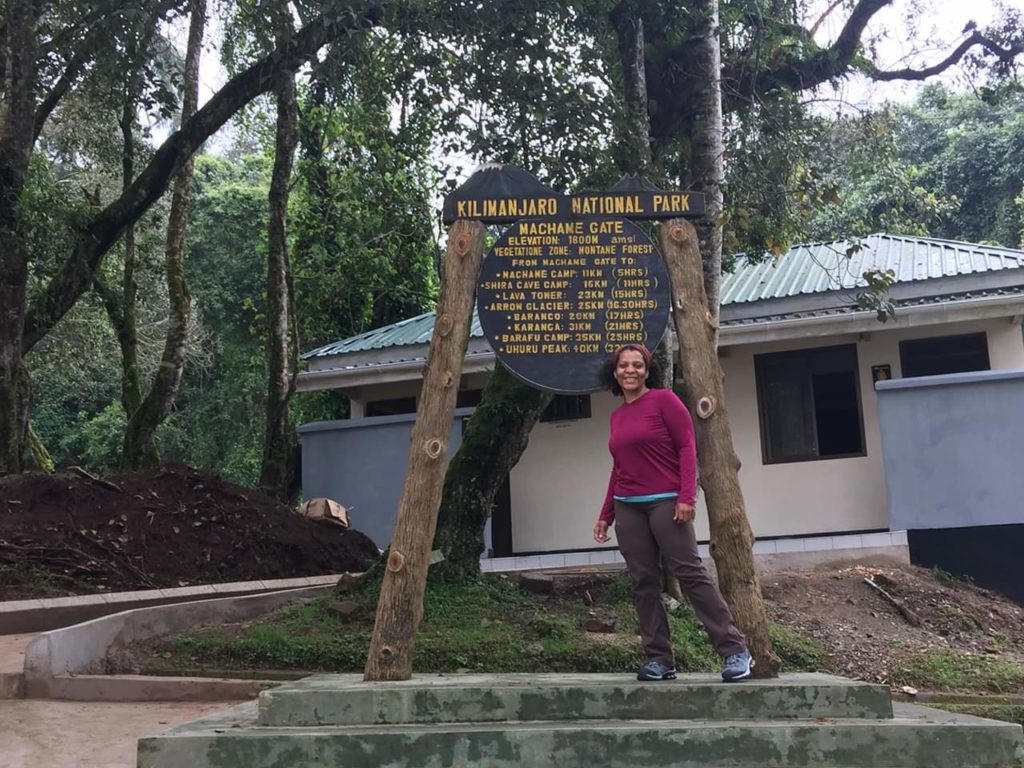 Grays also wanted to challenge her own physical comfort zones, but be an example to other women who manage kids, work, and have busy lives. "I'm not a mountaineer nor do I rock climb but we're so often told what we can't do (after children, after 40, etc), and I just wanted to show what we can do." Grays who dedicated her hike to her sister, Jean, whom she lost unexpectedly in 2016, prepped by changing her diet and working out three times per week. "It was a transformative experience," says Grays. "It pushed me to think about areas of my life that needed to shift in some way."
The trek was also transforming for Alora Jones (28) who was motivated by a former ex-boyfriend who told her there was no way she was going to beat Kilimanjaro. "I wanted to take the opportunity to do something physically challenging that I wasn't sure I could do," she says. "When I was done I felt disbelief, exhaustion, and a little reckless."
This climb also pushed Leandra Taylor (26) to the brink. Taylor had always had an undying love for the outdoors and had jumped at the chance to experience Mt. Kili. "On day three my body had succumbed to altitude sickness as we reached camp and I considered turning back," she recalls. Luckily, advice from the expedition guides, thoughts of her friends and family at home, plus the other climbers gave her the support she needed to keep going. "I realized I had reached my literal rock bottom and came out victorious."
While for Valerie Morrow (60)—a mom of two boys and three girls—this adventure was a childhood dream come true. "It was a gift to go with this team as I have had numerous awkward experiences as the only Black person on an outdoor adventure."
These kinds of stories are what motivate Mapp to continue her mission to tear down stereotypes and build leaders in the outdoor travel space. To start, Mapp and her organization aim to give Black children the foundational skills needed to appreciate outdoor adventures, starting with swimming.
"[With Outdoor Afro], we wanted to bring the focus home and make it hyper-local and focus on swimming," describes Mapp. She points to research that has consistently shown that Black youth (ages 5 to 19) drown in swimming pools at a rate more than five times that of white children as to the genesis of what this latest undertaking will focus on.
"This public health disparity is our legacy of decades of segregation and exclusion from public pools and beaches," explains Mapp. "Learning to swim is a lifesaving and nature embracing skill and Outdoor Afro is here to make sure every child and caregiver in our sphere of influence learns how." 
This article originally appeared in the 4th issue of Unearth Women, available for sale here.