Canada is making marijuana history once again. The Cannabis Act, otherwise known as Bill C-45, passed in the Senate late June, but the law won't officially go into effect until October 17th. Canada is now the second nation in the world—and the first industrialized nation—to pass legislation to permit a nationwide market. Uruguay was the first country to legalize marijuana production, sale, and consumption back in 2013.
Canada is not new to making groundbreaking decisions regarding pot. The country was also the first nation to legalize medicinal use of cannabis in 2001. While Canada, globally, seems to be ahead of the curve in legalization, women who want to work in the cannabis market face an uphill battle due to the market being male-dominated. According to an analysis of data conducted by The Canadian Press, only five percent of women hold board seats at publicly traded marijuana producers.
Despite the lack of women in leadership, it has been women leading the fight within the cannabis movement in Canada, particularly the medical marijuana market. The first medical dispensary in the country was founded by Hilary Black in British Columbia in 1997, and women-led advocacy groups and activists like Tracy Curley have been paving the way for cannabis legalization for decades. Many Canadians recognize it was their unwavering activism that was the catalyst for full legal recognition of cannabis.
Along with a lack of representation of women, people of color are conspicuously absent from the profitable, emerging pot market as well. According to a VICE News investigation, new data finds racial disparities in cannabis possession-related arrests. The statistics are from arrests made from 2015 to the first half of 2017 and indicates black and Indigenous men and women have been overrepresented in cannabis possession arrests across Canada. Undoubtedly, the lack of representation of color in Canada's legal weed market likely stems from this systematic discrimination. Having drug-related convictions bars you from becoming an authorized licensed producer in Canada and can even hinder business investment opportunities.
CEO of Women Grow, Kristina "Kay" Garcia, says it's too soon to say how recreational use will affect the industry overall.
"If we look at U.S. states like Colorado and California, women and women of color are still facing disparities. I do not believe recreational marijuana use will change that, but for the women who are stepping out to create their own funding resources and paths, we applaud them," said Kay. "Our industry is expanding, but we have still much work to do in supporting women and women of color owned businesses. We as a global industry could break this cycle if addressed now."
Co-founded in 2014 in Denver, Colorado by Jazmin Hupp, who was named "top businesswomen in the cannabis industry" by Forbes, Women Grow was established to connect, educate and empower women who not only enjoy using marijuana but who want to start their own cannabis ventures. The for-profit organization has over 40 chapters across North America, including three chapters in Canada, and in 2016, VICE named the Toronto chapter one of the most influential organizations in the Canadian cannabis industry. The membership-based organization hosts monthly networking meetings, webinars and offers discounts for its members to attend other cannabis conferences throughout North America.

One of Canada's most famous cannabis prohibition activist, Jodie Emery, believes Canada's new legislation is a step in the right direction, but in an interview on CTV news Emery said, "The civil liberties advocates, the lawyers, the people who represent marginalized, Indigenous youth, the poor, all of the victims of prohibition, we aren't celebrating today. Where's our apology? Where's our amnesty? It's nowhere to be found."
Jodie Emery and her husband Marc were convicted of a number of drug-related charges in 2017. The couple founded Canadian online magazine Cannabis Culture, but are now banned from being authorized licensed producers because of their criminal record. Jodie and Marc are not alone. Thousands of Canadians are barred from the participating in the legal market unless the government acts. But Prime Minister Justin Trudeau says the government won't even begin to discuss pardons of past convictions until legalization is in effect.
The Canadian weed market is already huge. The Canadian marijuana industry is now larger than Canada's beer and tobacco industries combined. According to StastCan, Canadians spent $5.7 billion on marijuana last year—90 percent of it for illegal, non-medical purposes. While there is still much uncertainty at play in the process of legalization, expanding the market for recreational use could ultimately help reduce the stigma for women who consume marijuana. Van der Pop, a cannabis lifestyle brand conducted a survey and found a staggering 70 percent of women said the leading deterrent to publicly discussing pot is the social stigma surrounding it.
"It's become socially acceptable for women to have a couple of glasses of wine after work or at lunch, one Canadian mother of two––who wanted to remain anonymous––told me, "but it's quite another for women, especially mothers, to sit around and talk about the latest strains they purchased."
She hopes expanding the market to recreational use can open up discussion and increase education on the benefits of Cannabis. Garcia believes education and research will help reduce the stigma as well.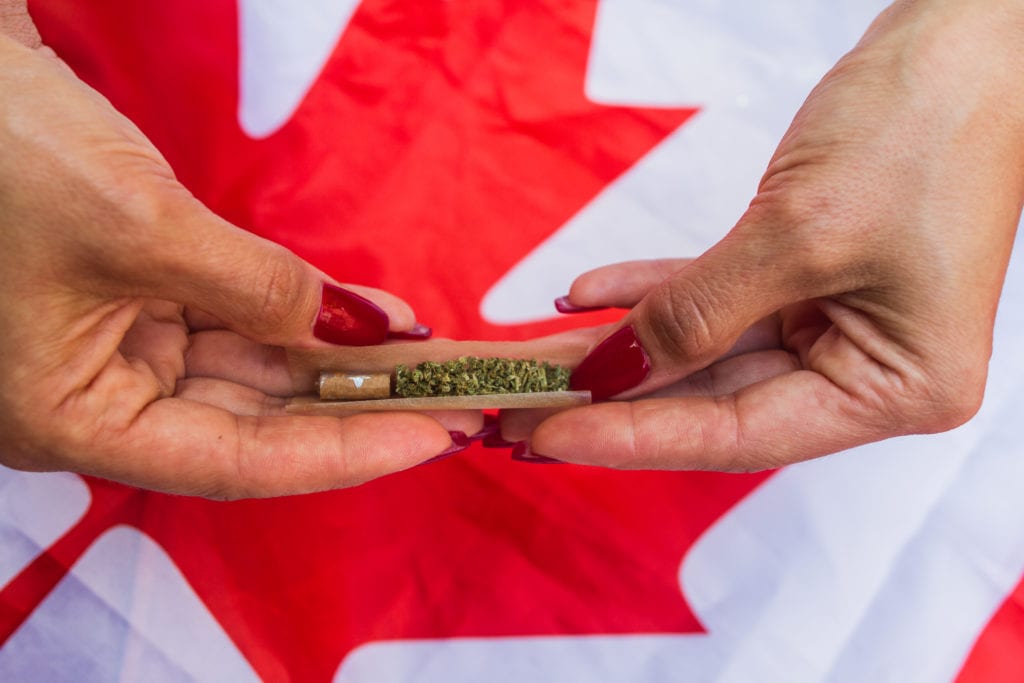 "To date, there has not been enough research done on cannabis and what has been done has not been shared broadly to the public," Garcia continues. "People still do not understand the medical benefits of cannabis and still see recreational use as a stoner culture. Women should be able to consume recreationally without the labels or judgment."
Women consumers are important to the expanding market because many women make the decisions about food and wellness purchases for the family. Ultimately, women's participation in the pot industry is necessary to normalize marijuana as a business. Unfortunately, men may be dominating the boardrooms at publicly traded licensed producers (right now), but women are finding innovative ways to participate in the market.
Creative and branding expert, Berkeley Poole is the Creative Director of the Toronto-based Cannabis-lifestyle brand, Tokyo Smoke. Activist Sarah Hanlon is a brand ambassador of Leafly.com, one of the largest online cannabis resources. On a mission to destigmatize cannabis use for women, writer and brand creative, Michelle Bilodeau and Jen Newton launched a podcast called, HIGHTEA. Publications like The Her(B) Life are amplifying women in the cannabis industry. Ontario-based Cannabis Communications, a women-led PR & social media agency, is transforming marketing for cannabis brands. Whether it's through media, cafes, marketing, brand ambassadorships, cannabis-based lifestyle products, podcasts or advocacy organizations, women are carving their space in the emerging Canadian market.