When French politician and women's rights advocate Simone Veil was interred in the Panthéon—the nation's mausoleum for its most esteemed citizens— on July 1st, she was only the fifth woman to receive this honor. She was also the first to do so on her own merit, rather than in recognition of a joint endeavor with her husband.
While Hemingway, Baron Haussmann, and Louis XIV indisputably left their mark on Paris, tourism tends to celebrate male achievements over their female counterparts—despite a diverse selection of historical female figures to choose from. Take your average walking tour in Paris—there are several devoted exclusively to Hemingway, and even the more general historical surveys position women as a footnote to the city's famous men. Frustrated by the overwhelming volumes of male histories presented by the tourism industry, London-born Heidi Evans launched Women of Paris walks to provide visitors and locals with a sorely needed alternative narrative.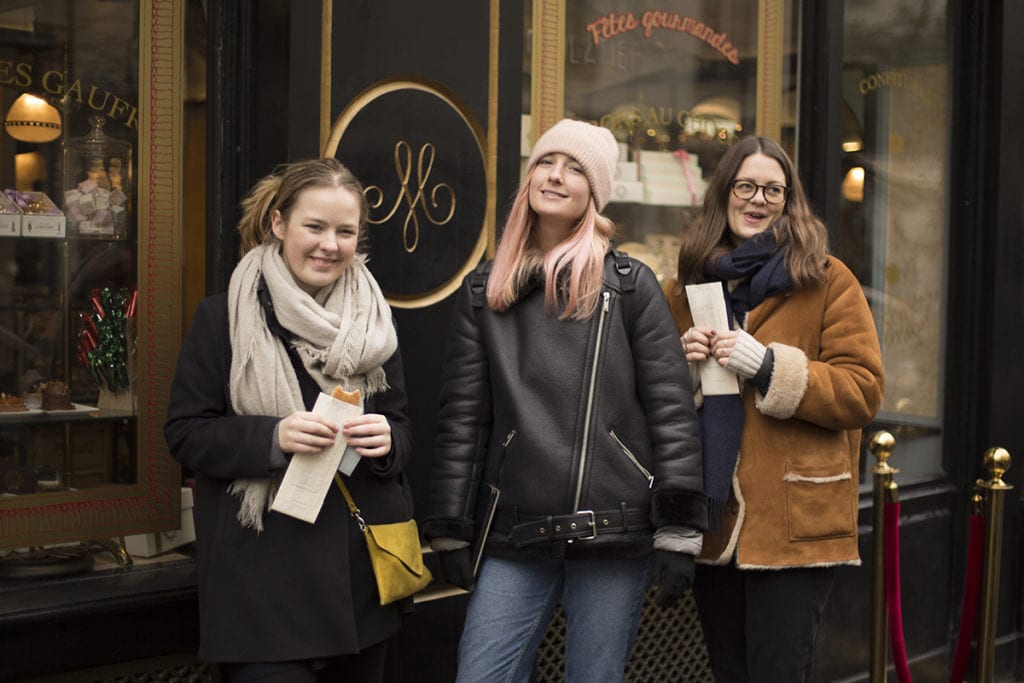 Cutting her teeth on free, pay-as-you-will tours on Parisian history, Evans quickly learned how to construct tight narratives and keep tourists engaged—even if she was growing weary of focusing on a monotonous rota of Great Men. Since launching Women of Paris walks in 2016, Evans has expanded her operation to include three thematic tours, veering away from the city's "wicked women" like Marie Antoinette or Marie de Medici in favor of exploring scientists, queens, and activists on The Essential tour; chronicling the women writers of the Left Bank and sampling sweet treats on the Sugar & Spice tour; and shining the spotlight on the women of the stage on the Drama Queens tour. Each walk focuses on a different cast of characters, ranging from Marie Curie to Loie Fuller, making it a challenge to pick just one. For the literary, opting for Sugar & Spice seems like a natural fit for exploring the quartier of Saint-Germain-des-Prés and whetting your appetite for the city's culinary delights.
Understanding that Paris is both La Ville de Lumière and La Ville de Misère, Evans chronicles both the highest highs and the devastating lows that seem to come part and parcel with Paris life. At 28 Rue de Jacob, we paused to take in a plaque bearing Colette's name in her signature script. Colette lived at this address in the first years of her Parisian literary life— "Somber, attractive like some certain places that have smothered too many souls."
It was not a happy period for the young writer's life. Married to Willy, a philandering and plagiarizing older writer, Colette arrived in Paris a 20-year-old bride from Burgundy. While locked in a room on rue Jacob, she penned her first novel Claudine à l'école —a fictionalized account of her experiences at Saint-Sauveur, which her husband published under his own name. Colette would go on to leave her husband, taking to the stage to earn a living, and continuing to write fiction based on her experiences, producing enduring classics such as Chéri, Gigi, and The Vagabond.
In contrast, Evans introduced us to 19th-century novelist George Sand, born Amantine Lucile Aurore Dupin. Escaping from the interminable rhythms of matrimonial life in the countryside, Sand fled for Paris where she holed up at 31 Rue de Seine along with her two young children and found refuge in the city's tumult. She quickly realized that the sartorial mainstays of female fashion—wide skirts and dainty shoes— were impractical for Paris's narrow, sewage-strewn streets.
Sand petitioned the prefecture of police for 'une permission de travestissement,' an official ordinance allowing her to wear men's clothes in public at a time when women wearing pants was a punishable offense. Able to wander freely for the first time, Sand embraced male dress as a conduit to flânerie. Though extremely prolific, George Sand's rustic romances are not widely read today. Instead, we remember her as a plucky androgène who dared to boldly sport boots and trousers—a right only officially granted to French women in 2013, Evans wryly revealed.
As the tour came to a close, we stopped alongside the busy Boulevard St Germain. Steps away from Les Deux Magots and the unbearably chic Café de Flore, Evans sidestepped Hemingway and Sartre to focus on the inimitable Simone de Beauvoir. Before launching her career as an existentialist philosopher, writer, and academic, de Beauvoir was born into a bourgeois Parisian family. She was destined to marry well, replicating her mother's plush lifestyle, until her father lost the bulk of his fortune in the wake of World War I, leaving his daughters without the hefty dowries necessary to attract husbands within their social strata.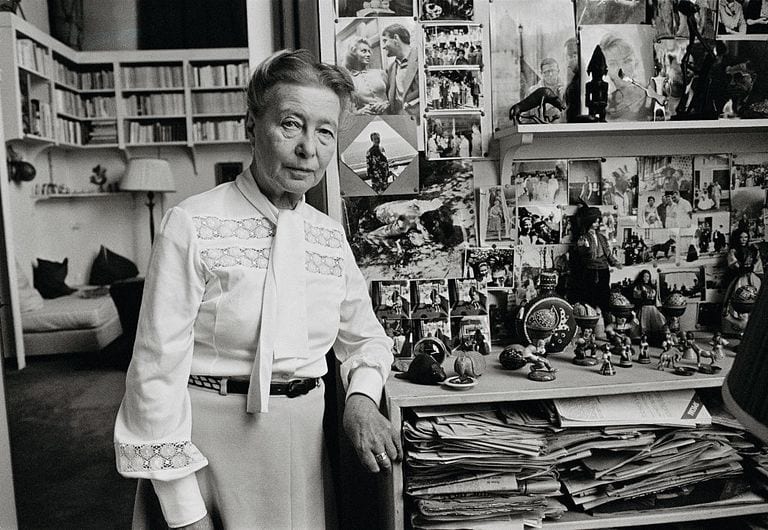 De Beauvoir turned to academia, entering the Sorbonne where she met a young Jean Paul Sartre while preparing to take the agrégation, France's infamously difficult post-graduate exam. She passed on her first try, earning the second best score and making her the ninth woman to do so, while Sartre took first—on his second try—as Evans pointed out in a droll aside. Going on to write the feminist classic, The Second Sex, and novels like The Woman Destroyed, and publicly advocating for women's rights to safe and legal abortions in the Manifeste de 345—all the while flouting convention by maintaining an open relationship with Sartre—de Beauvoir remains exceptional for her commitment to living life on her own terms.
Though there's certainly more parisiennes included on these tours, profiles of three bold women writers is the perfect amuse bouche to get a taste for Evans's vision. By viewing these women as more than wives, mothers, or mistresses, she dares to present these talented, ambitious women as the architects of their own accomplishments. Uncanny parallels to the trials and tribulations of modern life aside, Women of Paris walks maintain a pointedly positive, uplifting stance, recognizing how far we've come, and how far we have yet to go.