I change from one role to the next, from Super Mom to Super Teacher, as the days of quarantine stretch on. I stay up until midnight, grading online assignments, filming YouTube lectures with cheesy special effects. Motherhood then wakes me up at 5:30 AM., just a few hours later, with sobbing demands for waffles, juice, and my attention. With sticky, syrup hands, a baby in my lap, and a toddler drawing with permanent marker on the wall, I email out the weekly tasks to all my students and fire up Google Meet for my first two classes.
Our lives look different now in quarantine. A humanitarian crisis, COVID-19, is overturning the tables of our normalcy and enacting unthinkable tragedy and loss upon millions, and so we stay home. We are tasked with flattening the curve to maintain our fragile, broken healthcare system, and to protect those on the frontlines, who are not able to stay at home for the greater good.
This means I teach high school English Language Arts, at home. I'm also a mom to my one-year-old son and three-year-old daughter, at home. Friends ask, "aren't you grateful for this time with your kids?" "The little ones are so impressionable now," the parenting books say. "This is the perfect age for the world to become infected with a highly contagious, lethal virus," they all seem to say.
Now, after the breakfasts, and the emails, and the meetings, the children demand, "play with me!" My body demands, "nap!" It is only noon, and it is also day 50 of this Groundhog Day loop. I want to whisk my family away from incoming dings of email, from the ever-vibrating cell phone notifications. I want to tell my dear children: "Yes! I would love to play! I am not too tired! No obstacle (or pandemic) is too large or exhausting to keep me from showing you this big, beautiful world!" 
I make the decision to risk it all: to travel, despite the quarantine. It's how I know to parent. My kids have been around the world in their few short years, because travel is how we feel, learn, and grow–in cultures and places different from our own. We must break free of this "stay-at-home" prison, of just making it through the day. "Children!" I command, coffee cup in hand, my metaphorical Super Mom cape fluttering in the wind behind my back, "grab the paints! I'll get the cardboard and almond flour. We're going to France today."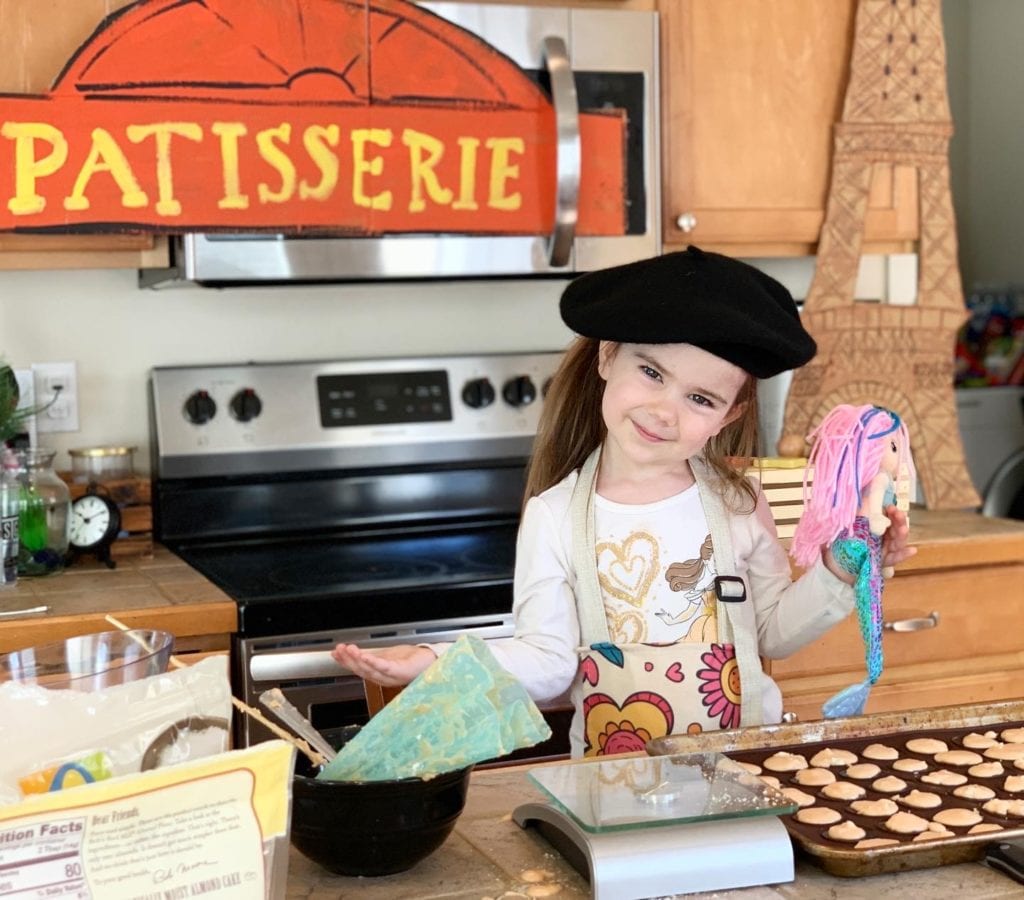 We install the still-wet cardboard Patisserie sign, break out the berets, and transform our kitchen into Paris. It's shocking how a bit of pretend has summoned The City of Lights-enchantment. My Fancy Nancy-inspired three-year-old daughter and I exclaim "Tre Magnifique!" and don our matching aprons as we take on the most complicated French baking endeavor in existence: the macaron. We let our egg whites age, we beat them until stiff peaks form, we crank and giggle as the sifting sugar shoots up in snow-like flurries.
Though true Parisians would have turned up their noses at our lumpy macaron results, we celebrate, "délicieux!" We lick our purple frosted lips and admire our première view of the cardboard Eiffel Tower. The revelry of travel and pastry consumption rush the wind back into our sails, saving us from "just making it through another day." We need more! Where to next? Maybe fewer dirty dishes with the next escapade? 
I'm thinking: Hawaii. I fill up the $5-garage-sale pool with water and plastic sea life, I pull over the hammock, pop up the umbrella, and voilà! Are we at the Maui Four Seasons or my 200 square foot backyard? I can't tell. Juicy pineapple slices and pretend fishing. Sandcastles and coconut shells full of juice. "Can we go to Hawaii again?" My daughter asks while we are still here, enjoying Hawaii. I sway in the hammock, surveying the splashes and baby-tooth smiles. I know our teacher department meeting is in 30 minutes, and I have more unread emails than grains of kinetic sand in this glorious backyard beach, but that's okay, my backyard island paradise relaxes me.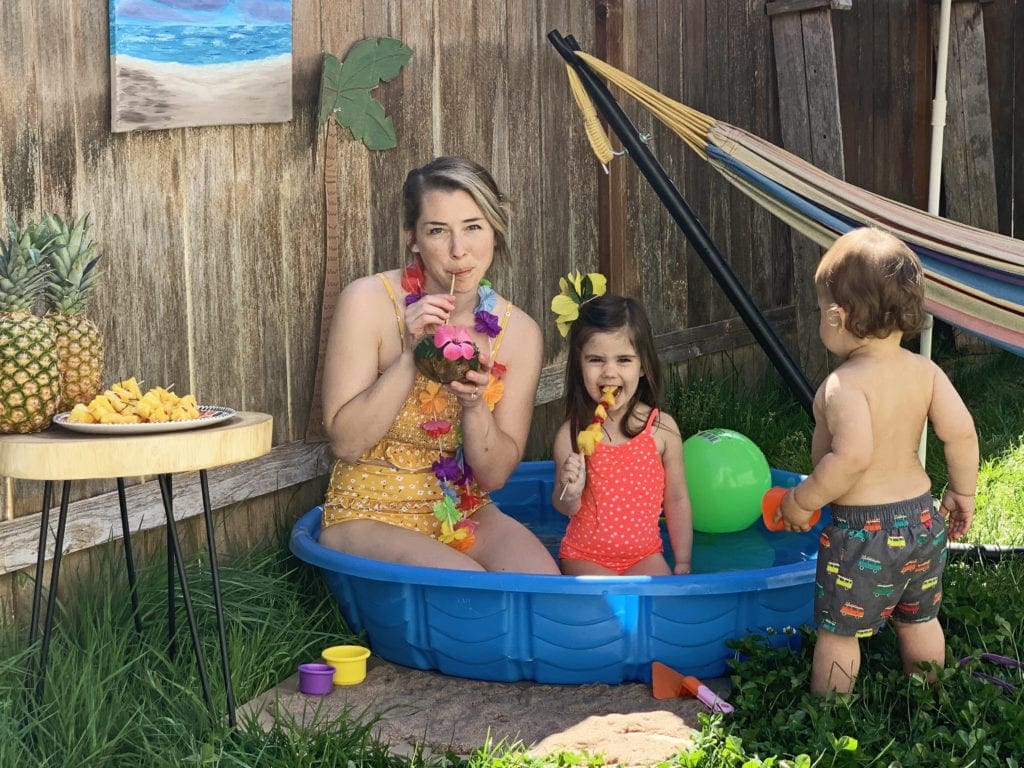 I'm loosened up with the rays and the sways of a pretend island life. For our next adventure, we decide to hit the trails in Yellowstone National Park—the Disneyland of natural wonders—which proved a huge hit during our family road trip last summer. I dust off the old Yellowstone-gift-shop bison, pitch the tent, and artistically recreate a chalk rendering of the Grand Prismatic Spring. Instead of the 800-mile drive, we take a few steps out the back door and post up around the snaps and crinkles of campfire magic.
S'mores whisk us away from lockdown suburbia and into the rustic woodlands of camping trips of yore. Sticky, dimpled hands wipe against my face, affectionately as we snuggle, fireside. The sun glows in its golden hour as I hold that squirmy baby boy tight, because of love, gratitude, and, well, the dangers of an open fire. The great outdoors does that for me—a good dose of "what truly matters here."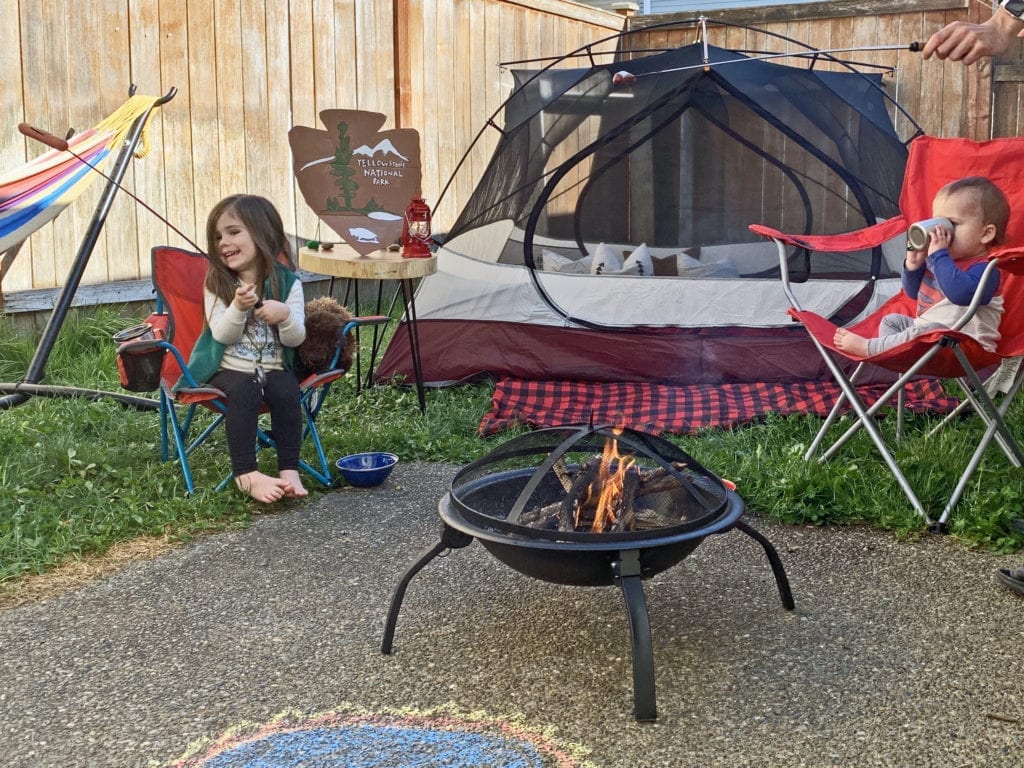 Next, we venture to London for afternoon tea. Lace table runner? Check! Plastic teacup set? Check. Luxury tea treats? Let's outsource. I am but a weary ex-pastry chef from Paris who needs a culinary break. Plus, supporting local businesses is both crucial and delicious at this time. So I socially-distance-curbside-pick-up tea treats and biscuits from our local mercantile, and the scene is set. 
My three-year-old sashays down the stairs in her classiest tea dress and too-big Cinderella faux-glass shoes. She takes it upon herself to select our outfits, as well. For dad: a fancy, button-down purple silken dress shirt. For me: a classy, white dress. The baby lucks out with a simple, cotton collared shirt and his diaper. We hold our pinkies high and belt out polite chatter in ridiculous English accents. The tea party guests begin to throw scones, to slovenly gulp down cupcakes, and to squander entire food coloring bottles in tea-pouring experiments! You would think, "well, how embarrassing!" But we swell in parental pride as the affair devolves into a sugar-fueled, joyous disaster with silly hats and stained, classy clothing.
We now need a bath. You would think somewhere between the sand and s'mores and tea spills, we would have washed, but in the land of quarantine: time is flat. The weeks blend together and the kids sure smell funny. "Hey, dad?" I turn to ask my husband, "When was the last time we bathed these small, stinky people?"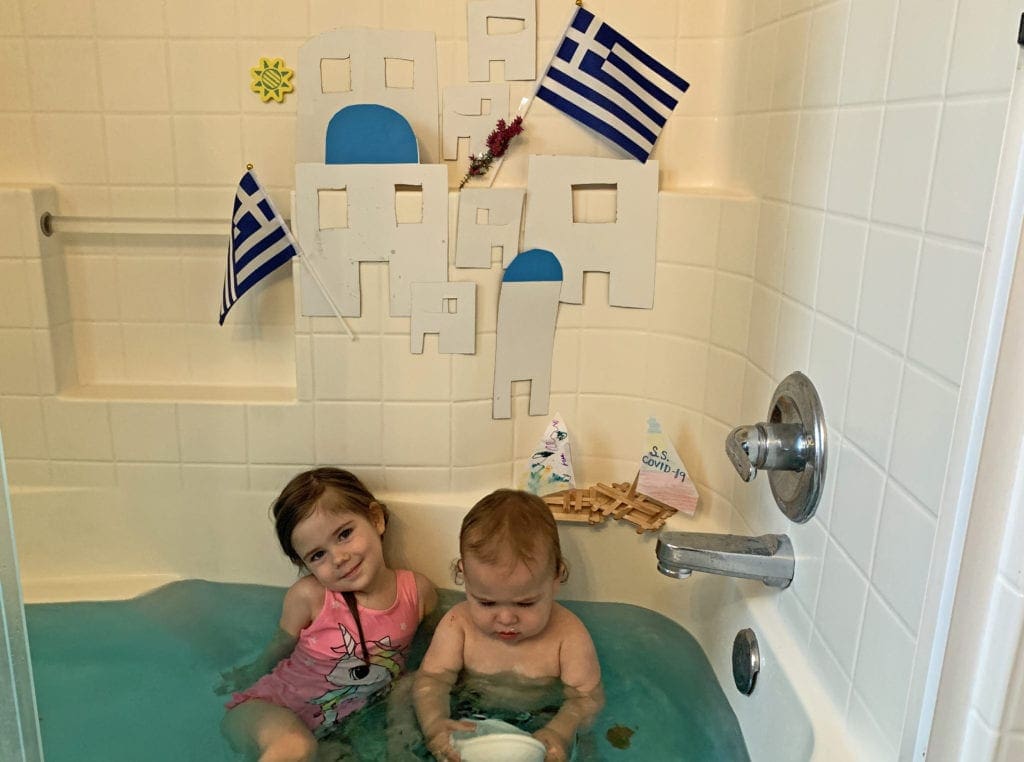 A perfect jetset that my children will never remember, because they were two and en utero, was a foray to Santorini. I set to refresh their infantile memories of setting sail through the bright blue Aegean Sea framed with walls of rustic, white-cubed dwellings using blue-dyed bathwater and white cut outs from the tea party pastry box. We also construct popsicle stick sailboats, our sails proclaiming our plight, "S.S. COVID-19."
We continue on to The North Pole for hot cocoa and Santa Claus storytime. Next, a wildlife scavenger hunt in the Outback of Australia. We then channel our inner-Van Goghs in Holland. Finally, we gulp down juice and build lego oranges in the Florida groves. Here, at the end of our world travels, I find myself a rejuvenated Super Mom and Super Teacher with delightful-smelling, inspired children. While my hands are stained with paint and weary from electronically grading essays, we are saved by the world we have created within these walls.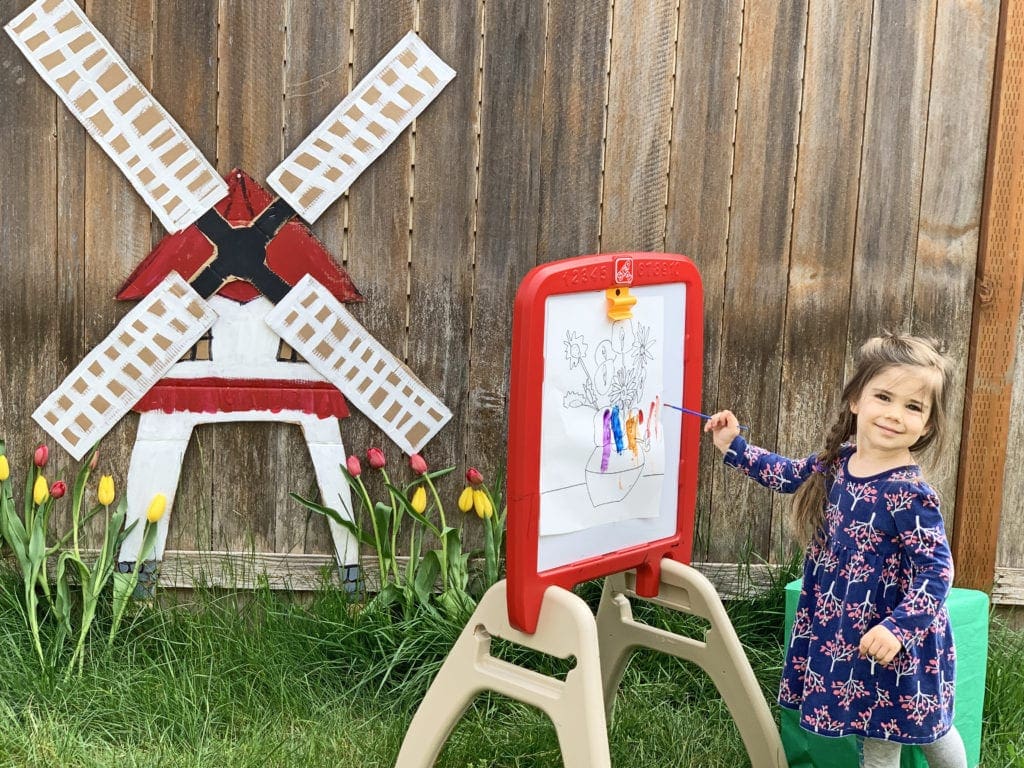 The world suffers around us in this time of Coronavirus and quarantine, and my heart breaks as we lose people, small-business dreams, and stability. But my house will remain an active adventure over the mere survival it once was. My children and my students require my artistry and invention now more than ever.
As I teach and as I parent, I will be present and I will create. We will grow, learn, and travel together as we expand our minds to and past the limits of reality. We will create our own happiness, regardless of circumstance. As we understand well today, it is a privilege to be alive and well. So even when the playgrounds are roped off with yellow caution tape and prom is canceled. Even when graduation is online and playdates are on FaceTime—we can and we should make our short, fragile lives into lives worth living, and then some.