I step inside the unassuming one-story building and am greeted by a cool blast of air conditioning and a smiling woman behind a desk. "Welcome!" she says as she stands up. She makes her way towards me, her gait confident and slightly stilted as her leg brace clacks against the tile floor.
Her name is Kinnalone, and she's an administrator at the Lao Disabled Women's Development Center (LDWDC)—the only organization in the Lao People's Democratic Republic dedicated to supporting women with disabilities. 
Laos is one of the poorest countries in Southeast Asia. Here, access to proper healthcare—especially in rural areas—is scarce and unreliable, and there's little support for people coping with a disability. Life is especially difficult for disabled women who endure gender discrimination combined with the social stigma of being disabled. In rural Laos, women with disabilities tend not to leave their homes and few attend school. Housebound and without basic education, they spend their lives relying on the support of their families.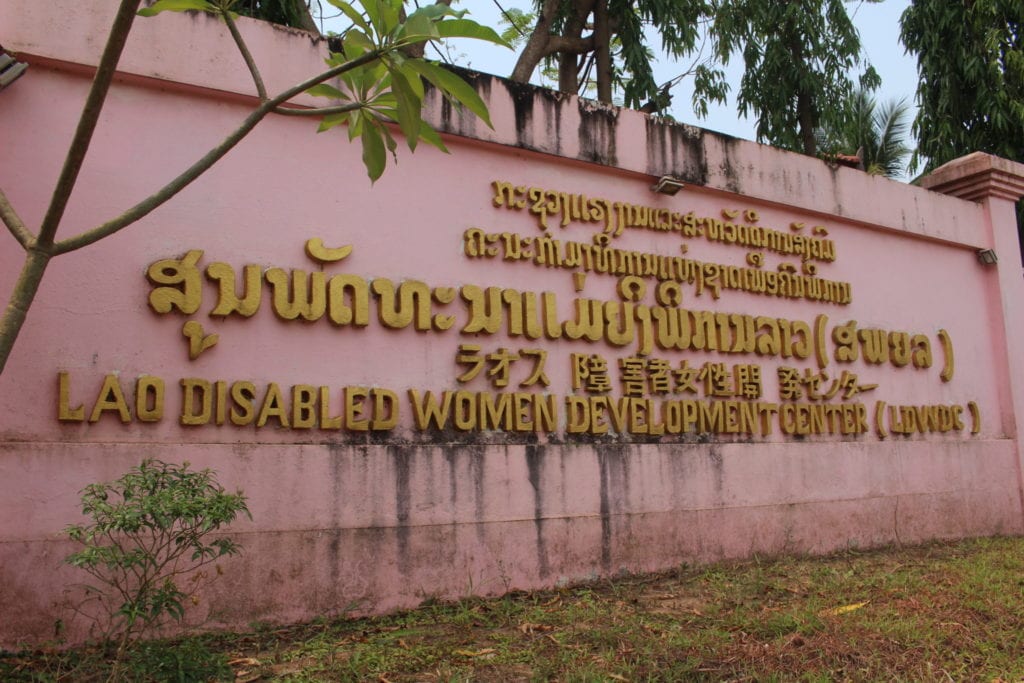 Kinnalone introduces me to Mme. Chanhpheng Sivila, the founder of the LDWDC. Also the owner of a leg brace, Chanhpheng was born in a small town in Laos' southern Champasak province. At three years old she contracted the polio virus, which permanently affected her leg and spine. Because of her disability her parents told her she wasn't allowed to go to school. So, she did what any other rebellious, strong-willed young woman would have done. "I stole my sister's uniform and went anyway," she tells me with a polite smile.
Chanhpheng founded the LDWDC in 2002 to help disabled women learn the skills they need to start their own business, lead independent lives, and contribute to their communities. Today, physically disabled women from all over Laos come to the center to learn sewing, weaving, and papercraft. For six months they live at the center while they complete their courses, then they return to their villages to put their new skills—and for many, new confidence—to work. These women are living proof that a disability doesn't limit a woman's potential. 
---
Following Kinnalone down a narrow hallway, I hear the sound of good-natured chatter and the hum of sewing machines. Off this hallway are the classrooms where the center's 30 students take their courses. Sewing is the most popular, with 70 percent of the total number of students enrolled in the sewing course. Talented seamstresses are in demand throughout Laos, and graduates can start a business with little more than a sewing machine.
The other two courses offered at the center are weaving and papercraft. Weaving is an integral part of Lao culture—women throughout the country wear the traditional, woven Lao skirt called a sinh. Because of the number of talented weavers already in Laos, competition makes this a difficult business to start.
In the papercraft course students use recycled magazines and newspapers to create beautiful, functional crafts such as coasters, photo frames, and bookmarks. Easier to learn than sewing and weaving, this course has the added benefit of "upcycling" unwanted paper.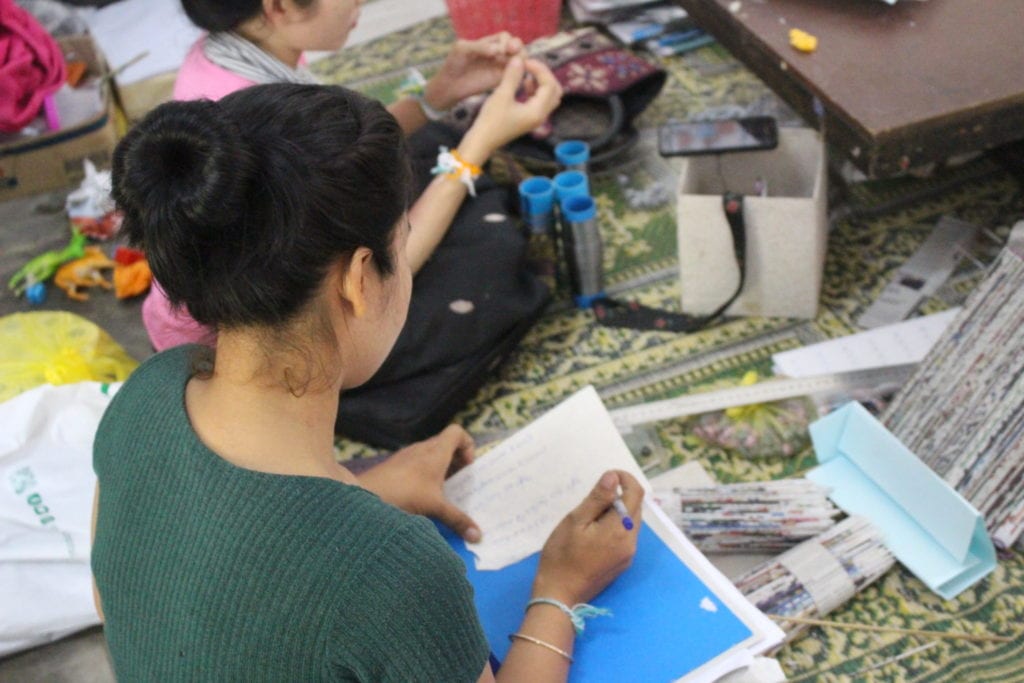 The courses are not only challenging for the students, they're challenging for the LDWDC, but for a different reason. The center doesn't receive any regular funding but rather relies entirely on donations and the sale of the goods the students create. If there's one word I could use to describe the staff at the center, it's "determined."
"We have no budget, no salary, but we have skills. We are problem solvers, we can do weaving, we can do sewing, we can do many things," Kinnalone tells me. It's clear from the activity at the center and the goods in the boutique that despite the challenges, they're managing. If the most obvious obstacle the LDWDC faces is cash flow, the least obvious is the students themselves. Living in a new place, struggling with coursework, and being apart from their families can be overwhelming.
"Many students want to quit," Kinnalone says. "This is part of the job as an instructor, to be like a psychologist to talk to them and find out how they are feeling and give them reasons to stay." Hearing this, I'm reminded again of the staff's determination. Although nearly every student considers quitting, because of the center's wholehearted support, it's rare for a student to completely give up and return home.
---
My eyes scan the shelves of the LDWDC boutique taking in the colors and patterns. I reach out to touch a hand-stitched pouch, running my fingers over the delicate needlework. There's no faking the care that went into this. The details speak for themselves.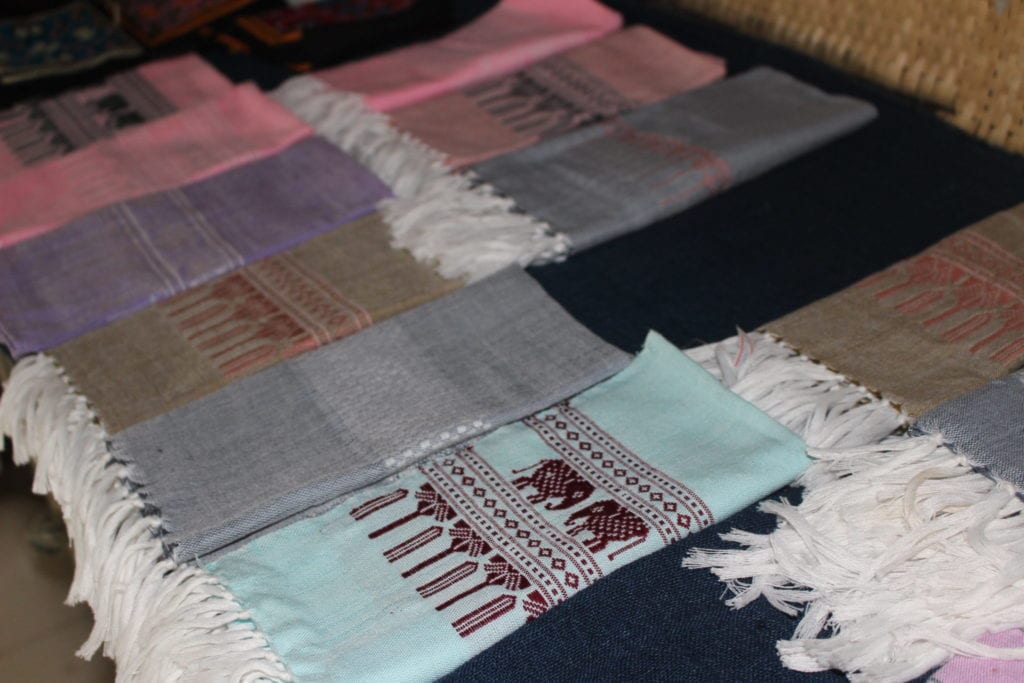 Creations from each of the center's programs are on display, elegantly arranged on the dark wooden shelves, and it's hard not to appreciate the students' skills. From tiny folded-paper earrings, to bright, patterned cotton napkins, to stylish tote bags, the items here are beautiful and unique. Adding to their appeal, every purchase supports the center's work.
Since 2002, the LDWDC has graduated over 1,000 women and they're not slowing down anytime soon. Future plans include offering courses in hospitality and aesthetics; they also want to offer courses to women with mental disabilities, such as autism.
At the same time they're still working towards their ultimate goals of helping disabled Lao women achieve their potential and changing the conventional view of disabled people in Laos.
Gazing at the boutique's wares one last time, I say my goodbyes and thank my hosts. Stepping out into the harsh sunshine I start along the dusty path out to the main road. Looking back at the Lao Disabled Women's Development Center, I feel like the independence of Laos' disabled women is a big dream for such a small building. Then again, it's not just a dream for the center. It's a dream that all of Laos can share.