It's a crisp, cold morning when I meet American activist, writer, and producer, Amy Richards, on the corner of Bleeker and Mott Street in New York's SoHo neighborhood for a feminist walking tour.
Donning a warm winter coat, Amy Richards—who is president of Soapbox Inc., and the creator of Feminist Camp—is fresh-faced and smiling with her windswept blonde hair poking out from beneath her bright blue knit hat. We meet at the Margaret Sanger Planned Parenthood, which—up until this moment—I had no idea existed just a stone's throw away streets I often frequent. It seems this is the very point of the feminist walking tour Richards is about to take me on; to show people a side of New York that is often overlooked in this hyper-masculine city.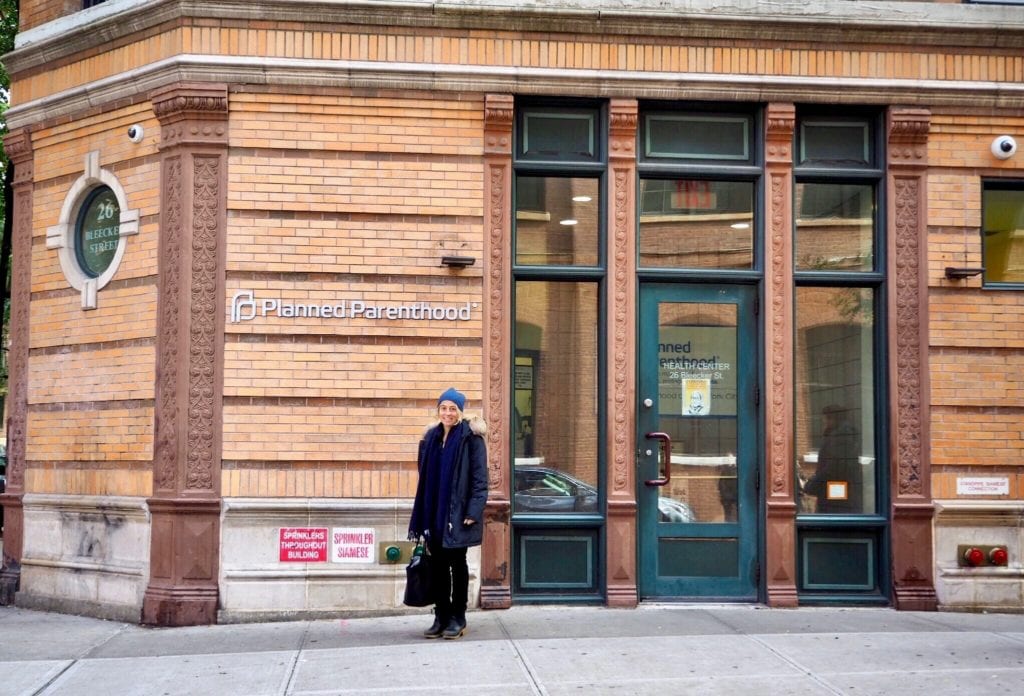 Over the course of the next two hours, I will see places I've walked by countless times in an entirely new light. Standing in front of Planned Parenthood, Richards begins to explain the history of the nonprofit organization that often finds itself at the center of debates. Planned Parenthood has its roots in Brooklyn, where in 1916 nurse and activist, Margaret Sanger, opened the first birth control clinic in the United States.
Sanger, who worked with mostly lower to working-class women, was rattled by the number of self-induced abortions, frequent childbirths and related deaths happening among New York women at the time. She began her crusade for contraception then and there, looking for ways to both educate and empower women to take control of their own reproduction.
"This particular Planned Parenthood in New York City has a really robust education program where they talk to schools and educators," explains Richards. "It has something called the 'Street Beat Van' that goes out into the boroughs of New York City, late at night, after school, to deliver services in some way." The benefit of Planned Parenthood is undeniable, offering care to people—especially immigrants—who face emotional and financial barriers in accessing healthcare.
Walking against the wind, Richards and I begin to head towards the corner of Washington Place and Greene Street. Richards stops short in front of the unassuming New York University Brown Building. I have passed by this very street on countless occasions, so am surprised to notice—for the first time—the time-weathered bronze plaque Richards is now standing in front of. It is here that the tragic Triangle Shirtwaist Factory Fire killed over 100 workers, most of whom were women.
The Triangle Shirtwaist Factory Fire shone a stark light on the dire working conditions and lack of rights employees—particularly women—had in the early 1900s. During the fire, workers were locked in (so as to prevent unauthorized breaks and theft) and died from smoke inhalation, fire or jumping to their deaths. There is a certain profound silence about this corner of New York where lives were lost and time has inevitably moved the city forward. For women, this fire ignited much-needed change to national labor laws with the help of the International Ladies' Garment Workers' Union, to push for women's working rights.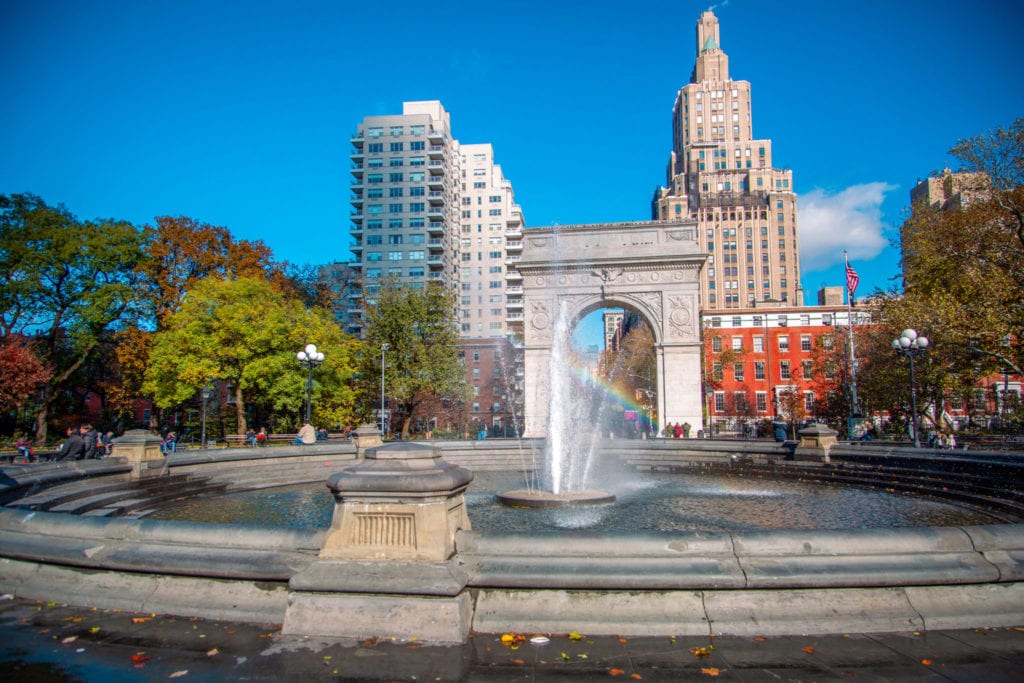 As the two of continue on our feminist walking tour, I begin to see the history of women in New York come to life right before my eyes. Richards speaks passionately of the many ladies who laid down their lives in the name of change throughout the city's history—be it the right to access birth control, to form labor unions or to have the same basic human rights enjoyed by men.
Laying her hand on the side of the famed Washington Square arch, Richards explains how by giving feminist tours of New York, she hopes people will walk away with wider eyes and a deepened understanding of how women played a vital role in the city's history.
"Gloria Steinem has this beautiful passage in her book, My Life on the Road, where she stops and puts her hand on a rock in Central Park and tries to remember all the people who also put their hands on that rock or where that rock came from," says Richards. "I think about that when visiting a place."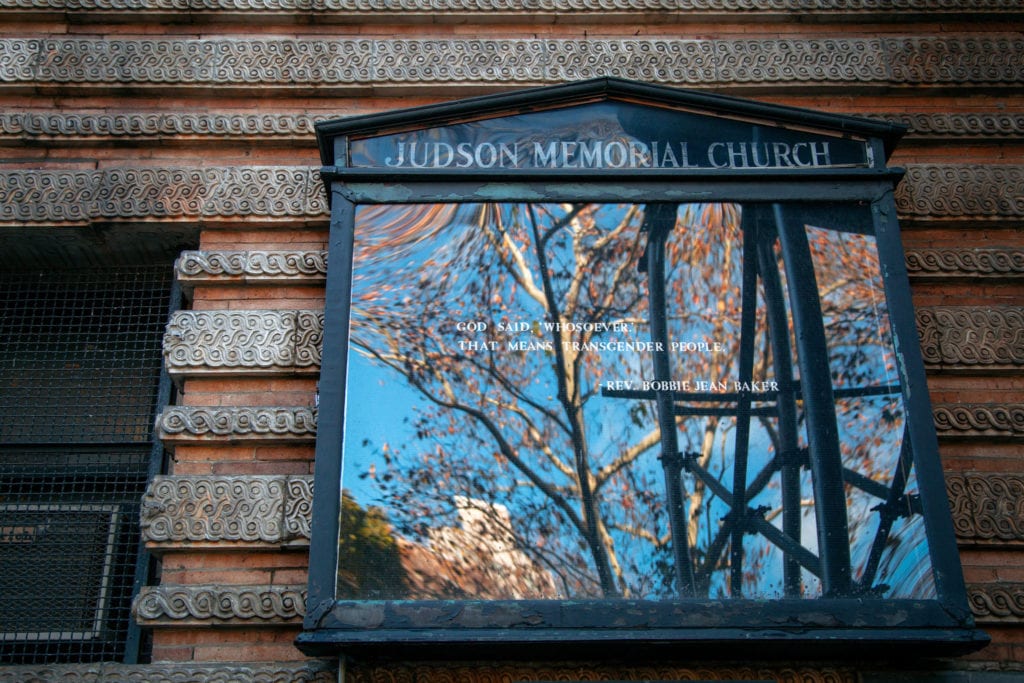 Richards and I stroll languidly across Washington Square Park to the Judson Memorial Church, between Thompson Street and Sullivan Street. Another stop on the tour, I quickly learn that this church has historically supported women's right to abortions.
"We affirm that abortion is a compassionate and moral option for women not in spite of our Christianity, but because of it," reads the Judson Church website. "Abortion can be a highly moral choice for a woman, much more so than compelling a woman to bear and raise a child even though she lacks the emotional or material resources to sustain herself or her family."
Of the many surprises littered along Richards's feminist walking tour, I am all but floored to learn of a church where a woman's right to choose is not only accepted but actively supported. It is the sort of acceptance that wasn't always commonplace in New York City.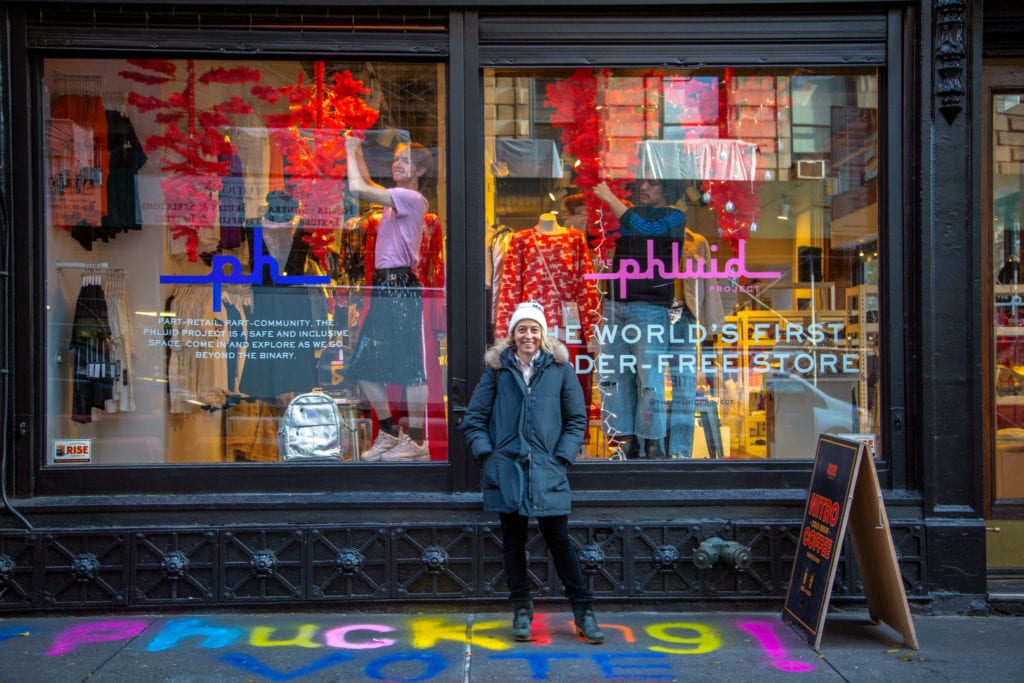 While walking through New York, Richards weaves a story that celebrates both the women of the city's past and the trailblazers of its future. At the Lower East Side Tenement Museum, we are given a glimpse into the living quarters of what newly-arrived female immigrants must have experienced. At the African Burial Ground Interpretive Center, we remember the 18th-century mass grave discovered in the excavation of another building, and how Roberta Washington—one of the few African American women architects with her own firm—designed the center seen today. In Lincoln Center we look at the Alice Tully Hall, which was redesigned by Elizabeth Diller and her famed firm Diller Scofidio + Renfro, the building itself named for one of New York City's most generous female philanthropists.
In the fast-paced, microcosm that is Manhattan, New Yorkers and tourists alike rush past city attractions without a second thought. Take Fifth Avenue, for example, where back in 1915, women marched for the right to vote and continue to rally in defiance of Donald Trump and his sexist rhetoric. Despite its significance, often Fifth Avenue is distilled down to nothing more than a stretch of designer stores. All too often women's history—and that of the city's minorities—are eclipsed.
"I want more people to experience women's full participation in our cities, in our culture and in our world and take that as a given and not as an afterthought," says Richards. "It's a shame to me that women's history is still told on the sidelines of [our country's history. Women are a part of these narratives and if you don't see women in [New York's] history, it's not because women weren't there, it's because women haven't been memorialized in the right way."
It is that question of how to honor the women of our past that seems to ultimately drive Amy Richards' tour and Feminist Camp as she works painstakingly to create a bridge between the female heroes of our past and the women of our futures.
A version of this article featuring Amy Richards, appears in the Spring Issue of Unearth Women, now available for purchase in our online store.