When Manal Kahi arrived in New York City as a Lebanese immigrant, she was less than impressed by the subpar quality of local hummus. In a city where packaged, mass-produced hummus is in pretty much every grocery store, Kahi struggled to find anything that could compare to what she was used to back home. So she opted to make her own hummus from scratch. Together with her brother, Kahi was onto a business idea that would soon blossom into Eat Offbeat. Based in Long Island City, Eat Offbeat employs resettled refugees to share their home recipes with New Yorkers.
From Syrian cuisine to classic Senegalese dishes and Iranian treats, Eat Offbeat is first and foremost a celebration of food. As CEO and Co-Founder, Kahi sat down with our Editor-in-Chief to chat about how she founded Eat Offbeat, her work with refugees, and the challenges she's faced as a female entrepreneur.
Unearth Women (UW): Tell us about your company, Eat Offbeat!
Manal Kahi (MK): Eat Offbeat serves authentic meals that are entirely conceived of, prepared, and delivered by refugees resettled here in New York City. We hire talented home cooks who happen to be refugees by status, we train them to become professional chefs, then we deliver their food to groups of people all over the city.
One thing we want to do at Eat Offbeat is flip the current narrative on the way people think [about refugees]. Our motto is: where adventurous eaters find refuge. We are about helping New Yorkers discover something new, something different, something exciting, and—in our case—it is really the refugees who are the heroes and chefs. They are the ones helping New Yorkers discover something new, not the other way around.
UW: Eat Offbeat was inspired by hummus. Tell us about that moment of inspiration.
MK: I moved to New York City to attend graduate school at Columbia University and I wasn't happy with the hummus I would find in grocery stores. Coming from Lebanon, I had really high standards—I was used to home recipes and high quality. When I came to New York, I was shocked by how available hummus is—it's sold everywhere—but how poor the quality is, especially in grocery stores. I started making my own hummus and it became popular with friends. I mentioned this to my brother, Wissam, who is now the Co-Founder of Eat Offbeat, and we both thought there could be a market opportunity there.
We started thinking about who could make great hummus in New York—like the kind our grandmother would make back home—and it was easy to make the connection to Syrian refugees. There are a lot of Syrian refugees resettled here; they likely make good hummus for their families, and they would probably enjoy sharing that recipe with New Yorkers. So that was the initial premise of [Eat Offbeat]—to bring authentic, homestyle hummus to New York.
Once we started digging further, we realized there was so much more to this than hummus, that there are so many other recipes and so many other cuisines all over the world that also have incredible dishes. Even in a city as cosmopolitan as New York, you don't see cuisine from Nepal, Eritrea, Senegal, Iran, Afghanistan, and Syria [too often]. All these countries are underrepresented in the food scene.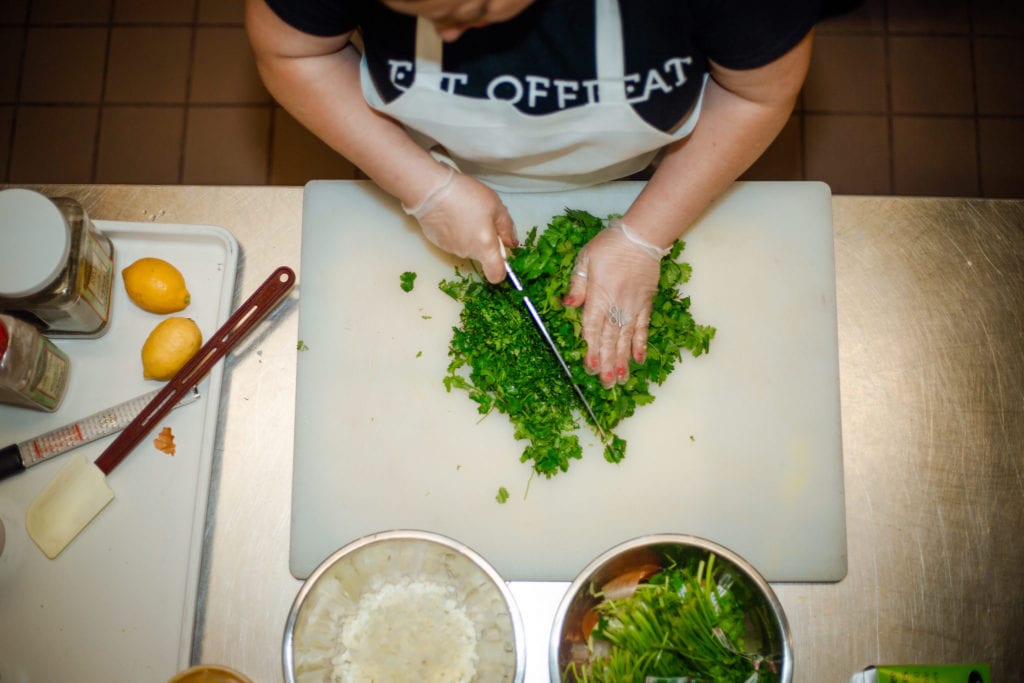 UW: Eat Offbeat formed a partnership with the International Rescue Committee (IRC). How does IRC and Eat Offbeat work together?
MK: Early on we partnered with the IRC, a resettlement agency in the United States that helps refugees get resettled and find employment. Our partnership with the IRC involves them introducing us to people who have recently resettled and are looking for work, and who are passionate about the food industry and cooking, regardless of professional experience.
UW: It's difficult to talk about refugees without addressing today's political climate and xenophobic rhetoric. As a company that champions refugees, what has the community reaction been to Eat Offbeat?
MK: New Yorkers have been extremely supportive and open, not just about who we are but also about our food. New Yorkers are adventurous eaters and they want to discover something new—they are intrigued by foreign cuisine.
From a political standpoint, we've gotten a lot of support. It's a supportive community that has not only welcomed us as individuals but has welcomed our food and products. We have also received messages of support from all over the United States, which goes to show that—while there is a political situation—there is also an incredible amount of people who are open and welcoming to us as immigrants and refugees.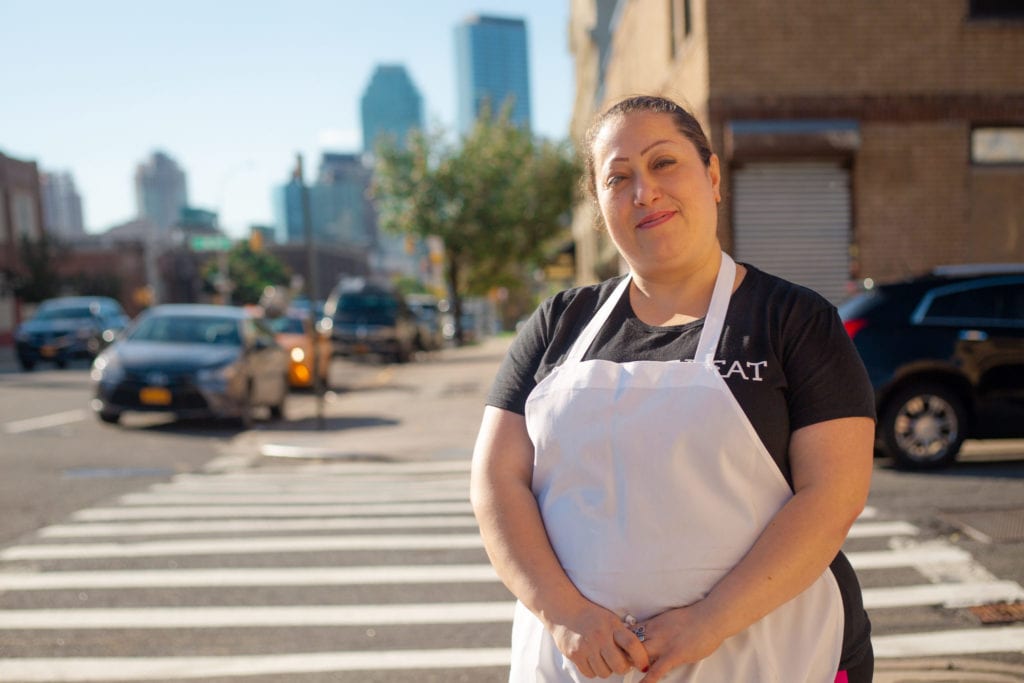 UW: What are some of the challenges you've faced as a female entrepreneur?
MK: People tend to be more skeptical when I'm speaking as a woman than if I were a man. Whether we're talking to an investor or speaking to someone about an idea, I feel I have to go an extra mile. I go into a room full of investors with my Co-Founder, for instance, and after I give an entire presentation, the questions get directed to the men in the room.
I'm also often asked how my "project" is going. They see me as a woman with a project, not a company. So, these are the type of [challenges I face], but they are really just details. I've also gotten a lot of support as a woman and an entrepreneur.
UW: How can someone go about trying the food made by Eat Offbeat's chefs?
MK: We currently cater to offices (happy hours, meetings etc.), non-profits (board meetings, dinners, events), individuals hosting dinners of 10 people at home, and small or large-scale events and conferences.
People can try our food by hosting a dinner party at home. Eat Offbeat is only in New York, but hopefully, in the near future, we will go beyond [the city].
Find Manal Kahi's interview in the Spring Issue of Unearth Women, on-sale now.