Be careful. Don't go out alone. Spend your life sealed in a car.
Okay, people don't usually say that last one, but it does seem that's what ends up happening when women are told—in subtle and not so subtle ways— that we cannot travel where we want and when we want. Bombarded with frequent stories of harassment and violence against women and female travelers, exploring new cities can feel daunting. Even ride shares can prove potentially dangerous for women, as evidenced by the recent CNN investigation into Uber drivers committing sexual assault. For women keen to travel, it may feel like you're out of safe options for getting around, but you're not.
Just as women rode bikes to freedom as a feminist statement more than a hundred years ago in the United States, we are doing it again in record numbers. Bicycles give us power and control to get places at very little cost. Connecting us across cultures and generations, enhancing our health and happiness, biking allows travelers to better explore new destinations.
Cities around the world are increasingly making their public spaces more accessible for bike riding, thereby reducing the risks that has kept many women off their bikes since bike riding's last big heyday in the 1970s. If you are traveling somewhere where you plan to bike, here are some bicycle safety tips to keep in mind.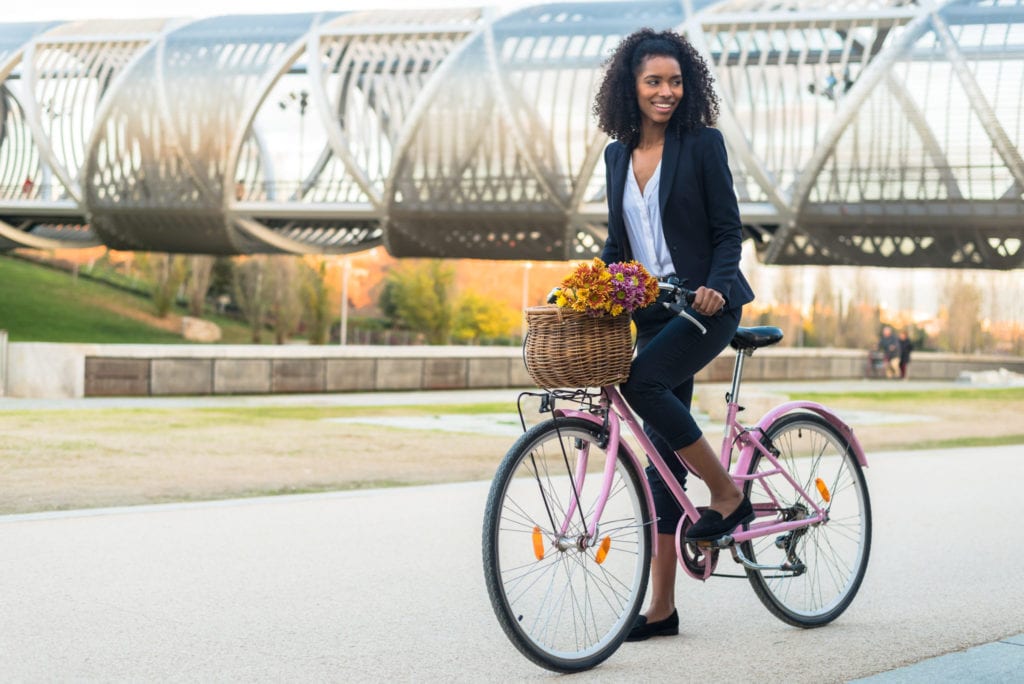 Choose Routes Carefully
Wooded paths may be lovely and safe from motor vehicles, but can present other dangers to women traveling alone. Sticking to well-traveled, well-lit areas can help female cyclists sidestep threats that come with isolated bike paths. Many cities now offer the use of bike shares, which tend to be located close to popular destinations, bike lanes, and metro stations. If where you live or are visiting has sharable ebikes, these are miracle machines that flatten hills and can give you access to more areas than you would have covered on a regular bike. Just be sure to check how much power is left before you start your trip to avoid getting stuck along the way. It is recommended to download bike share apps beforehand for increase bicycle safety.
Try the 'Penny in Yo Pants' Trick
Back in 2015, Johanna Holtan—an avid cyclist in Scotland—came up with a trick that has single handedly helped female bikers around the globe. Using a penny and rubber band, Holtan created a crafty solution to help women turn their skirts into shorts while biking. Known as the 'Penny in Yo Pants' trick, Holtan's ingenious life-hack is one that any cyclist can replicate to avoid unintentional flashing of strangers while biking.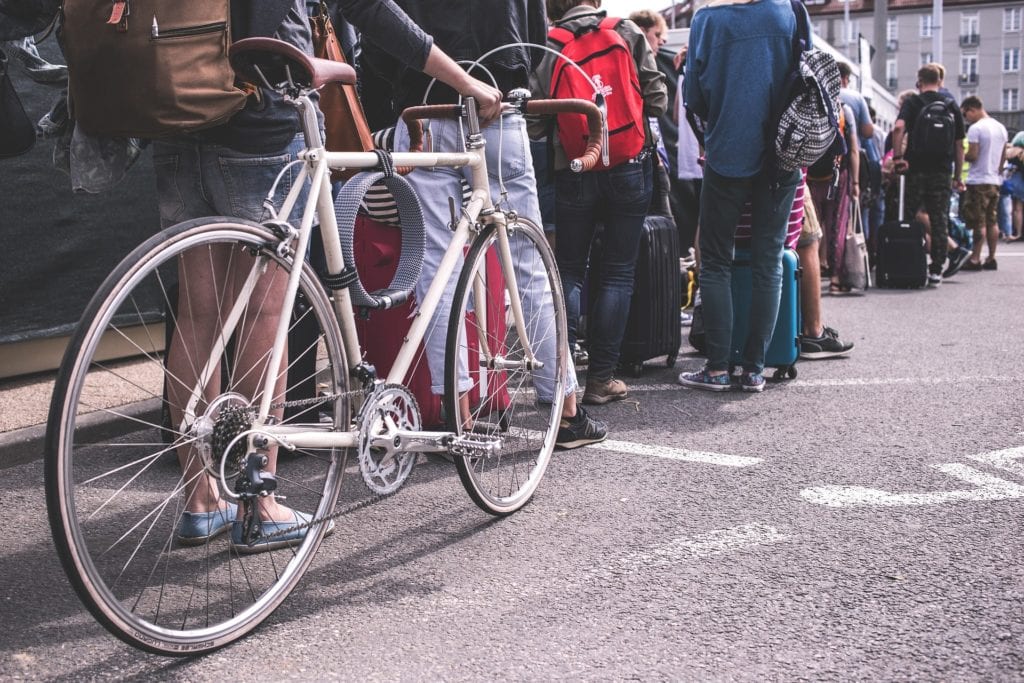 Stick to the Lane
It's likely that at some point you'll need to ride in the road with motor vehicle traffic. If there isn't enough room for the driver to pass you (or if there is debris in the gutter or parked cars where opening doors may present a hazard), you are usually the safest riding in the middle of the lane. It's called "taking the lane," and it's a powerful physical manifestation of owning our space in the world. It could also save your life as drivers tend to pass women more closely than men. If this feels challenging to you, visit the League of American Bicyclists' website for Smart Cycling videos to help you brush up on (or learn) helpful bike handling and hazard avoidance skills. You may also want to take a bike skills class where you live. Many bike advocacy groups offer them for free to help build biking and bicycle safety skills. .
Always Trust Your Gut
Many people will tell you to make eye contact with drivers to communicate, but this can sometimes instigate harassment, especially if you are at a red light. Don't listen to any advice others give you on this. Trust your gut. In fact, always trust your gut. If you feel uncomfortable for any reason, you can turn around quickly, or get off your bicycle and walk, and get yourself out of your situation.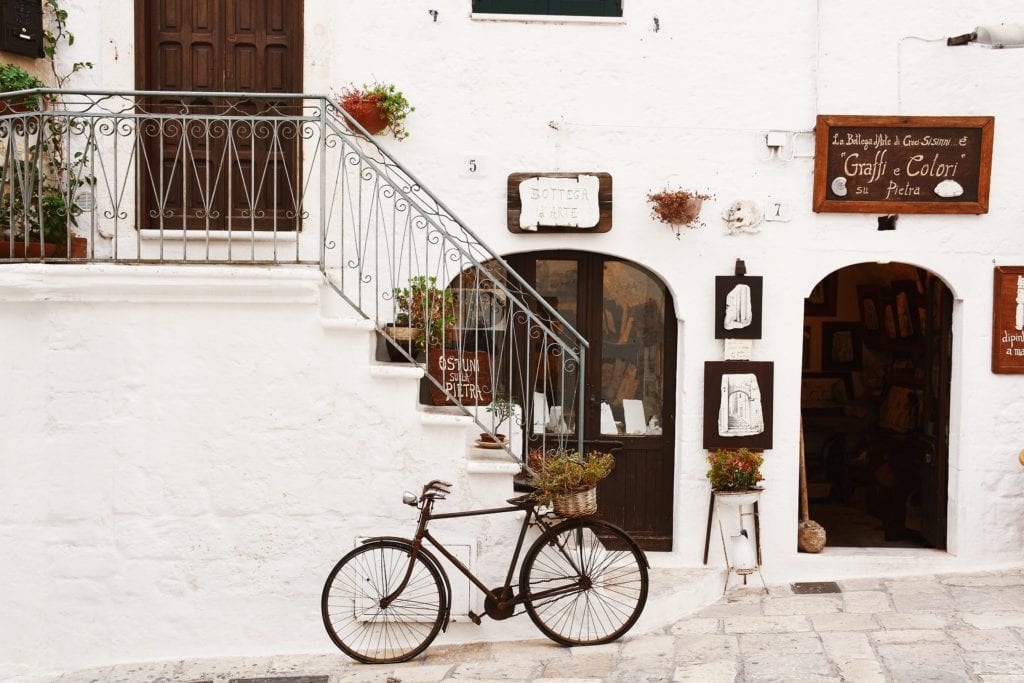 Join a Female-Led Bike Tour
Maybe you're all in on the idea of bike riding but you don't necessarily want to do it alone. Taking a local bike tour is a great way to learn about a city's history, art, culture, and quirks while also getting a sense of your bearings. Many bicycle tour companies are owned by women, such as Robyn Elliott of Bicycle Tours of Atlanta, Nedra Deadwyler of Civil Bikes, and Barb Wittels of Pedal or Not Electric Bike Tours. You may also be interested in the wide range of both USA-based and international bike tours offered by WomenTours, which is not only owned by a woman (Jackie Marchand) but features only women guides and guests.
Civil Rights Leader Susan B. Anthony wrote in 1896: "Let me tell you what I think of bicycling. I think it has done more to emancipate women than anything else in the world. It gives women a feeling of freedom and self-reliance. I stand and rejoice every time I see a woman ride by on a wheel…the picture of free, untrammeled womanhood." You may be the next woman who rides to freedom.