"Why do you want to go visit that animal shelter, anyway?" implored my dad.
I couldn't blame him for asking. After all, when one heads to a tropical island after a year of quarantine, volunteering at a shelter seems counteractive to relaxation. And yet, here I am — or rather, here we are — my boyfriend, Jeff, and I are standing in the courtyard of Refugio Animal Holbox on Isla Holbox. 
As you might have guessed, this is not our first time visiting an animal shelter while on vacation. In recent years, we've earned ourselves the reputation of being hard-core animal lovers due to the many sanctuaries and shelters we add to our travel itineraries. In Rome, we found our way to a hidden cat sanctuary nestled beneath the ruins of the Largo di Torre Argentina. In Thailand, we spent a few days feeding watermelons to elephants rescued from the logging and entertainment industries. In Barcelona, I visited a hospital for elderly felines. In Belize, we volunteered at a locally-owned animal shelter and adopted one of the pups. In Indonesia, I ventured into the heart of Borneo to visit one of the oldest orangutan research centers. Now, here we are on Isla Holbox.
Isla Holbox is an island off the coast of Mexico's Quintana Roo state. Compared to other popular destinations in this part of the country (such as Tulum, Cozumel, and Cancun), Isla Holbox is still relatively under the radar. Refugio Animal Holbox is a woman-founded shelter on the island. Founded by Morelia Montes, the animal shelter was inspired by an abandoned baby raccoon (yes, there are raccoons in Mexico) that was brought to Montes after being found on the road. Montes took it upon herself to nurse the baby raccoon back to health, eventually raising the animal and naming him Venancio. It was ultimately Venancio that inspired Montes to create a safe haven for other injured or abandoned animals in need of care. That idea is what became the foundation of Refugio Animal Holbox.
In visiting Refugio Animal Holbox, it's impossible to not see the care and detail that Montes has poured into the shelter. From the store that sells hand-painted animal figurines in an effort to raise funds, to the open-air courtyard for the dogs to roam freely—there is no doubt that Montes has created a space where the animal's needs come first. Looking back at the animal shelters that Jeff and I have visited, Refugio Animal Holbox perhaps seems the most real. The Caye Caulker Animal shelter in Belize (from where we adopted our dog, Chico), felt like Peter Pan's lost boys. About 15 or so stray dogs—all in seemingly good health—would run around the open space, eagerly welcoming visitors for pets and walks. That shelter felt laid back in the sense that travelers could simply stroll past the rickety wooden gate and find themselves immersed in a wonderland of feral cats and stray puppies.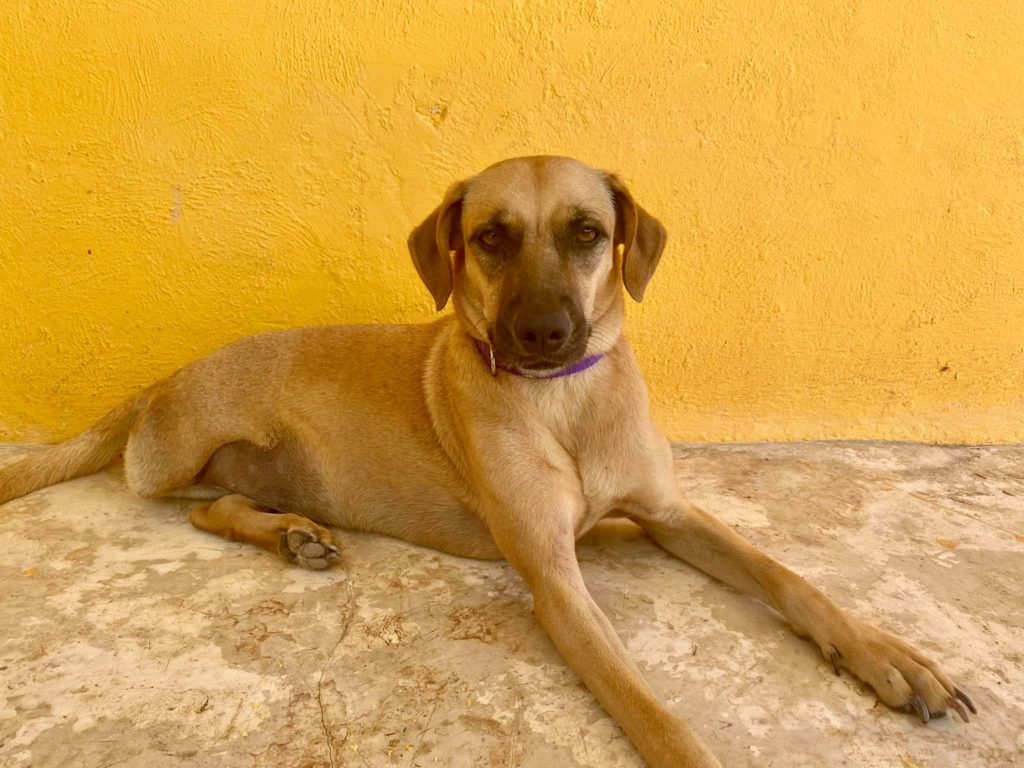 Refugio Animal Holbox is different. Here, many of the dogs are injured from car accidents (an unfortunately common occurrence on the sign-less, high-speed highways of Mexico). There are dogs with missing limbs, dogs that have been partially or fully blinded, dogs that are recovering from surgery or fighting off illness due to neglect. There are healthy kittens recovered from trash bins and abandoned raccoons being nursed back to health. What is clear is that every single animal at the shelter is actively being cared for in some capacity or another. Montes and her team spend time seeking donations to pay for surgeries, to vaccinate their animals, and to help them find their forever homes. In fact, the day we arrived, Montes was at the airport sending two of her dogs to Boston and New York to be adopted.
It can be hard to see some of the animals at Refugio Animal Holbox. Harder, in some ways, than any other sanctuary or shelter I have visited on my travels. To look into the eyes of some of the more injured animals and see how eager they are to love and trust humans is a beautiful thing. Despite unspeakable trauma and neglect, these animals are the definition of resilience. To see the palpable love Montes has for these animals is equally inspiring. Hers is a shelter that welcomes animals with open arms. No matter the injuries, no matter the backstory—it seems there is not a single animal Montes will turn her back on and not try and help find its forever home.
How to Support Refugio Animal Holbox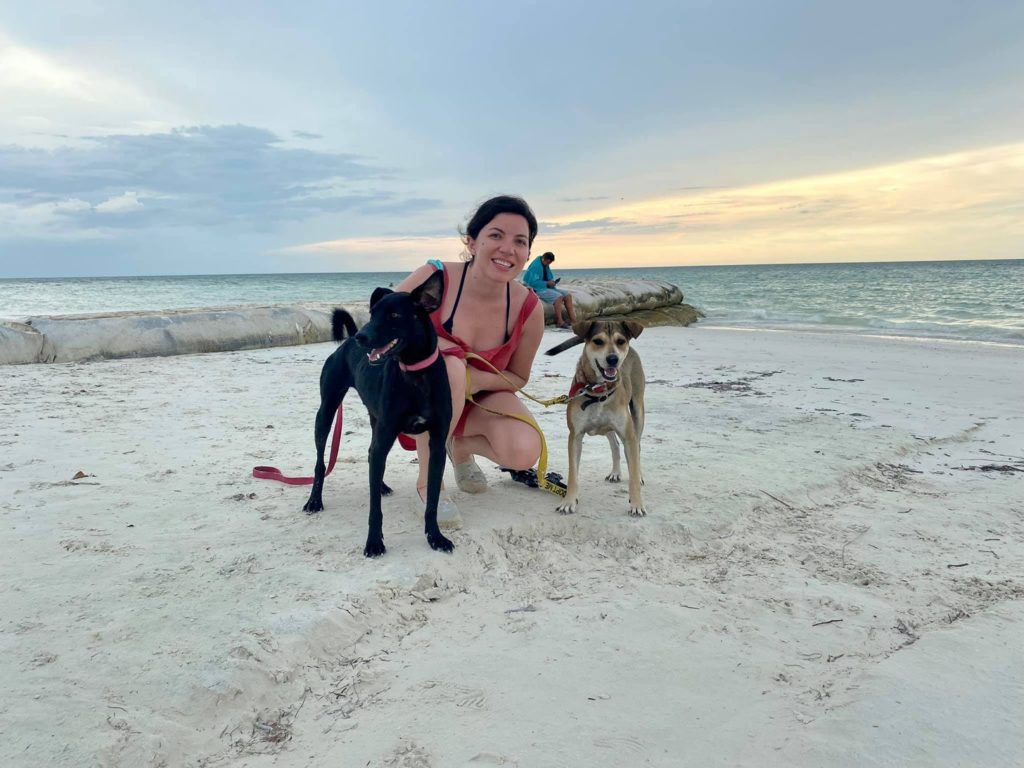 For travelers visiting Isla Holbox, the best way to visit the Refugio Animal Holbox is by volunteering to walk the dogs in the early morning or evening hours. Walking the dogs has become a nightly tradition for us here on Isla Holbox. At sunset, just as the midday heat starts to melt away, we pick up two of our favorite dogs (Miguel and Pollaco) and take them for a stroll down the beach. If you're keen to support the shelter from afar, you can donate on their website.