Darley Newman is her happiest while on horseback. This Emmy-Award winning television host, producer and entrepreneur has been trotting around the globe for the past decade filming her award-winning show, Equitrekking, which features her exploring destinations on horseback. It appears on PBS and Horse and Country TV throughout Europe and Australia. It is also available in the US OnDemand and is coming to Amazon Prime this winter. Her new show, "Travels with Darley" is available on PBS, Amazon Prime, and other streaming sites. We sat down with Newman to talk about the growing trend of equitrekking.
Unearth Women (UW): What first drew you to horses?
Darley Newman (DN): I have loved horses since I was a child. When I was six, I went to summer camp in the mountains of North Carolina, and I had my first riding lessons. I didn't get to do much, but I loved the smell, I loved the vibe. It just calmed me down. It was something I wanted more and more of. One of the things I think is so great about horseback riding is you can ride for your entire life, and there is always something new to learn. Whether you're learning and growing in some kind of discipline, whether you're out on a trail or off a trail and exploring (which I find the most interesting), there is always something that catches your attention, and it is fascinating.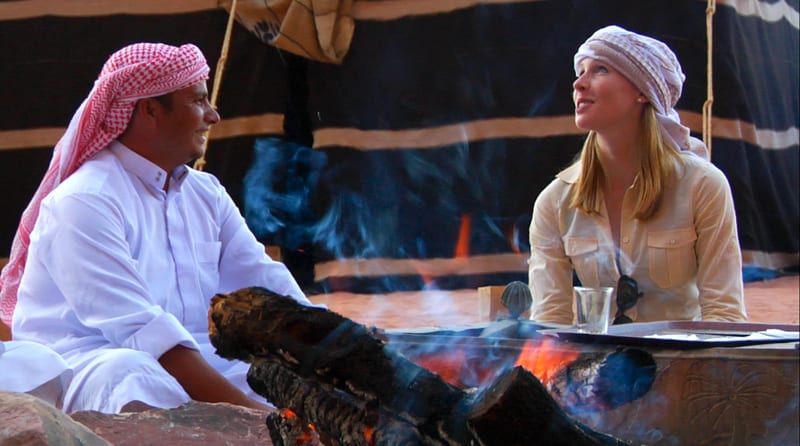 UW: Tell me about the concept of your show "Equitrekking" and how you came up with it?
DN: I went to George Washington University, and even before that I wanted to travel as much as I could and honestly, thinking about life, it's really short, so you should do what you want to do. So, I was trying to think of a travel show and thinking of something that set me apart from other people. I was in New York and riding horses out in Connecticut and Central Park and was writing about it for publications. I started a website before I started the show. I had the idea and thought I know this is such a great way to see a place and no one else had done a show where they were exploring on horseback. When I was telling people what I wanted to do, they were like "that's crazy! Who would want to watch that?" It is about the horses and riding, but you also see the land, you talk to interesting people and go places that may be hard to reach by other means. I thought it could be a success.
UW: What is one of your most memorable equitrekking trips?
DN: One of my all time favorites is Botswana, Africa. I took multiple safaris on horseback, which is a great way to see wildlife. You're unobtrusive, you're not in a loud vehicle, and you can go places a car can't go because you don't even have to be on a trail. We road in the Okavango Delta across islands and swam through channels of water. We made our own trails. So that is one of the coolest places I've ever ridden. It was an experience of a lifetime because we saw wildlife in ways we wouldn't normally be able to unless we flew into that location. It was so exciting to do it on horseback.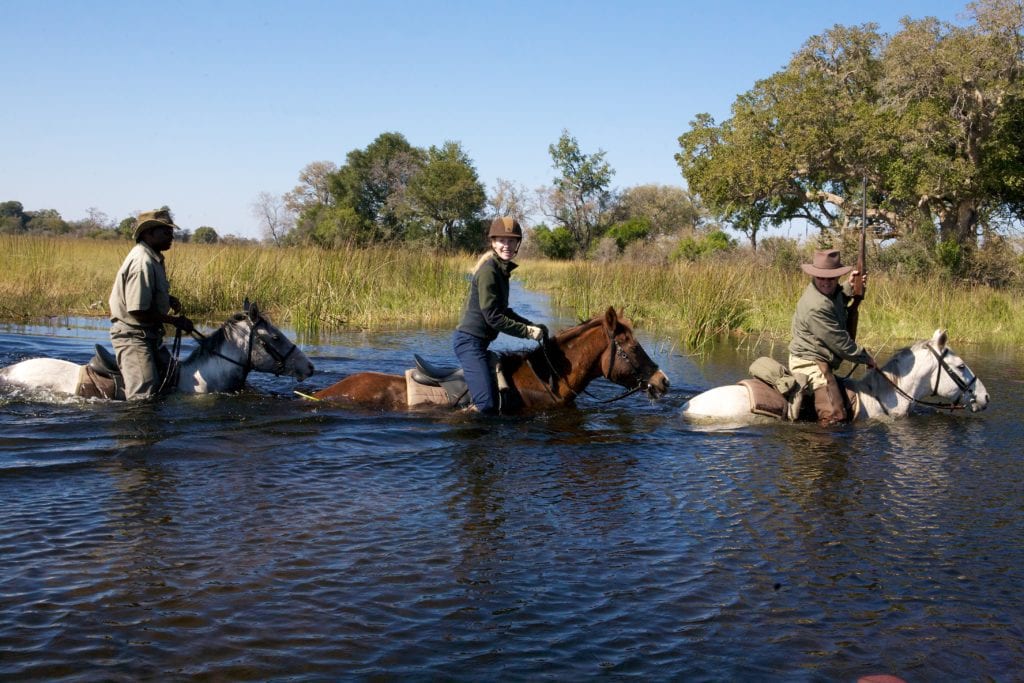 UW: Your show "Equitrekking" has been on for a decade. Why do you think this type of trip is becoming more popular now, particularly with women?
DN: There definitely are a lot of women, and probably the majority are women who are doing these trips, but there are a fair number of solo men who go out too. My friend's dad goes out every year by himself for a hardcore riding trip. It's all types of people, all ages, all walks of life.
A lot of women, especially those who will travel solo. I know a lot of places that are geared to solo women travelers. In Galway, Ireland there is a place called An Sibin, where the majority of folks visiting are women traveling alone. There's another place in New Mexico—Enchantment Equitreks—that's run by a mom and daughter who take in rescue horses, and they do yoga on horseback and they do treks and rides. You can definitely feel good about that vacation.
UW: How do you see equitrekking changing over the next few years?
DN: I think what's interesting about it is I see more and more people who are willing to try to go horseback riding. I think one thing is, to take a long, multi-day trip you really need to know how to ride a little bit or be someone who is physically fit.
More and more people are horseback riding while traveling, and new places are constantly popping up. They may stay at a ranch and ride for a day or two or go to Banff and ride for a half day. More people are stepping out of their comfort zone and trying something new. I see that as a positive thing.
I think being around animals is a gift. It's good for your soul, to take a breath, and to be out in nature. It's a positive all the way around. It's a trend that continues to grow because people are looking to take a little break from technology and detach from their phones a bit.
UW: What's next for you and your show?
DN: We are working on the next season and planning that out now. I'll probably go back to France because I'm trying to go to as many places in France as possible, and the wine and the cheese are just so good. I'm doing a lot of the US as well. We just did North Dakota, I haven't seen anyone do a show on North Dakota, so I'm excited about that. We're going to try to get to as many US states as well for filming and production. There's just so much to see.