If I had the power to go back in time for one day, I would choose to set foot in 1920s Paris. In the United States, the 1920s were known as the 'Jazz Age' or 'Roaring Twenties' and were a time marked by music, prohibition, and flappers. In France, the 1920s were known simply as the Années Folles—or the 'crazy years'—and became a historical moment of artistic, cultural, and literary evolution.
Back then, Paris was pulsing with untapped talent as artists flocked to the French capital in search of inspiration. Gertrude Stein, F. Scott Fitzgerald, Ernest Hemingway, Pablo Picasso, and other would-be icons all found themselves immersed into a community where dreamers would go onto to define cultures. With jazz wafting over the Parisian rooftops, I imagine the romanticism of 1920s Paris as this moment of pure beauty, creativity, and champagne-fueled intellectualism.
Whenever I stay in Paris, I hungrily scour the city for places that can transport me to the decade of my imagination. From the crowded aisles of Shakespeare & Company to the ivy-covered facade of Cafe de Flor, I endeavor to lose myself to the Années Folles. Here is how you can find 1920s Paris on your next trip!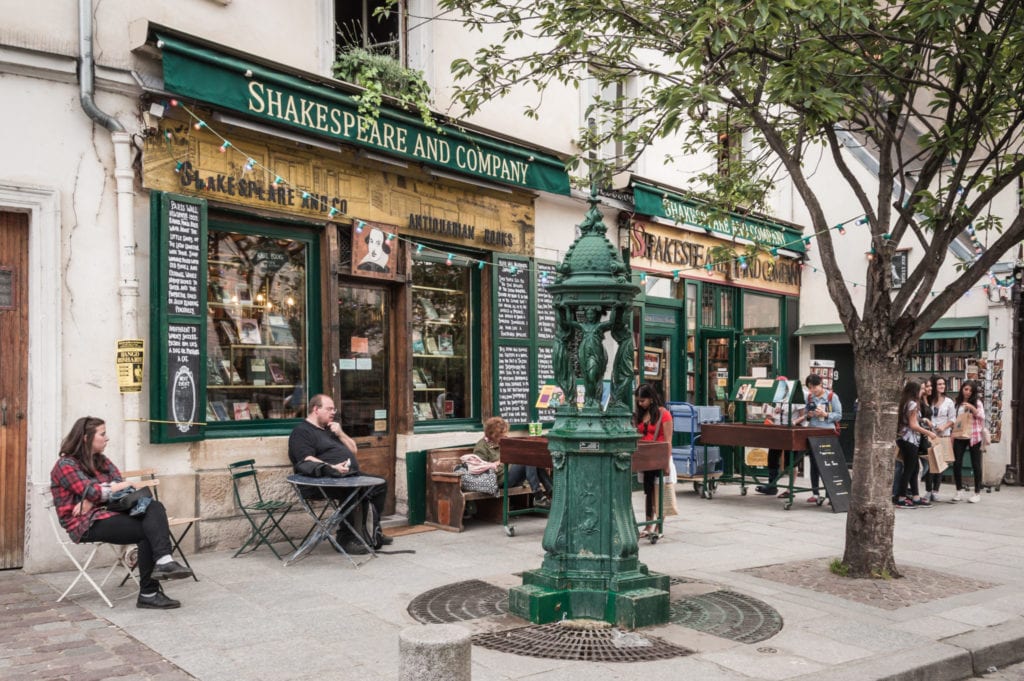 Shakespeare & Company
Nestled on a small street across from the Seine and neighboring Notre Dame, Shakespeare & Co. is an iconic bookshop that not only celebrates writing but supports local writers. After hours, the couches become a welcome respite for struggling artists who can find a warm place to sleep in exchange for helping around the store.
The original Shakespeare & Co. was opened in 1919 by Sylvia Beach and served as a local haunt for the likes of writers such as Ezra Pound, Ernest Hemingway, James Joyce, and more. Unfortunately, the original bookshop was closed in the 1940s under the German occupation and was eventually honored by the re-opening of a second Shakespeare & Co. in 1951, which still stands today.
27 Rue de Fleurus
Gertrude Stein was an American novelist who moved to Paris in 1903. Stein and her partner, Alice b. Toklas hosted salons at this now iconic address. In 1920s Paris, Stein and Toklas welcomed change-makers such as Ernest Hemingway, Pablo Picasso, F. Scott Fitzgerald, and Henri Matisse into their home every Saturday evening. Today, Stein's old street remains quiet while the house she once lived in has been remodeled. A plaque above the address pays homage to the incredible women that lived there and the history that unfolded within its walls.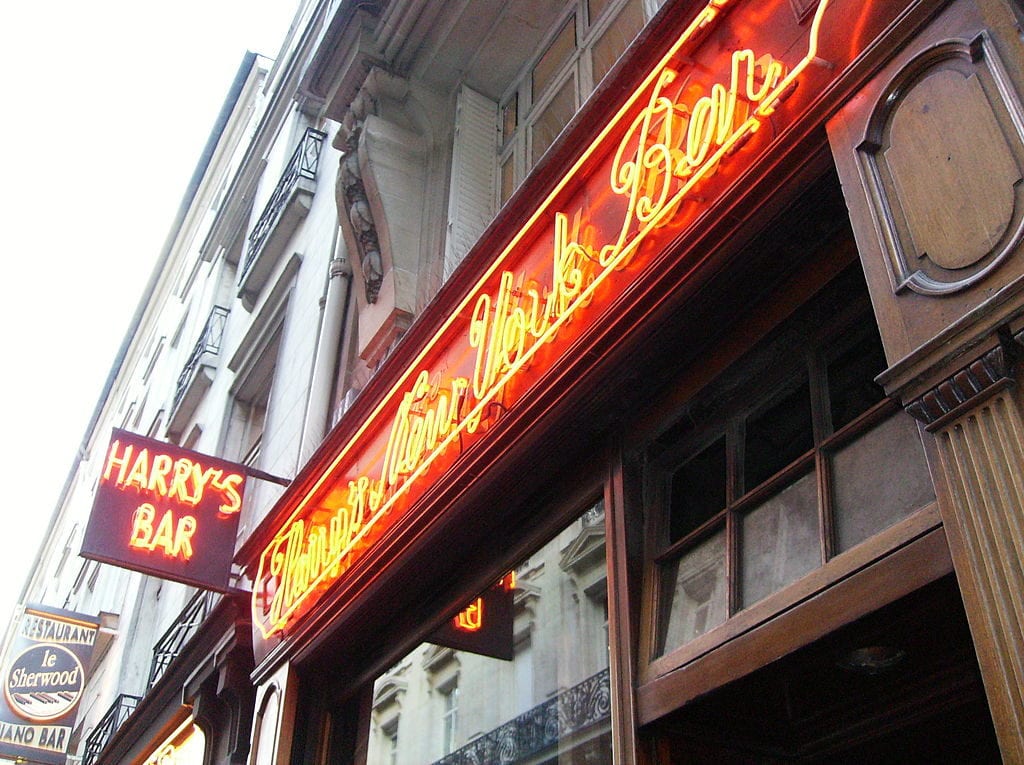 Harry's New York Bar
This nondescript bar was opened in 1911 in Paris and was renamed Harry's Bar when Harry MacElhone assumed ownership of the place. The bar was a popular hangout spot for F. Scott Fitzgerald and Ernest Hemingway, who would talk prose over cocktails on evenings in Paris.
L'Auberge de Venise
Dingo Bar first opened its doors in 1923 and became the fateful spot where Earnest Hemingway first met F. Scott Fitzgerald. At the time, Dingo Bar was one of the few drinking establishments that would stay open late. According to Hemingway's novel A Moveable Feast, he met Fitzgerald here two weeks following the publication of The Great Gatsby. Today, Dingo Bar is now closed and the Italian restaurant, L'Auberge de Venise, occupies the original space. Although the bar has been lost to time, travelers can still come and enjoy a glass of wine in the place where these two literary forces met in 1920s Paris.
Les Deux Magots
Cafe Les Deux Magots is one of the oldest cafes in Paris and has served icons such as Picasso, Simone de Beauvoir, André Gide, Jean Giraudoux, Jean Paul Sartre, and Hemingway. Today the St. Germain-de-Pres cafe has become a tourist attraction and is likely more expensive than it would have been back in the day. To retrace the steps of some of Paris' most notable artists, Les Deux Magot is a stop on the itinerary that gives a nod to its storied past and heritage while also whipping up classic French fare.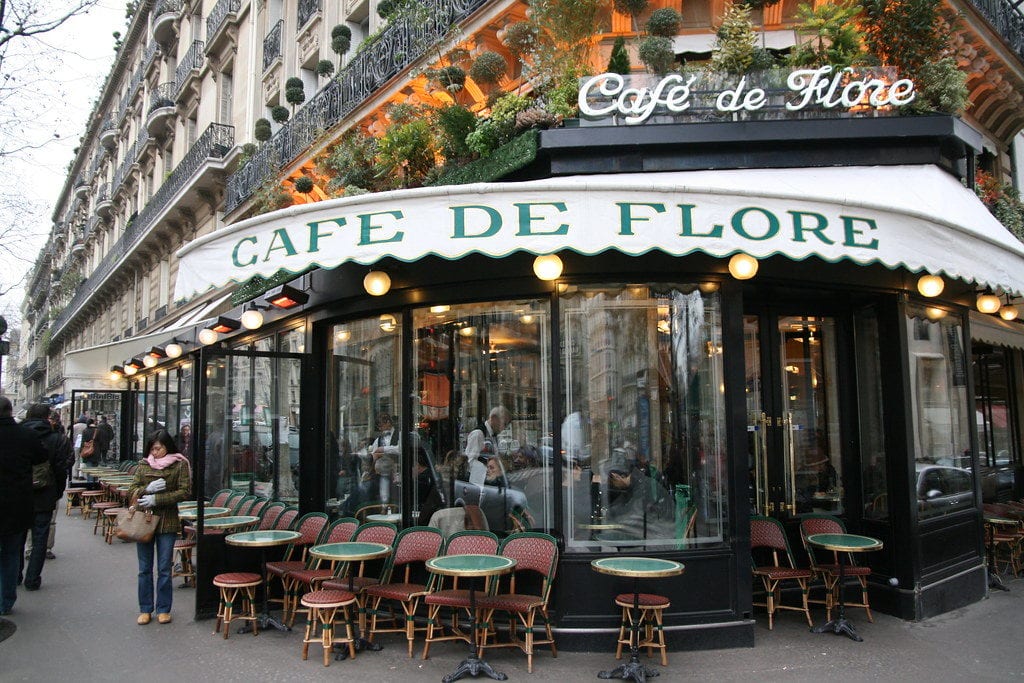 Cafe de Flor
The iconic Cafe de Flor has been forever memorialized in film and television as the quintessential Parisian cafe on the corner of Boulevard St. Germain and Rue St. Benoit. Cafe du Flor is one of the oldest cafes in Paris and has played host to a long list of notable patrons including Sartre and Gopnik. A rival of Les Deux Magots, Cafe du Flor has been opened since before WWII and is a nod to an older time in Paris. Today, the cafe has become a fashionable tourist attraction that has seen the likes of celebrities and film crews.
20 Rue Jacob
Back in 1920s Paris, many American ex-pats hosted salons that would bring together talented writers and artists who would bond over their shared love of art. American writer, Natalie Clifford Barney ran one of the more popular salons that hosted icons for over 60 years. From T.S. Elliot to Ezra Pound, Barney's salon on 20 Rue Jacob was graced by many of the 20th century's best authors. Although the building at 20 Rue Jacob has long since been rebuilt, homage can still be paid at the iconic address and in the garden where Barney hosted many of her popular salons.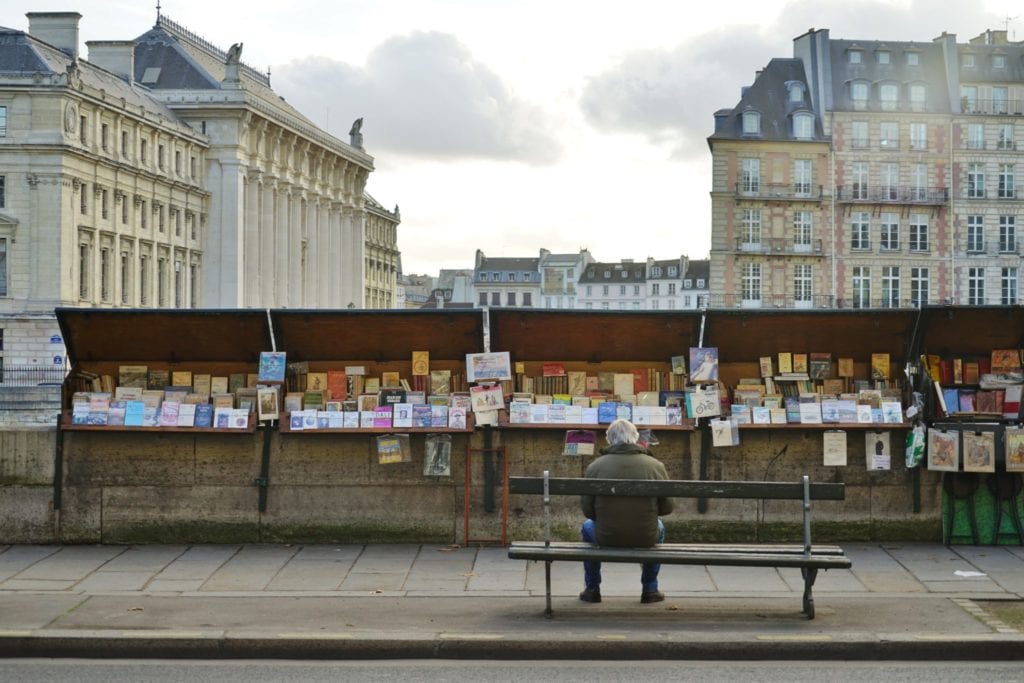 Bouquinistes
in the 1920s, it's said that Hemingway spent hours perusing the small bookstalls that dot the bank of the Seine in Paris. The dusty novels of past authors are still sold alongside colorful postcards and canvas paintings that depict scenes of Paris. It's a dream to stroll down the Seine, take in the ornate bridges spanning the river, and languidly flip through the worn pages of leather-bound books sold in these dark green painted stalls.
Le Bal Blomet
Le Bal Blomet—previously known as Le Bal Nègre—is the oldest jazz club in Paris and was popular during the in-between war years. At its height, Le Bal Blomet hosted such famous patrons as Joséphine Baker, Ernest Hemingway, and Jean-Paul Sartre. Le Bal Blomet was a favorite haunt for artists, philosophers, and writers of the 1920s who would come for the good music and cheap drinks. Today, the jazz club has been refurbished and welcomes an array of musical acts, although classic jazz shows remain the best for transporting you to 1920s Paris.
Jardin du Luxembourg
These famed Paris gardens have changed little over the years. Back in the 1920s, Ernest Hemingway would take refuge in the gardens when struggling for money. As he described it in A Moveable Feast, the Jardin du Luxembourg, was a respite from the sweet-smelling streets of Paris, a place where "you saw and smelled nothing to eat from the Place de l'Observatoire to the rue de Vaugirard." For a struggling artist on a shoestring budget, the sidewalk cafes and bakeries of Paris could prove torturous to walk past. To take a stroll through the Jardin du Luxembourg is to imagine how Ernest Hemingway would walk beneath the trees—away from the smells of boulangeries—trying to stave off hunger pangs.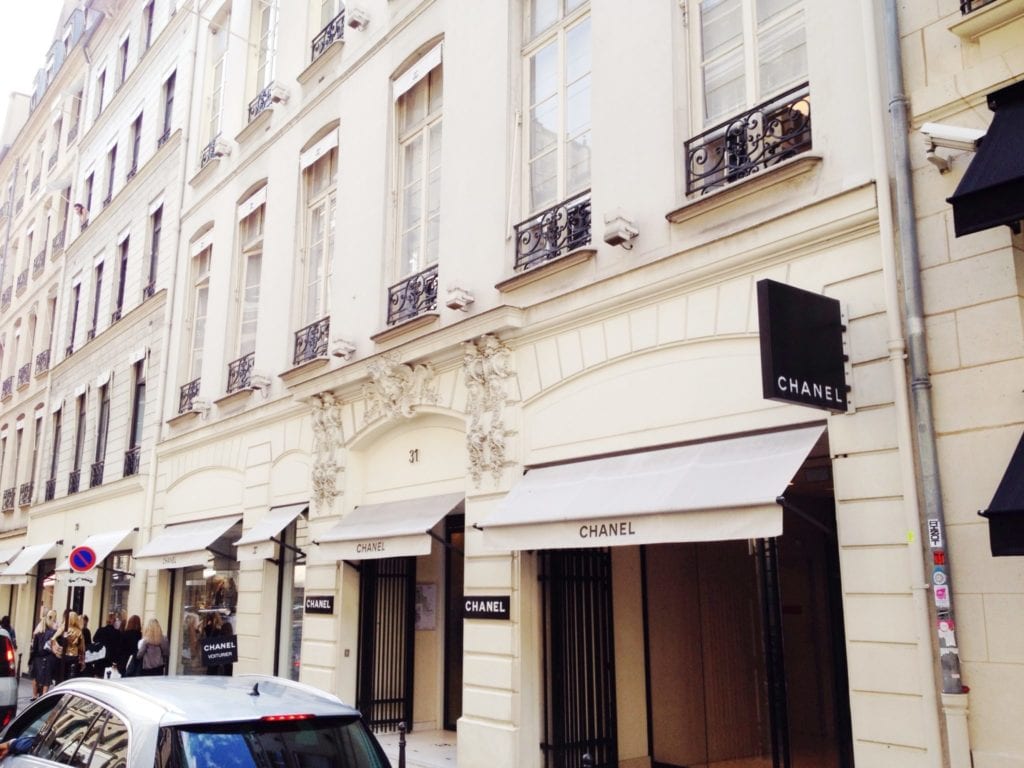 31 Rue Cambon
31 Rue Cambon was once the home of the legendary designer, Coco Chanel. Back in the 1920s, Coco Chanel purchased the entire building at 31 Rue Cambon to both live and design. The ground floor of the building served as Chanel's first boutique, the first floor was her couture studio, and the above floors were her private residence. While tours of Chanel's apartment are by appointment only and difficult to come by, travelers can still visit the original Chanel boutique on the ground floor.
Place du Tertre
The Place du Tertre is a square in Montmarte that stands a few feet from the Sacré Coeur. In the 1920s, Place du Tertre was a mecca for artists—such as Picasso and Modigliani—who would live in affordable apartments nearby. Today, the historic square pays homage to its past with present-day artists gathering their easels in the square and painting scenes of Paris. If visiting Place du Tertre, make sure to grab a bite at the nearby Le Consulat.
Did we miss anything? Help us improve this guide by sending us your suggestions!