Since Coronavirus has swept through our lives and irrevocably changed our realities, few industries have suffered more than that of restaurants and hospitality. A mere two months into the pandemic, an estimated 40 percent of restaurants in the United States were closed, resulting in over 8 million employees finding themselves out of work.
As states have moved into reopening phases, we've seen restaurants pivoting from shutdowns to take-out and carry-out, to al fresco dining. Despite the efforts, the National Restaurant Association projects a startling $240 billion revenue loss for restaurants this year. The words "pivot" and "adapt" have been hanging on the lips of restauranteurs and chefs who are being challenged to creatively meet diner's needs within the parameters of CDC safety regulations and reopening criteria.
One such chef is Bria Downey, a Fort Worth-based chef who found herself out of a job due to the pandemic and needing to pivot. The James Beard semifinalist turned towards food trucks and serving soup to her Forth Worth community, before starting a new role as Culinary Director of Roy Pope Grocery. In this Woman to Watch interview, we chat with Chef Downey about her culinary career, how the pandemic has impacted her, and what her advice is to aspiring chefs right now.
Unearth Women (UW): What first inspired you to pursue cooking professionally? 
Bria Downey (BD): I first started cooking in kitchens as an after-school job. I'd always cooked at home and helped with dinner. When I went to college, I originally thought that I wanted to be a dentist, but after spending a couple of years being miserable at dental school, I realized that cooking had always made me happy.
I switched career paths and enrolled at El Centro in Dallas. The chefs there pushed me and showed me the true reality of working in a kitchen. They told me, "it's gonna be hot and exhausting, but when you love it, it's worth it." 
UW: It seems there is always a dish that made someone first fall in love with cooking. Whether the first bite of pasta in Italy or the first taste of a Bahn mi in Vietnam. What favorite dish has had an impact on your career?
BD: Between my junior and senior year of high school, I traveled to Italy with my girlfriend and her family. There's a summer squash ravioli that I had there, which I will never forget. We were in Sala Baganza and the house wine was flowing. That meal made me appreciate being right there in the moment where nothing else mattered except my next bite of pasta.
UW: Only 19 percent of chefs and head cooks in this country are female. As a woman navigating the culinary world, have you faced any unique challenges?
BD: My mentor Chef David McMillan is the one that made me the chef I am today. He taught me to respect the white coat, no matter who is wearing it. I've had my share of being hazed in kitchens, but that never lasts long. Being a cook gives you an opportunity to prove your skills on a plate. There's no lying in cooking. You either can or you can't.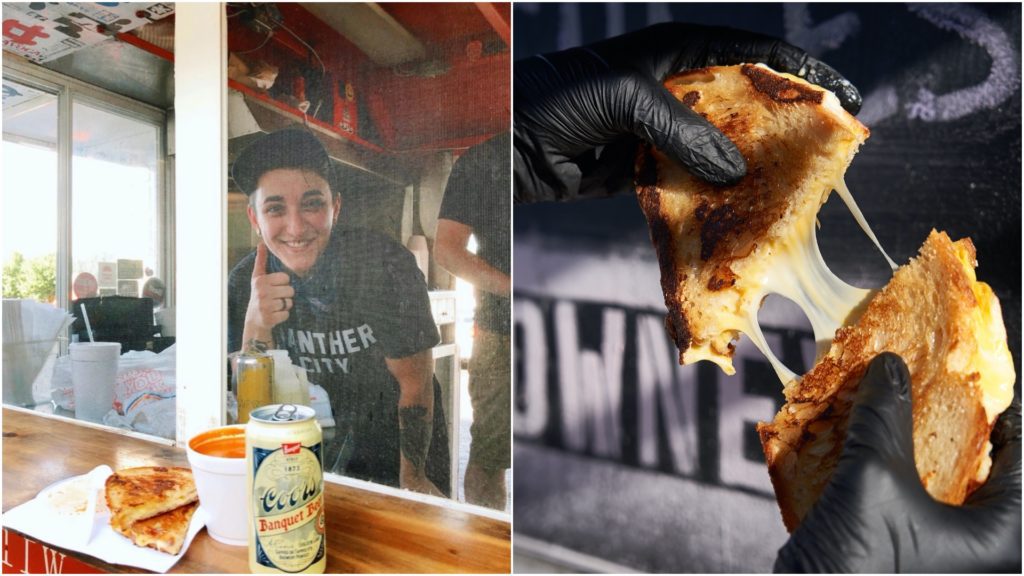 UW: The restaurant industry has needed to adapt and pivot in light of the pandemic. In what ways have you needed to adapt?
BD: During the beginning of the pandemic, I started working out of my friend Kevin Martinez's food cart, selling soup to the community. It was very hard to go from serving people every day to a complete stop. I find joy in making food and sharing that with as many people as possible. So, during this pandemic, I really started thinking about how I can serve my community if they aren't dining out.
It's always been special to me when people would come in for occasions like birthdays, anniversaries, and rehearsal dinners. But now as the Culinary Director for Roy Pope Grocery, I get to actively be a part of their lives. They can come in and get fresh produce, grab a coffee and a scone in the morning, pick up a king ranch casserole, or custom order steaks for the weekend. 
UW: How do you balance mental wellness with the unpredictable ebbs and flows of this pandemic and its impact on the restaurant industry?
BD: During this pandemic, I have read a lot, I bought myself a ukulele (I'm not great at it, but I keep trying), I'm almost done crocheting a blanket, and I finally hung stuff up in my room! The pandemic has genuinely humbled me and helped me realize that no matter what, life is still lived one day at a time. I mostly just worry about what's for dinner like everyone else! 
UW: Texas was one of the first states to reopen amidst the pandemic and is now seeing a rise in Coronavirus cases again. In what ways are you seeing restaurants confront this latest wave of infections?
BD: Most of the places I like have just really tightened up how they do things, and they make sure to make it more obvious when they clean things. The biggest frustration is that bars are not allowed to open, which breaks my heart, because precautions can be taken in bars as well. But I cook for a living, so I don't make those decisions. But I can vote.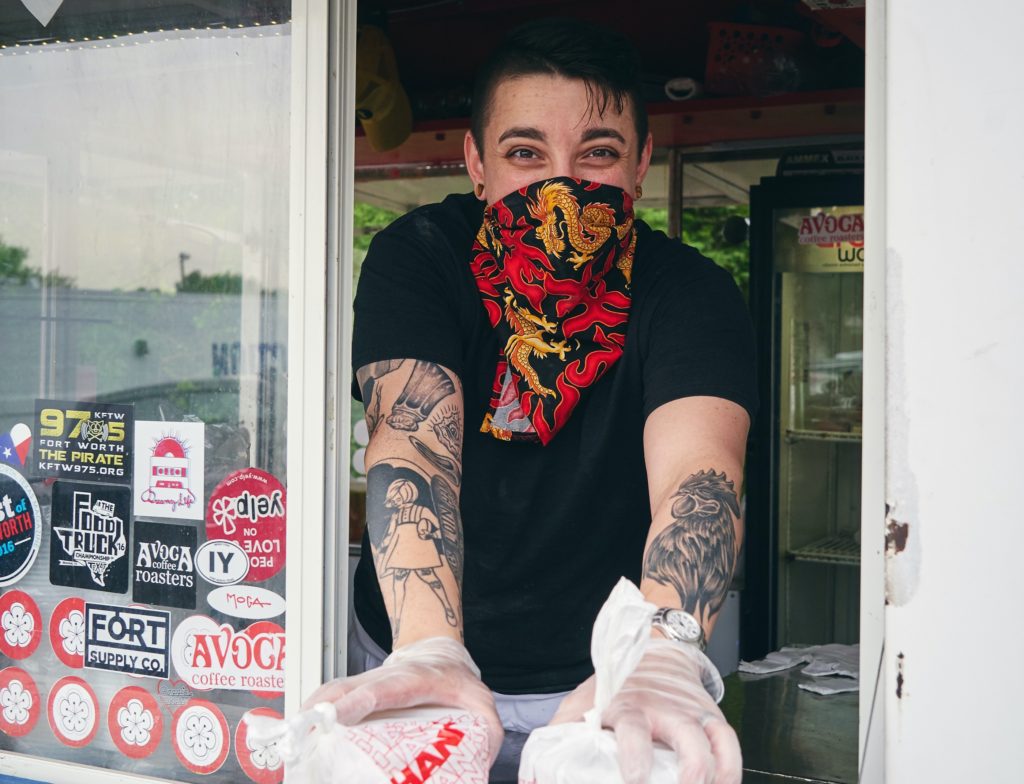 UW: How do you imagine the pandemic will change the way we dine in the future? 
BD: I truly hope that one day we get to enjoy life like we used to, but with a bigger appreciation for service industry staff. This industry is hard enough as it is. If we lose places forever, like Eleven Madison Park, then we need learn to wash our hands and be kind to each other. Hopefully there will be more support.
UW: Congratulations on becoming the Culinary Director of Roy Pope Grocery! In what ways does a Culinary Director differ from the work of an Executive Chef?
BD: The biggest difference for me is also incorporating the grocery side. Being able to say, "Hey, you can get the same chilis I made this sausage with on aisle three, and you should try it in risotto or meatloaf." That kind of thing.
I'll get to really encourage people who are cooking at home and offer advice from a real chef. That, I think, is the coolest part, that I finally get to interact with my community. Taking their favorites like King Ranch Casserole and giving them that exact food memory. Then on the flip side, they get to make new food memories.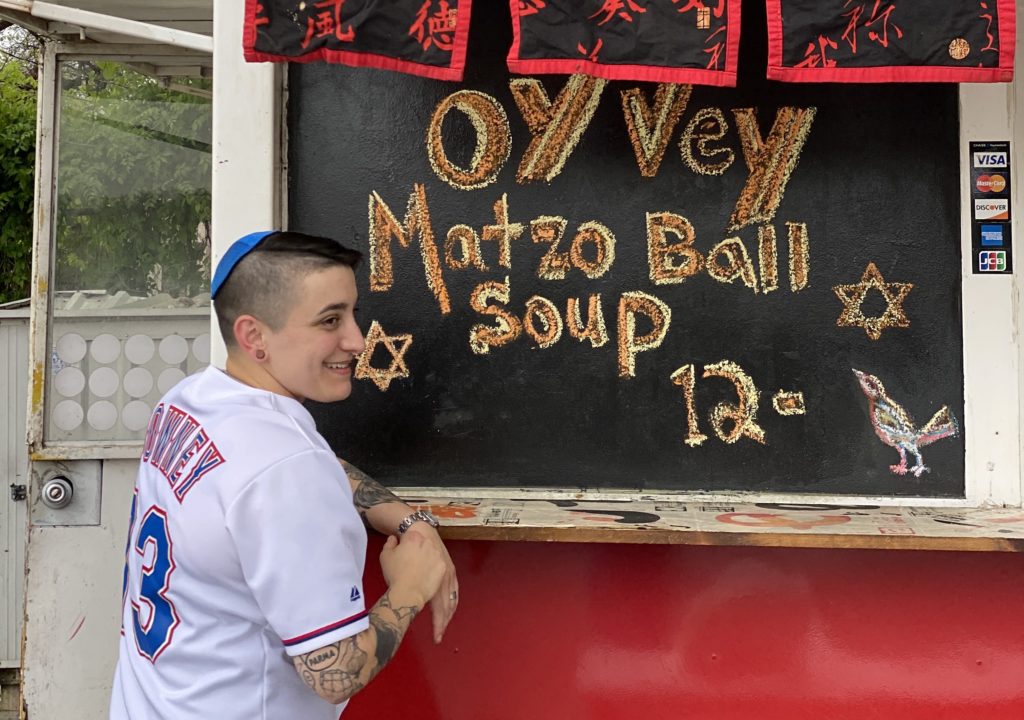 UW: For those who have dreams of pursuing a culinary career, what is your advice to them?
BD: Every time I pick up my knife, I am practicing and purposefully trying to be better. I'm still learning about food every single day. Honestly, this industry can be brutal, but if you're in love with food like I am, you take the punishment. You have to have the heart of a servant, constantly be giving, and expect nothing in return. 
UW: I imagine that many aspiring chefs might be deterred by the idea of attending culinary school right now, given the impact of the pandemic on the industry. What would you say to them?
BD: I learned more from other chefs than I did in school. I learned a lot in school, but when you make the same bread every day for a year, you really learn something. So for me, experience is key and school doesn't weigh quite as heavily.
If anyone wants to be in this industry, they need to go wash dishes. If they can't wash dishes, they can't be in my kitchen. If they do that for a couple of months and keep coming back, the next step is buying a knife.