From Chiang Mai to Bangkok, to the rural mountains of Pai and way down in the southern islands, here are Thailand's must-try local organic eats, decadent massage treatments, wellness techniques, and things to do for a serious self-care lady trip.
Anchan Vegetarian Restaurant
You know that heavy "oh my God, I ate way too much curry" feeling in your stomach often accompanied by a sinking sensation of guilt? Well fear not at Anchan Vegetarian, because this place is as fresh as it gets.
Led by Chef Aye Naphat Sarodom, the dishes range from Central Thai to Southern Thai and Northern Thai cuisine and include all of your favorite curries, salads, and noodles—just sans fish sauce. Recognized by PETA Asia as one of the best vegetarian spots in Southeast Asia, this cozy, 2nd story restaurant has enough decadent curry to convert carnivores everywhere.
Must-try favorites are the delightfully fresh Pad Thai Butterfly Pea Noodles with Mushrooms, Green Curry with crunchy mixed vegetables and tofu, and indulgent pumpkin red curry. Wash down all that spice with more spice with their spicy cinnamon and ginger iced tea.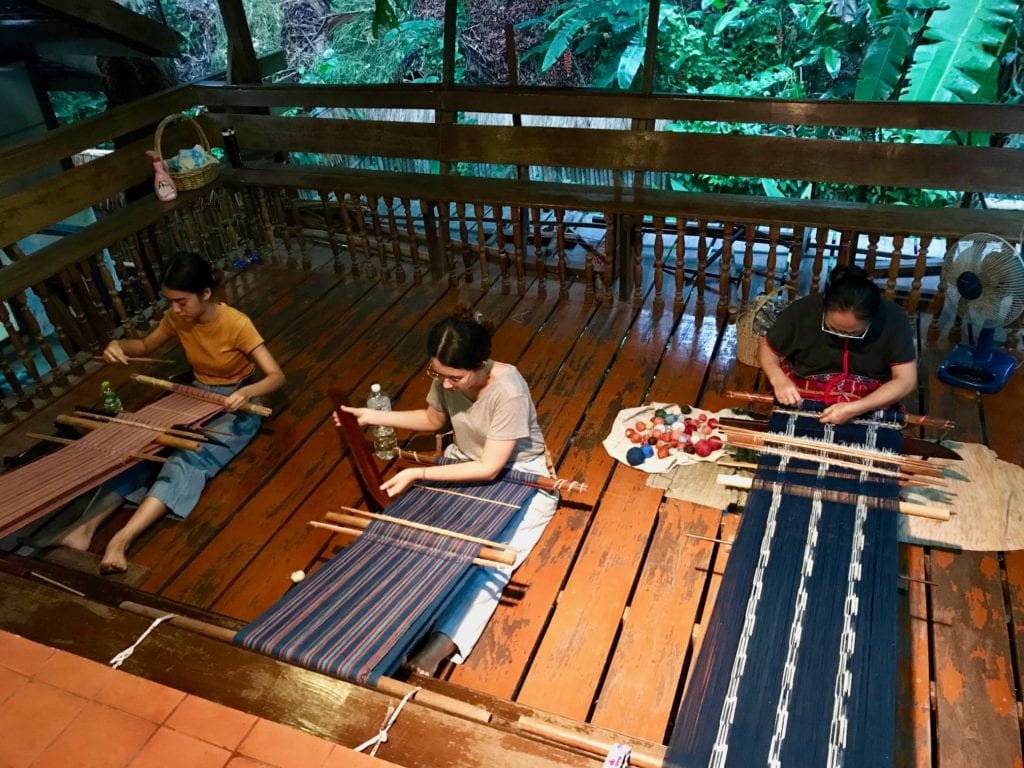 Studio Naenna
Most of us spend our waking hours feeling trapped behind screens, so working creatively with our hands (using natural products) can be a truly gratifying, meditative experience. Studio Naenna, a community of women weavers and designers led by mother-daughter duo Patricia and Lamorna Cheesman, offers traditional ikat weaving and indigo dye workshops set within the lush jungle landscape of Chiang Mai.
The workshops unveil the "magic of blue" as students design scarves from sustainably harvested, 25-year-old indigo dye to reveal beautiful creations – even as a beginner. A renowned author, textile expert, and former consultant for the UN in Laos, Patricia Cheesman started the women's group "Weavers For the Environment" (WFE), which gives weavers fair-trade returns for their work. Learn this 2,000-year-old craft, while also supporting a female-owned business and local Thai artisans.
Brand New Field Good's Café
Take some time to recharge with a scenic walk over rice paddies to Brand New Field Good's Café for the best locally sourced coffee in Northern Thailand. It's not easy to get to (you can't drive up, park, and walk right in) and that's the whole point. Sometimes the best rewards take some effort. The payoff begins at the onset with a serene walk over a long, flat bamboo bridge suspended over saturated rice paddies and ends with a surprisingly modern restaurant with an attached café. Particularly beautiful in the rainy season, the venue is run by three women owners and worth a trip for the urban-inspired, impeccable design alone.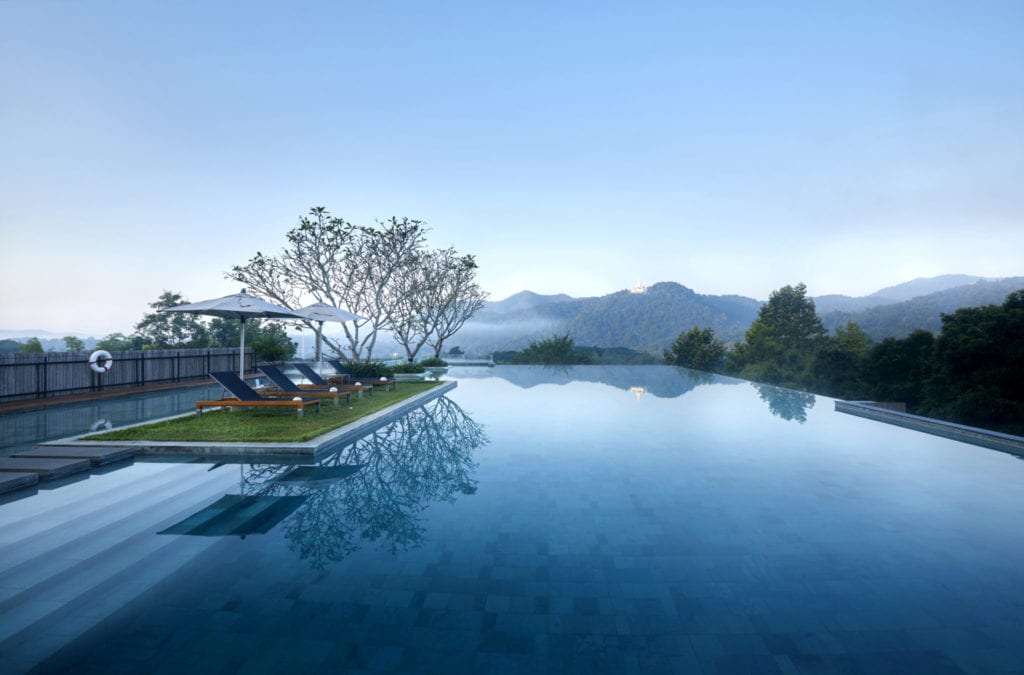 Veranda High Resort Chiang Mai
Unlike big box resorts, this serene hotel in Northern Thailand is like being at your own private meditation retreat. The quiet reflecting pools, meandering bamboo walkways, rice and tea terraces, and spa treatments will have you restored, recharged, and ready to take on the world again in no time. It's worth a visit for the pool alone, which offers a stunning 180 degree view of the surrounding valleys and mountain temples.
We recommend the 90-minute Veranda Massage for an extra dose of luxury. Yes, you can get massages anywhere and everywhere around Thailand, but this is one of the best for its zen atmosphere and attentive massage therapists. (THB 3,900).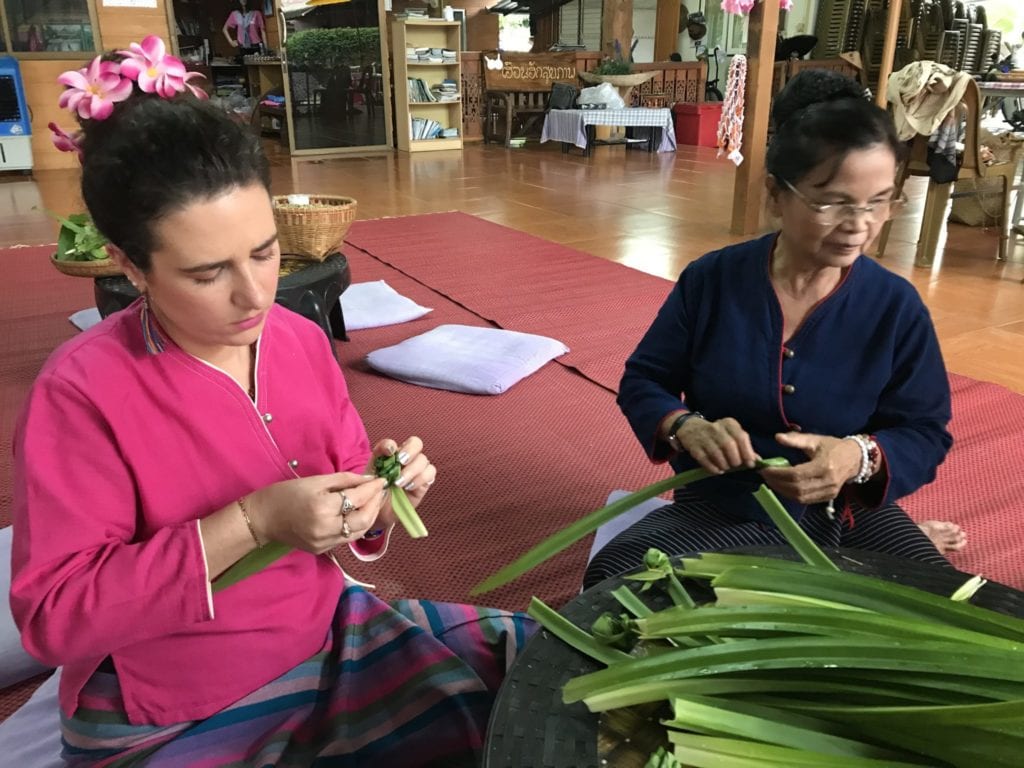 Baan Rai Kong Khing
A 3.5 hour drive from Chiang Mai (up the curviest mountain roads you'll ever encounter) is a bohemian little town known for its organic eats, wellness options, night market, and Lanna culture. Learn traditional medicine and healing from the local women at Baan Rai Kong Khing Village.
Community tourism not only helps support local villages, but also enriches your authentic travel experience a thousand fold. At Baan Rai Kong Khing, visitors learn ancient medicine techniques and tranquil pandan flower folding from local Lanna women. The cooperative village also sells locally harvested bee honey and pollen, lemongrass oil, and herbal aromatherapy. The community is known for their hand-crafted herbal compresses, which are filled with camphor, lemongrass, turmeric, bergamont, and pai (a kind of ginger) to release tension and aches in the body.
While you're there, be sure to try the Northern Thailand Fire Massage (also called "Yam Kang") from the village healer. The intense, albeit terrifying massage involves the healer dipping his foot in sesame oil and herbs, charring it (yes, his foot) over a flaming cauldron of fire, and pressing it onto your muscles for an extra hot, deep tissue release.
Come for the herbal treatments and stay for the delicious home-cooked Lanna food and genuinely good company.
OM Garden Cafe
A microcosm of Pai's boho wellness scene––in the form of food. OM Garden Cafe has the freshest eats in Pai. A favorite amongst international tourists for its organic, rotating menu, the restaurant features must-trys like the cauliflower burger, fresh-pressed juices, and several curry options. Food to keep you going during yoga, meditation, and all the outdoor hikes you'll undoubtedly want to do while in Pai.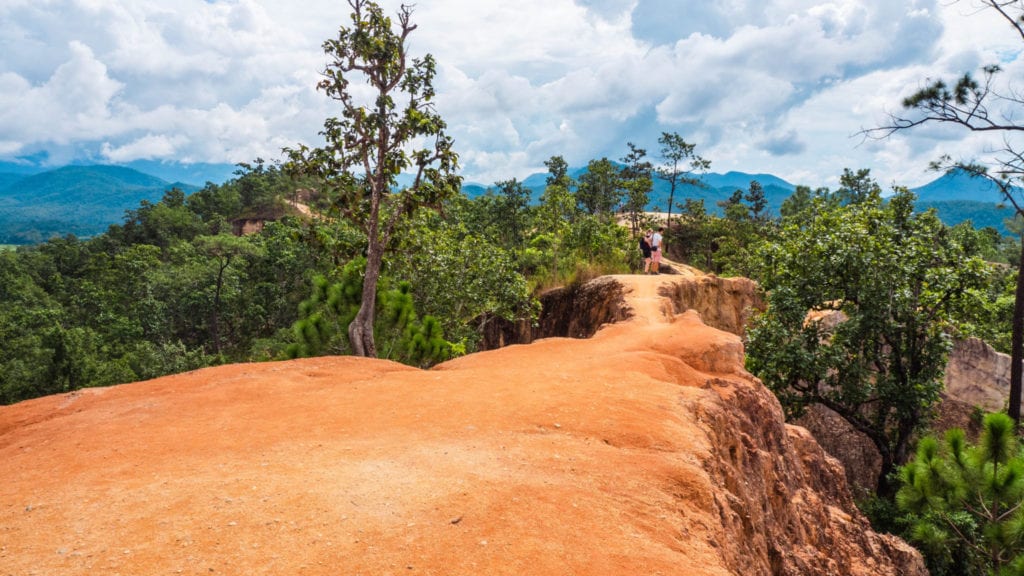 Pai Canyon in Northern Thailand
Pack up your sandals and break out the hiking boots, because you'll need them on the narrow ledges at Pai Canyon. With steep drops on all sides, exploring Pai Canyon is perfect for thrill seekers, but also for those just wanting a 360-degree view of the surrounding mountains. The red-orange, dusty ledges stretch out on different trails, so you can explore at your own comfort/difficulty level. Or just catch the sunset on one of the wooden benches. If visiting Pai Canyon, we recommend staying at Puripai Villa for peaceful and modern villas set against a mountainous backdrop—complete with private infinity pools and rice paddies. Puripai Villa is a perfect place to write, decompress, and spend time in nature.

Silhouette Bar at Reverie Siam
For the best evening cocktails in Northern Thailand, try this industrial London-inspired bar. You can quite literally feel the love in these cocktails! Using locally-sourced herbs, flowers, and spices, the bartenders at Silhouette Bar have concocted pure magic in a glass.
From the Déjà Vu (made with gin fused with chamomile and thyme, egg whites, lime juice and rosemary syrup) to the dainty Indochine Sampan (made with vodka infused with butterfly pea flowers, Cointreau, and cinnamon), each sip in this eclectic jazz-inspired speakeasy is heaven. If you stay for the food, Chef Fa Sky's locally sourced creations are also divine.
Come for the cocktails and eats, but stay for the great design. Old World traveler's vibes, epic book cases, high backed chairs, 20th century antiques, and calming hushed blues and greens accents transport you to another time.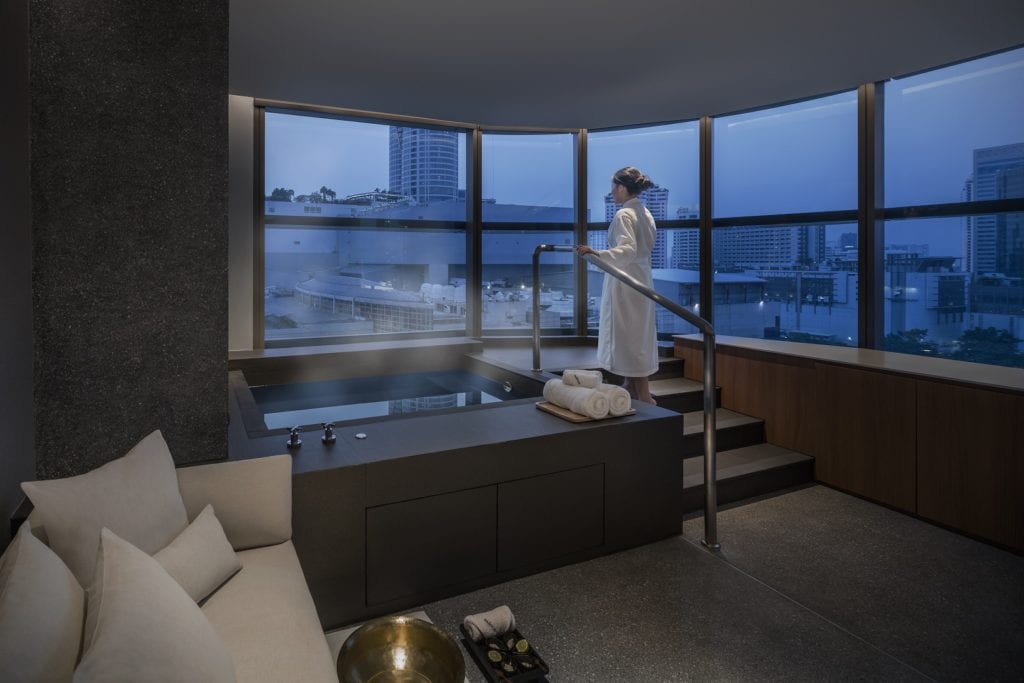 Bangkok
Whether you're on a layover in Bangkok or there to stay, the Panpuri Wellness Facial is worth the excursion.  Located in the bustling district of Ratchaprasong at Gaysorn Village, this beautifully designed minimalist urban retreat house features a myriad of wellness options, including Bangkok's largest hydrothermal facility. But the real gem of the place is its PAÑPURI Signature Lotus Defense Skin Radiance Facial, which includes a 12-step sensorial treatment to rejuvenate your skin before or after your long-haul flight. The massage therapist pampers your skin like the holy thing it is, with natural and organic products (including lotus seed, dandelion, and white lupin extract) to help fight fatigue, pollution, and stress. Perhaps the best facial in all of Asia. Yes, you deserve this. After you treat yourself, we recommend a post-spa dinner and cocktails at the Banyan Tree Bangkok's Vertigo Bar (located on the 61st floor), which offers one of the best panoramic views in the city.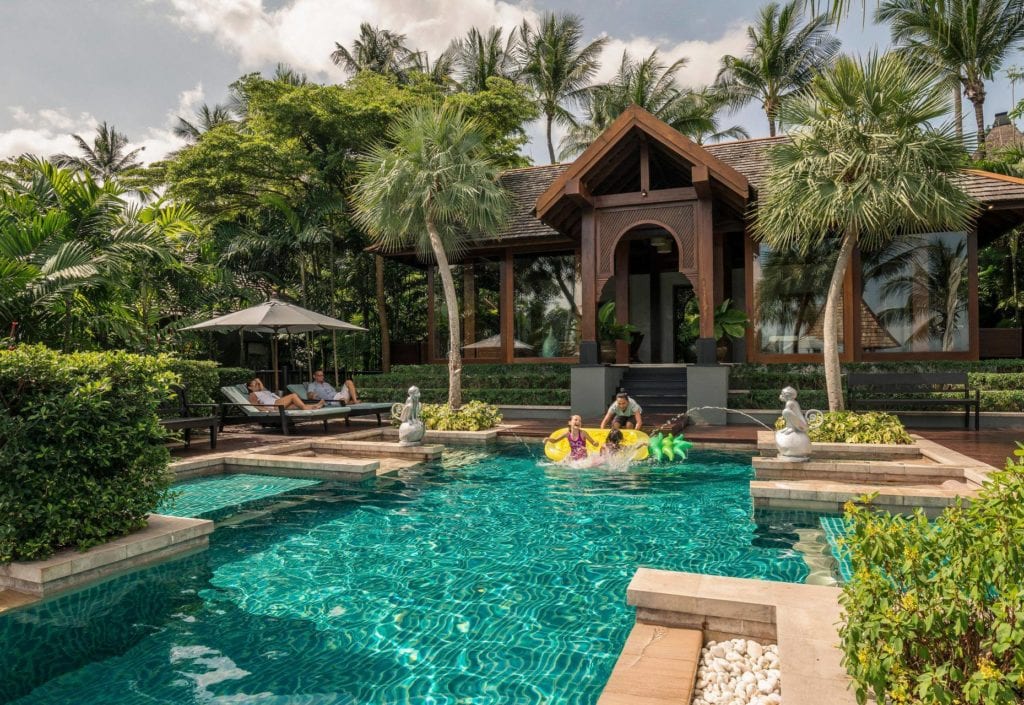 Four Seasons Koh Samui
Nestled on its own mountain top with 61 private villas, even if you have to save up all year to stay at the Four Seasons Koh Samui it's worth every single penny. From its indulgent flower petal coconut baths to Muay Thai in an outdoor jungle ring and lava gel massages on the beach, the Four Seasons Koh Samui is where wellness meets ultra-luxury. Each villa (designed by eccentrically cool Harvard-educated architect, Bill Bensley) comes with its own infinity pool surrounded by a meticulously designed flora and fauna that makes an early morning skinny dipping session a viable option before breakfast.
Vikasa Life Yoga Retreat & Cafe
Vikasa offers a Signature Yoga Vacation, which includes daily yoga and meditation, a yoga teacher training certification, and an onsite vegetarian restaurant with breathtaking seascape views. Created by Konstantin Miachin, students at the center can receive their 200-hour Yoga Alliance Certificate through its Vikasa Method, which is rooted in the Himalayan Vinyasa lineage with a focus on Taoism and wisdom found within the Hatha Veda Texts.
This author was hosted by the the Tourism Authority of Thailand and Bangkok Airways for a wellness adventure in the Land of Smiles. As always all opinions expressed on Unearth Women are our own.