Colombia's seaside city is a colorful gem that effortlessly merges natural beauty, culture, and flavor. While Colombia has had its fair share of negative press, the country has risen like a phoenix from the ashes of its violent past. With years of civil unrest behind it, Cartagena has become a popular tourist destination for vacationers and solo travelers, in particular.
A Guide to Cartagena's Neighborhoods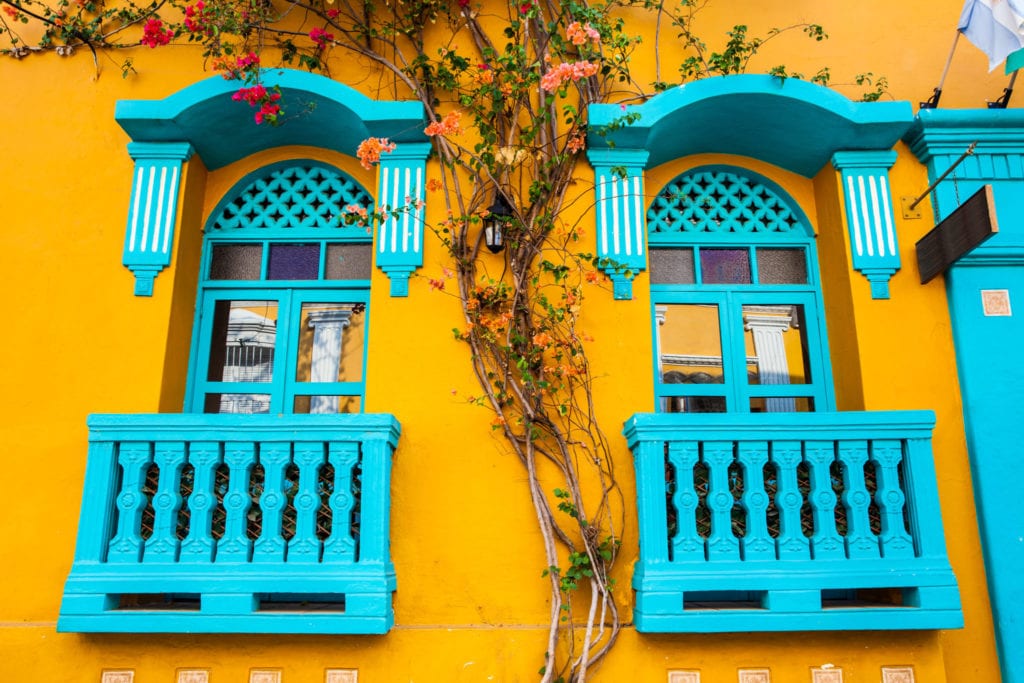 Much like New York City, Cartagena's neighborhoods each have a distinct personality. Downtown—or the Old City—inspires nostalgia with its colorful Spanish colonial architecture and cobblestone streets. Regaled as one of the more romantic neighborhoods in Cartagena, the walled city is home to cafe-lined streets, historic Bolivar Square, and larger-than-life Botero sculptures.
Directly in contrast to the Old City is Bocagrande, Cartagena's equivalent to Miami Beach. Bocagrande, which translates to "Big Mouth," is a modern neighborhood lined with high-rise resorts, up and coming restaurants, designer boutiques, and beach hawkers. Popular amongst tourists for its stretch of beach and modern hotel options, San Martin Avenue is the main thoroughfare, famous for its shopping.
If Bocagrande is splashy and modern, and the Old City is romantic and nostalgic, then Getsemani is an enclave of artists and bohemians. Hailed as Cartagena's newest 'hot spot', Getsemani is best known for its politically charged street art. The neighborhood has historical significance as being the place where African slaves, brought to Cartagena, once settled. Today, Getsemani is what one expects when arriving in Colombia; the streets seem to pulsate with energy, music, and color. In this neighborhood, you will also find some of Cartagena's best nightlife options.
La Matuna is Cartagena's financial heart and home to a slew of banks, businesses and tourism companies. Although La Matuna is located within the Old City, the neighborhood remains largely modern, distinguishing itself from the rest of the historic neighborhood. In stark contrast is the oldest neighborhood in Cartagena, Pie de la Popa, which was established under the Spanish rule. Back at the turn of the 20th century, the neighborhood was home to wealthy aristocrats and their impressive mansions. Today, a few of the descendants of those aristocrats still call the area home; although some parts of Pie de la Popa have crumbled to time.
Where to Eat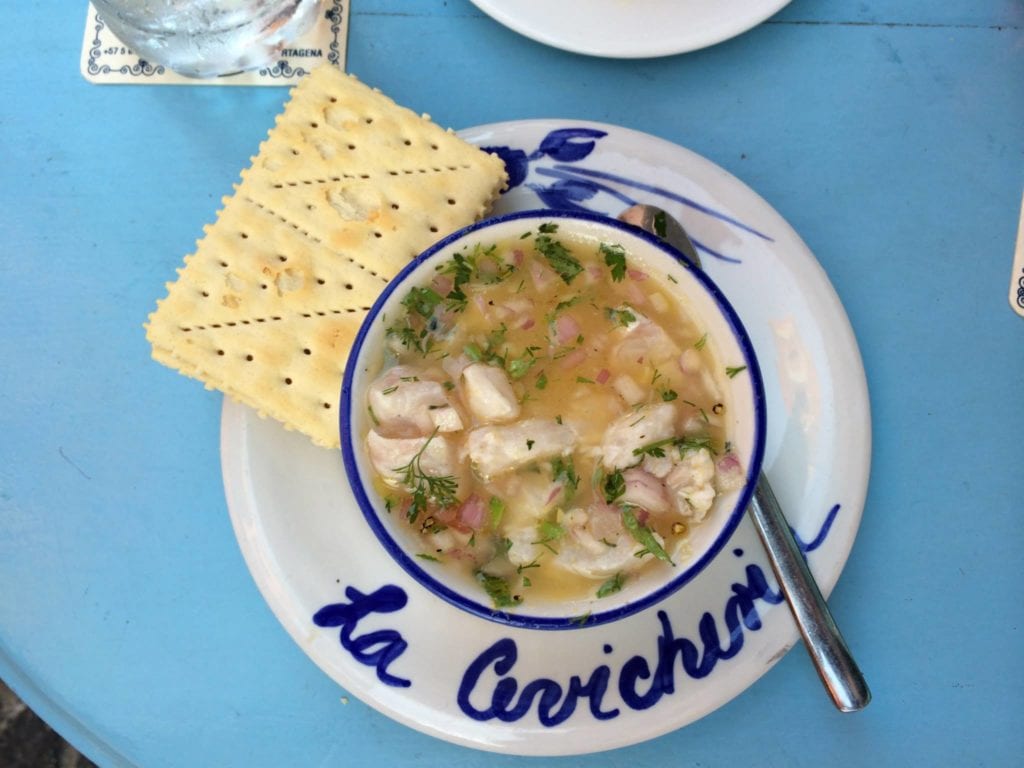 Colombian food is eclectic and varies depending on where you are in the country. In the mainland cities—such as Bogota and Medellin—vegetables are more prominent and meat is used more often. In the coastal cities—like Cartagena—the food pulls from its Caribbean neighbors and includes fruit, fish, and plantains.
La Cevichería
Most Latin American coastal countries have their own version of ceviche: fresh chopped seafood dressed with citrus and herbs. In Cartagena, this tiny shoebox draws visitors from around the world—including the late Anthony Bourdain. With ridiculously fresh fish tossed with intensely bright mandarin orange and lime juices, La Cevicheria serves the best ceviche in town. Period.
Café del Mar
Built into the high, fortified walls surrounding the Old City, Café del Mar offers an ideal sunset haven for weary sightseers. Perched atop the wall, looking out at the Caribbean Sea as the sun paints it hues of orange and yellow, Café del Mar is the place to have a cocktail in Cartagena.
La Paletteria
The midday tropical heat becomes far more bearable with an artisanal popsicle. La Paletteria's appealing display case showcasing dozens of flavors from lush mango to caramel-like arequipe (Colombian dulce de leche). The best popsicles are those made with local Colombian fruits like tangy lulo and the zingy passion fruit maracuya.
Rincón de Antioquia
While most restaurants in Bocagrande will prove high-end and modern, this small café offers an authentic Colombian meal alongside local residents. Sure, Rincón de Antioquia offers outdoor seating, but it is their streetside stand that we recommend. Serving up freshly baked pandebono, arepas, and empanadas for takeaway, the street stand is just one block away from the beachfront.
Restaurante Interno
When walking through the Old City, look for a bright pink entrance with the words "Segundas Oportunidades"—or Second Chances—painted on the wall, this is Restaurante Interno, which is in fact a minimum security prison for women. The popular restaurant allows inmates to work in exchange for reduced sentences while also learning life skills—such as professional cooking or customer service—before they are re-released back into society.
What to Do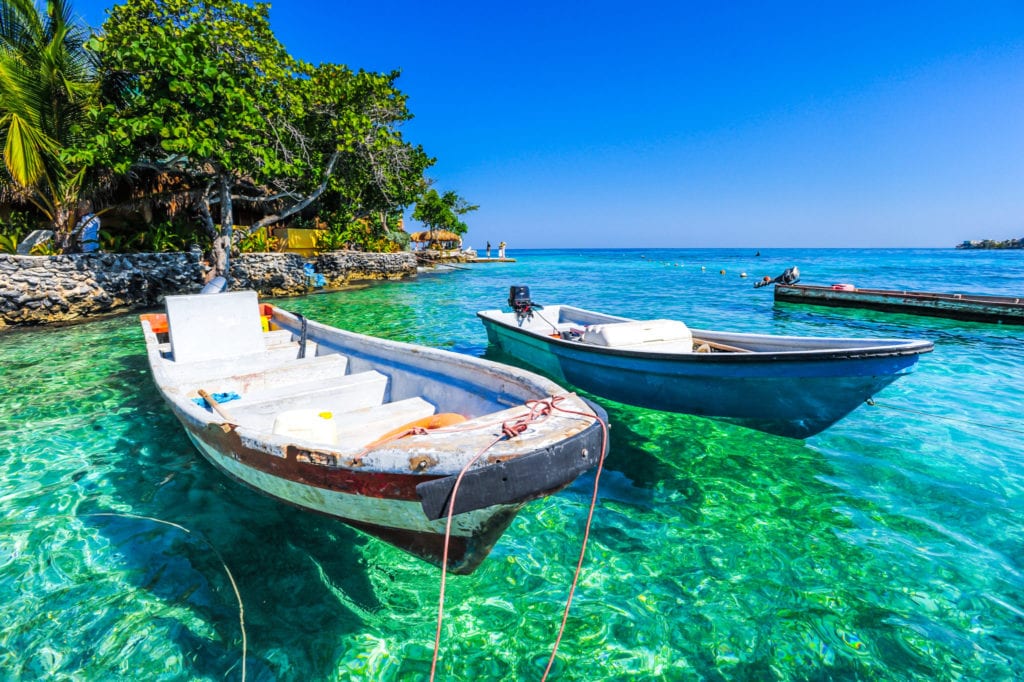 Isla Baru
With its white sandy beaches, turquoise waters and swaying palm trees, Isla Baru is the type of destination you expect to find when visiting a Caribbean city. Like stepping into the desktop picture slapped up on a wistful employee's work computer, Playa Blanca—the island's premier beach— is stunning yet unfortunately overrun by tourism. Located just 45 minutes outside of Cartagena, most people head to Playa Blanca on a pre-packaged day trip that affords them a bumpy boat ride, snorkel trip and only three hours on Playa Blanca.
Step away from the tourist crowds and spend the night on Isla Baru instead. Playa Manglares is a charming hotel on Isla Baru with a private beach, open-air rooms, and communal dining for guests. Best of all, the hotel is just a short drive from Playa Blanca, which means you can arrive at the beach early before the banana boats and boatloads of day-tripping tourists arrive.
El Totumu
About an hour outside Cartagena is a mud volcano nicknamed El Totumo. Legend has it a local priest would sprinkle holy water in the mouth of the volcano until its fiery lava turned into the pudding-like mud it is today. To call El Totumo a volcano might be playing fast and loose with the word "volcano" since it is more like a giant ant hill with a rickety, wooden ladder winding up the side.
While undeniably a tourist attraction, a day trip to El Totumu is worth the trip for the novelty alone. Once you arrive at the volcano, you'll change into your swimsuit and then enter the volcano where you'll enjoy the fun albeit awkward sensation of being weightless and buoyant. Hawkers who seem to be permanently stationed in the mud will offer optional massages, which you can expect to pay for once you're cleaned up. After your mud bath, you'll make your way down to the nearby river where local women wait with small buckets to wash you as if you were their own children. This, by far, is the most memorable part of the experience as you sit there in a river, seemingly in the middle of nowhere, being washed by local mothers.
Castillo de San Felipe
Castillo de San Felipe is a UNESCO World Heritage Site and well-preserved fortress standing tall above Cartagena. Built by the Spanish during the colonial era, the castle was constructed as a military base against enemies approaching the city by land or sea. Castillo de San Felipe offers beautiful views of the city as well as a look at the impressive architecture of the Spanish colonials. The fortress is unshaded and high on the Hill of San Lázaro; so it is best to visit the castle either early in the morning or later in the evening to avoid feeling like an egg on a frying pan.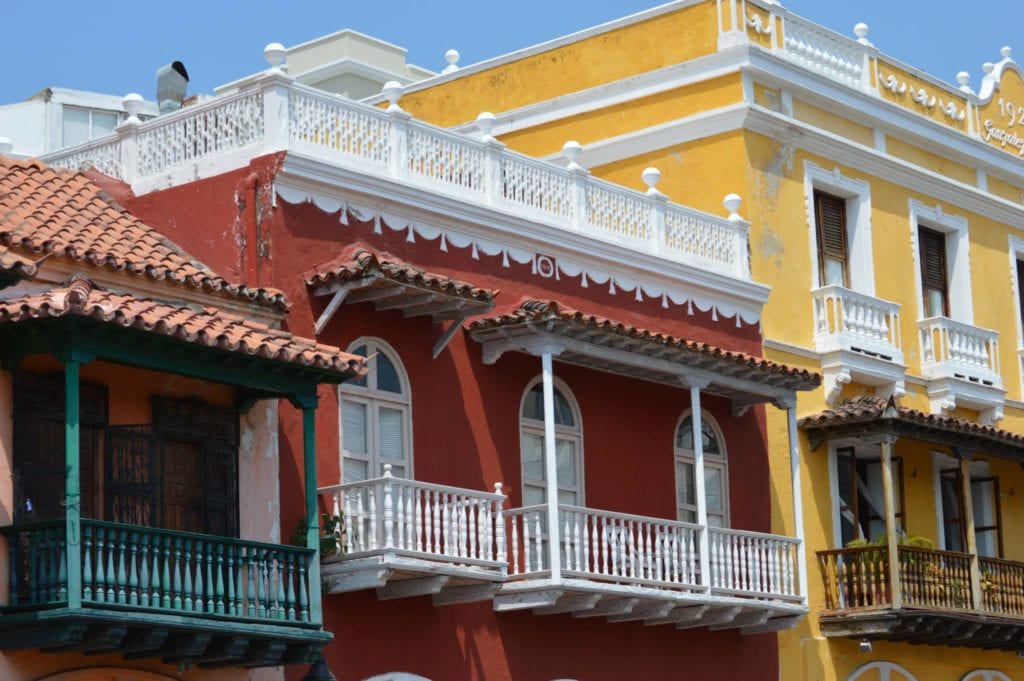 El Portal de Los Dulces
Historically, Portal de Los Dulces was once used as a market for enslaved people then later as a trading post for hagglers selling sweets. Today, Portal de Los Dulces is part of the Plaza de Los Coches, known for its colorful balconies that greet visitors entering the Old City. Portal de Los Dulces is a covered walkway where local vendors sell everything from artisan-made sweets to candied fruits to chocolate. An early visit to Portal de Los Dulces offers countless photo opportunities as well as samples of Colombian confections.
Plaza Santo Domingo
Fernando Botero Angulo is a Colombian artist celebrated for his modern and figurative artwork. Best known for developing the style of 'Boterismo,' Botero's sculptures famously depict people and animals in exaggerated proportions. Plaza Santo Domingo is in Cartagena's Old City and home to a larger than life Botero statue. The plaza is a stellar place to grab dinner, listen to live music and bask in Cartagena's culture under the shadow of the Botero.
Where to Stay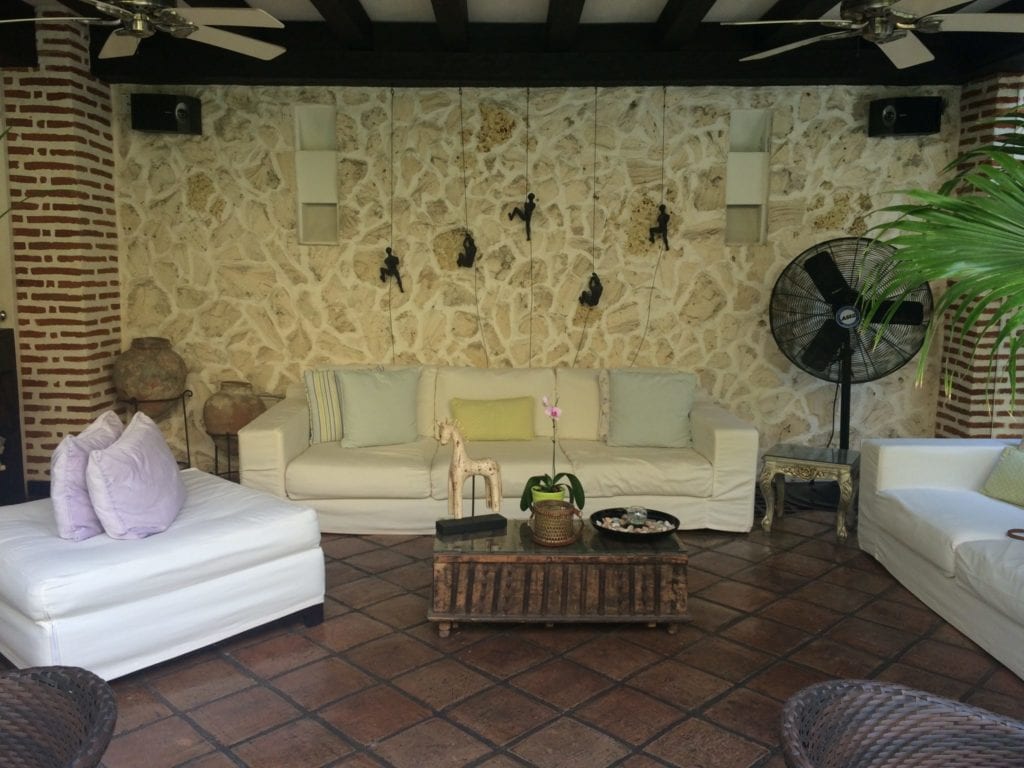 Casa Santa Ana
Found on the street Del Carretero, just steps away from the Plaza de la Trinidad where each evening people gather to sip local cervezas and listen to live music, is the hotel Casa Santa Ana. Casa Santa Ana is subtle in its exterior with little more than a door and plaque to alert you to its existence, but once you are inside it opens up to a warm courtyard where tropical foliage hangs down and an open-air kitchen and living room welcomes you in. The bedrooms are spacious and air-conditioned (a Godsend in a city where temperatures average 80 degrees and rarely drop below 70 at night). Above all, the prices are affordable compared to many of the other hotels in Getsemani.

Casa del Coliseo
Nestled in the heart of the historic city, this beautifully renovated colonial home offers a romantic backdrop to any vacation. Rooms are spacious with beamed ceilings, whitewashed walls, and coveted views of the Old City. A rooftop offers guests a hotel pool, BBQ area, and space to enjoy a drink above the bustling streets.

Safety Tips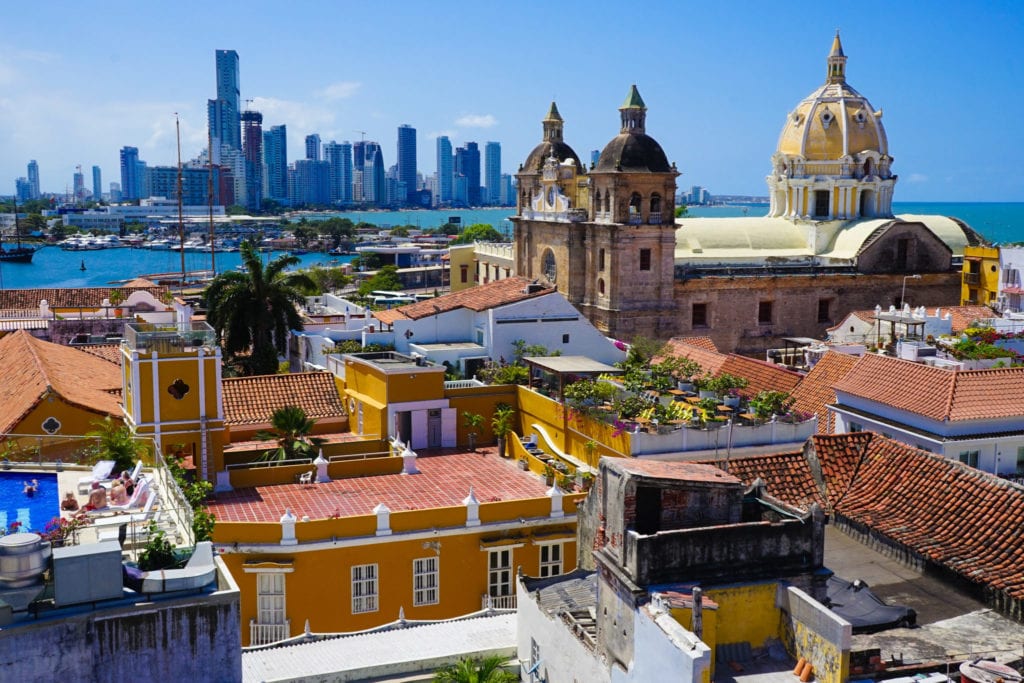 Taxis
Careful not to get ripped off when catching a cab from the airport. Expect a surcharge of COP$4000 ($1.29 USD) on airport trips. As a rule of thumb, it shouldn't cost you more than COP$12,000 ($2.88) to get from the airport. Note: there is a flat fee of COP$10,000 ($3.24) for taxis from the airport to Getsemaní, San Diego and El Centro. When taking a cab in Cartagena always negotiate your cab fare before getting in the cab.
Health & Safety
Don't drink the water and try to avoid salads as the vegetables were most likely washed in tap water. Street food is fine to eat and encouraged as you'll get the best local flavors when eating from the hands of the locals. In terms of safety, as with everything just be conscientious of your surroundings.