To say I had been craving the cool and moody weather of the Pacific Northwest is an understatement. It had been a hot and humid summer in New York City. The sort of sticky summer that makes you wrinkle your nose at the steamy garbage smells and long for the days of cool weather and chunky knit sweaters. In August, I decided to escape New York's oppressive heat and fly across the country for a road trip that would take me from Seattle to Portland and on to the Oregon coast to Cannon Beach, where I checked into the Surfsand Resort.
Cannon Beach is a small coastal city in Northwest Oregon that is best known for its iconic Haystack Rock. This 235-foot sea stack has become a popular tourist attraction, even making appearances in films such as The Goonies, Kindergarten Cop, and Steven Spielberg's 1941. Beyond towering over Cannon Beach, Haystack Rock is home to a dizzying array of seabirds (including nesting puffins) as well as starfish dotted tidal pools filled with vibrant anemones and crabs.
While Haystack Rock is breathtaking, the true gem is the town of Cannon Beach itself. Named one of the 100 Most Beautiful Places in the World by National Geographic, Cannon Beach is a walkable town where you can discover locally-owned shops, a slew of art galleries, and enviable seafood dining. Just 90 minutes from downtown Portland, Cannon Beach is the gateway to Oregon's windswept coast. Whether it's hiking one of the many trails at nearby Ecola State Park or roasting marshmallows in view of Haystack Rock, I envy Portlanders for their proximity to this seaside mecca.
Arriving at Cannon Beach, I checked into the Surfsand Resort, which offers THE view of Haystack Rock. While there are many quaint inns and hotels to choose from in Cannon Beach, you'd be hard-pressed to find one that can compete with the views that Surfsand offers.
The Magic of Surfsand Resort
If I had to describe Surfsand Resort, it would be as a cross between an adult summer camp and a gorgeous beachfront getaway. From the moment you check-in, it's clear that Surfsand Resort is more than just a stay, it's an experience. Along with a map of recommended places within walking distance, you're handed a schedule of resort activities, which run the gamut from free cookies in the afternoon to group bonfires in the evening to ice cream socials on the weekends. It's this option to engage with other hotel guests in the context of such a beautiful locale that sets this resort apart. But, of course, the true magic of my visit came from the room itself.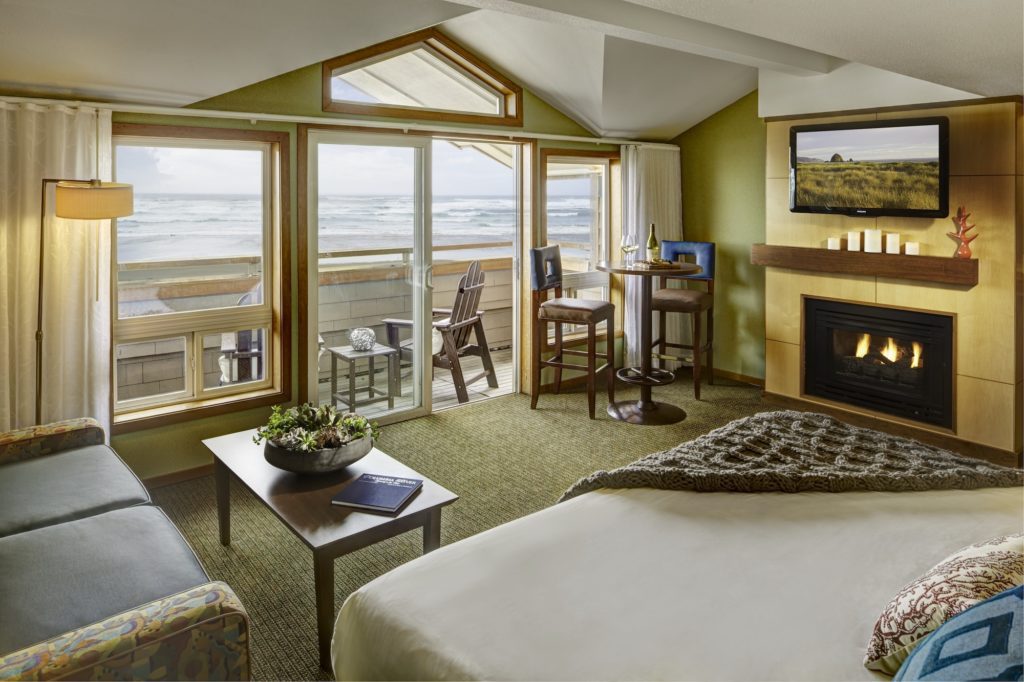 Picture this: it's early morning and the first rays of sunlight are turning the sky the color of cotton candy. You wake up to the sound of seabirds singing outside your window, accented by the rolling thunder of waves hitting the sand mere feet away. As you blink the sleep away from your eyes and walk to your balcony, you are met with a view that feels almost dream-like.
There stands Haystack Rock, a regal silhouette against an early morning sky. The beach, which during the day is full of people, now stands quiet albeit one early morning riser walking their dog along the sand. By midday, this beach will be shared by many but right now, it is just yours. That is the magic of waking up at Surfsand Resort.
My room, which came fully equipped with an electric fireplace, television, and a jacuzzi-sized bathtub and walk-in shower, looked out right onto Haystack Rock with beach access mere steps away. If booking a stay at Surfsand Resort, spring for a room with a view of the beach—it's worth it.
The Freshest Seafood
Walk around Cannon Beach and you'll find a slew of charming places to eat or grab a drink like the Public Coast Brewing Company or Stephanie Inn Dining Room, but at Surfsand you also have one of the best restaurants in town: Wayfarer. I'm not going to lie, nearly every meal I had at Cannon Beach came from Wayfarer. My first meal there came out of convenience. We had arrived at the resort a few hours ahead of check-in and decided on a quick lunch at the nearest place.
My second meal from Wayfarer came that very evening when we realized that Wayfarer's stellar menu was also the in-room dining menu. Rather than get dressed and go looking for a restaurant, we opted to sit on our balcony and munch on seafood while donning cozy bathrobes. This experience of enjoying fresh seafood in the privacy and comfort of our own space is what quickly led us to order from Wayfarer the next day too. As the saying goes, when something works, you work it—and oh, did we work that Wayfarer menu.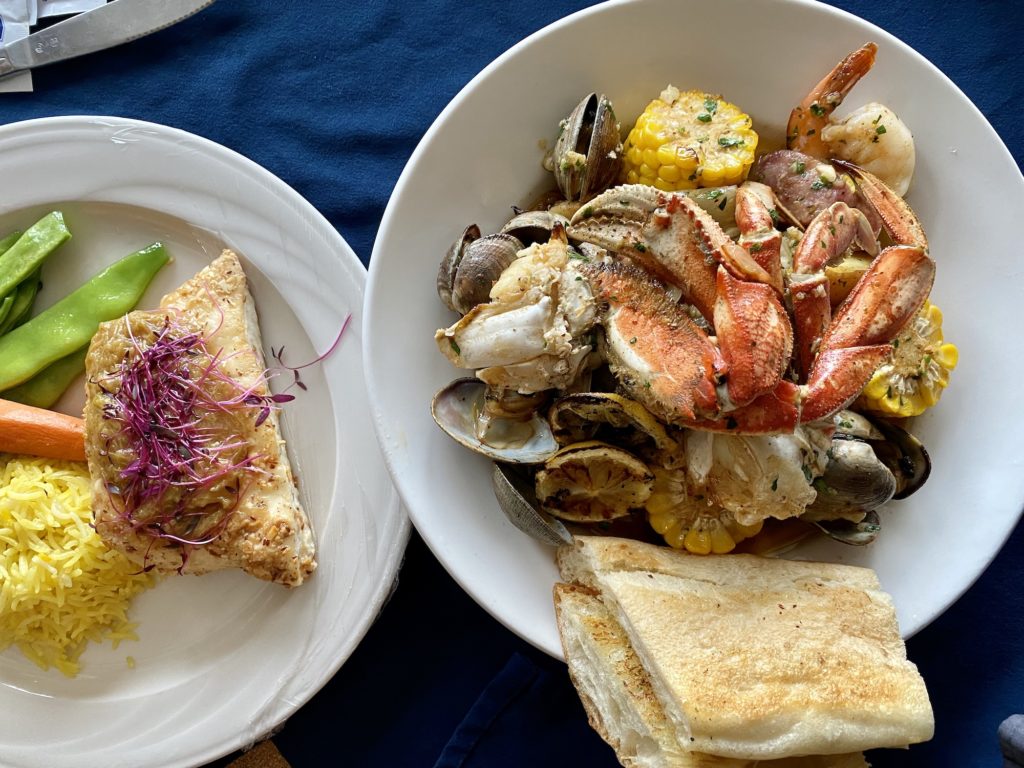 If you're going to treat yourself to Wayfarer (and you absolutely should), please order the Wayfarer Clambake. This decadent dish comes with Dungeness crab legs, local manila clams, wild white prawns, andouille sausage, red potatoes, and corn tossed in an old bay butter. The dish is fresh and flavorful with seafood that tastes as though it was caught that very morning (which it very well might have been). Wash it down with a glass of white wine and then sit back, brush the spare crab shells off your bathrobe, and enjoy that view.
Nightly Bonfires on the Beach
Of all the places I had visited during my road trip from Seattle to Oregon, I was the most eager to arrive at Cannon Beach. Having never been to the Oregon coast before, I envisioned our stay as being a perfect combination of moody from the Pacific Northwest weather, romantic from the ocean-facing views, and cozy from the knit sweaters we'd be wearing while snuggled on the beach. Thankfully, the reality did not disappoint.
Every night, Surfsand guests are invited to join a group bonfire. The group bonfire is a fun way to meet other hotel guests, but if you're looking for something a bit more romantic than for an extra $50, the staff will set up a private bonfire for you and your loved one. The private bonfire comes complete with a pile of wood and a s'mores kit (including marshmallows for roasting, sticks to roast the marshmallows with, Hershey's chocolate, and graham crackers).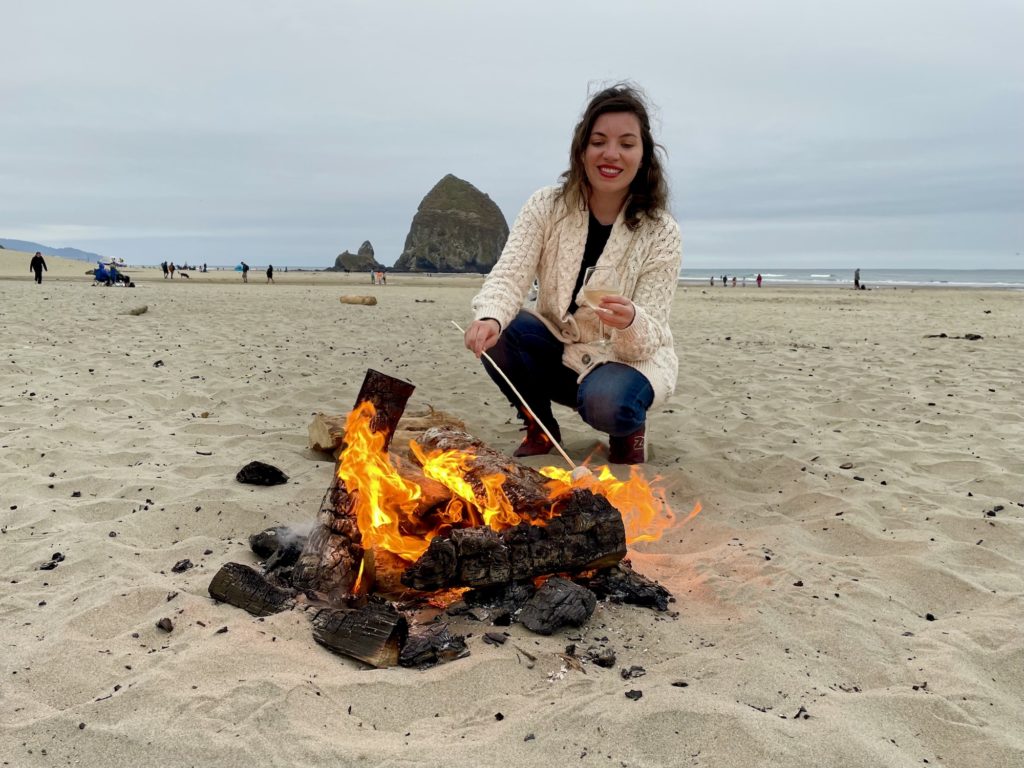 Both nights that we stayed at Surfsand, we opted to pay the extra $50 for a private bonfire. With a bottle of white wine from Wayfarer and a blanket from our room, we snuggled up near the bonfire and watched the sunset over Haystack Rock and the Pacific Ocean. Between wine-soaked lips and marshmallow-sticky fingers, it was the best $50 I had ever spent.

The summer months at Cannon Beach are amongst the busiest—particularly in July when crowds flock to the coast for warm-weather activities. According to the Cannon Beach tourism site, the "magic season" is between the months of October and May when beaches become more secluded, room rates drop, and people can enjoy watching storms over the windswept beaches and rolling waves of the Pacific Ocean.
For me, our visit in mid-to-late August proved perfect. We arrived at Cannon Beach in what felt like the tail end of the summer season where crowds were beginning to thin out. With the last days of summer, we could still enjoy nice weather and clear hiking days as well as balmy beach strolls and cool bonfire nights. If you're thinking of booking a stay at Surfsand Resort, I'd recommend going closer to September.