Over the course of the next six months, 46-year-old, British-born Sarah Davis will be paddling to be the first recorded woman to attempt the human-powered descent of the Nile River in Africa, by raft and kayak.

The journey will take her and a rotating team of local guides through four countries from the source of the river in Rwanda, to where it meets the Mediterranean Sea in Egypt, skipping the South Sudan section based on intelligence reports she's received.

Davis, who has diligently planned the trip for the past two years, is a volunteer surf lifesaver where she lives in North Bondi, Australia, and a decorated kayaker in competitions from Hawaii to Hong Kong. With a career background in risk management banking, Sarah's approach to planning is both rational and thoughtful, and brings to light an inventive mechanism for tackling goals.

On a rest day in Uganda, after her first four weeks on the water, Davis spoke to Unearth Women about why she's undertaken the expedition, challenges she has faced, and her hope to inspire other women to pursue their dreams.

Unearth Women (UW): What was inspired you to leave your work in banking and embark on this journey?

Sarah Davis (SD): I was at a point where life was good, living the dream in Bondi, enjoying my work. It was just that there was something missing, I just felt that I hadn't found my purpose. There's always been an underlying desire for a life less ordinary but I've never really known what that looks like. I went traveling around the world in 2008 and then came back and became a personal trainer, which has always been a big passion. I did it for four years and then ended up going back to banking. A standard job was just never going to cut it.
I look for connection, adventure, challenge, strength, joy and so I asked myself: 'OK, what are the things that bring me that?' Around that time I saw some people who had done some firsts and that appealed to me and made me think of going on an adventure. They were just ordinary people with big goals that went on these big trips and I thought maybe this is something I could do. I thought about doing something with paddling because that's my sport and my love, and then I thought about what hadn't been done yet. I found that a human-powered descent of the Nile from its source in Rwanda to the end in Egypt hadn't been done by a woman. That was a huge lightbulb moment.
I did a reconnaissance trip to Uganda, then to Egypt and Sudan before committing to it. Through instagram, I found Egypt's first Olympic kayaker, Mustafa Mansour, and I went out with him and his squad for some paddling. In Sudan, I met local paddlers who took me out for a paddle and on their boat to see where the White Nile and Blue Nile meet. Then two years later I got on the plane.

UW: You've been paddling for over six weeks! What challenges have you encountered?
SD: This first section was such an adventure. We were fully attacked by a hippo in Rwanda, she put a hole in the raft. It was the first day we'd gone into hippo territory and we'd gotten in between a baby hippo and her mother; she hadn't been too happy about that. So she came at us and bit into the back of the raft and put a very decent sized hole in it. If it had been a lighter or a smaller raft, she could easily have flipped it.
We then had a set of rapid that we ran, we came around a corner to a huge drop we ended up going over. It was action-packed, unexpected, challenging but fun at the same time. The guys that I'm with are such a great team—I call it the Dream Team—and they have so much experience on the river.

There was a call to either kayak or keep the team together and use motor boats, as a couple of the guys were struggling across Lake Victoria. I went with the latter as I really wanted to finish with the team. All the way through, everyone has been so lovely and also kind of bemused about what it is we're doing. When we started in Rwanda, we had this huge crowd watching us set up and then literally cheering and running along the riverbank for kilometers at a time.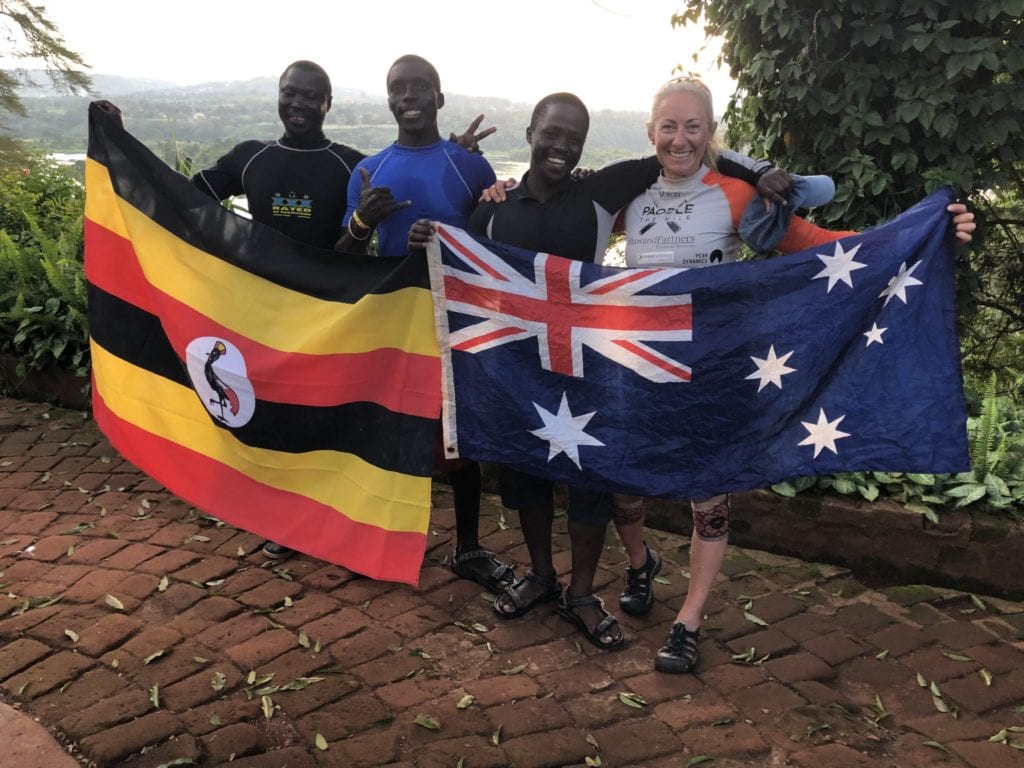 UW: Have you faced any challenges as a woman both in your sport and on your journey?
SD: It's a small sport in Australia and there's not that many women doing it, so we're all very supportive of each other. Things like prize money haven't been the same in the past, but in Australia, one of the big sponsors of the sport, Shaw and Partners Wealth Management, are actively working to change that.
I think I have had more challenges when it comes to gender bias in the banking workplace then I've had on this trip. There were a few "Me Too" moments, that's for sure.

Culturally, it is very different here in Uganda, particularly for women. One example, which really surprised me, is women here will kneel out of respect when they greet older people and men. If they don't kneel they risk being considered poorly brought up and disrespectful. I was mortified the first time I saw a woman kneeling for me.

Gender-based violence is another significant issue here for women. When it comes to education many don't complete secondary school as domestic obligations take over. Frequently they struggle to get access to basic health care and many are deprived of certain rights like owning land.

UW: How did you prepare for the trip, both mentally and physically?

SD: The physical prep was probably one of the easier ones to break down. There were things I did, everything from doing a whitewater rescue technical course, remote first aid, wilderness survival, to self-defense training.
The time I spent the least on was kayaking. I dropped down the amount of kayaking that I did. I had done a race in Hawaii in their world championship and I lost almost three kilos of muscle with all the endurance paddle. I knew on this trip I wouldn't have access to the same nutrition, and likely be able to catabolize muscle, so I upped my strength training to put the muscle back on.

Then there was managing risk for this trip. The risk management approach is to identify the risks, work out worst-case scenarios, then figure out what can be done to reduce or manage those risks. The result was a huge spreadsheet, which helped take away some of my fears because I know what my plan is.

UW: What is an example of some of the risks that you prepared for?
SD: An example is the risk of getting malaria. Worst case is dying from it. To reduce it, you can take malaria pills, use repellant, stay covered up. For me, the idea of taking the preventative meds for the whole six months didn't appeal. So I chose to take them in the high-risk areas, then use repellant and have the treatment with me (both oral and injectable) to manage it if I did get malaria.
The risks for this trip fall into five main categories, you've got injury and illness, the animal issues, hostile situations, issues with equipment and then the environment such as extreme heat, rapids, and storms. For me this risk management approach is a great way to unpack fears by breaking them down, reducing them and having a plan to manage situations.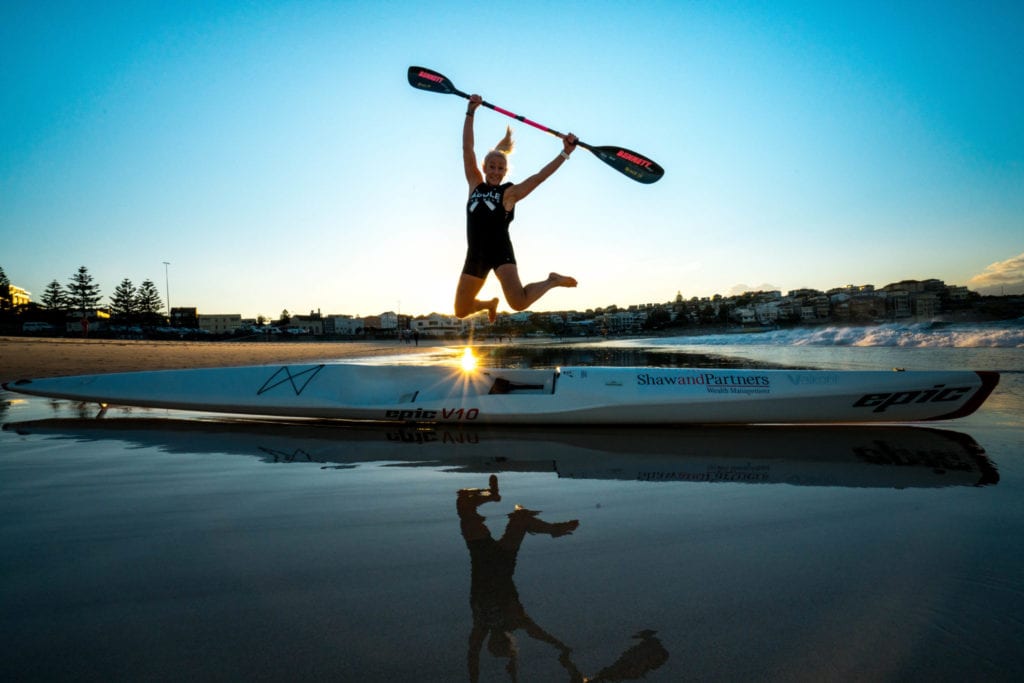 UW: You've talked about using baby steps to build up a confidence bank. How have you applied the same advice to your trip?

SD: Paddling just started off with the surf club. I saw people doing it and I wanted to have a go. Then, I joined groups and I have a coach that built up my abilities and technique and confidence, and then went and took on some bigger and bigger races. For this trip, there were probably less baby steps and one giant leap of faith at the end. But having done a lot of independent travel for the last 15 years, I'm comfortable with doing that. Having done the reconnaissance trips, it builds confidence and it builds a network by speaking to so many people, reading and researching. So while it may not have always been experience-based steps, it was just building up a bigger knowledge base and network to feel confident enough to take it on.
UW: What advice do you have for women keen to chase their dreams?

SD: Take action and keep taking action. Breaking things down into small bite-sized chunks, that was a big thing I did with this trip. The to-do list was massive, but listing everything down and taking a small bit of action every day helped. Break it down to something that isn't quite as big and scary. You know what they say: How do you eat an elephant? One bite at a time.
UW: What's next for you after you complete your expedition?

SD: I can't say 100 percent what's after this because I don't know the person I'm going to be at the end of this. Ideally, I want to write a book on this trip and then establish myself as a speaker. With my speaking, I want to bring together my decades of experience as a risk manager in banking, and share how we can use risk management fundamentals to get out of our comfort zones, take bigger risks in life and follow big, bold dreams and adventure-filled life. Oh, and I'll definitely go on more adventures.