A song sounds from a nearby cell phone on the table, ringing twice before Vara* puts down her ladle, swings her baby onto her other hip, and answers it.
"I told you not to call until I'm done with my work," Vara scolds, but she's already bending down, sweeping a hand under the kitchen unit and extracting a package. Moving quickly, I don't have time to see its contents as she hands off her baby to a friend, and runs to bring the parcel to her delivery boy, who will bring it to a waiting customer.
Vara is a 28-year-old single mother in Dharan, Sunsari. In the time I spend in her kitchen, she is a hummingbird moving from the potatoes on the stove to the phone on the steel countertop, all while continuously nursing her small one-year-old child. In between the cooking, cleaning for her household, and caring for her daughter, Vara also deals drugs. She takes them, too, though not as frequently as she once used to.
In Eastern Nepal's Jhapa, Sunsari and Morang districts, drugs move freely through two open border points, creating an ever-increasing problem of substance abuse. While there exist 15 rehabilitation and treatment centers for men here, female drug users are limited to just two. Nepalese women who are drug users, face obstacles in getting the help they need due to cultural stigmas and taboos.
"Drug use further weakens the disadvantaged position of women," the United Nations Office on Drugs and Crime's (UNODC) wrote in a report about Nepal, "especially in societies with a high degree of gender inequality."
In Nepal, a society that still prioritizes men, it's hard enough to be a woman, let alone a woman who is addicted to drugs. "Women are looked at like third citizens in terms of everything," says Parina Subba Limbu. Parina is an activist for female drug users—identified by the World Health Organization as PWUD or Persons Who Use Drugs, to replace the word 'addict' which stigmatizes drug users—and an ex-user herself. Parina is now the Founder of Dristi Nepal, which advocates for the treatment rights of women who use drugs in Nepal as well as addresses other urgent issues, including the heightened risk of HIV/AIDS, sexually transmitted disease, and difficulty reintegrating into the society post-treatment.
"Just enjoyment" Rachana* shrugs when I ask her why she began taking drugs in the first place. Rachana, 27, is a six-years-clean ex-PWUD and now volunteer for Dristi, where she was treated. Though many others also began taking drugs for fun, the catalysts for female drug users in Nepal are often family neglect, drug exposure from a boyfriend, or coping with societal problems like poverty or abuse.
Two women I spoke with were the daughters of a Gurkha—Nepalese soldier—which, in their cases, meant little supervision and ample money to spend freely. The Deputy Superintendent of Police (DSP) of Dharan, Rameshwor Paudel, cites this trend as a problem that has fueled drug usage throughout the city, regardless of the gender.
"At first it's seen that the guardians stay in [the] UK and [the] USA and leave their children behind and [the children] get into addiction, and that becomes the habit and tradition that others follow," he says.
That's how it went with Rachana, who started using "the same way everyone does" with smoking cigarettes and marijuana when she was 17 years old. Slowly, she progressed to pills, then brown sugar heroin, but switched to injecting morphine into her veins to cope with the pain of being gang raped by recovering addicts.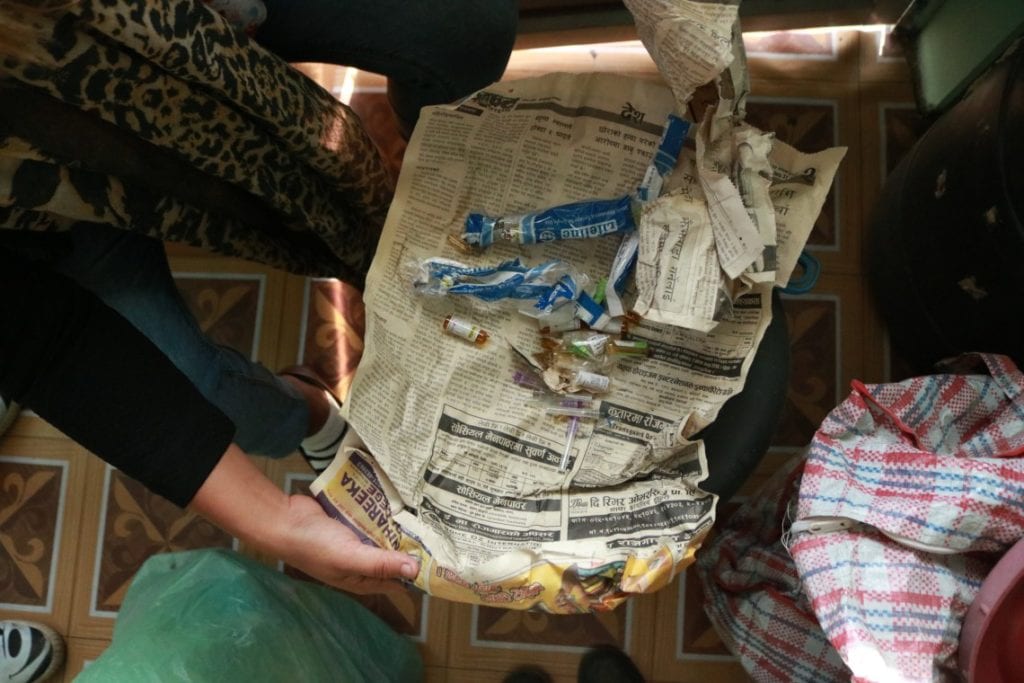 "There were five boys who did that to me," Rachana tells me. "The way they see suffering addicts is bad. They should treat a suffering [person] properly," she says, speaking about how men carry negative perceptions about suffering women, despite histories of drug use together. Instead of guiding her to stop using drugs at the time, her five attackers took advantage of her. "They try to use us," she adds.
According to UNODC's initial study on women drug users conducted six years ago, drug use "…increases their vulnerability to intimate partner violence, to drug peddling and/or sex work required to sustain their drug habit and with that the risk of health consequences." Rachana's own road to recovery did not protect her from an ex-partner who physically abused her, made her quit volunteering with other women, and rendered her pregnant and alone.
At Dristi, one of the primary goals is to educate women on their increased risk of, and preventative measures for, HIV and AIDS, sexually transmitted infections and domestic abuse. The group holds awareness programs in schools, where volunteer peer educators teach drug and sexual health. This is especially important, because much of the information is not made available in a typical school curriculum, or is not talked about openly.
In a 2017 Ministry of Health Survey for Women Injecting Drug Users (WIDSU) in the Pokhara Valley, findings showed that "comprehensive knowledge of HIV and AIDS among WIDUs was low (33.5 percent)." Additionally, the study found that 16 percent of WIDSU had shared needles with friends, making them a high risk for the virus.
To further address these problems, Dristi runs a branch office in Dharan, in a small shop Parina pays rent for out-of-pocket. There, two volunteers maintain an information center and refer women to the head residency center in Kathmandu. They also maintain relationships with current female drug users who aren't ready or willing to get treatment.
"We know every female addict in this town," Punam Rai, an ex- PWUD and a volunteer for Dristi says. Punam makes phone calls to drug-using girls to come and speak candidly with me about their situations. A lanky 20-year old girl walks the distance from her home to Dristi and, upon arrival, immediately announces she's dizzy. A mixture from the pills she's just taken, combined with the heat of the day, has made her feel sick. Punam tells her to sit and offers her a Coke to drink.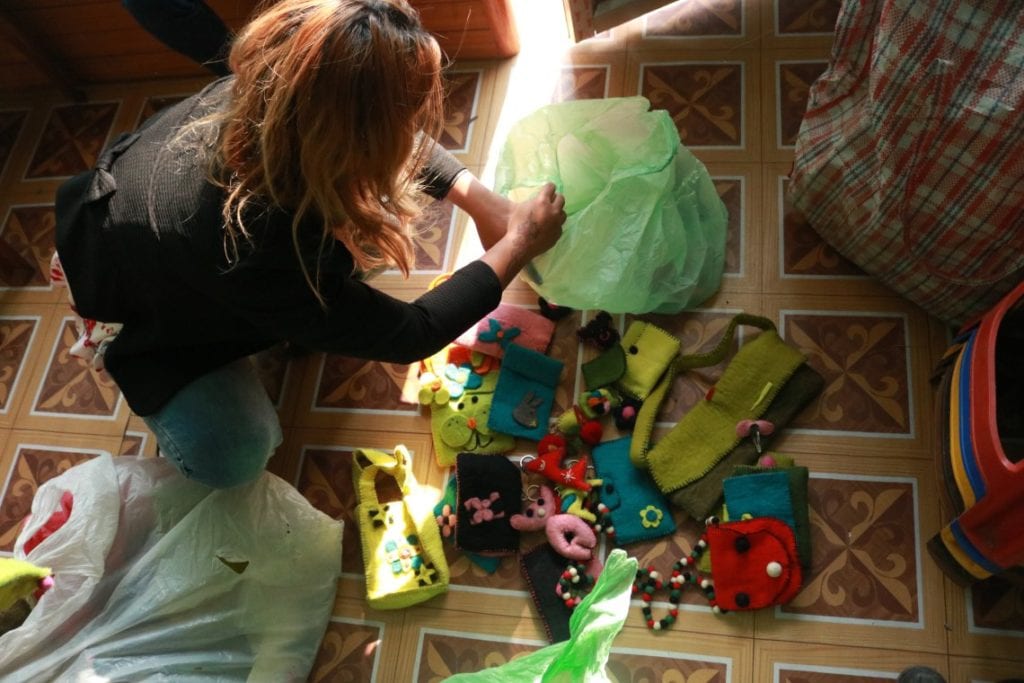 There is no judgment as the girl speaks openly about her drug use, her husband in rehab, her personal trip with friends to India to come back with pills stashed inside her mobile phone. When her phone rings, she answers it, pausing to give the caller a number for where to get Nitrogen tablets, and nobody scolds her. Having been through it themselves, the recovered women in the office know the best they can do is educate and remain in touch with this girl. She'll seek treatment when she's ready.
"Not only [is it hard for] the users or ex-users, it's very hard for the workers, also," Punam explains. According to UNODC, female drug users "face more discrimination and stigma from society," as compared to men. This is the very reason that Vara, the single mother who deals and takes drugs, couldn't stop using, despite a two-year stretch at Dristi. She takes eight tablets a day to make it easier to deal with the stress of caring for her home and daughter.
"We need to look at the issues of women drug users beyond staying sober because that's not the bottom line," Parina believes. As many of these women are single mothers or divorced from abusive partners, they need to learn how to support themselves, something society doesn't otherwise teach young girls in Nepal.
This debilitating fact feeds into Vara's need to deal drugs. Tasked with feeding and clothing her baby, without the help of a long-gone partner, creates a need for her to earn money by any means possible. For Vera—where dealings can be done from the kitchen where she cooks and feeds simultaneously—selling drugs is as good a business as any. "To live, I have to do something," Vara says, "There is no space in this world for simple people."
At Dristi, workshops are held that teach Nepaese women skill sets for them to go on and earn money independently. "To have a solution," Parina says, "the first thing would be for us to change how women perceive themselves." In order for the patriarchy to end, for the cycle of drug abuse to end, for abuse from partners to end, women need to—in Parina's words—"acknowledge their existence."
*Some of the names in this article have been changed to protect the anonymity of the women mentioned. A version of this article was originally published on The Kathmandu Post.