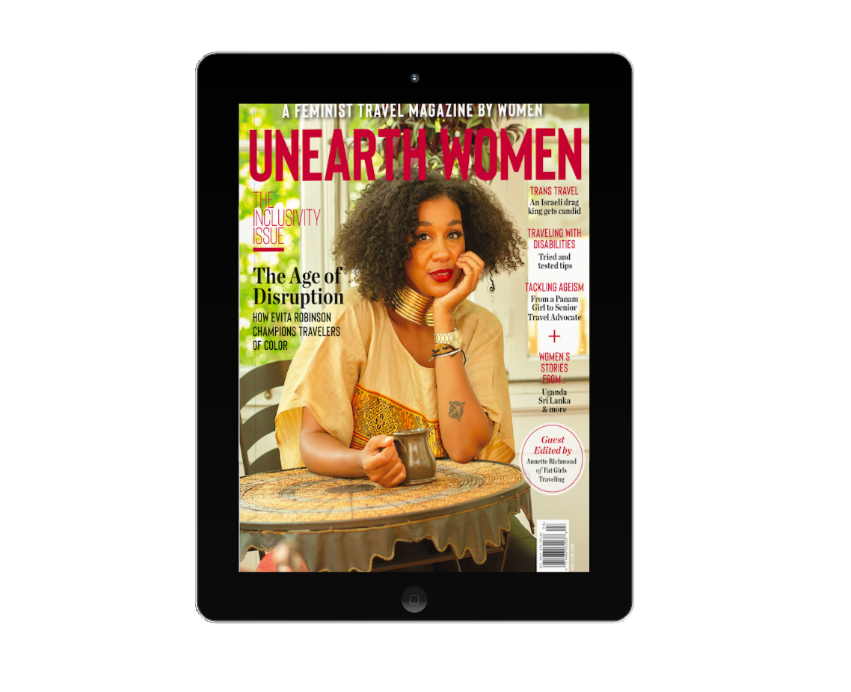 Issue 04 (Digital): Inclusivity
00028
Product Details
In this fourth issue of Unearth Women magazine, the Inclusivity Issue, we celebrate the diversity of travelers and tell the stories of communities too often overlooked by the travel industry.
Stories include:
An interview with TED Talk Speaker, Founder of NOMADNESS Travel Tribe and Audacity Fest, Evita Robinson.
A feminist city guide to one of the most diverse cities in America, Houston.
An interview with Israeli drag king, King Fluid Snow, on traveling as trans.
An interview with a former Pan Am flight attendant who is now a champion of senior travel.
A look at how the travel industry overlooks Asian travelers, written by Kiona of the popular blog, How Not to Travel Like a Basic Bitch.
A Woman to Watch interview with founder of Akwaaba Mansion and former Editor-in-Chief of Essence, Monique Greenwood.
A curated guide to traveling the world with a disability.
An interview with the founder of Fat Girls Traveling and champion of body positivity, Annette Richmond.
Please note: This is a digital product delivered in PDF form. 100% of your purchase goes towards supporting our writers, editors, designers, and illustrators to help keep Unearth Women going. Want more? Subscribe to our newsletter here.
Save this product for later