Looking for our new travel book?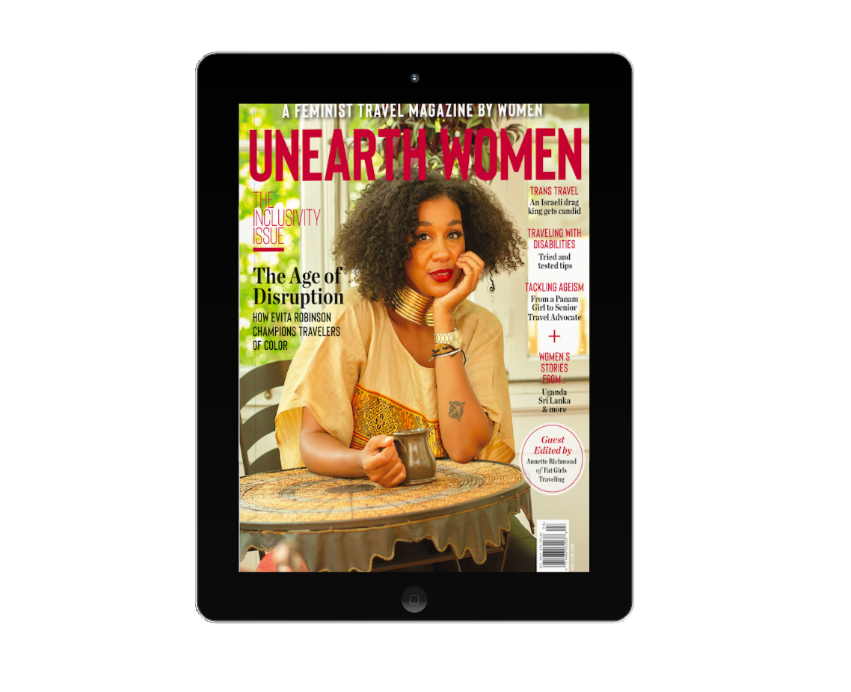 Issue 04 (Digital): Inclusivity
SKU 00028
Product Details
Unearth Women magazine focuses on lifting women's voices, sharing travel stories written by female writers, interviewing inspiring women across industries, and spotlighting female-owned businesses around the globe. In this third issue of Unearth Women magazine, the Inclusivity Issue, we celebrate the diverse voices of women of color and the LGBTQIA+ community, often overlooked by the travel industry.
100% of your purchase goes towards supporting our female writers, editors, designers, and illustrators to help keep Unearth Women magazine growing. This issue is printed on-demand, so please allow extra time for shipping and delivery. Want to learn more? Subscribe to our weekly newsletter here.
Stories in this issue include:
An interview with TED Talk Speaker, Founder of NOMADNESS Travel Tribe and Audacity Fest, Evita Robinson.

A feminist city guide to one of the most diverse cities in America, Houston.

An interview with Israeli drag king, King Fluid Snow, on traveling as trans.

An interview with a former Pan Am flight attendant who is now a champion of senior travel.

A look at how the travel industry overlooks Asian travelers, written by Kiona of the popular blog, How Not to Travel Like a Basic Bitch.
A Woman to Watch interview with founder of Akwaaba Mansion and former Editor-in-Chief of Essence, Monique Greenwood.

A guide to traveling the world with a disability.
Save this product for later