Mickela Mallozzi is a woman who is always on the move. As the host of the award-winning PBS series, Bare Feet with Mickela Mallozzi, she's made a career out of movement, learning the cultural and traditional dances in every country she visits. Whether dancing the tango in Argentina or belly-dancing in Turkey's Cappadocia, Mallozzi connects with locals through dance as other hosts connect through food.
Her show, now in production for its third season on PBS, has earned big accolades: most recently, her 4th NY EMMY Award. We sat down with Mallozzi to discuss her career trajectory from host of a video series to national broadcast on PBS, and what she's learned along the way.
Unearth Women (UW): Tell us about the journey from coming up with the idea for Bare Feet to it becoming a successful show?
Mickela Mallozzi (MM): Bare Feet started as a TV show idea first, and in a roundabout way, ended up back at that idea years later. In January 2010, I had an "Ah-Ha!" moment in the middle of the night where I woke up and had this idea of creating a TV show and documenting adventures that I would have around the world by connecting with people through dance and music. It was something I was already doing on my own travels, so it made sense to me in my head. When I began pitching it to TV Producers and people in the entertainment industry, they were intrigued but also not 100 percent sold, especially with me as the host (and I don't blame them, I had never hosted anything in my life before then).
Because no one was giving me a chance, I decided to make it happen on my own. I hired a few friends, booked some flights to Italy, and decided to film the annual Wheat Harvest Festival in my family's hometown while we all stayed with my grandmother at her farmhouse. I thought, that in order to start this journey of learning other people's cultures through dance and music, I needed to start with my own family's culture first. From there, we created a sizzle reel, shopped it to third-party production companies, and eventually signed with a company.
We later learned that the Travel Channel had an identical show idea they were working on at the same time. I had my footage held hostage by said signed production company, and for a year, I wasn't allowed to touch the TV show pilot that I had created, hosted, and PAID for. Because I was forced not to use it—and my realization that I still wanted to tell stories of dance and music from around the world—I started a blog. My blog grew into a web series, and eventually, I found my voice again and the right path to TV. Four years after that initial "Ah-Ha!" moment, the very first TV episode of Bare Feet aired locally on NYC Life, the show that no one would give me the chance to make, and I did it on my own terms. As an independent producer through public television, I make the show that I want to make, which is exactly Bare Feet! Now the series airs nationally on PBS stations across the United States, on Amazon Prime globally, internationally in Greece, Hong Kong, Russia, and in in-flight programming on multiple platforms. And I just won my 4th NY Emmy Award for the series!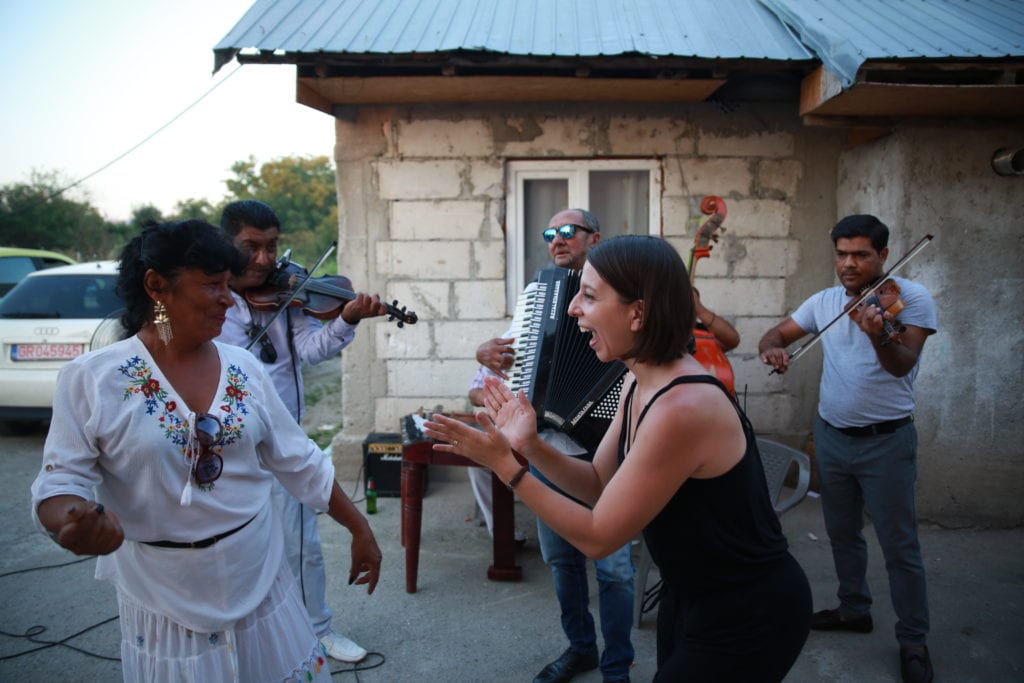 UW: You travel the world and connect with people through dance. What are some of your favorite dances, and what countries do they come from?
MM: I've always been drawn to dances that have some fancy footwork, are a bit more athletic, and are a little more masculine. It's more often the case that the men's dances in a culture are a lot more interesting and more fun than the women's dances. I absolutely love Balkan dances, the group circle dances that are in odd-metered time signatures – for me, it's a challenge, almost like doing math with your feet.
Clogging and flat-footing from Appalachia in the US and sean nos and step dances from Ireland are always so much fun as well. I love playing percussive instruments, and being able to use my body as an instrument is the ultimate combination of dance and music. We just filmed an episode in Andalucía, Spain where I finally got to try flamenco—talk about using your body as an instrument! That trip and the opportunities I had to dance were an absolute dream. I'm already thinking about how I can go back to Seville and maybe spend a month or two to just study the art form intensely. I'm incredibly lucky to have all of these life-changing experiences around the world, but I only get a very limited time in each place or with each dancer. I hope to return to many of these places and continue to study the dances for longer periods of time.
UW: Tell us about one of your favorite moments that happened while filming.
MM: To be honest, some of my favorite moments are when the cameras are off. We are a very small crew, and as an independently-produced series for public television, we do a lot on a very small budget. So, we're pretty economical with our filming (or as economical as we can be). Once we get everything we need, I try to put the cameras away and not only let myself continue to enjoy and dance and make music with these new friends, but also allow my crew to actually relish in these moments as a traveler versus a camera person. It's a rare thing to do, but I think it's so important.
One of my many favorite moments happened recently while filming in Kakheti, Georgia. I reconnected with a folkloric dance group, Zedashe (who I actually met in NYC while they were on tour in the US). After we filmed the dance segment with them, the cameras were put away and I sat with Vano, the drummer, and asked him to teach me more rhythms on the doli, the drum that sits on your lap while playing. I don't speak Georgian and Vano doesn't speak English, but we sat there for about 45 minutes making music together, and it was heaven. I could not wipe the grin off my face the entire time! This is exactly why I started Bare Feet in the first place because whether or not the camera is rolling I still want to forever be a student and learn the dances and music from all of these beautiful people around the world.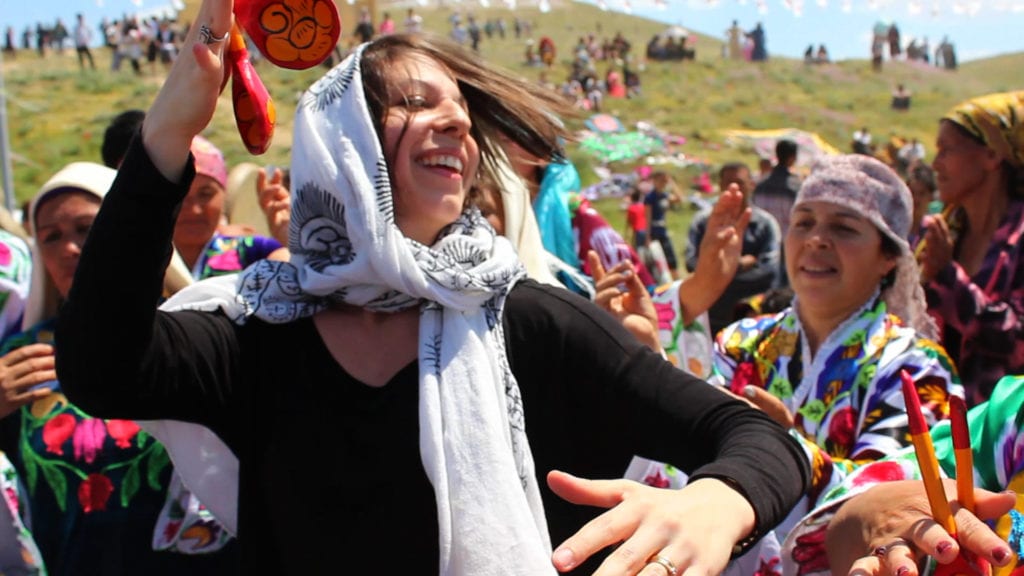 UW: You've just wrapped filming Season 3, where you traced your DNA to different parts of the world. Do you feel you got to know yourself and your ancestors better this season?
MM: It's been a really amazing and personal journey so far. I'm not seeking out relatives, but what is amazing is feeling so much more closely connected to so many different places in the world and realizing that all of these cultures and people make up who I am as a whole. It's a fascinating idea, and when you begin to think about the generations of people and thousands of paths crossed to make up a single person, it's overwhelming, to say the least. I'm warning you now, you will definitely see a lot of tears in this new season. I always wear my heart on my sleeve, and I get especially emotional when I'm in the moment not only sharing a dance or song with a complete stranger who has let me in on this intimate moment but also because I am simultaneously living out this dream of mine. On top of that, for this DNA season, the people I'm sharing these moments with are connected to me through some sort of historical and ancestral thread.
One moment, in particular, stands out from this season so far—though, there have been many moments where tears are streaming down my face from pure joy—I was at the San Joan Festival in Spain, and the Fal-Lera Gironina, a group in Girona whose mission is to preserve the folkloric traditions of the area, let me jump right in their procession. They dressed me in full garb, strapped a bass drum to my waist, and they let me march and perform with them the entire afternoon. During a somber moment at the city hall, while still playing the drum, it hit me all of a sudden, and the tears started flowing. I thought to myself: I'm here. This is real. And these people are letting me reconnect with a place that through circumstance could have somehow been my home. My crew saw that moment from afar, me wiping away the tears from my cheeks, and they captured that for me too. I'm grateful for that, as I want to share all of these raw moments with our viewers because it shows how truly transformational travel can be.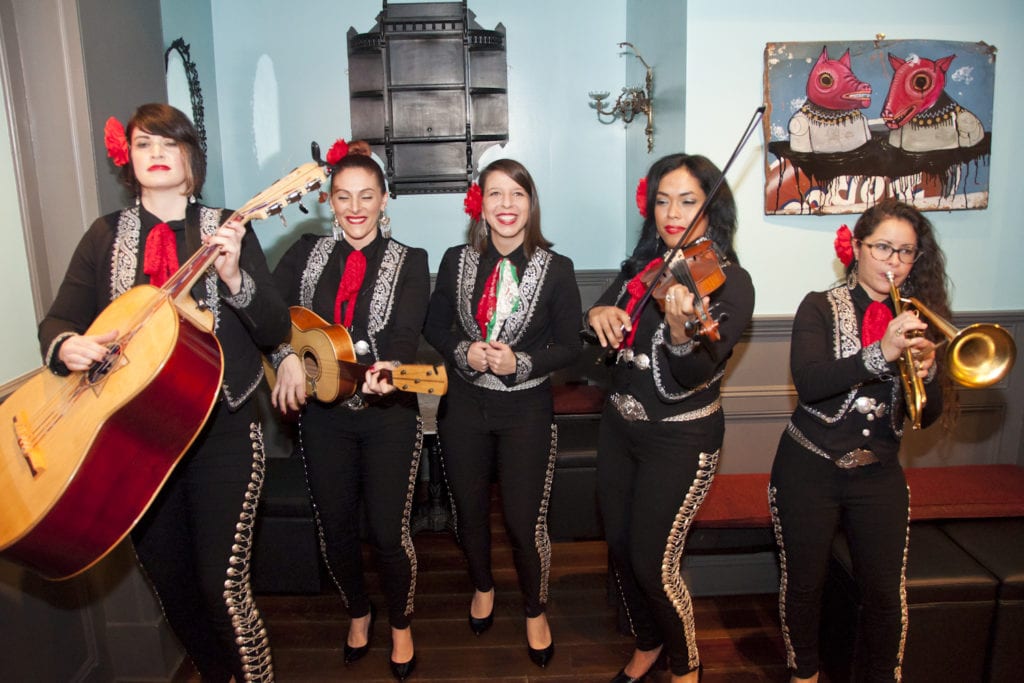 UW: What's next for you and your show?
MM: We're finishing up Season 3 of Bare Feet, but what a lot of viewers and fans don't realize is that because we are part of the public television system, we rely heavily on sponsors, underwriters, and the support from donors and foundations to make the show possible. Without the support from brands and philanthropists who believe in public media, the arts, and of course the importance of cross-cultural connection, new episodes of Bare Feet wouldn't exist.
We're currently deep in the fundraising cycle for Season 3 while simultaneously producing, filming, and editing. Some people call that insanity, which maybe it is, but I've always jumped head first into this project—why stop now? We're also talking to some major digital distribution partners to start a digital series, so stay tuned for that. I eventually want to produce live events and build a community of travelers, dancers, and global citizens to connect with each other through dance and music. Stay tuned for 2019!