It's a balmy summer morning when I arrive at the landmark Akwaaba Mansion in Brooklyn. The converted 1860s home was turned into a bed and breakfast by former Editor-in-Chief of Essence magazine, Monique Greenwood. Nestled on a quiet tree-lined street in Stuyvesant Heights, sun pours generously through the windows to illuminate elegant Afrocentric decor. There is a Southern charm that infuses Akwaaba Mansion, giving the feeling of being transported to another state entirely. 
In sweeps Evita Robinson, a tour de force in the travel industry with a seemingly innate confidence that seems to draw the light in the room. For those unfamiliar with Robinson and her undeniable impact on the realm of travel, you need only search for her name online. Articles from Condé Nast Traveler, National Geographic, and other renowned publications routinely tout Robinson's many accolades. Robinson is the Founder and CEO of NOMADNESS Travel Tribe—an online social media network of 22,000+ members that are primarily black and brown travelers. 
"[NOMADNESS] is comprised of about 80 percent black women," Robinson explains to me. "As much as we're online, we're also offline. We average about a hundred different meet-ups around the world annually, and we curate four group trips internationally that range anywhere from 10 to 45 members on a trip."
Robinson explains that NOMADNESS Travel Tribe is inspired by the Negro Motorist Green Book, an annual guidebook for African-American roadtrippers that was printed between the years of 1936 and 1966. At a time when black travelers routinely faced segregation on public transportation or were refused service from white-owned business owners, the Green Book stepped in to make travel easier. Considered the Bible of black travel during the Jim Crow era, the Green Book helped black travelers find hotels, gas stations, and businesses that would serve them.
"I asked myself, if the Green Book was around today, what would it look like?" muses Robinson. "Instead of being a phonebook—akin to the original—it would be a compilation of our stories."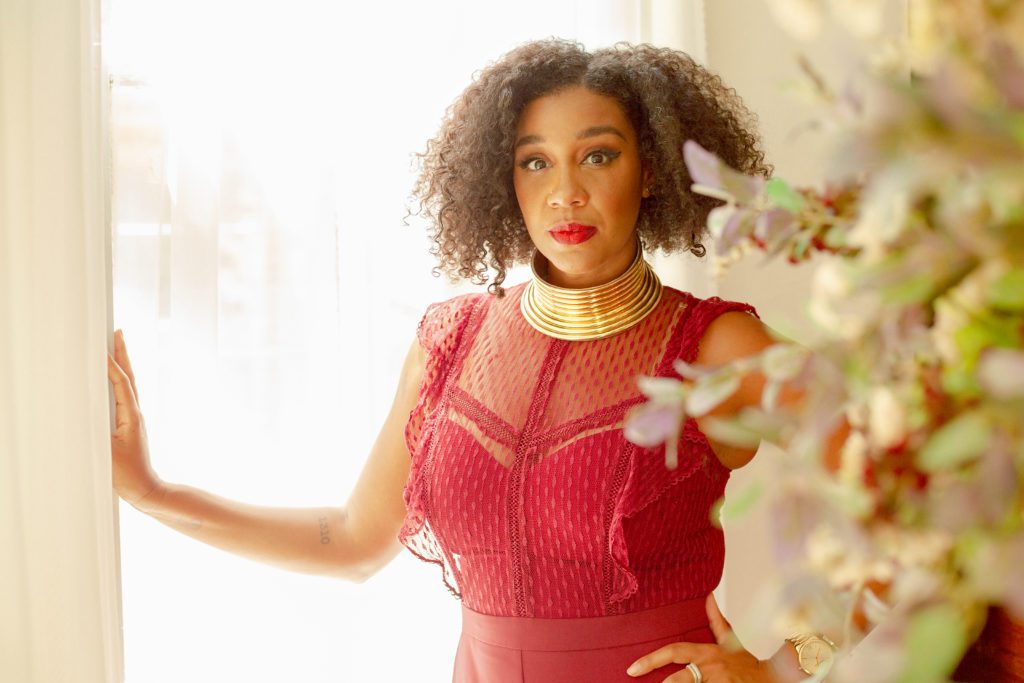 In August 2017, The National Association for the Advancement of Colored People (NAACP) issued a travel advisory for black travelers visiting Missouri in response to a state passed law allowing for legal discrimination.Then, in November 2017, a modern interpretation of the Green Book—titled The Post-Racial Negro Green Book—was published by New Orleans-based writer Jan Miles in response to the wave of racially-targeted shootings.
With racism undeniably infecting this—and many other—countries, NOMADNESS Travel Tribe is crucial in supporting travelers of color. Not only does NOMADNESS offer community, but it celebrates the stories of black and brown travelers that are too often left unheard.
"Being able to see black people running with the bulls in Pamplona or celebrating the Holi Festival in India—these are things that aren't showcased," adds Robinson. "Us owning our narratives, pushing our own content out, and "the permission of seeing"—as I like to call it—is us making sure that we're not lost in history."
Robinson is also the Founder of the highly regarded Audacity Fest, which is the first festival dedicated to millennial black and brown travelers. With an emphasis on diversity, Audacity Fest—a branch off of NOMADNESS Travel Tribe—aims to represent minority demographics in the travel industry. 
"We had attendees from various backgrounds at Audacity Fest last year, and it made the conversations around travel that much more dynamic. Especially considering the climate that we're in now," recalls Robinson. "Our keynote panel last year was [focused on the topic of] traveling under Trump and had Syrian-American, African-American, and Muslim-American speakers. These are the types of conversations you're not going to find at The New York Times Travel Show. I wanted to create the antithesis to everything; to create something that was representative of actual inclusivity and diversity in the travel space."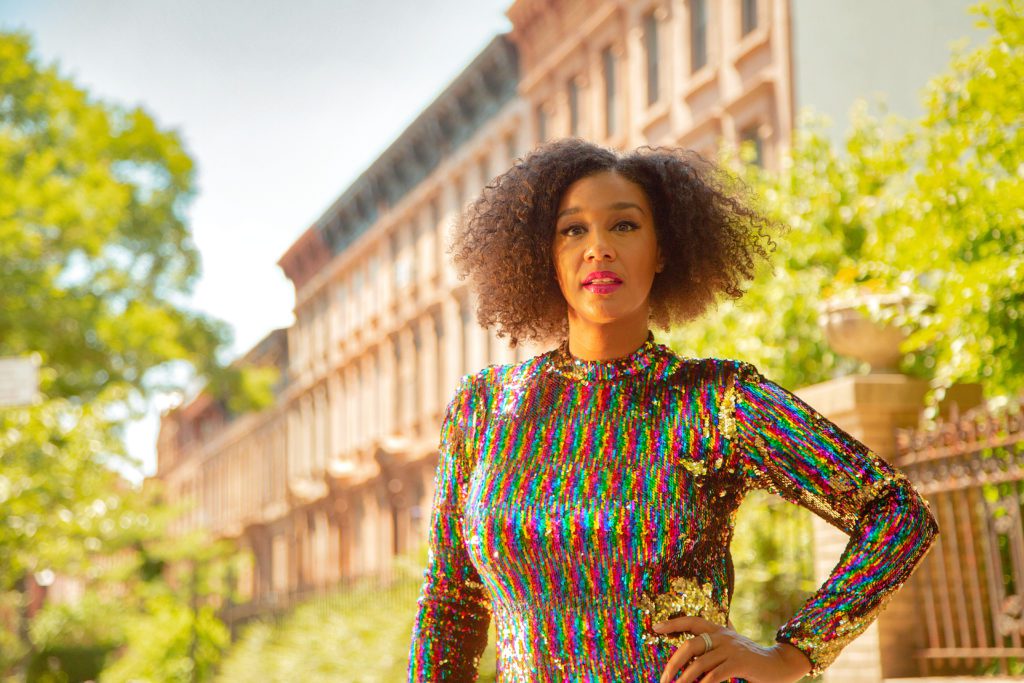 With Audacity Fest, NOMADNESS Travel Tribe, a TED Talk on black travel, and her NOMADNESS-inspired video series co-created with Issa Rae, Robinson has been touted as one of the women leading today's Black Travel Movement. This commitment to diversifying the travel industry has elevated Robinson to a warrior-like status where she fights for underrepresented communities. Too often travelers of color have been overlooked, marginalized and—quite frankly—ignored by travel companies who underestimate their profitability. 
In 2018, a study by Mandala Research found that the economic value of African American travelers has increased to $63 billion from $48 billion in 2010. As research pours in proving the undeniable impact that travelers of color have, advertisers are perking up and taking notice.
"Brands and tourism boards thought NOMADNESS was a fad. Now they see numbers [like $63 billion in spending] with the black dollar going into the travel industry, and all of a sudden everyone is sitting up straight," says Robinson.
Steve Cohen, who is Vice President of Insights at the travel and hospitality marketing firm, MMGY Global, reveals that "from 3 percentage points in 2013, intent to travel among African-Americans increased to 6 points in 2014, to 19 points in 2015 and up another 18 points this year." The travel industry is changing and it is millennial travelers of color that are the catalyst.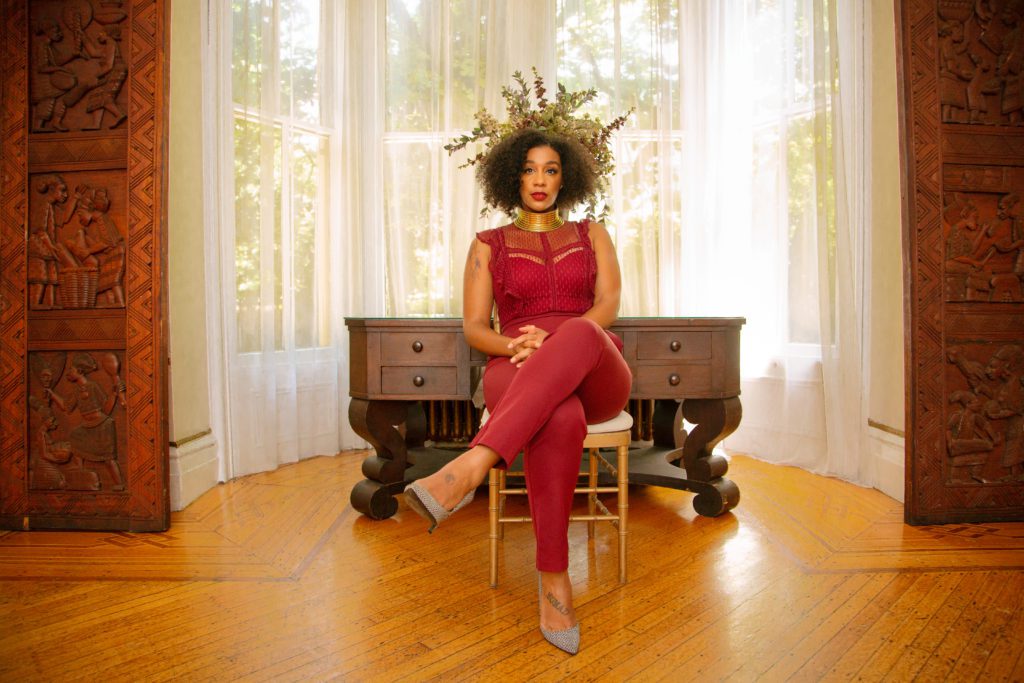 Robinson—who is a three time expat having lived in Thailand, France, and Japan—began NOMADNESS when she was in her twenties and living abroad. Back before Instagram, NOMADNESS started as a web series where Robinson could document her travels.
"I had pirated Final Cut Pro from my college and had this crappy camera and horrible audio," laughs Robinson. "The content and me, in particular—a 24-year-old black girl galavanting around the world by herself—was, at that time, unheard of."
The simple act of storytelling allowed other travelers of color to identify with Robinson. From there, Robinson developed the NOMADNESS Travel Tribe where the only prerequisite to join was having a stamp in your passport.
"NOMADNESS was really about me answering a call to myself, not realizing that I was answering a call for tens of thousands of people around the world," remembers Robinson. "That goes to show people the power of an idea."
Sitting in the sun-drenched porch of Akwaaba Mansion, Robinson sits serenely at a café-style table. Our diverse crew of primarily women bustle around Robinson adjusting her red lipstick, tucking away a stray hair, focusing lenses, setting the scene. Chin softly in hand, Robinson stares directly into the camera, her forearm proudly displaying the emblem of NOMADNESS Travel Tribe.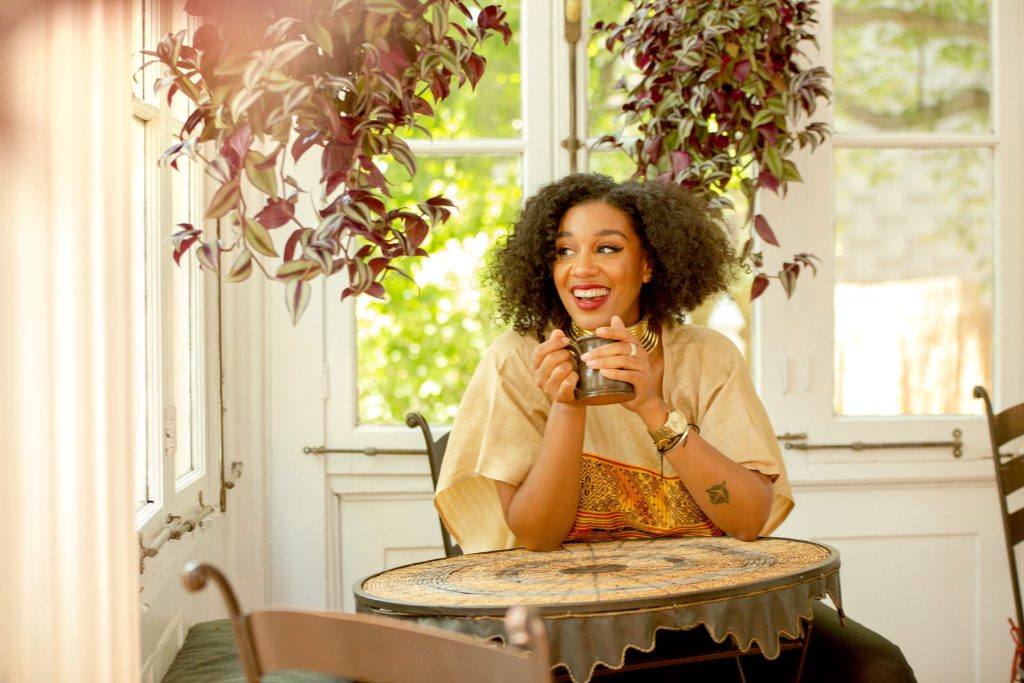 As I listen to Robinson speak passionately of the work that she does, I can't help but feel an all-consuming sense of hope for the future of travel. There has been a dramatic rise in niche publications catering to the needs of minority and female travelers. The travel industry is seeing company-wide commitments to diversity and increased representation of black and brown travelers. Travel media is (finally!) beginning to diversify with networks like the Travel Channel welcoming its first black travel channel host, Kellee Edwards. And at the center of it all sits Evita Robinson, this fierce change maker before us, ensuring—no demanding—that travelers of color have their seat at the table. 
This article originally appeared in the fourth issue of Unearth Women magazine, now available in our online store. Get your online copy today!