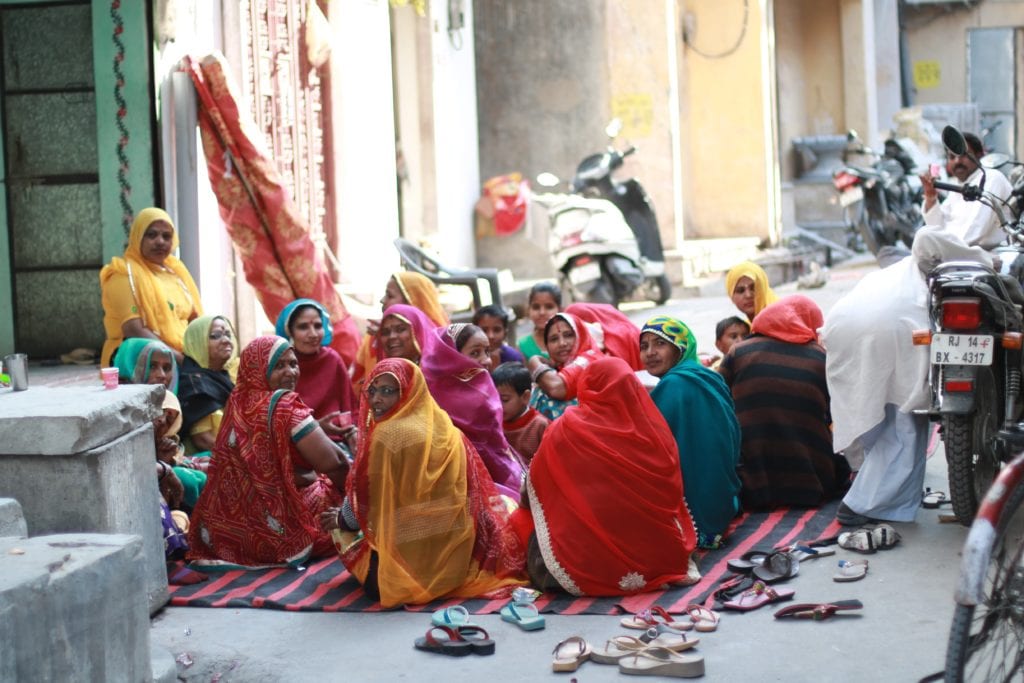 Jaipur, the capital city of Rajasthan and home to the royal family, is known as the commercial epicenter of "the land of the kings" in India. But that's ignoring all the queens.
Strategically placed 150 miles from New Delhi and nearly equal distance from the Taj Mahal in Agra, Jaipur is the third city on what is known as the "golden triangle" tourist circuit in northern India. Jaipur offers the unique combination of metropolitan living set amongst 16th-century castles and fortresses reminiscent of The Great Wall of China.
According to the Times of India, Rajasthan ranks poorly among Indian states for its gender equality, with low female education rates and an average marrying age of about 19. Comparatively, Jaipur offers women more opportunities for study and work in a modernizing venue.
For a solo female traveler, Jaipur has a lot of appeal for its accessibility, rich history, and offerings of both a good cup of coffee and a palace. Least of all because it's informally named "The Pink City" and has been coated in layers of terracotta since 1876, when the king ordered the city to be painted pink to signify hospitality for the visiting Prince and Queen of Wales. Later, a law was passed to keep buildings within the walled city pink at the request of the Queen of Jaipur.
Support Local Women at Anokhi Café
Travel in India long enough, and you'll do anything for a Western dish and an espresso. At its worst, the result of this craving is coveting Domino's stuffed crust as remarkable pizza, and at its best, it looks like Anokhi Café. Anokhi Café is a sharp-cornered, well-lit spot on the outskirts of Jaipur that hosts a menu of locally-sourced food. Their options range from soups and salads to snacks and sandwiches, with dessert offerings and drip coffee, to boot.
Attached to the cafe is the Anokhi's store, that sells quality Rajasthani block-printed clothing and home goods handmade by locals. Jaipur is renowned for its hand-carved block-prints and the fabrics created by them. Anokhi is considered to be the high-end of the business for their company ethos. They use natural dyes (as opposed to prevalent chemical alternatives) and local labor, including women.
Pritam Singh, the owner of Anokhi brand, told the Hindu Business Line that part of the company's mission includes employing village women, as jobs for Rajasthani females are limited. Visitors interested in learning more can visit the Anokhi Museum just outside of Jaipur in the smaller city of Amber. There, you can witness the carving, printing, and traditional garments made by the process, as well as try block-printing yourself.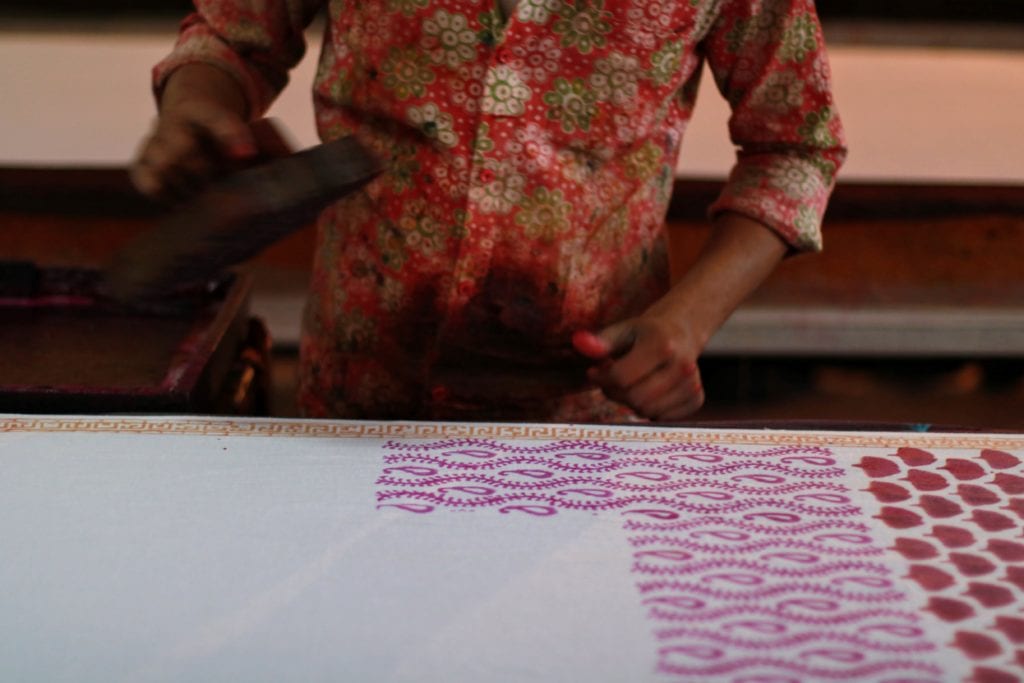 Enjoy Traditional Rajasthani Food at Chokhi Dhani Village
Rajasthani food, dress, and handicrafts are iconic throughout the subcontinent of India. At a restaurant about a 30-minute drive outside of Jaipur, visitors can see the three working in sync.
Chokhi Dhani is a more than a village, it's a carnival. After paying $7 USD for an authentic, bottomless Rajasthani meal eaten cross-legged on the floor, visitors can peruse the surrounding village for entertainment. Outside the dining halls, there are camel rides, female dancers performing the Rajasthani ghoomar (a traditional folk dance), a bird astrologist, magic shows, a river ride, museums, and a local crafts shopping area. Chokhi Dhani Village is the Six Flags of Jaipur. You can even rent a room at the five-star Chokhi Dhani Resort on the premises.
Meet the Women Keeping the Kings' Tradition Alive
Holi, the classic Indian festival where the colorful powder is thrown to welcome spring and represent rebirth each March, comes with a historical twist in Jaipur. Instead of throwing the colored powder, or gulaal, as festival-goers do today, the royal family historically rode elephants in a procession while pelting the crowd with lac balls filled with colored powder, called gulaal gota. It was considered lucky to be hit by one.
"It's not painful," one of six sisters from one of the last remaining shops that make such balls said, placing the featherweight empty lac shell in my hand. On the bangle making street in Jaipur, there is a family of eight—seven of whom are women—that represent some of the last remaining crafters of the art. They make and sell gulaal gota every year before Holi, as they have for eight generations now. To visit the shop, head to Apsara Bangles on Maniharon Ka Rasta.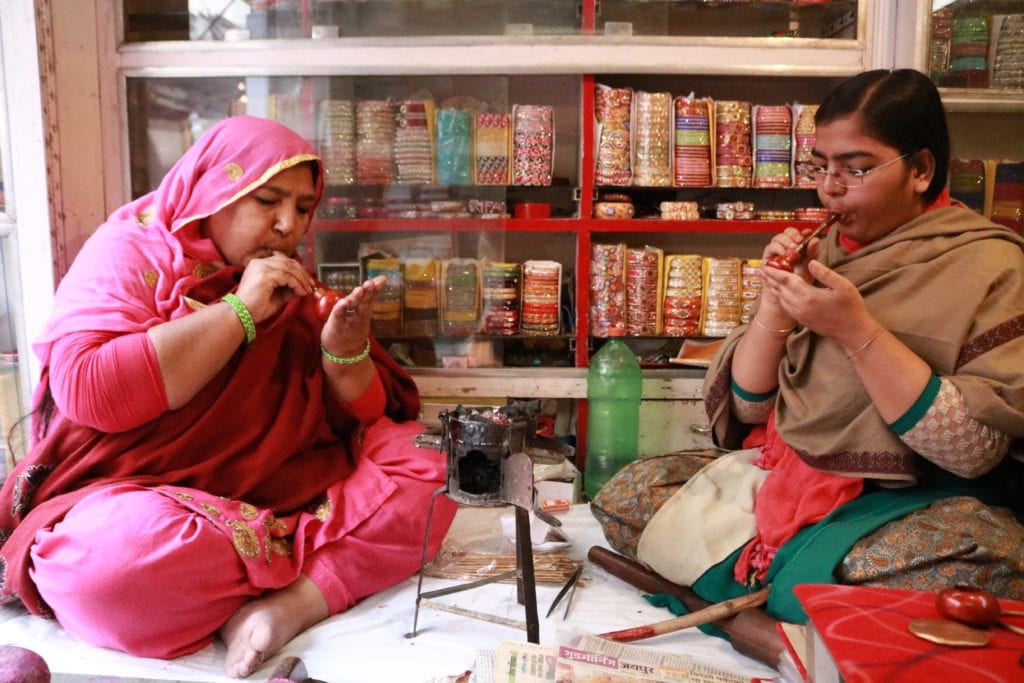 Celebrate Women at the 2019 Jaipur Literature Festival
Writers from around the world gather for a four day festival in Jaipur to "champion the freedom to express and engage in thoughtful debate and dialogue" every January. At the event, over 200 invited speakers encourage discourse on topics ranging from humanitarian work to politics to entrepreneurship. Among these speakers, there is a strong focus on female empowerment.
Confirmed presenters for the 2019 festival include New York Times contributor Sohaila Abdulali on her new book about her sexual assault in Mumbai as a teenager, Mithali Raj on being a female cricket captain in India, and California-based Donna Zuckerberg on classics and misogyny in the digital age. The festival will be held from January 24th to 28th. You can register for online for a pass, which costs less than $30 USD.
Take a Holy Pilgrimage to Galtaji Temple
The Galtaji Temple, colloquially known as the Monkey Temple for its home to bold langur monkeys, is a short drive, or even walk, from the Pink City. Built into a hillside, Hindus from all across India come to bathe in the freshwater springs that flow from a rock shaped like a cow's head, a holy animal in Hinduism.
The water, like that from the Ganges River, is believed to purify bathers of their sins. Colorful swathes of saris blur together at the pilgrimage site, where bathing pools are separated by gender and many women partially undress to step into the auspicious water, pour it over their heads, or pour it onto the ground in prayer.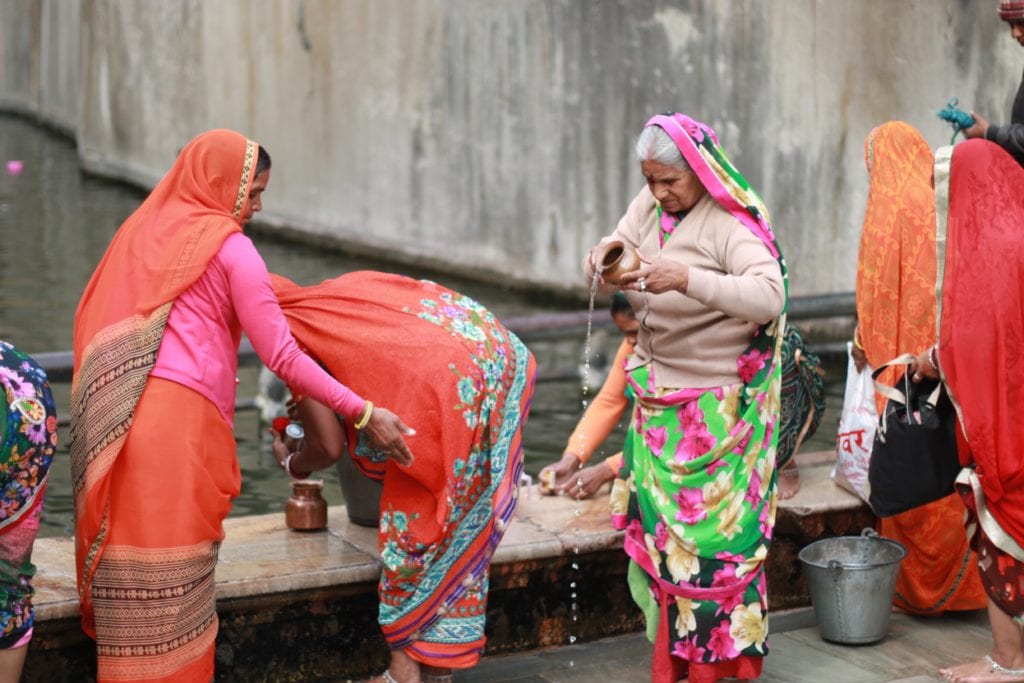 See How Royal Women Lived in the 1600s
The honeycomb facade in downtown Jaipur emblemizes how the royal women lived the throughout the 1600s: by seeing without being seen. Through 953 inconspicuously latticed windows, the Wind Palace was constructed following the principle of "Purdah" where royal women were forbidden to be seen by strangers. The structure was built as an extension of the City Palace in 1799 by ruler Maharaja Sawai Pratap Singh, so that ladies could observe the streets without showing themselves.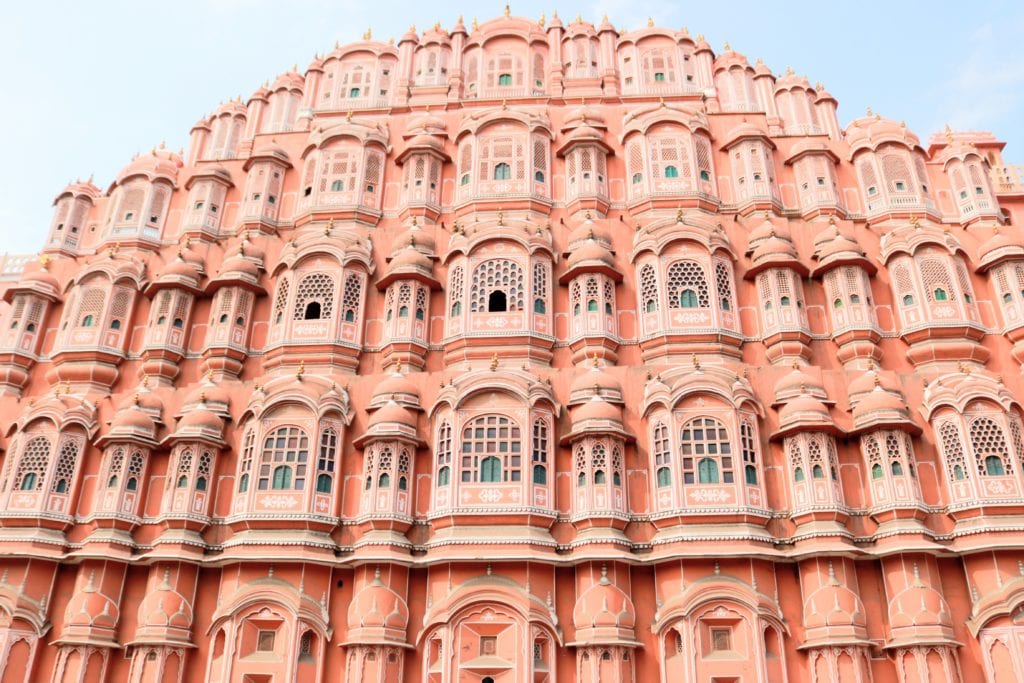 Budget: Hotel Pearl Palace
Hotel Pearl Palace offers budget dormitory and private rooms for reasonable rates and is centrally located 10 minutes from downtown Jaipur. Locally owned by Mr. and Mrs. Singh, the space is snazzily decorated with LED lights and local artwork.
The best part? Their rooftop cafe, Peacock Restaurant, is acclaimed by locals as some of the best Indian and foreign fare, and it boasts a 360-degree view of the city. I recommend a ginger lemon honey chai while watching a live music performance. Rooms start at about $20 USD for a private double.
Splurge: Narain Niwas
I can't speak to the hotel stay at Narain Niwas, but if it's anything like its pool, you're in for a wonderful stay. The hotel itself served as a former royal family's resort and is set in an Anglo-Indian style palace. Tucked behind their expansive gardens, and flanked by shade trees, the pool is open to non-guests from 8 am to 4 pm daily for $5 USD.
Jaipur can be brutally hot in the spring and summer months, and this pool is a lovely and inexpensive way to cool off. Because it's part of an upscale hotel, it's a comfortable and safe place to swim without feeling ogled. Rooms run for less than $100 USD a night.
Did we miss anything? Help us improve this guide by sending us your tips!