It's a typical Friday night in Beirut and, should you find yourself in Lebanon's capital of two million people, your calendar might include partaking in a feminist reading group, eating a Sri Lankan dinner at a pay-what-you-want community restaurant, attending a queer benefit party for Syrian artisans, or getting limber in a body-positive yoga class.
In the past five years, Beirut has appeared on numerous "Best Cities" lists and has been the subject of many a New York Times and Travel & Leisure guide. Because of the city's multicultural history and liberal atmosphere, Beirut has also been touted as the Middle East's best destination for female travelers. While highlighting the recent entrepreneurial uptick and increasing inclusion in global circulations of arts and culture, these guides have failed to mention the local activists, organizations, and business owners who have helped to place Beirut on the traveler's map. This guide outlines sites of culture, food, and heritage preservation led by female-identifying, queer, and gender non-conforming trailblazers dedicated to making Beirut a more inclusive city and preserving its unique history and traditions.
Support Palestinian Refugees with Inaash
Palestinian refugees who fled the violence of Zionist militias during the creation of the state of Israel in 1948, did not receive a warm welcome when they arrived in Lebanon. Of the 450,000 Palestinian refugees residing in the country, the vast majority have never been nationalized, legally barring them from holding lucrative professions and owning property. Inaash, which means 'revival' in Arabic, is also an acronym for the Association for the Development of Palestinian Camps. It is a 50-year-old nonprofit dedicated to preserving traditional Palestinian embroidery. It also provides a sustainable, livable employment for Palestinian women living in Beirut's refugee camps. All proceeds from sales directly benefit the women who make the textiles. The prices are higher than typical souvenir shops, but they reflect the often months-long labor process.
Tap into Lebanese and Arab Cinema at the Metropolis
Beirut's hub of indie and international film, Metropolis, boasts an ambitious project: Cinematheque Beirut. The theatre preserves and shares the history of Lebanese and Arab cinema, showing experimental and lower-budget flicks often overshadowed by the glitz of high-production, popular Arab and Western movies. Recently, Metropolis hosted a retrospective by Randa Chahal Sabbagh, whose documentaries and feature-length films tell the stories of snipers, sex workers, and other figures often ignored by mainstream cinema.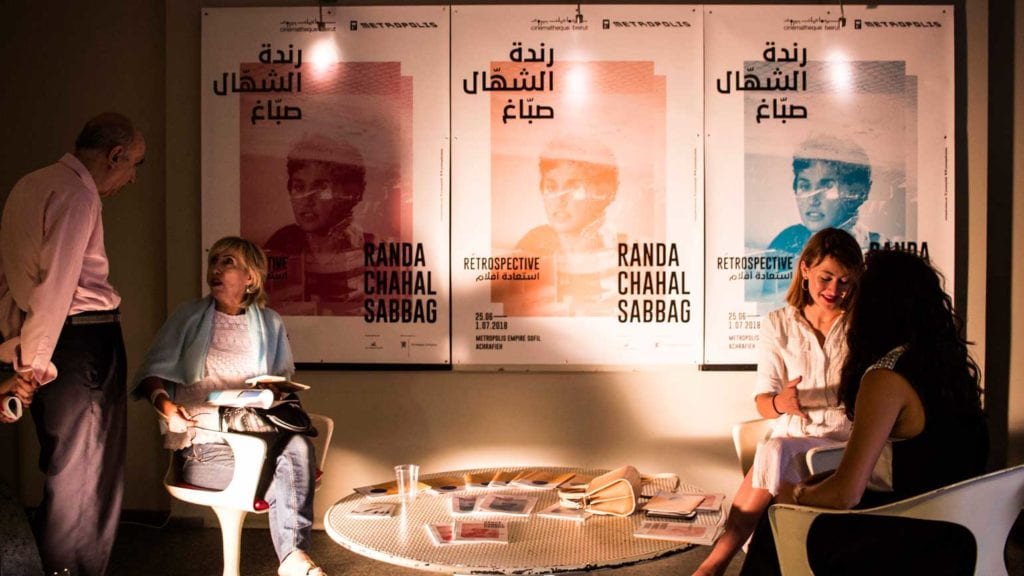 Catch a Show at Zoukak
Zoukak's theater in the eastern Karantina neighborhood functions as a local performance space, but it also serves as a hub of international performing arts, hosting troupes and facilitating workshops. Zoukak often stages new works from Middle Eastern playwrights, tackling topics such as sexuality, queerness, and the meanings of family.
Celebrate Female Authors at the Feminist Library
Fancy spending the day reading at one of Beirut's many cafes? Looking to lighten your suitcase's load by donating the books you've finished? Take a trip to The Feminist Library, an initiative with the goal of bringing feminist literature out of the elite university and private home and into the public sphere. The Library also offers a collection of writing by queer women of color.
The Woman-Founded Dictaphone Group
Beirut's flashy downtown tempts visitors to imagine a city where all its residents have access to clean streets, historic architecture, and world-class shopping. However, the legacy of Lebanon's 15-year civil war (1975-90)—and the elitist, short-sighted reconstruction projects that followed—continues to affect Beirut's cityscape in ways that are easily overlooked by the average tourist. Co-founded by artist Tania El Khoury and urbanist Abir Saksouk, Dictaphone Group produces site-specific performance pieces that "question our relationship to the city and redefine its public space," according to the website. With guided audio files and readings available on the group's website in both Arabic and English, Dictaphone's research-based works illuminate the historic legacies of the city overshadowed by the country's recent redevelopment and marketing schemes.
Get Glam at the City's First LGBTQ Beauty Parlor
Beirutis do dressy like none other. Before you hit the town, stop by Out Beauty Boutique, the city's first beauty parlor dedicated to serving the LGBTQ community. Treatments include nails, waxing, and bespoke facials with handmade, local products tailored to your skin's needs.
Make New Friends at T Marbouta
Named for the Arabic letter that denotes the feminine gender, T Marbouta cooks up affordable, delicious, traditional Syrian and Lebanese dishes in a lively atmosphere. If you're traveling to Beirut on your own, this is a great place to leave with a bevy of new friends. Beyond their daily specials and scrumptious mezze, this family-friendly spot serves as a cultural space with a quiet but decided leftist bend, hosting lectures, reading groups, and performances.
A Popular Late Night Snack at Em Ali
Em Ali's saj wraps—dough cooked on a dome-shaped griddle and topped with various spreadable accouterments—first gained popularity at Souk El Tayeb, a weekly farmer's market highlighting local and traditional famers and artisans. These portable, ubiquitous snacks were so popular that Oum Ali, who originally hails from the southernmost part of Lebanon, opened a brick-and-mortar in Gemmayzeh. Now, its a favorite of late-night partiers and hungry passerbys alike. Em Ali, who oversees the running of the kitchen herself, offers unusual toppings like spicy labneh (a strained cheese, like ultra-thick Greek yogurt) and Debsella, a rich paste of apple molasses, walnuts, and cocoa.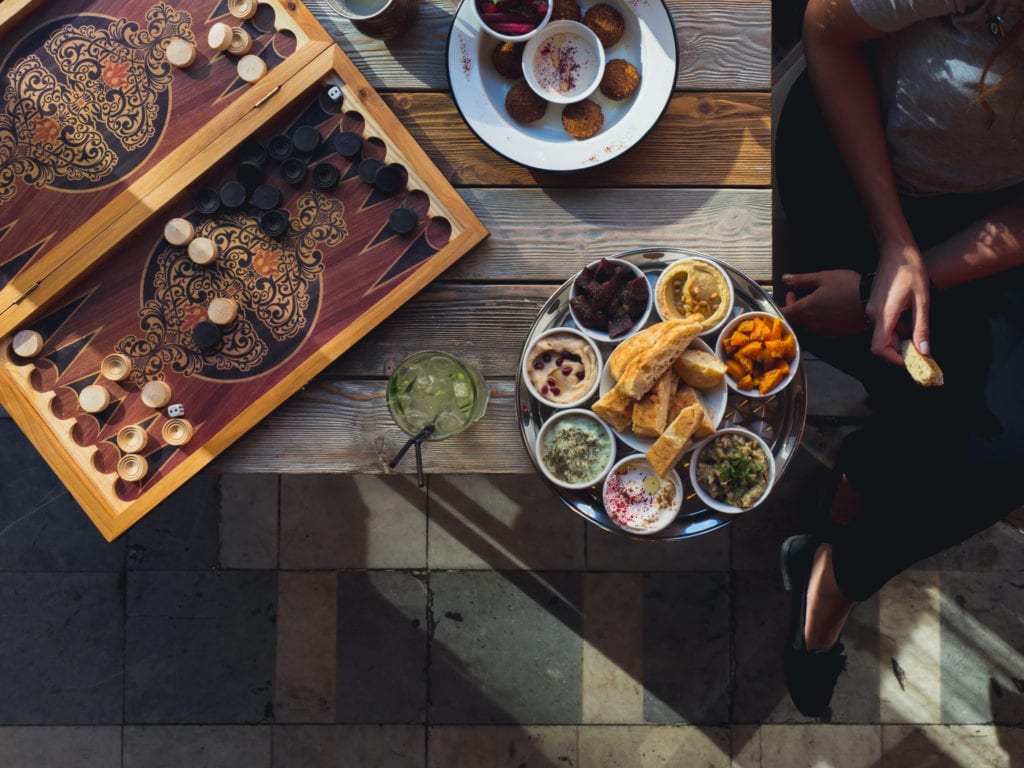 Pay-What-You-Can at the Motto and Makan Sister Restaurants
Unfortunately, Lebanon is not a country lauded for its protection of its large base of migrant workers, the majority of whom hail from East Africa, the Philippines, and South Asian countries such as Sri Lanka and Bangladesh. Workers often face violence at the hands of their employers, who are legally granted control over workers' passports and, thus, their legal status in the country. In addition to the steadfast NGOs working to end Lebanon's kafala (sponsorship) system, there are a few institutions offering opportunities for migrants to showcase their home cultures while providing living and sustainable wages. Beirut's first pay-what-you-can restaurant is also a space where migrant domestic workers (of whom there are over 250,000 in the country) can demonstrate their diverse set of culinary skills. Motto (and its sister restaurant, Makan), housed in delicately renovated villas, offer rotating menus where both professional and amateur chefs take over the kitchen for a few nights. The pay-what-you-can model offers guests the opportunity to reflect on the workings of labor, food, and justice over ever-varied meals.

Budget: Saifi Urban Gardens
Saifi Urban Gardens, established in the early 2000s, has quickly become a Beirut institution. The complex includes an affordable, delicious cafe that doubles as a cultural center, a rooftop bar, a well-regarded Arabic language school specializing in local Beirut dialect, and a hostel with both dorms and private rooms that provide a welcoming and safe atmosphere for solo female travelers.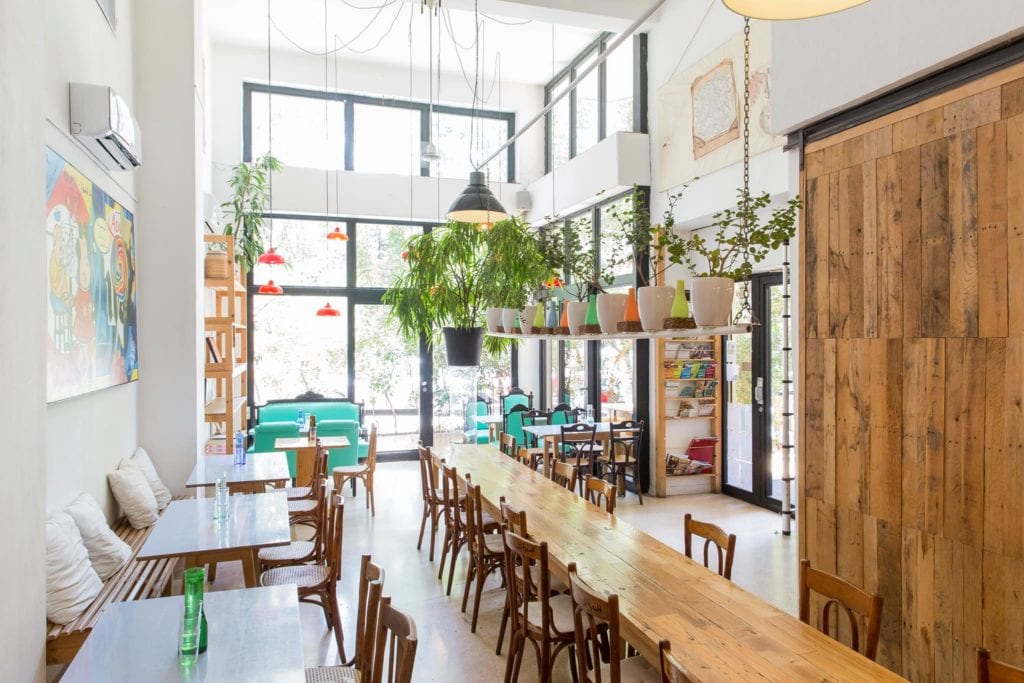 Mid-Range: Beit El Tawlet
Run by Souk El Tayeb—the weekly farmer's market focused on local, sustainable artisanal goods—this guesthouse is equipped with a shared kitchen, spacious common room, and—lucky for you—is right above Tawlet, the affiliated restaurant where female chefs from varying corners of the country cook a daily buffet lunch highlighting regional specialties. Outfitted with tapestries in vibrant colors and displaying the works of local artists, the guesthouse is located in the midst of Mar Mikhael, one of the most walkable neighborhoods in the city the center of Beirut's nightlife and restaurant scene.